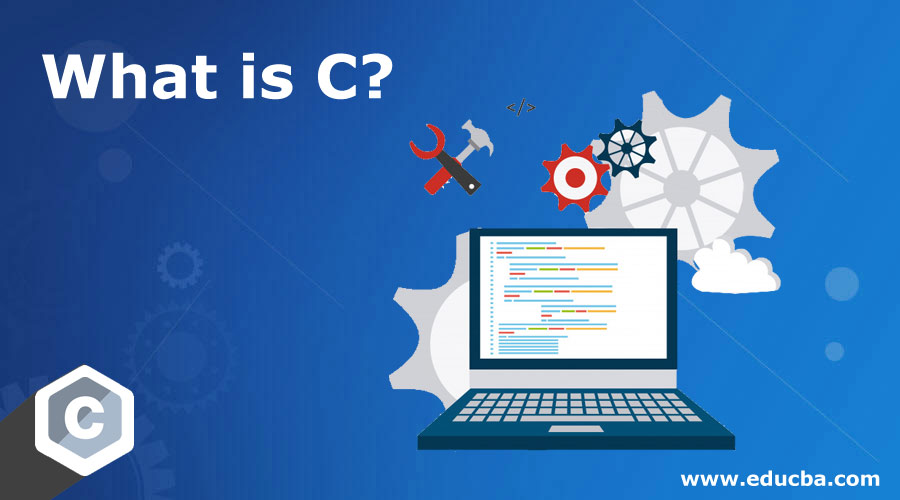 Introduction to C
C is the commonly used system programming language that can be applied to any kind of system development, such as for a system application development process, a software application development process or even for web-based application development. It works with an in-built compiler, as it works on converting C from being a programming language into a machine-readable coded language. It is the most preferred language for decades now due to its high performance, remarkable efficiency, and portability.
Prerequisites for learning C Language
You need to know nothing much before starting learning C. Basic knowledge about logic building skills, and mathematics are enough to start learning it.
Understanding C
There are a fixed structure and syntax for writing a program in any language, and writing it in any other form will give a compilation error. It means that we have a fixed structure for writing a C program as well.
Structure of C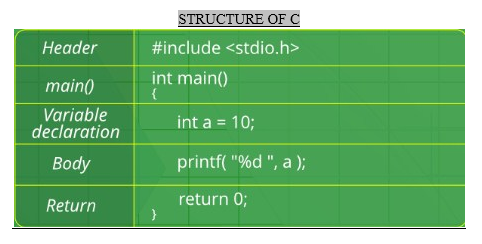 Uses
Operating Systems: It is used to program Operating systems like Windows, Linux, Mac. Kernel, which is also known as a central part of an OS, is mostly developed in the C language.
Mobile Phone: Mobile phone kernels are also written using this language. So, the smartphones which we have in our hands all the time are running on C kernel.
Mobile Applications: Languages like C++, C#, Objective-C is derived from it and are used to make phone and web applications.
Databases: Many popular databases like MySQL, Oracle Database, MS SQL Server are written using this language.
3D movies, Animation, Computer Graphics: Applications which make 3D movies, Animation, Computer Graphics need to be fast and efficient. Therefore, we code these applications in C, as it is very efficient and fast.
Embedded Systems: Embedded systems like Mp3 player, Alarm clock, radio, microwave, coffee making machine, sensors in the car etc., are coded and programmed in C.
Advantages
Below are the advantages:
Portable: Its portability allows code to run on different computers and different operating systems without making any change.
Efficient: It is a general-purpose programming language. Therefore it works efficiently.
Case-sensitive: You need to be very careful while writing the code as it treats lowercase and uppercase letter differently.
Memory Manipulation and allocation: It has the ability to manipulate arbitrary memory addresses. It also allows allocating the memory dynamically.
Middle-level language: It merges the features of both low level and high-level languages in itself.
Therefore, it can be used for both:
Low-level programming:  Like in the development of Kernels
High-level programming: Like in the development of applications.
Structured programming language: It is a structured programming language. Therefore, a complex program can be broken into different functions.
Ability to extend itself: Since the library supports it, it allows us to add our own functions to its library.
Why should we use C Language?
We should use this language because of the following reasons:
First, it makes the code size small.
It is efficient, portable, structured and well understood.
It has only 32 keywords which are easy to remember.
It is near to Assembly language as code written in C language runs as fast as code written in assembly language.
It has Pointers that connects hardware like kernel, drivers to a system; because of this reason, C will always be in use.
Scope
Though many people do not use it, it is still one of the most valuable and sought skills. Moreover, it is worth learning it because there is a lack of C programmers, and work is not less.
Operating systems, Embedded systems can only be coded in C language as they need fast and efficient execution.
It has pointers, which are not available in any other programming language. This specialty will never let the language die.
Who should learn C?
Whether you are new to programming, you should learn it because of the following reasons:
It is around 50 years old and is still very popular.
It builds a strong foundation of programming. Because it has its own compiler, the program written in it runs on the C compiler only. So, it will not only teach you programming or coding, but it will also let you understand how a program runs on the computer.
It will make you a hardcore programmer as it has lesser libraries. So, you will end up writing your own code.
Career growth
There are companies that work on embedded programming, system programming and compiler designing, etc., looking for good C professionals and giving a good career growth. This technology will not die and will always provide a good career opportunity.
 Conclusion
C is considered as the base of other programming languages. This technology doesn't seem to have an expiry date. Its specialty to provide interaction with the hardware makes it unique. Its portability and efficiency make it a good choice for complex data manipulation and the development of embedded systems and operating systems kernels. Many other programming languages are also in demand, but they can't beat it, which is still preferred when performance becomes the priority.
Recommended Articles
This has been a guide to What is C. Here we discuss the working, structure, uses, and advantages of C, which can help career growth. You can also go through our other suggested articles to learn more –