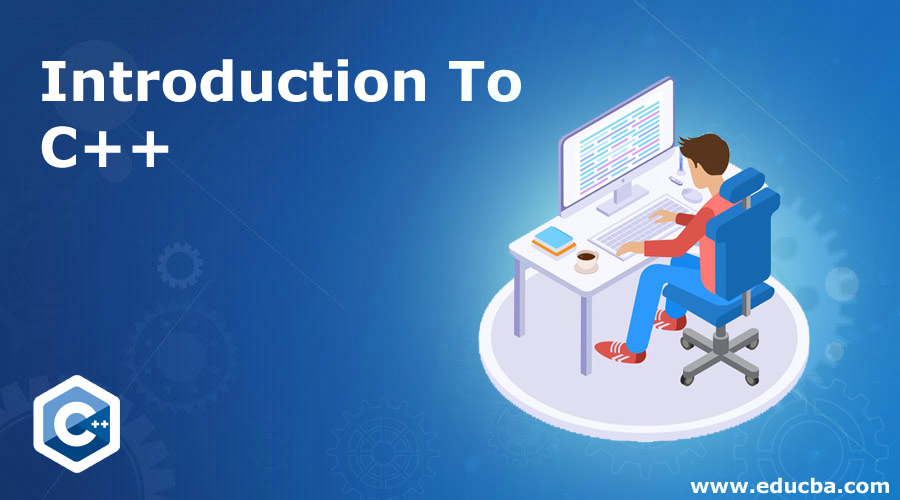 Introduction To C++
C++ is one of the most flexible and efficient general-purpose programming languages which is a superset of C programming language where most tools and libraries supported in C could be used in C++ as well.
This introduction to c++ article is divided into several sections starting from a general overview of the language to its advantages and disadvantages.
Overview of C++
The advent of C++ happened in 1983 when Bjarne Stroustrup started working with 'C with classes' which later got renamed to C++ that had few additional features like operator overloading, BCPL style comments, etc.
The idea behind C++ is that it is a compiled language which means the source program is compiled to produce object files which yield an executable program after getting combined by a linker. The image below gives an idea of a program compilation in C++.

One of the other aspects of C++ is its statistically typed feature, i.e. any object, value or name should be pre-informed to the compiler which could help to determine the set of operations that need to be performed.
C++ is suited for applications which have resource constraints, and it benefits those who prefer writing quality code. Despite the introduction of several new programming languages, C++ is still evolving and is used by people from various backgrounds.
Components of C++
As we have already learned about the C++ introduction, Let's see the components of C++
1. First Component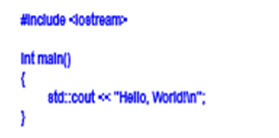 The first component in this program is the header file denoted by #include<iostream> command which contains the cout command that is being used to print 'Hello World' in this case. There could be other header functions as well depending on the problem statement.
2. Second Component

The second component is the 'int main()' statement which is the Master Program Function and is a prerequisite of every C++ program to have the main function at the beginning of execution. The opening parenthesis after the main should have a matching closing parenthesis. The 'int' is the return type which states the type of value that the program is returning.
3. Third Component

The third component is the declaration of variables which in this case are 'd' and 'i'. A variable is assigned a name with regards to which it stores data in the memory. It needs to support the C++ inbuilt data types.
Declaration of variables should abide by the following rules:-
The variables could be digits, letters or underscores.
A variable should start with an alphabetical letter.
It is case-sensitive, i.e., small and capital letters would be considered as different variables.
C++ has several reserved words which could not be used as a variable.
The initial value could be assigned while declaring the variables or it could be assigned later using the '=' operator.
4. Fourth Component

The Program Statement is another component of C++. In this case, the for loop is used to copy values from one variable to another. Comments are also included in the program using the "//"
5. Fifth Component

Operators are another component in C++. The types of operators are:-
Logical Operators such as &&, ||, etc.
Arithmetic Operators such as +, %, etc.
Relational Operators such as ==. !=, etc.
Characteristics of C++
C++ is an Object Oriented Programming Language which has all the features of any object-oriented language – Object, Class, Encapsulation, Inheritance, Polymorphism, Dynamic Binding, and Message Passing.
An object is an entity on which we would talk about and would create programs using it. Any entity in real life such as table, board, duster, etc., could be an object.
The second feature is the class which is a group of objects. Classes consist of all the functions and the variables in a program.
Encapsulation internally hides the operation of a function. For, e.g., when we ride a bike, we press the accelerator but doesn't know what's happening behind the scenes or how the engine is working. In layman terms, it wraps the data into a class, and hence only the function is allowed to access the data.
Inheritance gives a class the ability to use the features and properties of its parent class. The inherited class could be of type Public, Private, and Protected. Also, new features could be added to the child class as well. The inheritance could be single level, multi-level, multiple, and even hierarchical.
Polymorphism is the property in which one entity could have multiple forms which allow the object to behave differently in different situations. It could be static as well as dynamic.
Dynamic Binding would always be at run-time, and according to the requirement or the code, it would call that function which is needed.
At run-time, objects could communicate among each other by sending data to and fro with the help of message passing interface.
Applications
The application of C++ is diversified in various domains because of its flexibility and reliability. Below are some of the few areas where C++ could be used.
C++ is widely used in the Gaming industry. Various companies hire people with a knowledge of C++ to build interactive games for them.
One of the other applications of C++ is creating Graphical User Interface which simplifies the user's interaction with an application.
In software like Adobe Photoshop or Illustrator, C++ is used as well.
We can use C++ to create web browsers like Mozilla Firefox and compilers.
The operating systems are also programmed in C++.
The medical industry used C++ to build most of their software.
Few of the other programming languages like Java are built using the C++ language.
Advantages and Disadvantages of C++
As we have already learned about the Introduction to C++, now we are going ahead to understand the advantages and disadvantages of C++ which are as follows :
Advantages
C++ is a very efficient language which is fast and reliable.
C++ has a wide range of usage and hence learning the language makes it easier to grasp the Object Oriented Programming Concept.
C++ makes it easier to learn other programming languages as well.
Disadvantages
C++ could often be hard to master.
The error messages in C++ could be extended and often difficult to debug.
It could be difficult to access the libraries in C++ even.
The code could be prone to errors as C++ doesn't provide type-checking.
Recommended Articles
This has been a guide on Introduction to C++. Here we have discussed different components, characteristics, advantage, disadvantages, and applications of C++. You may also look at the following article to learn more –