Updated April 10, 2023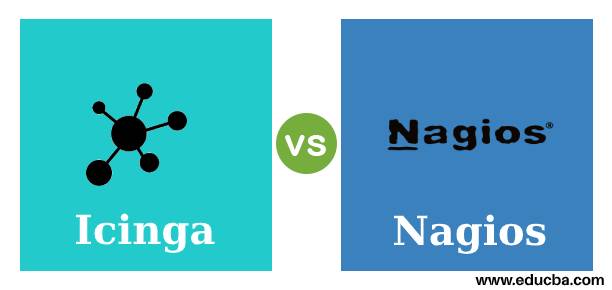 Difference Between Icinga vs Nagios
Nagios and Icinga are the monitoring tools used to track the performance of the system. The Icinga was in the market for around 10 years and served the user with great features, whereas Nagios is a widely established product with a broad community and has more add-ons. Both of them are available as open-source software and can be customized according to the user requirement. Even though these tools are developed for the same origin, they possess some similarities and difference that is briefly discussed in this article.
Head to Head Comparison between Icinga vs Nagios (Infographics)
Below are the top 6 comparisons between Icinga Vs Nagios:

Key differences between Icinga vs Nagios
Let us discuss some key differences between Icinga vs Nagios in the following points:
1. Definition of Icinga and Nagios
Nagios can monitor all the services, applications, operating systems, monitoring the network protocols, which loads multiple functionalities. Icinga is open software, distributed freely with edited source code and customized according to community and requirement. Icinga is a flexible monitoring tool used for network management to monitor the application and services effectively. Nagios is advanced monitoring tools for network management and can comprehensively monitor IT infrastructure devices, which instantly detect faults, alerts and solve network issues and incidents, and plan for the next upgrade of infrastructure.
2. Pricing
The product of Icinga charges the user in the development and support category at installation. But the price of Nagios cost $1995 for installation, and they provide extensive features and support worth for the charge. It makes a huge impact in large-scale industries and is integrated with all their software which is possible only via Nagios.
3. Architecture
Both tools have similar IT infrastructure, which gives maximum reliability and bulletproof security. But Nagios rocks first when it comes to amazing features with a strong firewall. It gives an instant alert if any server goes down, even in offline. Whereas Icinga is a stable product and a mature one that comprises a similar set of add-ons and plugins to Nagios. Icing and Nagios have similar modules such as command-line interface, visual interface, core, and user interface. Nagios has an easy navigation process that flows rapidly via highly configured devices such as laptops and PC. If the user has a modern browser, he can prefer to Nagios.
4. Business Adaptability
Icinga is a perfect fit for small and medium scale industries as it has minimum installation cost and customizing options. The companies which are money-oriented can choose Icing which has its products integrated into their own application. So they don't want to spend on buying other products, but it is not sure that they are promised to be long-running. As it is not expensive, the small-scale industries are strapped and eager to grab their benefits. Whereas Nagios provides an entire package that is worth the cost and makes it an amazing and standalone product that tracks the enterprise end to end infrastructure, services, servers, networking, and applications. Sometimes even a single hub failure can lead to a huge loss, and the installation of Nagios prevents that. So the pricing doesn't consider here in large scale enterprise as they want to focus only on productivity and prolonged services.
5. Features
Nagios can be installed on Linux, Unix, Windows, Mac, and web-based servers, whereas Icinga can be installed on Linux, Unix, Mac, and Windows. Icinga supports only English and German, whereas Nagios is multilingual and supports English, German, Spanish, Japanese, Chinese, Italian, French, Portuguese, and Russian. The prominent clients of Nagios are HP, Harvard University, and Hyatt, whereas Adobe, Audi, and Vodafone are the clients of Icinga.
6. Offered Services
Icinga is highly secured and provides elastic search, attractive dashboards, performance monitoring, Rest API, and rule-based configurations makes Icinga more stable. It provides text notifications, multiple check plugins, alerting, Icinga director, and has generic TTS. The standard services of Nagios are its cognitive capacity planning and updating the infrastructure, amazing management of infrastructure, clear visibility on IT operations, business and network management, powerful search engine, network and incident alerts, planning graphs, customizability, user management, advanced configuration wizards and web interfaces, capabilities of multi-tenants with a highly protected firewall. The alerts and incidents that occurred can be solved instantly, even before sending the admin notification.
Comparison Table of Icinga vs Nagios
The table below summarizes the comparisons between Icinga vs Nagios:
| | | |
| --- | --- | --- |
| Attributes | Icinga | Nagios |
| Description | Icinga is a network monitoring tool and open-source software that can be installed in all operating systems such as Linux, Mac, and Windows. | Nagios is a network monitoring tool and user for infrastructure management and can be installed in Linux, Mac, Windows. It is open-source software. |
| Adaptability | It supports small and medium scale industries. According to a global survey, user satisfaction is around 84% and has a smart rating of 8.4. |  It supports small, medium, and large scale industries. According to a global survey, Nagios' user satisfaction is around 89% and has a smart rating of 8.8. |
| Pricing Info | The pricing details are given as per quote and are comparatively minimum than Nagios. It is completely quote-based. | The price of Nagios is maximum than Icinga and has a standard price of $1995. It is also available as a free trial, annual based, and quote-based. |
| Alternatives | The popular alternatives are Atera, Uptrend, Website pulse, and GlassWire. | The popular alternatives are Atera, CoScale, Easy-IP, and site 24*7. |
| Integrations | It can be integrated with applications such as puppet, Ansible, Chef, Vagrant, Graphite, Graylog, Elastic, Dashing, Terraform, Pagerduty, and so on. | It can be integrated with Slack, xMatters, OpsGenie, SysAid, VictorOps, CloudMonix, CoreStack, Datadog, Cherwell service management, and so on. |
| Support | The available support is in the mode of email, training, and tickets. | The available support of Nagios is email, phone, live support, tickets, and training. |
Conclusion
To pull the best out of this two software, the user can probably choose Nagios as it has the best reputation in global industries, which offers amazing features out of the box with extensive support. It is according to the user's requirement to choose his product to grab the entire advantages.
Recommended Articles
This is a guide to Icinga vs Nagios. Here we also discuss the Icinga vs Nagios key differences with infographics and comparison table. You may also have a look at the following articles to learn more –