Updated April 10, 2023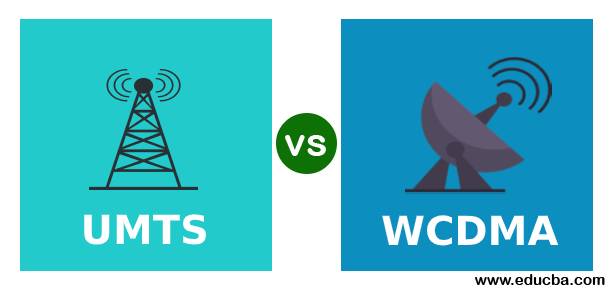 Difference Between UMTS vs WCDMA
UMTS or Universal Mobile Telecommunications Services is a broadband system to transfer 3G data, text, calls, and other services, and it is based on a protocol used worldwide. This is created for networks based on GSM standards. Packet-based data transmission is focused here. WCDMA or Wideband Code Division Multiple Access is a mobile communication standard used in 3G mobile networks to support communication between the mobiles. The communication can be voice calls, text messages, and even the transferring of data. Radio Access Technology is used in WCDMA as an interface for the transfer of any kind of data.
Head to Head Comparison between UMTS vs WCDMA (Infographics)
Below are the top 8 differences between UMTS vs WCDMA:

Key Differences between UMTS vs WCDMA
Following are the key differences between UMTS vs WCDMA:
Though both are developed for mobile communications in the 3G network, UMTS is developed for 3G networks alone, whereas WCDMA is developed for 3G networks and 3G+ networks. Hence, when UMTS is localized in the 3G network zone, WCDMA works well in all the networks and provides the flexible network's advantages to the communication system.
UMTS is developed based on GSM protocols as it describes the rules in the European continent. All the networks based on GSM standards can be used in UMTS, and it is based on the 3GPP project, which is a third-generation partnership project. When GSM is focused only on a particular area, UMTS is focused on world-wide. When we consider WCDMA, it is based on GSM to make the coverage for 2G and 3G. Code division is used to divide channels and to provide communication in the system. Radio communication technology is used to manage the channels in the system.
There are no code division standards in UMTS, and it depends on the frequency of the system to communicate between the channels. The working of UMTS is entirely different when compared with WCDMA. This is a wireless network technology and has a maximum speed of 2Mbps. While in WCDMA, code divisions are used to divide the channels so that the user can understand all the channels and the networks. WCDMA is also used along with GSM to make 2G, and 3G supports on the phones.
The frequency bands of UMTS differ from one place to another. Mobile to base frequency is 1885-2025 MHz, while base to mobile frequency is 2110-2200MHz. But in the US, 1710-1755MHz, and 2110-2155MHz is used. Now, when considering WCDMA, it has frequency bands, and it differs in different places. In Europe and Asia, it has a higher frequency of 2100MHz, while in America, it has a lesser frequency of 1900MHz. The frequency difference does not affect the speed, and it works well in all places.
UMTS can be otherwise called 3GSM or Freedom of Mobile Multimedia Access that offers the freedom to any media in the network though it requires new frequency to be set and new base stations to be formed. In WCDMA, a complete network system is offered without depending on any other networks so that efficiency and bandwidth are more than GSM in the network. The speed of WCDMA can be compared with new LTE networks so that high-speed bandwidth is offered to the end-user in the communication network.
UMTS vs WCDMA Comparison table
Below is the topmost comparison between UMTS vs WCDMA:
| | |
| --- | --- |
| UMTS | WCDMA |
| UMTS is faster than WCDMA in that it offers a speed of HSPDA in the communication network. Hence bandwidth does not affect the performance of the system. | WCDMA runs at the speed of GSM, which is slower than UMTS. Hence when considering both WCDMA and UMTS, WCDMA comes as a second preference to the users. |
| UMTS is a cellular technology that transfers data with the help of packets. Radio technology is not used, and hence efficiency cannot be offered in the system as much as that of WCDMA. UMTS is used instead of GSM networks in the system. | Radio technology is used in the system, and hence communication is done between two devices as an interface is used in the system. This makes the system more efficient and does not make any issues while transferring data. |
| UMTS has a maximum of 45 Mbps if HSPA is activated, which helps to transfer data with more efficiency. This is one of the popular air interfaces used in mobile devices. | WCDMA is based on CDMA and has downlink and uplink channels to transfer data with a speed of 5MHz used in the channels. This is an upgrading of CDMA where very less speed is used as per the standard. This can be utilized for the data in the system. |
| UMTS phones specifically are not available as it depends on any of the access networks to provide support. Hence UMTS and WCDMA work together in the system. | If a WCDMA phone has a sim slot and a UMTS arena, we can say that the phone supports both GSM and WCDMA. |
| The basic channel is not CDMA but GSM. UMTS is developed as an upgrading format of GSM available to the universe as a single protocol. | CDMA is used as a basic channel in WCDMA to support communication and be efficient. |
| The signals are not handled easily and, in some cases, can be in different paths. This makes communication difficult though it is done. This is the reason that UMTS depends on other networks. | The signal can be handled easily in any paths, and this explains the efficiency of the system. WCDMA uses radio technology to transfer data. Also, there are code division channels for separation. |
| The area of coverage is less, but if it is combined with WCDMA, it is more. | The area of coverage is more for WCDMA. |
| UMTS alone cannot be used in communication devices. | WCDMA is mostly used in all phones, and in some cases, it is combined with GSM or UMTS. |
All the phones are WCDMA compatible, and hence the phones support the network with efficiency and bandwidth. Both UMTS and WCDMA are interchangeable as both are present together in the phone to use the network in the system efficiently.
Recommended Articles
This is a guide to the top differences between UMTS vs WCDMA. Here we also discuss the key differences with infographics and comparison table. You may also have a look at the following articles to learn more-