Updated June 15, 2023
What is Guest Post Writing?
Guest post writing is an article written by a webmaster or copywriters and published on an external blog.
For example, if you want to promote a website about 3D printers, find blogs and sites that also cover 3D printers. Post an article that is useful and relevant to visitors, containing a link to your site.
Today, SEO is essential in promoting any business on the Internet. Chasing the priority position in search results, companies use different ways to improve the relevance of their website. Writing guest posts is among the most effective ways to enhance link-building and SEO.
Key Highlights
Guest post writings are a link-building strategy in which you write an article for someone else's website.
It is an article that the webmaster publishes on a website he does not own.
One of the main reasons to do a guest posting from an SEO perspective is to have backlinks.
It is crucial to ensure the guest post sounds humble and non-promotional.
How Guest Post Works?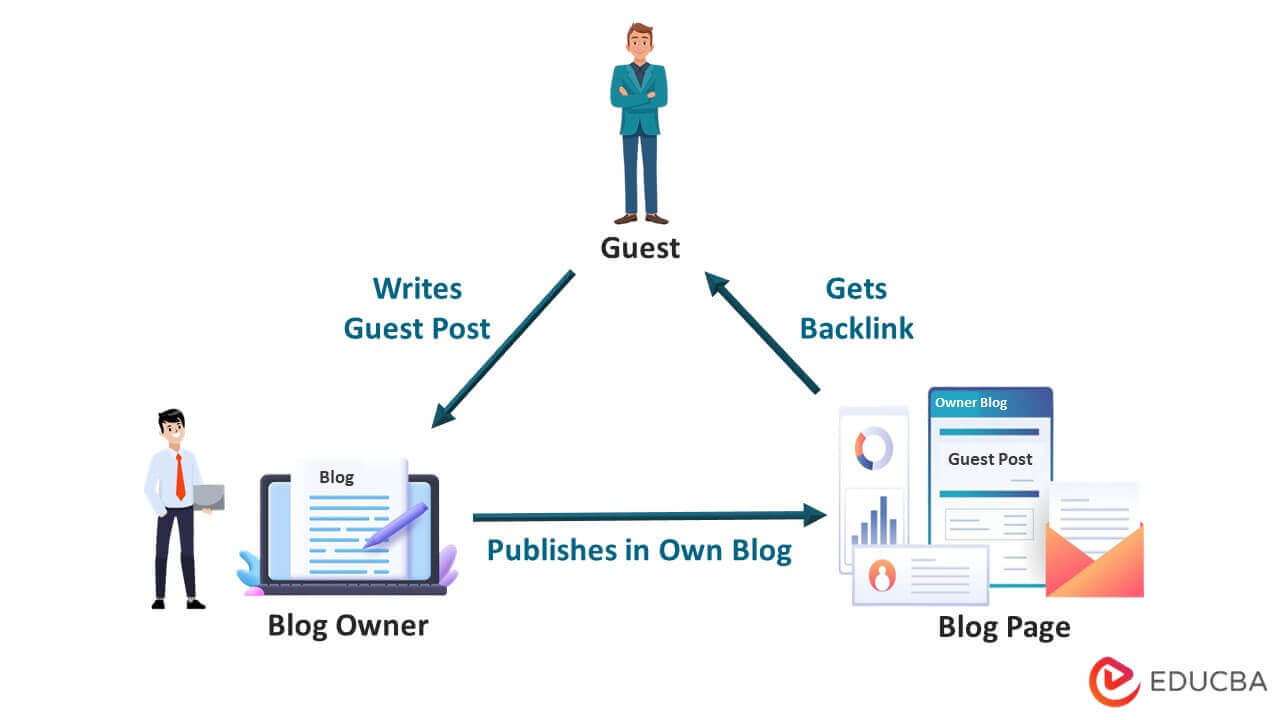 Webmasters often have technical articles in trade journals that benefit both parties. It helps the person submitting the guest post as a backlink and the company receiving it. It is because they get quality content for their website that can increase their website's authority.
Backlinks support your SEO strategy, i.e., your site's searchability. Each backlink matches a recommendation to Google's algorithm, which ranks your site higher in search results. By linking to a relevant blog, you increase the authority of your page for Google. As a result, your content will rank higher in keyword searches.
What is Link Building?
Guest posts are one of the popular ways marketing teams use to drive traffic to your website and build links. They can establish themselves as experts in their field and improve your website's SEO.
Writing such posts is a common practice to get new backlinks and traffic and to reach new target groups. Backlinks are like referral links that lead to your site from an outside source.
From an SEO perspective, ensure the topic and the blog page are the same as the landing page. If both pages are off-topic, there is little use for a guest post.
The quality must be better than the quantity. This way, contributors get extra value from the guest post.
It's common for operators who want a backlink to outsource the writing of their guest posts to an online editor. For example, if they haven't fully mastered the craft of copywriting.
How to improve Link Building by using guest posts?
Backlinks creation should be natural or appear independently due to valuable content. Remember that Google recognizes unnatural link building, which is not rewarded but penalized.
Despite all of Google's updates – backlinks are one of the essential elements by which Google evaluates a website's relevance. Unfortunately, anyone who knows anything about SEO understands that creating high-quality backlinks takes a lot of effort.
A practical method of creating high-quality backlinks is to publish guest posts on successful websites in your niche.
You can use professional guest posting services, since they provide an all-in-one solution, from outreach and content creation to publishing. WhenIPost is a handy service not only for creating unique links but also for managing their integrations. All processes including outreach, content production, and publishing will be done for you. A comprehensive set of guest posting services will enable you to start gaining backlinks right away and be fully compliant with Google's algorithm.
It may seem unlikely, but many blog owners are eventually happy to post guest articles.
Additionally, try to make sure the article is original and well-researched. If you don't have a qualified writer on staff, you can also hire a freelancer for the job.
How do I write and publish a guest post?
Many websites offer their section for guest posts, explicitly stating the guidelines. After briefly agreeing on the topic, structure, and style, you can create your guest post.
Guest posts should be written as neutrally and structured as factual text. Then nothing will interfere with the collaboration.
To ensure that the guest post is in a high-quality and competent manner, you can entrust this task to professionals. For example, Essay Tigers company is an essay writing service that can help you with this issue.
Before you start guest post writing, carefully review the media recommendations. While some media give you freedom in the structure and style of your guest article, others have particular ideas you must follow.
In principle, it's not difficult to publish a guest post. First, you must contact the website owner where the guest post will be published. It can be done, for example, through a contact form.
Final Thoughts
Guest post writing is one of the most effective. You can use guest posts to attract new traffic and improve SEO. Qualified copywriters are excellent at writing guest posts, but you can also try it yourself. To summarize, publishing posts on third-party resources is beneficial to both parties. Many information and commercial projects use guest posting as their primary link-building method.
Frequently Asked Questions(FAQs)
Q1) What is guest post writing? What is its benefit?
Answer: Writing content for someone else's website is known as guest post writing. Guest posts are a case of link building where the links drive website traffic. It is beneficial for both parties involved.
Q2) Differentiate between a guest and blog post.
Answer: Blog posts are articles you may write for your website. However, guest post writings are to be published on another person's website. Most guest posts include a backlink to the guest author's site, either in the blog post itself or as author credit.
Q3) How much does a guest post cost?
Answer: Paying a content maker and other professionals can be expensive. Therefore, it is worth calculating the costs in advance and ensuring that there will be enough budget for cooperation with significant sites. If the traffic on the website is under 1000, then the guest post can cost anywhere between $10 to $50. As the traffic goes higher, the cost of guest posts increases.
Recommended Articles
This article explains the importance of guest post writing for link building and SEO. Read the following articles to learn more,