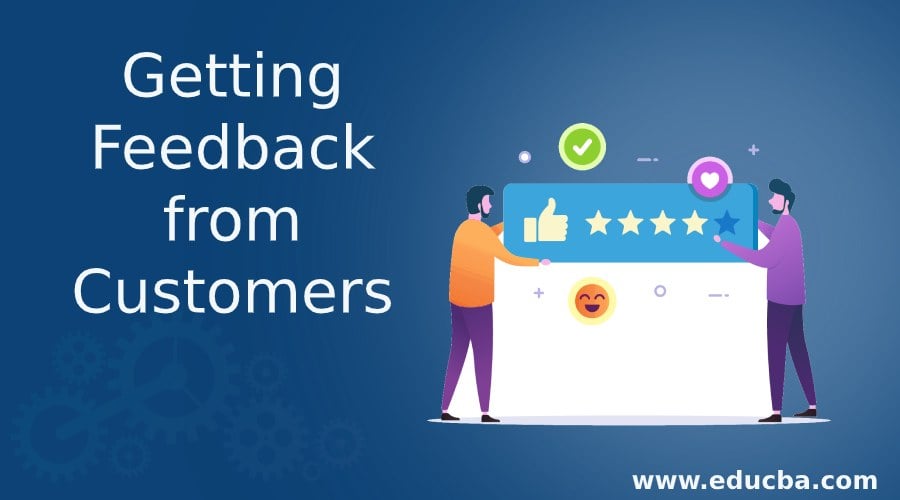 Introduction to Getting Feedback from Customers
The way of getting feedback from customers plays an important role in improving your business to a great extent. Your customers are the wealth of information for your business more than you think. To deliver a good user experience to the customers you should first listen to what your customers are saying. They can help you to innovate a new product and provide better customer service. In this way, you can offer more value to the customers.
The more information you get from the customers, the better you can perform. When you have more accurate information from the customers it will put you ahead of all the competition in the market. With customers feedback you can reduce the churn rate of the customer and increase customer satisfaction.
Why Getting Feedback from Customers?
It helps to bring meaning to your product or service. Here are few reasons listed which tells you why it is important to get feedback from customers
Better decision-making – Your customers can give you the best suggestions for your product or service. They will tell you both positive and negative things about your business.
Identify risks – By getting feedback you can come to know about the customers who are not satisfied with your service. Such feedbacks will help you to do a lot of improvements in your business.
Stop the repeating problems – By getting feedback from customers you can know where it is going wrong and then you can take precautions to prevent it from happening again.
Increase customer satisfaction – Getting feedback from the customers is one of the best customer retention strategies. It increases customer satisfaction and helps to build a healthy business relationship with the customers. By two-way conversation, you can create a strong and long-term bond with your customers.
Find out potential advocates – Through customer feedback, you can know who your happy customers are, and then these customers can be converted into advocates. Customer advocates will refer your business to their friends and relatives. You will get new customers from such references and this improves your business as well as your revenue.
Top 9 Strategies Used for Getting Feedback from Customers
Companies should include the customer feedback section as a part of their development cycle. It is a tricky thing. You should phrase your questions in a proper way.
Here are listed a few ways of getting feedback from customers.
1. Customer surveys
Customer surveys are the most efficient way of getting feedback from customers. They are easy to set up, send across, analyze and scale.
There are two types of surveys:
Long surveys:
This is the most familiar type of survey. In this method, a set of getting feedback from customers questions is sent to the customer through a link. Sometimes these surveys do not yield a good result because the surveys are either sent unfinished or the responses are not helpful. But there are few tricks to make this survey give you a better result.
They are mentioned below:
Keep it short – If you need to get quality answers then you need to keep your survey short and simple. Have only 5 to 10 keys feedback from customers questions in your surveys.
Ask questions that serves a purpose – The questions you ask should have a purpose behind it. If the customer feels that you are wasting their time by asking irrelevant questions then they will not show any attention to your survey.
Start with open-ended questions – If you ask questions with rating scales and multiple choices then it means you are limiting your assumptions. So always make your questions open-ended so that you can really know the thoughts of your customers.
Short surveys:
You can conduct short surveys on your site. Keep the survey short. Ask only two or three feedback from customers questions that are more relevant to the page. This survey will help you get better feedback.
This is the recent method which many sites are using. But don't rely too much on such surveys because they will not help you to understand the customer deeper as they don't receive any explanations from the customer. Start this survey only as a starting point.
2. Telephonic surveys
Surveys conducted through phone always give you a higher response rate. This is because it becomes more personalized and offers a better reach to the customers. This method is a little expensive than the online survey method. It still has a lot of benefits like higher control of standards, higher control of the sample, easy and quick to get the responses. The online survey can also be linked to a telephonic survey in order to get further details from the customer.
3. Feedback boxes
You should always have a structured process of getting feedback from the customers. Your customers are always thinking of ways that could make your business work better. This is because they will not be satisfied by some sections of your site or they would have found some error in your site.
If the problem is not serious they will not reach your customer support center. They will just move away with little satisfaction. In that case, short surveys that appear on the site with few related feedback from customers' questions will help to express their problems.
But in order to get simple suggestions from the customers use a feedback form on your site. The aim of this form is to make it easy for the users to give feedback when something is wrong with the site. It also collects feedbacks from customers' information like the account name, the URL and the browser version so that the problem can be fixed easily and quickly.
But some sites have completely changed the concept of the feedback form. They have a feedback button on their page and when the user clicks on that button they get a feedback form with a lot of questions. The user gets frustrated and irritated by looking at this.
The purpose of the feedback form is to collect feedback from customers the users about small things. So make the feedback box as simple as possible and easy to use.
Once you collect feedback from customers you need to respond to it. Allocate a person to respond to every piece of feedback within few days.
4. Focus groups
A focus group is where a group of people is asked about their perception and suggestion towards a product or a service or a business. This method of collecting feedback from customers is most commonly used in the early stage of the product when a business is trying to find out who its target customer is.
Focus groups are conducted in an informal way and in a real-world environment which will let you know what the customers really feel. This is again an expensive method of collecting feedback from customers because to invite customers to take part in focus groups you need to give them an offer or free lunch or some sort of free training. Your customers should be benefited from it only then they will take part in the focus groups.
5. Reach out directly
This method of feedback is often undervalued but it is the best method. You can get real feedback from contacting them directly. By using other methods of feedback like surveys, there are chances that you can miss out some contextual information. By talking to them directly you can know their passion in their voices. You will also be able to understand their problems better.
Your customers might feel that some changes to your business can make them more satisfied. There might be several reasons why they need such changes. And if you don't talk to them directly you will not know what is going on and what are the problems faced by the customers. Only if you know the exact problem you can fix it easily.
You will get a lot of benefits if you meet your customer in person. So first take a list of all your customers and find out who is available in the local. Invite those customers and tell them that you want feedback from them to improve your business. You can more values from this meeting.
6. Quarterly business reviews
Quarterly business reviews will give you a chance to sit with the clients and discuss what happened in the past three months. You can find ways to provide better service. Often business reviews are misunderstood as talking about the numbers and results. But it is not the fact. Business reviews can also be used to get feedback. It is the right time to ask for more feedback from customers questions and get detailed feedback from the clients. You can have a better understanding of their thoughts.
7. Get a report from analytics
Analytics will help you to know which page and which section of the site is most liked and mostly used by the customer. You can use web analytics to get such details about your site. Web analytics often tells us about the total usage but it does not tell you about the individual user's behavior on the site. This is because the web analytics tracks your website as a whole and do not consider your customers.
But customer analytics will help you to track the activities of an individual customer.
You will think about why this is useful. But this is the easiest way to find out why certain things occur on your site and what is the outcome of that.
For example, if you have a software, you can offer a free trial to a person to use your product or service for one month. You can let them to create an account and then provide a demo to them.
If the person is satisfied with your product then he will upgrade to a paid plan. If they don't come back again to use your product it means that the person did not find enough value in your product.
Now from this data, you can know who didn't like your product. You also have the details of the person like their name and mail id. So with these details, you can use any other feedback method to know why they thought your product is not valuable. In this situation, you can easily know what are the questions to be framed for the feedback.
8. Community groups and discussion boards
Customers love to be a part of a community or a group. Online community groups and discussion boards give you a great platform to get mingled with the customers. The customers provide feedback as their comments in such groups and boards. Such feedbacks play an important role in the development process of the company. The customers will also provide some recommendations for the future product enhancement. You should listen to them and respond to their comments.
9. Usability tests
In this method, you can see someone use your product or service. You can track the sections which they visit, find out what attracts them the most and where do they get confused.
In the past, you need to allocate the task to a random person and ask them to record the entire process. These days there are software and services which will tell you exactly what is happening. The cost has also become reasonable for such services.
This test is best suited for new application development and account creations. If you have come up with a new sign up processor if you have launched a new product you can use this option. You can ask a research firm to watch someone use it. In this way, you can find out the problems and can solve it right away. This will also increase your customer acquisition rate.
When selecting random persons to test something do not select your family or friends. They always feel that everything you do is great. They will not look at your product in an unbiased way and because of this you will get only positive feedbacks. To get unbiased feedback that will give you the exact output, always perform this test with some strangers.
The Bottom Line
Getting feedback from your customers at frequent intervals will let you know whether your business is set in the right direction. Given above are few methods to get the feedback. Experiment with each one of it and find the right combination for your business. Make it a standard practice to get feedback from the customers.
Recommended Articles
This has been a guide to Getting Feedback from Customers. Here we have discussed the introduction and top 9 strategies used for getting feedback from customers. You may also look at the following articles to learn more –