Updated July 25, 2023
Best Books for Financial Literacy Books
Financial Literacy Books help readers develop and use financial skills like managing personal finance and learning to budget and invest. Budgeting may help track one's finances and spending habits. One needs to develop a relationship with money and set some financial goals that allow them to prioritize spending.
We have provided a list of financial literacy books that clarifies the meaning and workings of financial literacy. They help basic and intermediate readers attain better insight and knowledge on the subject matter and better financial health. Also, they allow professionals to make strides in their careers.
Below is the list of financial literacy books through which professionals and beginners can enhance their Financial Literacy.
Let us go through each financial literacy book review and key points in detail.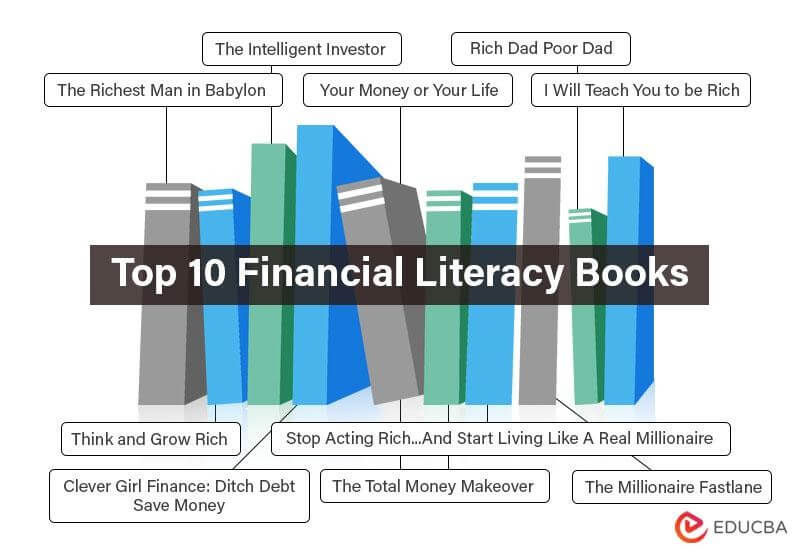 Book #1 The Richest Man in Babylon – The Success Secret of the Ancient
Author: George Samuel Clason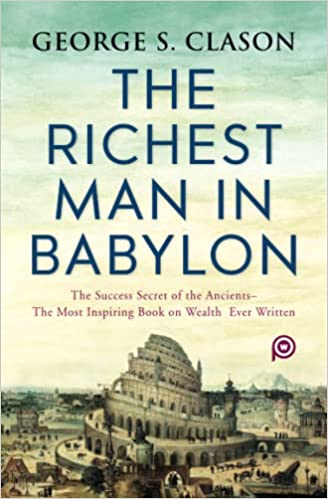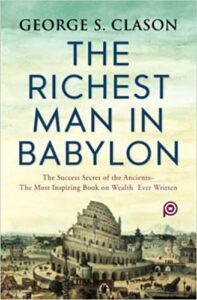 Get this book here
Review:
Initially written in 1926, the book has maintained relevance throughout its editions into the 21st century. Set in the premise of ancient Babylon, the book's central theme is saving 10% of your income for investments. It offers insights on how to clear your debt and gain financial freedom. The "5 Laws of Gold" and "7 Cures for a Lean Purse" adds value to your financial understanding.
Key Points:
Clason believes paying yourself first is essential and saving 10% of everything you make is most important.
He emphasizes the need to prioritize spending and that wealth is a long process. One must wait and be patient for savings to accumulate.
He advises seeking financial advice, which is far better than making an uninformed decision.
Book #2 The Intelligent Investor – The Definitive Book On Value Investing
Author: Benjamin Graham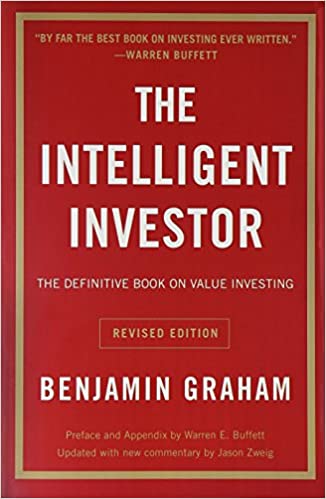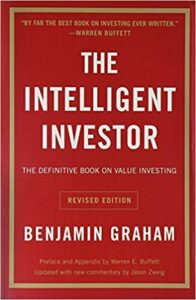 Get this book here
Review:
Benjamin Graham is known as the procreator of value investing. This book is the best coach when it comes to learning about finance and investing. The book has valuable financial concepts to enhance understanding and value investing. The author has gone the extra mile to support the concepts with real-life case studies. A must-read for stock market enthusiasts.
Key Points:
The author teaches how to invest in businesses intelligently and professionally while giving alternatives to individual investing approaches.
Graham insists that bearing patience helps you multiply money as you own and hold earnings, dividends, and interest rather than impulsively buying and selling.
It prevents novices from making potential mistakes while investing and guides how to build long-term goals.
Graham helps investors to fine-tune their risk-taking and teaches strategies for growth development.
Book #3 Your Money or Your Life – 9 Steps to Transform Your Relationship with Money and Achieving Financial Independence
Authors: Vicki Robin and Joe Dominguez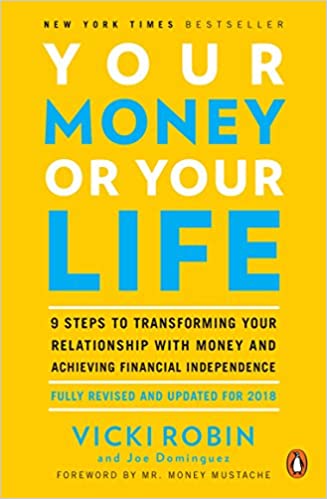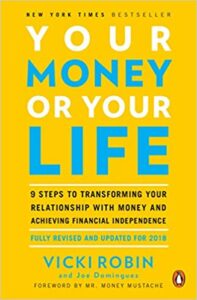 Get this book here
Review:
This book by Vicki Robin aims at amateur investors and experienced financial literates. The book engages the readers on how to improve their relationship with money. In this book, the author has explained a 9-step program that inspires its readers to give meaning to their lives and purposeful life. It teaches you to choose the correct lifestyle and prioritize your spending. 
Key Points:
The book shows ways of getting out of debt and saving money.
It takes a new approach to saving money through mindfulness rather than living sparingly.
It helps a person differentiate what brings joy to one's life and know what is essential for living.
The author emphasizes that the most valuable commodity in life is time. Invest it carefully.
Book #4 Rich Dad Poor Dad
Author: Robert T. Kiyosaki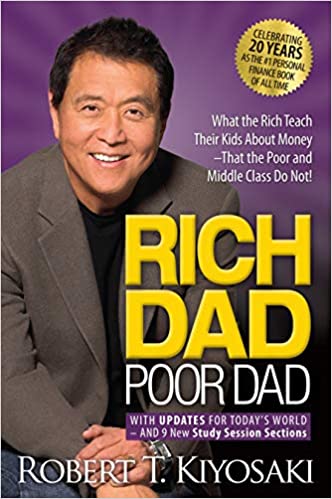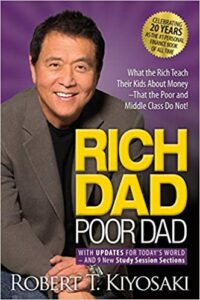 Get this book here
Review:
Rich Dad Poor Dad made an impact in the Personal Finance domain. Kiyosaki addresses how to better manage Personal Finance through a story of a kid growing up with two dads. It reveals how both fathers influenced his financial skills. This book is a great life lesson on how to put your money to work instead of working for money.
Key Points:
The author emphasizes good practices for managing Personal Finance through the story, a case study on the effects of spending money on assets that generate income in the future, and it urges not to spend on liabilities.
Rich Dad Poor Dad reveals how important it is to build a diversified portfolio of assets and let the assets earn money for you.
The author clearly defines and differentiates between liability and an asset.
While showing the lack of training students about money, he enables parents to teach their children about financial success.
Book #5 I Will Teach You to be Rich – No Guilt. No Excuses. No B.S. Just a 6-Week Program that Works
Author: Ramit Sethi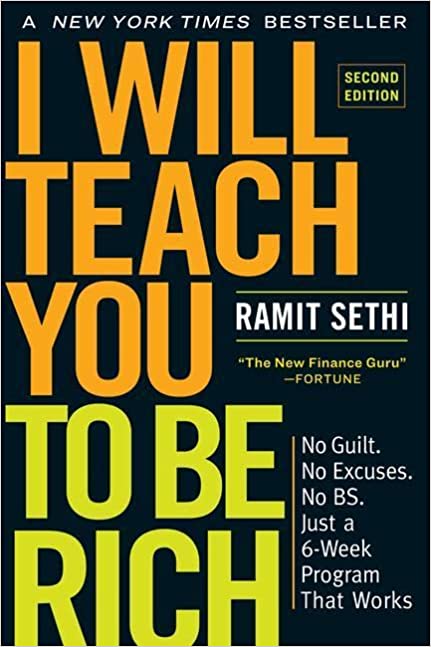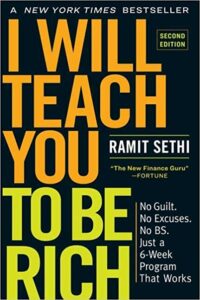 Get this book here
Review:
There are two ways to be rich, one by inheritance and the second by knowledge and discipline. Ramit Sethi explains to you the second method. Ramit Sethi frees a person from the dilemma that one can enjoy life and a lifestyle yet be rich. The book offers useful real-life techniques, including saving enough to buy things one desire, paying off debts, negotiating for a pay raise, etc.
Key Points:
The author helps readers understand priorities and what is essential for their future. He brings to light how spending should reflect what you value most.
The book enables the reader to think of the budget as a plan, how to spend consciously by cutting back on things one hates and spending on what one loves.
The author offers remedies for those in debt and how to surpass them sooner than expected.
Book #6 The Total Money Makeover – A Proven Plan for Financial Fitness
Author: Dave Ramsey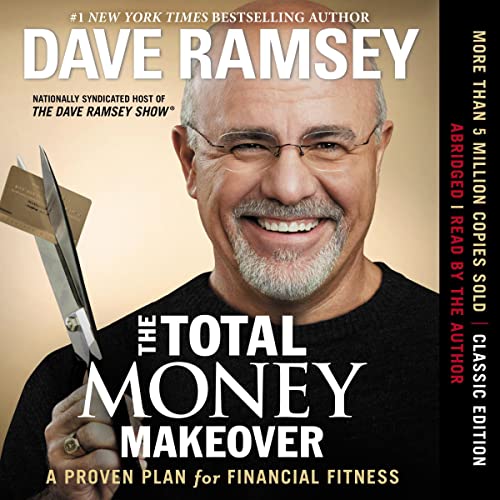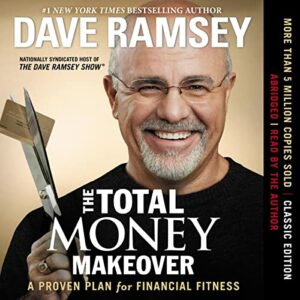 Get this book here
Review:
The author Dave Ramsey is a financial advisor, and his book Total Money Makeover is a step-to-step guide for financial stability. The book aims to explain to its readers that money is not the solution to every problem. While it tries to address misconceptions and myths about money, it also guides to making a fat bank account and getting rid of the flabby expenditure into a shaped-up budget.
Key Points:
Ramsey helps the reader to focus on current budgeting and future planning of building an emergency fund and paying debts.
The book shows how to invest in retirement, that is, invest for an extended period.
It inspires the reader to take the first step, as you are the only thing standing between your financial freedom.
Book 7 Clever Girl Finance –  Ditch debt, save money and build real wealth
Author: Bola Sokunbi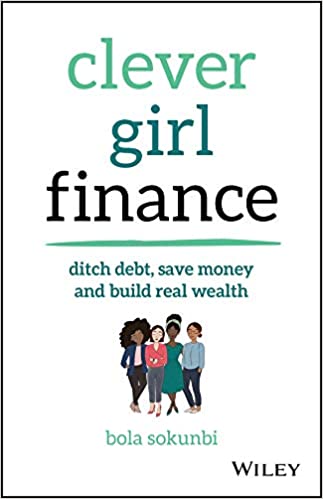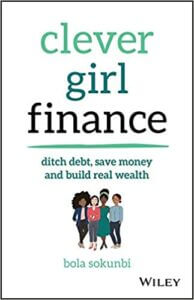 Get this book here
Review:
Clever Girl Finance is a book that encourages women to be in charge of their expenses.  Sokunbi tries to enrich women's financial understanding through her mistakes and experiences. She shows how building habits like monitoring expenses, making a workable budget, and, most importantly – sticking with it and managing credit and credit cards takes a woman a long way. One can be wealthy even if one has a modest salary.
Key Points:
The author guides how to be the boss of yourself. It's you who decides where you should spend your money.
The author teaches how to organize your finances better while helping you track your spending to cut down unwanted expenditures.
She explains that money is what you earn, and wealth is what you make over time.
Book #8 Stop Acting Rich…And Start Living Like A Real Millionaire
Authors: Thomas J. Stanley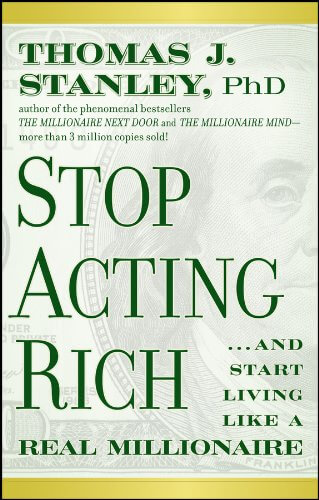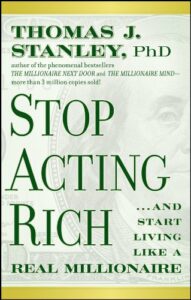 Get this book here
Review:
Thomas J. Stanley explains the difference between being rich and acting rich. By spending on veblen goods, one is not necessarily rich. The central theme of the book is that the rich don't spend money, rather, they save and build their wealth. The author tries to convey that one need not misspend their earnings to show that they are rich.
Key Points:
Stanley gets into the psychology of real millionaires and differentiates them from those who portray themselves as millionaires.
He teaches how to adopt the habits of real millionaires and give up the spending habits of Ultra millionaires who spend their money on luxury and end up financially distressed.
The author states that being rich and acting rich are two different sets of people.
He advises you not to spend more than you make.
Book #9 Think and Grow Rich
Author: Napoleon Hill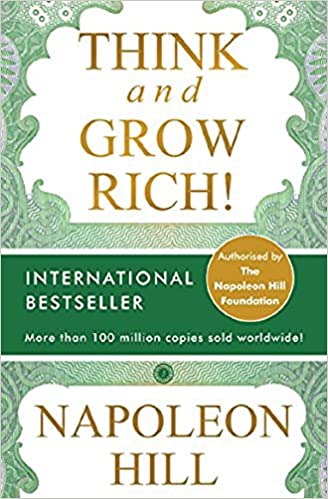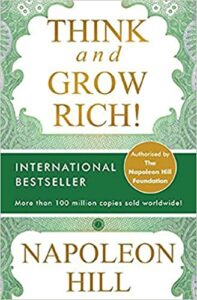 Get this book here
Review:
Napoleon Hill Foundation, a non-profit organization, opened after the renowned author Napoleon Hill spread his philosophies of self-motivation and leadership. Written in 1937, the learnings of the books are still relevant in modern times. The book extracts twenty years of research and insights from more than 500 most-successful personalities in the USA. It is for those who aspire to be rich. The book explains the power of the subconscious mind and how good habits can make your day. The message of this book is crystal clear- Think rich and Grow Rich.
Key Points:
Napoleon Hill emphasizes being consistent with its goal. Perseverance, along with consistency, can make anyone successful.
The book urges one to have a definite purpose and work for it.
Think and Grow Rich helps you to develop the mindset and skills to excel in your field and professional or personal endeavors.
Book #10 The Millionaire Fastlane – Crack the Code to Wealth and Live Rich for a Lifetime
Author: M.J. DeMarco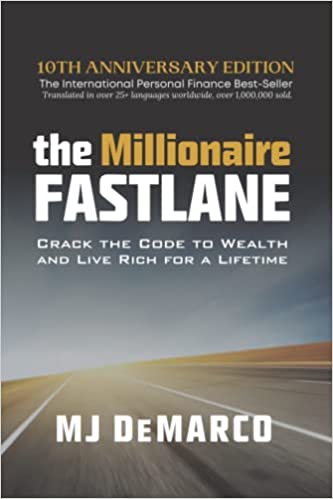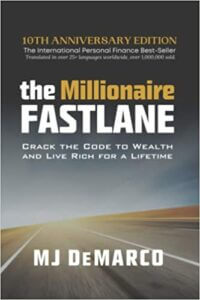 Review:
MJ DeMarco emphasizes the importance of doing things you love. People live under the myth that they must give up everything they like to save that extra penny to retire rich at 65. The author emphasizes learning to identify opportunities and build wealth quickly. "Many people want to change their life, but they are not willing to change their choices, and ultimately this changes nothing" -MJ DeMarco.
Key Points:
The author delves into the reason for the failure of entrepreneurs and how they can change things fast in their favor.
He removes the misconception that paychecks, mutual funds, and the 401k combined with frugality make a person rich.
He talks of the methods that work and, if leveraged, will compound wealth.
Recommended Books
EDUCBA lists the 10 best Financial Literacy Books in the article for your benefit. For more recommendations, review the following,