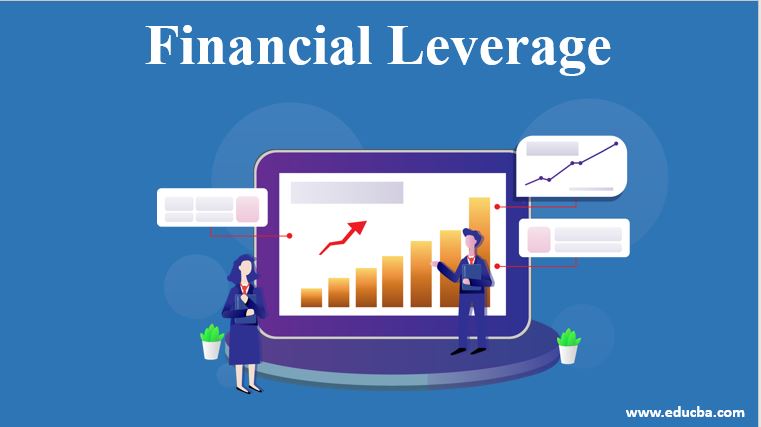 Introduction to Financial Leverage
The act of borrowing funds to purchase fixed assets, instead of issuing new equity or using up the retained earnings, is known as taking up financial leverage wherein, leverage refers to the amount of debt capital that comes on the balance sheet of the company as part of this process and it is limited by the capital structure goals of the company.
Explanation
For a company who wants to purchase a fixed asset, it can raise capital in manners suggested by the following smart art: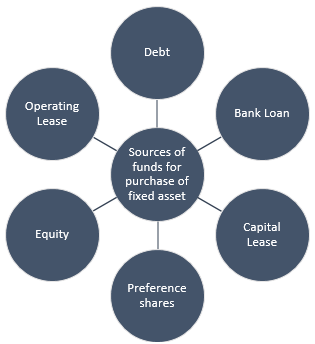 Operating lease and equity capital don't amount to financial leverage but debt, bank loan or capital or finance lease leads to financial leverage. And this is why only these are the sources of our interest.
Preference shares are a hybrid variety source of capital and it can be a part of financial leverage on the terms that the rate of dividend is fixed, however, the dividend is only paid when the company earns profit differentiates it from other leverage instruments and therefore its inclusion to financial leverage calculations may vary from one balance sheet to another, depending upon the quantum of its existence.
Features of Financial Leverage
A few points should be kept in mind related to the topic of financial leverage:
Those borrowings which lead to fixed annual liabilities such as interest or even fixed dividend in the case of preference shares, fall under this category.
It is the use of borrowings for capital expenditures and net operating expenditure.
The choice of financial leverage arises when the company expects that the returns generated from the asset so purchased will be greater than the cost of borrowing or more commonly known as the interest expense.
Interest expense is mandatory even if the company doesn't earn profits, however, interest expense is tax-deductible so provides a tax shield, which is a lucrative feature of the leverage financing
As the borrowings are used to purchase fixed assets, these are generally for a long term period
There are several ratios that measure the financial leverage, such as the Debt ratio, Debt to equity ratio, Coverage ratios, etc.
Formula to Calculate Financial Leverage
The formulae related to the analysis of financial leverage are as follows:
Financial Leverage = EBIT / EBT
Or
Degree of Financial Leverage = % Change in EPS / % Change in EBIT
Example of Operating Leverage Formula (With Excel Template)
Let's take an example to understand the calculation in a better manner.
Example #1
Suppose we are given the information about two companies, one is funded only with equity capital and one with debt and equity capital.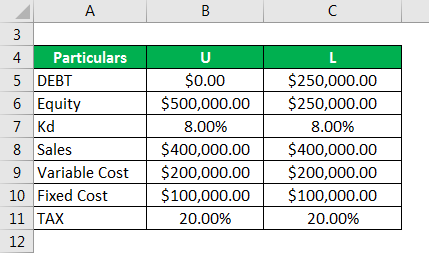 Solution:
Company U is calculated as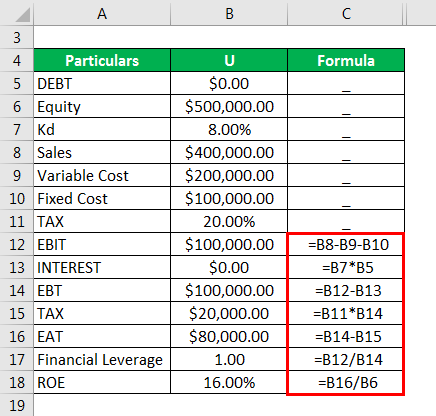 Company L is calculated as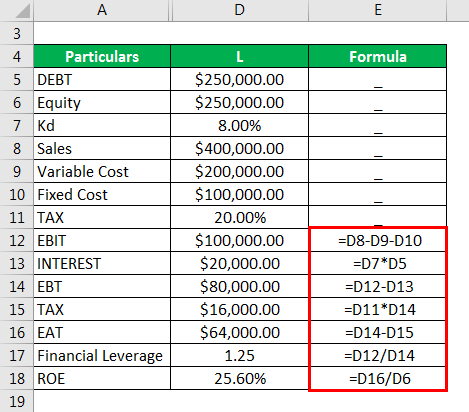 For Detail, calculation downloads the Excel Template.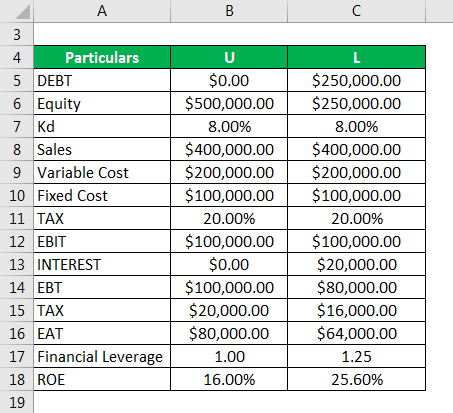 Explanation: As there is no interest expense in U, the EBIT = EBT and financial leverage = 1 but due to interest expense in L, Financial leverage increases to 1.25.
Due to the interest expense, EBT is lower for L in comparison with U and therefore, the ratio EBIT/EBT is greater. Using this information, investors can understand which company is more bent towards leverage financing and then decide whether or not would they want to invest in the company.
The leveraged company leaves lower earnings available to be distributed to equity shareholders, however amount of equity is also lower and therefore the return on equity is higher, which is consistent with the fact that the equity shareholders will demand the greater cost of capital for increased risk due to existence of a debt
Example #2
Suppose we are given the information for two years for one company only which has increased its debt.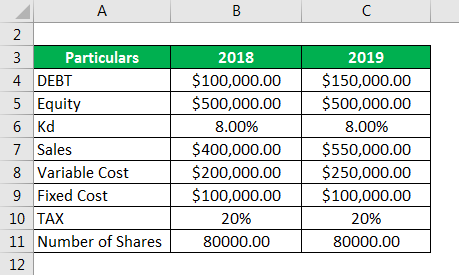 Solution:
Calculation for the Year 2018 is calculated as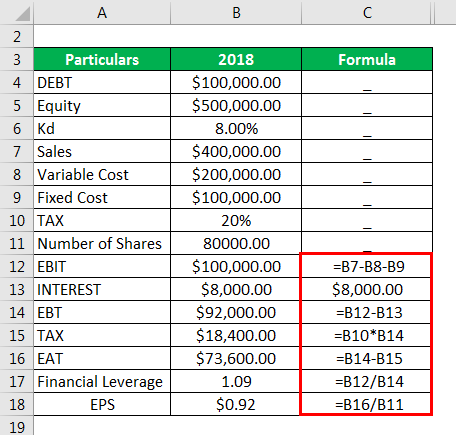 Calculation for the Year 2019 is calculated as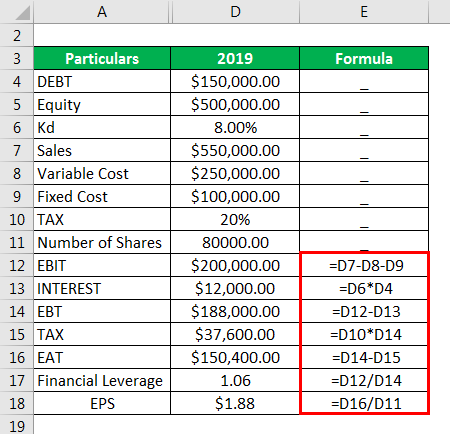 DFL is Calculated as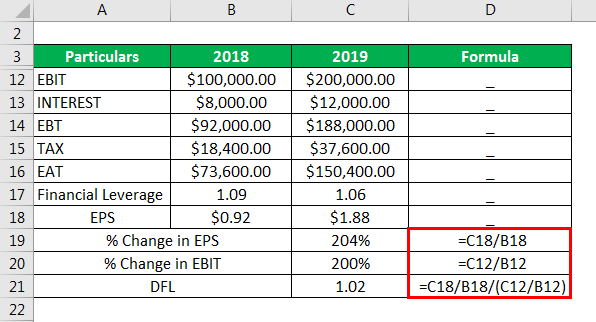 For Detail, calculation downloads the Excel Template.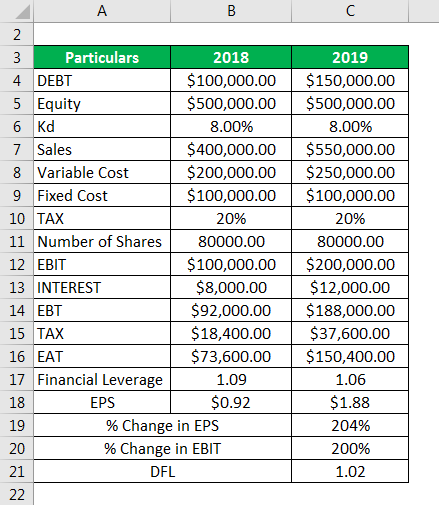 Explanation: Due to the increase in sales, the increase in EBIT overpowered the increase in interest expense and therefore, led to a decline in the financial leverage in 2019 as compared to that in 2018. This further led to a greater increase in % change in EPS to % change in EBIT and therefore the DFL is greater than 1
DFL greater than 1 is a positive sign for the prospective investors because EPS is a post interest measure while EBIT is a pre interest measure and therefore a higher DFL implies that in spite of interest expense, the increase in after-tax and interest return of equity shareholders is growing faster than the total earnings of the company including those for debt holders. This is a signal of profit and growth and therefore prospective investors will find such an investment lucrative if they are growth-oriented.
Financial Leverage vs Operating Leverage
Operating leverage is a measure of the number of fixed costs of the company such as rent and office salaries and so on. Greater such costs, greater is the riskiness of the company because if there are not enough profits, these expenses still need to be paid. Financial leverage deals with the amount of debt in the capital structure of the company and therefore the number of interest expenses and whether a company is capable enough to meet these expenses.
The formula for operating leverage is, while the formula for financial leverage is as explained above.
Operating leverage measures operational efficiency and operational risk while financial leverage measures the solvency of the company and bankruptcy risk.
Advantages and Disadvantages
Below we will learn about the advantages and disadvantages for the same:
Advantages
Tax shield: As interest expenses are tax-deductible, they provide a tax shield and the amount of tax payable reduces when there is financial leverage on the financial statements of the company
Flexibility: When it is not feasible to raise more equity capital, debt gives the company the flexibility to expand operations and thereby not losing out on the favorable economic cycle
Disadvantages
Fixed Charge against profit: Interest expenses are needed to be paid even if the company is not earning profits so leverage acts as a double-edged sword as if the company fails to perform, then it faces a huge build-up of liabilities
Restrictive covenants: At times, bond indenture impose restrictive covenants on taking up more debt or determining the dividend payout so it leads to company management losing control over its policies towards the equity holders which causes the equity holders to demand greater return over the amount invested by them
Conclusion
So we can conclude by saying that financial leverage is the measure of the amount of borrowed capital present in the capital structure of the company and therefore the riskiness of the company in terms of its solvency and ability to meet its obligations related to interest expenses of its borrowings
Higher financial leverage is justified only for those companies that have high growth prospects and not for small start-ups because interest expenses need to be paid even if the company is incurring losses and this might not be feasible for such companies. It is better for them to enter into venture financing or angel investment.
Recommended Articles
This is a guide to Financial Leverage. Here we discuss how to calculate the along with practical examples. We also provide a downloadable excel template. You may also look at the following articles to learn more –