Updated July 24, 2023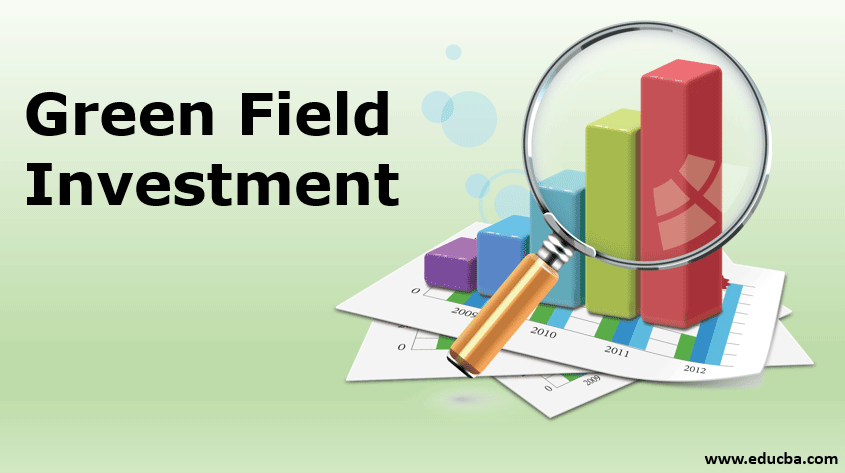 Introduction to Green Field Investment
Green-Field investment is the most stable form of Foreign Direct Investment (FDI). In a Green-Field Investment, the foreign company sets up a subsidiary company in the foreign land. So the company starts from scratch. Like making buildings, hiring employees, and all that is needed to start a company.
Explanation: When a foreign Country follows an Open Economic policy, they open doors to foreign investments. Foreign Investments can be of several types, and one amongst them is Foreign Direct Investment. Green-Field Investment is part of Foreign Direct Investment, Where a foreign company sets its subsidiary company in another country. These kinds of investments are more stable as it gets difficult for the foreign company to withdraw the investment overnight. Green-Field Investment helps foreign companies to set up subsidiaries where the labor is cheap, and Investment opportunities are high.
Examples of Green Filed Investment
Mercedes Benz wanted to expand its operation in India. After properly analyzing the operation's cost and benefit, they found out that it will be cost-effective if they set up an entire operation from scratch in India. Importing cars and selling after paying import duties were not so cost-effective. So in 2007, they set up their plant in Pune, INDIA. They purchased land and set up the entire process, starting from erecting buildings, to setting machinery, to hiring people. So this kind of Investment is Green-Field Investment, where you set up the entire structure from scratch, and you make the company a subsidiary of the parent company.
Green Field Investment vs Brown Field Investment
Green-Field Investment is when a company starts the entire operation from scratch. That is when they buy the land, set up the buildings, take all the approvals from scratch, hire employees, and start the operation. So you have the maximum control in greenfield investment. It is very risky as the foreign company is not sure whether the new company formed will be able to generate profit. As a lot of capital and time are already devoted to setting up the company, it will be difficult for the foreign company to withdraw the operation overnight. It also gives flexibility to the business as the new buildings will be constructed exactly the way the production wants it. So it can be set up for convenience.
Brown-Field Investment, on the other hand, is buying or leasing an already constructed facility. So it obviously saves time as the construction time is saved. There are several permit issues that an MNC faces when trying to construct a facility from the ground-up, but in the case of Brown-Field Investment, the permits were already taken by the existing facility, so it saves time and also gives confidence to the MNC that there will be no revolt from local people to stop the construction.
Having said that, Brown-Field Investment requires the MNC to compromise while setting up its machinery or setting up IN- House logistic as the facility was already constructed, and the new company will have to adjust themselves in that. Fire Control systems are getting upgraded daily. So at times, it gets difficult to reinstall new Fire systems in an old facility that is not made to be Installation friendly.
Benefits of Green Field Investment
There are several benefits for Green Field investment:
The construction can be made product-specific, saying an MNC has done research that a particular product can be sold in a particular country and will have huge demand. So that product says has a very short shelf life. So the facility should be very close to the market where the company is planning to build it. It should be connected with good roads, and ample logistic should be available for better transportation. So keeping everything in mind, it gets essential to build a facility dedicated to a particular product.
Safety norms are changing daily. So it could be that an OLD facility will not have all the safety norms required at the current time, and it will be really difficult to install them as the old facility was not made in that way. So, for this reason, it is always better to construct a new facility considering all the new fire and safety norms.
New buildings don't require so much maintenance. If an MNC buys an old building, then after a few months, it will have to spend a lot in maintaining the facility.
The foreign countries several times give tax discounts so that new companies are set up, and the economy improves. So Green-Field Investment gets profitable for the MNC as they get a tax rebate.
Limitations of Green Field Investment
The Limitations are given below:
Green-Field Investments are extremely Time-consuming. When a company plans to do a green Field Investment, it will have to start looking for vacant land and then start contacting companies who will help them build up the facility. The construction itself takes several years. So by the time the facility is constructed, the demand for the product for which the facility was being constructed may erode.
There are several permits that need to be taken to set a new facility. So getting all the permits is challenging as you will have to follow the set process.
The cost burden to set up a facility is really high. Once it is set up, the company just can't move out.
Setting up the operation from scratch is challenging. You need to conduct proper interviews to appoint the correct person for the job. Getting the right labor is also necessary. So intensive training are involved, which delays the production process.
Conclusion
Green-Field investment is very common in today's economy. Several MNCs are looking for the best opportunities worldwide to set up new firms. An open economy is also giving competition to local goods, and at times local goods are not being able to compete with foreign technology and capital. So Green-Field investment is a great way to expand the business, but it is also acting as a threat to locally produced goods.
Recommended Articles
This is a guide to the Green Field Investment. Here we discuss green-field investment vs brown-field investment along with benefits and limitations. You may also look at the following articles to learn more –