Learn from Home Offer TAKE THIS BUNDLE
Financial Analyst Program Mumbai
5 Online Courses
11+ Hours
Verifiable Certificate of Completion
Lifetime Access
Financial Analytics and Statistical Tools
Financial Analytics with Python
Financial Analytics in R - Beginners
Financial Analytics in R - Intermediate
Financial Analytics in R - Advanced
Offer ends in:
TAKE THIS BUNDLE
* One Time Payment & Get Lifetime Access
What you get in this Financial Analyst Program Mumbai?
Online Classes
Technical Support
Mobile App Access
Case Studies
About Financial Analyst Program Mumbai
| Course | | No. of Hours |
| --- | --- | --- |
| Financial Analytics and Statistical Tools | | 2h 3m |
| Financial Analytics with Python | | 2h 11m |
| Financial Analytics in R - Beginners | | 3h 53m |
| Financial Analytics in R - Intermediate | | 1h 32m |
| Financial Analytics in R - Advanced | | 1h 4m |
---
| | |
| --- | --- |
| Course Name | Online Financial Analyst Program Mumbai |
| Deal | You get access to all 5 courses bundle. You do not need to purchase each course separately. |
| Hours | 11+ Video Hours |
| Core Coverage | Accounting, Investment Banking, Equity Research, Private Equity, Hedge Funds, Cryptocurrency, CFA Exam Prep, Project Finance, Credit Risk, Excel, and VBA. |
| Course Validity | Lifetime Access |
| Eligibility | Anyone serious about learning Finance and wants to make a career in this Field |
| Pre-Requisites | None |
| What do you get? | Certificate of Completion for each of the 5 courses |
| Certification Type | Course Completion Certificates |
| Verifiable Certificates? | Yes, you get verifiable certificates for each course with a unique link. These link can be included in your resume/Linkedin profile to showcase your enhanced skills |
| Type of Training | Video Course – Self Paced Learning |
| Software Required | None |
| System Requirement | 1 GB RAM or higher |
| Other Requirement | Speaker / Headphone |
Financial Analyst Program Mumbai Curriculum
---
If you want to understand how this program is structured you can refer to the below description of the program outline.
Investment banking course: The program will commence with setting a foundation base of investment banking by covering fundamental topics.
Financial modeling course: Through this section, you will learn every aspect of financial modeling by reference to Siemens AG as well as financial modeling in different sectors.
Equity research training: The session will help you get a better idea about the analysis of the financial statements and deciding whether a companies share should be bought, sold.
Private equity training: In this training, apart from excel modules, you will learn about financial statements, discounted cash flows, private equity, private equity modeling, etc.
Business valuation training: The learners will understand how valuation works, different techniques for different sectors, and performing corporate valuation in MS Excel.
Merger & acquisition course: This course will help the participants understand different kinds of merger modeling with the aid of case studies.
Venture capital course: This part of the program will consist of modules on basic and advanced level venture capital modeling.
CFA level 1 course: This module is specially curated for those who admire to clear the CFA level 1 exam to help them excel in their preparations.
CFA level 2 course: If you are preparing for the CFA level 2 exam then this course is going to help you in your preparations.
IFRS training: This course will update you about 16 IFRS so that you can have a good hand in financial reporting as well.
Project finance training: The purpose of this course is to update the participants about project finance from a scratch level to an expert level.
Hedge fund course: In this specific training, you will learn everything you need to about hedge funds.
Excel training: Get ready for comprehensive training in excel with this module.
LBO modeling course: You can learn leveraged buyouts through this module.
Cost accounting course: The module will cover all important aspects of cost accounting such as types of costs, cost allocation, decision making, and process costing.
US GAAP course: You will develop a working knowledge of US GAAP through this training.
Cryptocurrency training: Get to know the fundamentals of cryptocurrencies through the aid of this module.
VBA training: The module will guide you on what VBAs are and how they are applied.
Finance for non-finance managers course: A participant can expect to learn basic financial concepts through the module.
Credit risk modeling course: The detailed course will explain different credit risk models.
Financial Analyst Program Mumbai – Certificate of Completion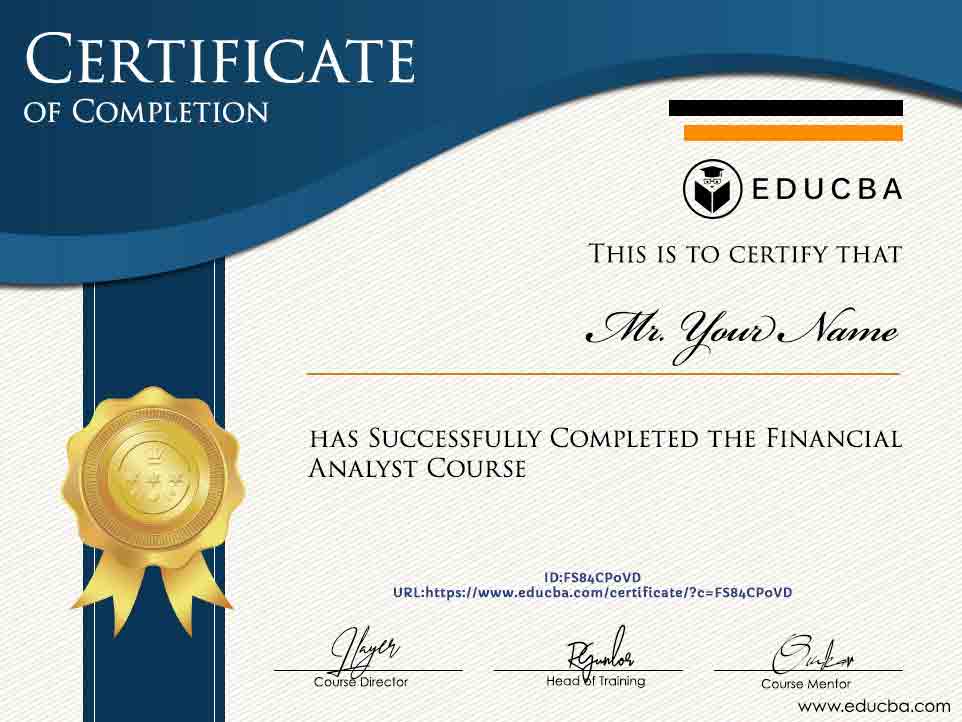 ---
What is the Financial Analyst Program?
A financial analyst is responsible for helping businesses make important financial decisions based on data interpretation and research. A financial analyst program helps the participants acquire the required skill set to become a financial analyst. The program mainly deals with 15 key areas namely investment banking, financial modeling, equity research, private equity, mergers & acquisitions, credit risk modeling, venture capital, CFA, IFRS, project finance, hedge funds, MS Excel & VBA, and finance for non-finance.
To cover each such area a separate module exists so that the whole program remains streamlined and the learners move from one topic to another in a phased manner.
What skills will you learn in this Course?
This financial analyst program will give you a lot of skills to learn. Some of them include:
Financial Modeling & Valuation: This is the most important skill that financial analysts need to possess and people spend so much time and effort to learn this skill. Through this course, you will learn about this skill with the help of expert knowledge sessions.
MS Excel, VBA & Macros: The profile of a financial analyst requires a lot of research work, and these three skills help a person to get better with the research and analysis.
IFRS & US GAAP: Not just for a financial analyst but for accountants too, knowing IFRS & US GAAP is a must and this course helps you update yourself about both.
Hedge Fund & Project Finance: Being two essential skills for a financial analyst you will learn these two skills as well through the course.
Cryptocurrency: The world is starting to accept cryptocurrencies and you must make yourself aware of what these are.
Pre-requisites
You need to have certain basic pre-requisites to take up this course and those are enumerated as below:

Basic finance knowledge: You should have a basic understanding of finance concepts so that you can better relate to the topics of this financial analyst program and the concepts do not seem out of the world to you.

Desire to learn: The course is an advanced level course and tends to become lengthy. Taking this course would mean diving in a well full of finance concepts. Thus, you need to have sufficient time as well as the eagerness to learn so that you can exploit the course to your maximum benefit.
Target Audience
If you are not able to decide whether this course is a fit for you or not, refer to the below target audiences for whom we intend to present this course for:

Finance Students: The course is apt for finance students as the course will make them aware of major finance concepts and prepare them for a better professional future.

Professionals: Professionals such as MBAs in finance, BBAs in finance, Cas, and other finance professionals can also take up this course to excel in their professional careers.
FAQ's- General Questions
---
Why should I take up this financial analyst program Mumbai?
To achieve the knowledge that a financial analyst is required to possess, people end up taking different courses incurring a huge cost. This course by us is a bundle of all modules that would help you become a financial analyst and you can find all these modules in a single package. As per their schedule, the participants can study individual modules and then hop to the next one. This program covers practically everything that the industry would expect from a financial analyst to know. Thus, this online program is a great way to prepare yourself for your journey of being a financial analyst.
How this course can help me in my career?
If you associate your interests or present employment in the fields of investment banking, equity research industry, private equity, IFRS, venture capital, mergers and acquisitions, and similar fields, this course is a perfect way to give your career a boost. You will get clarity on these concepts that would enable you to secure high profiles in such individual fields as well and not just financial analysts.
I am new to finance; can I take up this course?
If you are a beginner to finance, it is not suggested for you to take this course. Instead, there are many of our courses for non-finance professionals that our team can guide you with.
Will I get any certificates for this course?
The successful completion of the course entitles the attendees to get a participation certificate from us.
Why should you take the Financial Analyst Program Mumbai?
If you admire to become a financial analyst, this course will help you become one. This is because this course covers practically every area required to become a financial analyst. Further, there is no need to take up multiple courses on finance when you can get one in a single package. This is an all-in-one finance course and can help the participants become better finance professionals.
What is the Financial Analyst Program Trend in Mumbai
The demand for financial analysts is really good in Mumbai. Also, financial analysts fetch high salaries through their work profiles. If you are into the finance field, becoming a financial analyst can be a good career choice for you. Make sure you keep yourself updated about finance concepts so that you can demand better salaries.
Career Benefits
Better pay scales: This training will give you a very good learning experience in the field of financial analyst profile which would help you stand out as a candidate for these profiles and you would be able to command better salaries.

Better job prospects: Companies depend on financial analysts for taking major financial decisions. Thus, there are very good job prospects after taking up such a course. Those who update themselves about the individual topics of this program can grab better jobs.