$99$29965% Off TAKE THIS BUNDLE
Venture Capital Course
2 Online Courses
7+ Hours
Verifiable Certificate of Completion
Lifetime Access
Calculating Investor Return
Offer ends in:
$99
$29965% Off
TAKE THIS BUNDLE
What you get
Online Classes
Technical Support
Mobile App Access
Case Studies
Online Venture Capital Course
This Venture Capital Training Course is an awesome bundle of  2 comprehensive VC Modeling courses with 7+ hours of video tutorials and Lifetime Access. Along with this, you also get verifiable certificates (unique certification number and your unique URL) when you complete these courses.
Teaching venture capital modeling isn't easy. But we have just done that. We're bringing you the best bundle we've ever created for venture capital modeling. Here we will talk about how you can learn venture capital modeling step by step so that you don't need to look for somebody to clear your doubts. Do this course and you would know venture capital training could have not been easier.
And the best part is you can do this course from anywhere at any time whenever you want.

Industry Growth Trend
The Financial Services Application Market is expected to grow from $66.92 billion in 2014 to $103.66 billion to 2019, at a Compound Annual Growth Rate (CAGR) of 9.1% during the forecast period 2014-2019.
[Source - MarketsandMarkets]
Average Salary
Average Salary
$64,744 per year
The average salary for an Investment Banker is $64,744 per year in the United States.
[Source - Indeed]
Here, let's look at the following details about the Venture Capital course:
Online Venture Capital Course
---
| | |
| --- | --- |
| Course Name | Online Venture Capital Course Bundle |
| Deal | You get access to all 2 courses bundle. |
| Hours | 7+ Video Hours |
| Core Coverage | Basic and Advanced Excel based Venture Capital Modeling |
| Excel Templates Included? | Yes. All templates downloadable |
| Course Validity | Lifetime Access |
| Eligibility | Anyone who is serious about learning Venture Capital Modeling and wants to make a career as a financial analyst |
| Pre-Requisites | None (Basic accounting knowledge should help) |
| What do you get? | Certificate of Excellence for each of the 2 courses |
| Certification Type | Course Completion Certificates |
| Verifiable Certificates? | Yes, you get verifiable certificates for each course with a unique link. These link can be included in your Resume/Linkedin profile to showcase your enhanced financial modeling Skills |
| Type of Training | Video Course – Self Paced Learning |
| Software Required | Excel (2007 or above) |
| System Requirement | 1 GB RAM or higher |
| Other Requirement | Speaker / Headphone |
Online Venture Capital Course Curriculum
---
Before we talk about the prerequisites, course reviews, and FAQs, here's a course curriculum for you so that you can understand what we're getting into.
| | | |
| --- | --- | --- |
| Serial No. | Course Name | Course Description |
| 1 | Venture Capital Modeling | This is the first module you will go through. In a real sense, this comprehensive training would have been enough. But since we know the value of venture capital, we will also talk about advanced venture capital modeling in the next module. In this module, you will first learn about what venture capital is and how venture capital modeling works. We will talk about a brief history of venture capital modeling, then, the lifecycle of VCM, and will also discuss broad head venture capital modeling. Then, we will take a cash flow example and teach you how free cash flow works. Then, you will learn about the company valuation, the structure of the company valuation, pre and post-money valuation, capitalization table, and capitalization table of venture capital. Next, we will discuss about calculating investor return which is critical for venture capital business. Finally, we will teach you about return analysis, total equity valuation, and calculation of internal rate of returns. You need to go through 21 videos in total and the time investment is around 2 hours. |
| 2 | Advanced Venture Capital Modeling | This is the advanced form of what you would have learned in the previous module. This module is much more in-depth and will teach you the nitty-gritty of venture capital modeling. We will start with a brief overview of what advanced venture capital modeling is all about. Since it is more in-depth, first we will understand the basics of venture capital modeling just as a reference or overview. Then, we will talk about what participation in management has to do with venture capitalism, and also how stages of financing work. Then, you will learn about the deal process in length – the concept of the deal process, the receipt of the proposal, considerations for an entrepreneur, and the commonly used add-ons. Next, you will learn about model assumptions in the following manner – studying on the Project Titan, assumptions of Project Titan, creating assumptions, building the model, federal tax rates, investment assumptions, building a financial model, capitalizing assets, and finally other compensation. Then, we will talk about the income statement, the sales & marketing expenses, general administrative expenses, assets in the balance sheet, the cash flow statement, and the debt schedule. Next, we will discuss about the time period assumption, functions for the quarter, payment on long-term debt, building an offset formula, and calculating personal assumptions. Finally, you will learn about the business development compensations, analyzing with valuation table, the average of the comparable firm, terminal value growth, calculating the finding rounds, sum totals, and pre and post-money valuation. You would be watching 41 videos and the time investment is around 5.5 hours. |
---
Certificate of Completion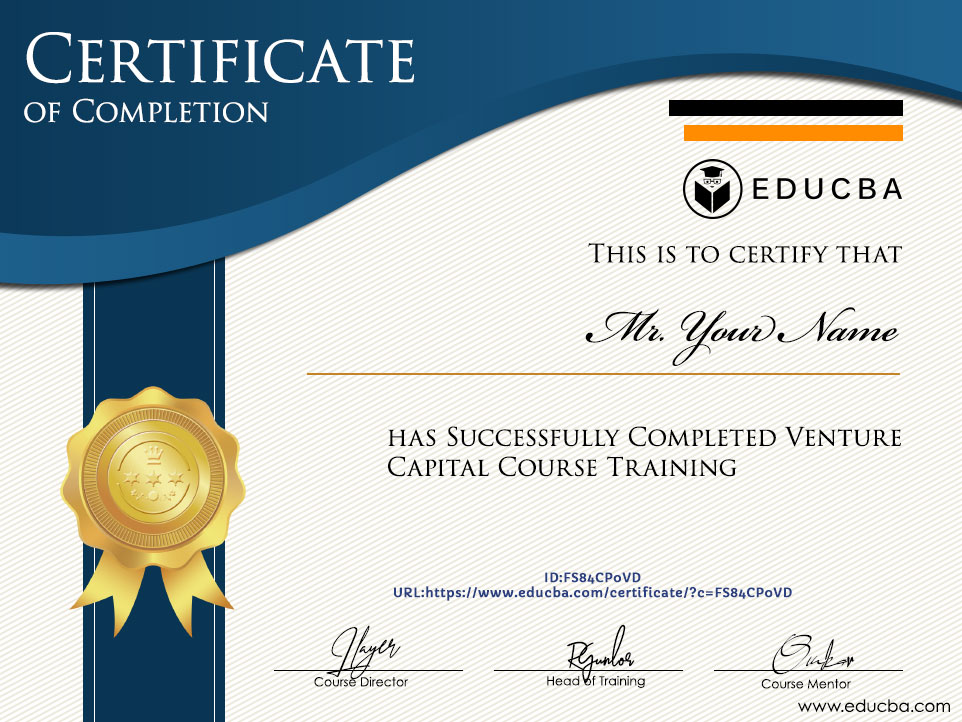 ---
Pre-requisites
There are few requirements for this course. Let's have a look –
Basic knowledge of finance: Since this course is created for intermediate students, you need to have the basic knowledge of finance to crack the code. To get the most value out of this particular course, you need to be thorough with your understanding of financial accounting, financial statements, ratio analysis, and other fundamental concepts of finance.
Willingness to learn venture capital modeling: If you're a finance student and you would like to learn venture capital modeling, then there's no course better than this in the market. But not everyone would like to learn the intricacies of the venture capital modeling. If you're committed, jump in and you would learn everything you need to learn about venture capital modeling in this comprehensive course.
Target Audience
MBA/BBA students specializing in finance: If you're just starting out in your finance career, this course may seem a little daunting. But no matter how much effort you need to put in, this course is worth the effort; because this course will take you to the next level.
Financial analysts/professionals: If you're already pursuing a career in finance and want to learn more about venture capital modeling, this course is ideal for you. You will not only learn the fundamentals and advanced modeling, but you will also get an opportunity to apply what you learn.
Entrepreneurs: If you're planning to go into the field of venture capitalism, this course may be the most you need. You will learn everything you need to learn about venture capital modeling.
FAQ – General Questions
---
Why should I do this Venture capital training?
You should do this course because this course can teach you everything about venture capital modeling. But if you don't have a basic knowledge of finance, you better skip it and learn finance first.
I'm not from a finance background. Should I do this venture capital training?
You may, but only if you have sufficient knowledge of finance.
Would this venture capital training add value to my career?
Yes. It would add tremendous value to your career. Once you do this course, you will learn how to create complex models for your company's venture capital needs. And as an employee, you may get a promotion for this particular skill.
Course Testimonials
---
Perfect
I've been planning to get into Venture Capital for some time, and this course was the perfect way to get started. The instructor did a great job of working through a sophisticated financial model in a step-by-step method, which allowed me to become comfortable with the concepts, and understand the final result.
Linked
Aaron Robert Gagnon
Amazing Venture Capital Lessons
This is a wonderful course to start with the Venture Capital Modeling as a whole. This course is primarily meant to cover the basics and will give you a overall basic idea where to start with Venture Capital Modeling. Instructions were pretty clear and lucid. I am recommending this course to anyone who wants to start with Venture Capital Modeling.
Linked
Rahul Roy
Comprehensive VC course
I love the course! It's simple, and comprehensive. The examples and instructions were explained very clearly.
Linked
Naveen Paul Sharma