New Year '20 Offer TAKE THIS BUNDLE
Hedge Funds Course [9 Courses Bundle]
This Hedge Funds Certification is an awesome bundle of 9 courses with 20+ hours of video tutorials and Lifetime access.

Along with this, you also get verifiable certificates (unique certification number and your unique URL) when you complete these courses. Learn all about Hedge Fund strategies, risks, structure, and its operation from scratch.
Classic Strategies in Hedge Funds
Important Hedge Fund Strategies
Offer ends in:
TAKE THIS BUNDLE
What you get in this Hedge Funds Course [9 Courses Bundle]?
Online Classes
Technical Support
Mobile App Access
Online Hedge Funds Course
Here, let's look at the following details about Hedge Funds certification course:
| Course | | No. of Hours |
| --- | --- | --- |
| Hedge Funds:01 - The Fundamentals | | 2h 19m |
| Hedge Funds:02 - Classic Strategies In Hedge Funds | | 2h 39m |
| Hedge Funds:03 - Important Hedge Fund Strategies | | 2h 22m |
| Hedge Funds:04 - Performance Analysis | | 2h 19m |
| Hedge Funds:05 - Concepts of Leverage | | 1h 09m |
| Hedge Funds:06 - Hedge Fund Accounting and Taxation | | 2h 01m |
| Hedge Funds:07 - Risk Management | | 3h 5m |
| Hedge Funds:08 - Case Studies | | 1h 43m |
| Fund Accounting | | 8h 11m |
---
| | |
| --- | --- |
| Course Name | Online Hedge Funds Course Bundle |
| Deal | You get access to all 9 courses bundle. |
| Hours | 20+ Video Hours |
| Core Coverage | Hedge Funds Basics, Classic Strategies in Hedge Funds, Important Hedge Fund Strategies, Performance Analysis, Concept of Leverage, Hedge Fund Accounting & Taxation, Hedge Fund Risk Management, Case Studies |
| Excel Templates Included? | Excel templates that were used are provided as a download |
| Course Validity | Lifetime Access |
| Eligibility | Those who want to learn Hedge Funds can register for this online Hedge Funds course. No eligibility as such. |
| Pre-Requisites | None (Basic accounting knowledge should help) |
| What do you get? | Certificate of Excellence for each of the 9 courses |
| Certification Type | Course Completion Certificates |
| Verifiable Certificates? | Yes, you get verifiable certificates for each course with a unique link. These link can be included in your Resume/Linkedin profile to showcase your enhanced skills |
| Type of Training | Video Course – Self Paced Learning |
| Software Required | Excel (2007 or above) |
| System Requirement | 1 GB RAM or higher |
| Other Requirement | Speaker / Headphone |
Online Hedge Funds Course Curriculum
---
Before we talk about the target audience, prerequisites to the course, and answer your FAQs, here's a course curriculum for you so that you can get a glimpse of what you will learn in the course –

Goals
Hedge funds is a separate financial market, of which man desire to know about. The course will take through the fundamentals as well as the technicalities of hedge funds. The training intends to take you through important hedge fund strategies which will help you to deal with the practical environment.
Objectives
The training is formed into video sessions to make the learners aware about various aspects of hedge funds such as its fundamentals, strategies, performance analysis, accounting as well as taxation. By the end of the course, you will be able to have practical insight about various hedge fund strategies and their applicability.
Course Highlights
The course is divided into numerous logical sections, so as to cover different aspects of hedge funds, in a phased manner, with the coverage of case studies, wherever necessary.
Learners will develop idea about the fundamentals relating to hedge funds such as its definition, history, features, structure, legislature and its current trends.
We will discuss about various classic hedge fund strategies that are used with the help of practical examples.
At the next level, we will have a look on other important hedge fund strategies such as emerging markets, multi events, managed futures trading CTA and even driven strategies, along with the best scenario where they shall be used.
Training will be conducted on hedge fund performance analysis and concepts such as its introduction, its measures, CAPM, sharpe ratio, sortino ratio, treynor ratio, information ratio, benchmark analysis and so on.
We will enhance our understanding about the concept of leverage in hedge funds, its measurement, obtaining leverage in hedge fund and its importance.
The next section will be of essence in order to understand accounting and taxation of hedge funds, concept of carried interest, offshore funds and their accounting as well.
Learners will also get to know about risk management in hedge funds, risk exposure in hedge funds, standard deviation, value at risk and software for risk management.
In order to better understand hedge funds, few case studies will be discussed so as to know about success as well as failure stories in such case studies.
The course will wrap up with a lecture on fund accounting, along with coverage of related concepts such as fund structures, hedge fund strategies, principles, management and performance fees, equalisation and preparation of financial statements.
---
Project Highlights
4+ Industry Projects
Hands-on Instructor-led Case Studies
Perform financial analysis on Live company data
Build a financial & Valuation Model from scratch
Forecast Target Price of Shares
Showcase Projects in your CV/Linkedin
Hedge Funds Course Projects
Bridge Water Hedge Fund
Tiger Management
Amaranth Advisors
Hedge Funds Course – Certificate of Completion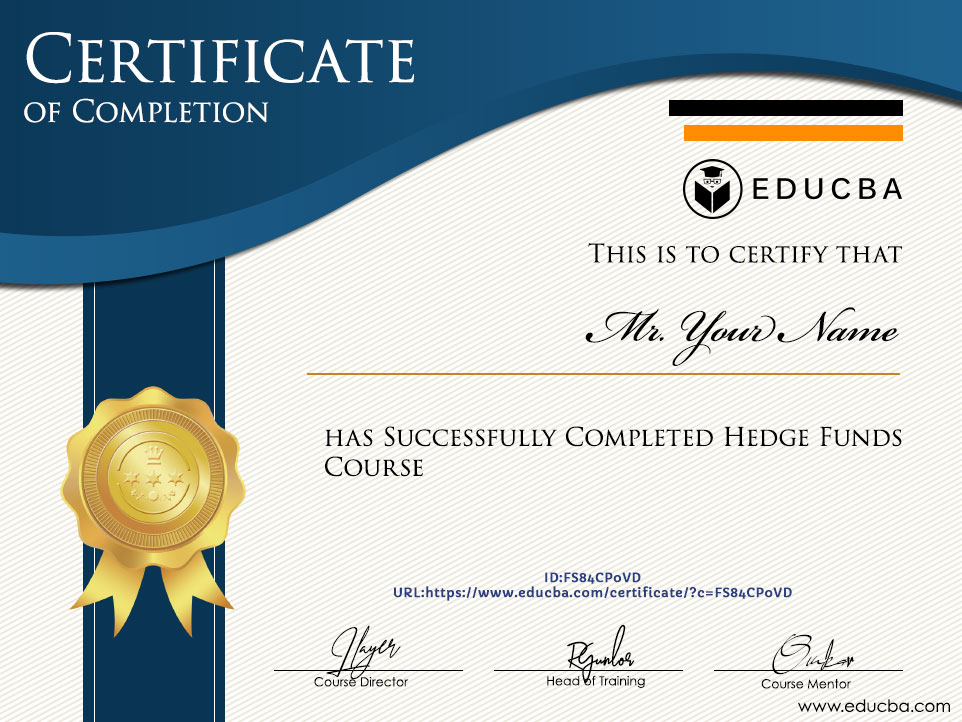 ---
Industry Growth Trend
4 major activities to estimate the current market size for crypto asset management market.
[Source - MarketsandMarkets]
Average Salary
Average Salary
$64,744 per year
The average salary for an Investment Banker is $64,744 per year in the United States.
[Source - Indeed]
Pre-requisites
Willingness to have a career in the hedge fund industry: If you are willing to start a career in the hedge fund industry, this hedge fund certification course would turn out to be invaluable to you. But there should be an interest, a commitment since this course requires as much of your effort as we have put into it.
A basic sense of accounting, finance, and excel: If you don't have any connection with accounting, finance, and excel, this course would be hard for you to grasp. We suggest that you have a basic knowledge of accounting & finance and then start doing this hedge fund certification course.
Target Audience
Professionals that want to start their career in the hedge fund industry: Professionals that want to make their mark in the hedge fund industry should do this hedge fund certification course. People who want to shift from their career to the hedge fund can also do this course.
Students of finance/accounting: Students that want to make their career in the hedge fund industry can go for this hedge fund certification course as well.
FAQ – General Questions
---
Why should I do this Hedge Fund certification course?
This is the best course you will ever find on the hedge fund industry. If you want to go into the hedge fund industry, this is all you need.
I don't have any background in finance, should I do this hedge fund certification course?
No. Without having a background in finance, you shouldn't do this hedge fund certification course.
How it would add value to my career?
If you're in the hedge fund industry, it will teach you everything you need to learn. It may also act as a refresher course if you're an experienced professional.
Testimonials
---

Great deal of learning
I learned a lot about hedge fund. Great website, great information. Course provides you clear concepts of strategies in hedge funds, performance analysis, risk management in hedge fund and various other concepts. Due to practical case study the course has become easier to understand.
Linked
William A. Ellis

Perfect
I will appreciate if the faculty for course is disclosed so that the student can personally appreciate the teacher. The structure of the course was practical oriented. The course content was up to the mark and all basic features were well emphasized. Overall a good course.
Linked
Disha Bhawnani

Hedge Fund Course
Amazing course to get into hedge funds. Easily explained in well comprehensible english by the narrator. I look forward for the same kind of information throughout this learning package. I've written down some notes so that I can review everything before going into Hedge Fund one day.
Clement Gryp
Amazing experience
I have worked in the Hedge Fund Industry for 5 years, and this hedge fund certification course has given me an amazing experience of what I have learned in the past. I have done much research in find a school that offers hedge fund courses and found this course perfect to help suit my needs. Learnt few more new things in this course which helped me to enhance my skills.
Linked
Eva L. Atkins

Informative experience
So far its been more than I ever expected it to be!, loved it! The academic side of things is also great as the lectures are informative and lecturers are willing to help us to achieve are maximum potential. The course is awesome, learning so much whilst not being overwhelmed by new material. Thoroughly satisfied this training.
Linked
Zaid Mhmoud Saidat