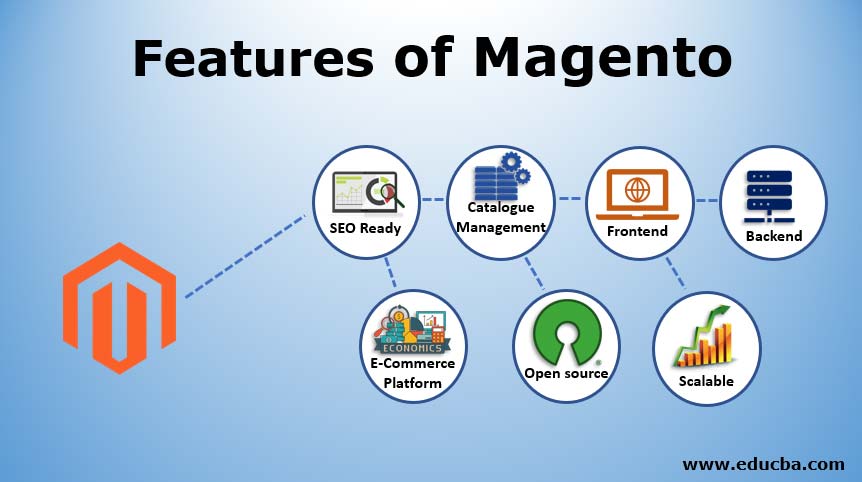 Introduction to Features of Magento
Magento is a basic tool for E-commerce. Magento is an eCommerce platform built on open source technology and it allowing customization of the functionality on a large scale which will help in every side. It is very necessary to have good knowledge of Magento because it offering the powerful and flexible features in catalog management, content, search engine optimization, and functionality any retailer would come to expect. It is developed by "PennyWise". Having Magento is very much helpful for exploring new things and getting the new advantages of new fields which will be going to be useful for users only. Magento Commerce is the leading provider of open omnichannel innovation. Magento has two versions that are Magento 1 and Magento 2.
Features of Magento
Here are some features of Magento which are explained below:
1. E-Commerce Platform: It is built specifically with the intention to sell products and services online to get the benefit of all the advantages of Magento. free to adapt and develop Magento to fit the need of your project.
2. Open source: Free to adapt and develop Magento to fit the need of your project.
3. Scalable: Magento can support high volumes of output product which can relate to customer data. It can able to hold loads of page views and interactions for betterment in understanding purpose.
4. Catalogue Management: Organise products into categories. Structure your categories. Control search results and Manage stock control.
5. SEO Ready: Search engine optimization is also called as easily changed selected functions which are very necessary to process your search engine at a great level. And metadata tells search engines what a block of text/image refers to and also it supports sitemaps.
6. Frontend: What your visitors will see when they visit your website.
7. Backend: What you see when you log in to your website.
When you open then Magento site you will first see the welcome screen wherein there are different fields like your language means the language in which you are more comfortable to use this particular app after that we have various sections or categories like women, men, accessories, home and decor, sale and last one is VIP.
And we have a search column also at the top of the right corner so you can find anything according to your choice.
If you go to the women category then you will find the various options in which you can select, sort, the filter of your choice.
You can sort by Price, Color, Occasion, Type, Sleeve length, Size.
You have again pretty good option like if you select the product so you have to fill all the details related to it, it means you can see whether the product is in stock or not, color, size, add to cart, buy, compare and share (Facebook, Twitter, Instagram, Whatsapp, etc.). Along with this, you can select the matching neck set and also a cute sport watch. Isn't it so amazing to go with Magento? It's really very pretty, amazing and easy to go site.
You will get the notifications from Magento if there are any new arrivals or prize drop messages.
You can follow their pages on Facebook, Instagram, and Twitter so that you will get new ideas about a particular app and new features of it.
"I am not tech-savvy, but I am willing to spend time to learn". It is very easy to go with Magento for learning purposes.
"I need software that can handle the growth of my business". It is good to use Magento for business purposes without worry about the change in the software and all.
"I need peace of mind that my software will be stable".
"I might need Magento to work with other software such as shipping companies".
"I am happy to find answers to my solutions myself".
"Security and PCI Compliance is important to me and my customers".
Magento has an "Order Management" capability.
"Search Engine Optimization" is the base of Magento.
It's a Marketing promotion tool.
It has website management features.
It has different services such as Magento development, Magento Enterprise, Deployed Magento.
Analytics and reporting power.
It's mobile-friendly commerce.
It has a tracking system.
Conclusion
Magento is nothing but the e-commerce site wherein we can take the benefit of a variety of items according to our choice and you will get your favorite products at your doorsteps. Magento is very simple to understand the tool and it has various styles to go with it. Features of it are fair enough to understand and can easily use by anyone. If there is any fault or difficult to understand anything Magento Customer care is always available to help you out with your problems.
Recommended Articles
This is a guide to Features of Magento. Here we discuss the features of Magento such as E-Commerce Platform, Scalable, Catalogue Management and etc. You can also go through our other suggested articles to learn more –