Updated June 19, 2023
Definition
The objective of Digital marketing is to communicate the company's plan, product, and business on various social media platforms. Companies use digital marketing to boost product sales via various channels, such as search engine marketing and paid promotions. However, digital marketing seeks proficiency in digital advertisements, web analytics, and conversion rates.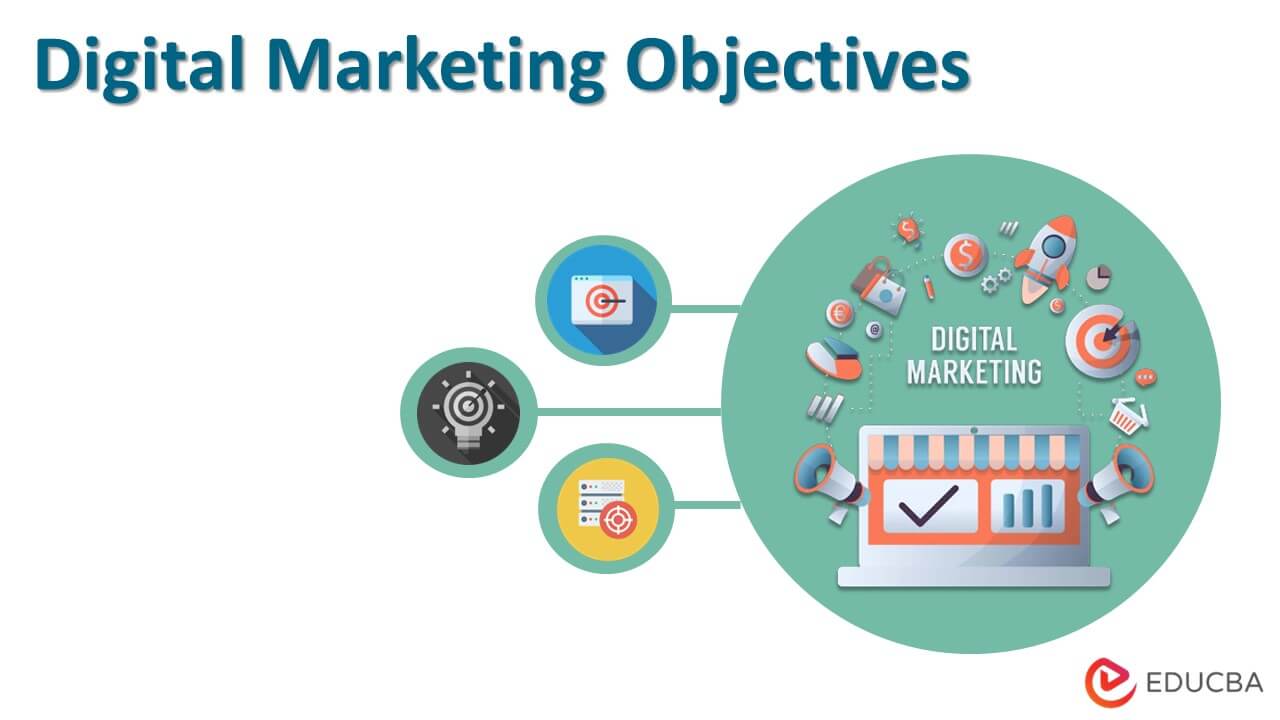 Key Highlights
Digital marketing aims to use numerous social media channels to spread the company's message, products, and business.

 Search Engine Optimization (SEO), Search Engine Marketing (SEM), and Social Media Marketing (SMM) are key elements to lead generation. 

The primary aim of digital marketing is to try to win the trust of the targeted audience and keep attracting new audiences. 
What are the Objectives of Digital Marketing?
Every company that focuses on building its brand online follows and imbibes specific goals in its regime; here are a few: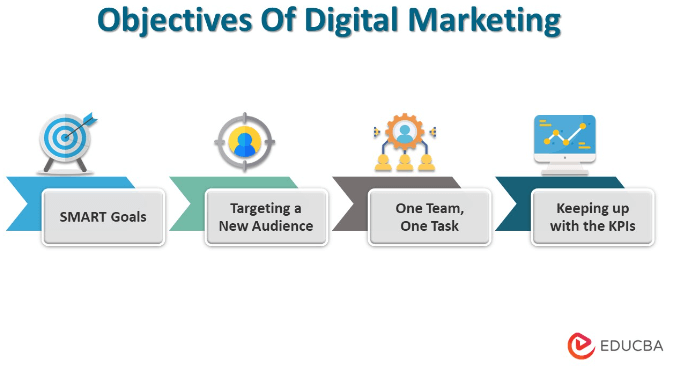 Objective #1 – SMART Goals
SMART goals are Specific, Measurable, Achievable, Relevant, and Time-bound. Among the Specific Goals are increasing traffic and target audience. The way the company collects and uses data is a measurable goal. While meeting the company's target is part of achieving a goal.
Objective #2 – Targeting a New Audience
Businesses focus on using digital marketing to reach out to new audiences. It is possible to achieve this by consistently producing ads, articles, blogs, and other lead-generation content for the company's website.

Building a brand, increasing sales through discounts, and posting frequent website updates can help attract and retain visitors once they become engrossed.
Objective #3 – One Team, One Task
The company's digital marketing goals can be met by forming a team and assigning specific tasks to each member.

If a business concentrates on SEO, the team should use compelling keywords, title tags, and meta descriptions to manage an increase in unpaid traffic. The team includes professionals in marketing, content writing, etc.
Objective #4 – Keeping up with the KPIs
A company can achieve its digital marketing objectives by focusing on digital marketing KPIs. 

KPIs cover various aspects of digital marketing, such as web traffic, pay-per-click, SEO rankings, etc.

These metrics provide insight into digital marketing activities and demonstrate whether a product launch successfully reached the target demographic.
How to Improve the Digital Marketing Plan?
SEO, SEM, and SMM are the first leg of digital marketing objective plans for lead generation. 

Search engine optimization (SEO) involves using keywords, search descriptions, and title tags to appear on Google or any other search engine. This unpaid marketing attracts the targeted audience and builds confidence in the company's website. 

Search engine marketing (SEM) uses paid search to rank ahead in Google and other search engines. 

Many businesses use social media marketing (SMM) as a digital marketing objective to increase the influx of audience and serve their searches. This includes posts on LinkedIn, Twitter, Instagram, etc.

The second leg of the digital marketing plan is lead capturing. When the targeted audience arrives at the company's website, they should be given a clear overview of its plan and product. Lead-capturing components include online form filling, brochure downloads, and so on.

The third and final leg of the digital marketing plan is lead nurturing. Once the audience is captured, the company must sell its product and maintain them. 
Objectives of Digital Marketing Strategy
A digital marketing strategy is essential in running a company. It channelizes the process and gives a sense of direction. Customer relation management (CRM) is a type of digital marketing strategy. This system is in direct contact with the audience and helps channel all sorts of inquiries, likes, and dislikes. 

As a company uses different platforms for digital marketing, it has a haphazard type of query from customers. CRM plays an important role here; it helps in the regular follow-up of customers, provides the company's latest information and brand launch, and maintains the customer's interest in the website. 
Digital Marketing Examples
Apple Inc.

is one of the pioneering examples of digital marketing. Not only has it improved its marketing, but it has also gained users' trust worldwide. This contributes to increased sales and user retention. Paid advertisements and social media campaigns for the iPhone have drawn a sizable Apple Inc. audience.

Skechers

is yet another successful example of digital marketing. It caters to the need for foot comfort and has a target audience aged 20 to 60. Despite large fishes in the same industry, Skechers stands out due to its customer satisfaction, unique shoe categories, brand ambassador campaigning, etc.
Conclusion
When it comes to digital marketing, a company should develop a strategy. This can include the audience's needs and desires, likes and dislikes, etc. This should be followed by effective advertising, campaigning, and attracting a sizable audience.
 

FAQs
Q1. What are the main objectives of Digital Marketing?
Answer: Digital marketing objectives include increasing the sale of the firm's product via various methods like paid advertisements, search engine marketing, etc. The aim is to bring the targeted audience into the vicinity of the company's brand or business. 
Q2. What are the digital marketing goals?
Answer: Companies focusing on generating revenue via digital marketing focus on SMART goals. This consists of Specific, Measurable, Achievable, Realistic, and timely goals. 
Q3. What are the three most important things in Digital Marketing?
Answer: Digital marketing is an amalgamation of lead generation, capture, and nurturing. This generates revenue from digital marketing and proves the objectives have been achieved.
Recommended Articles
This article explains everything about Digital Marketing Objectives. To know more about related topics, visit the following links: