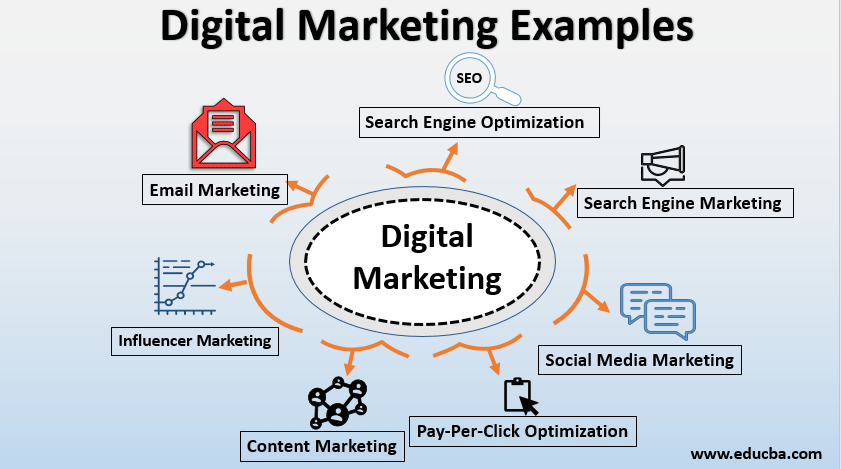 Introduction to Digital Marketing Examples
As the digital world began to grow with the advent of the internet, the traditional concept of marketing also faced transformation and a new concept, digital marketing had emerged out. Digital marketing comprises numerous strategies that are implemented for marketing through the internet and it helps to reach more qualified leads by increasing revenues. Basically, it is a canopy of various tactics that are deployed to attract customers' attention to sell the products. It is three times more successful than traditional marketing as it allows marketers to scrutinize and measure their campaigns. In this article, we will look at the various strategies for digital marketing with their examples.
Types of Strategies Implemented in Digital Marketing
Today many business houses adopt various strategies of digital marketing to reach the potential customers that lead to purchases. These numerous strategies are –
Search Engine Optimization or SEO
Search Engine Marketing or SEM
Social Media Marketing
Email Marketing
Pay-Per-Click Optimization
Content Marketing
Influencer Marketing
Besides these tools, there are many options like mobile messaging, blog writing, advertisements, etc. to implement for increasing the traffic of websites.
Digital Marketing Strategies and its Examples
Here various strategies are discussed with examples that different companies adopted successfully.
1. Search Engine Optimization or SEO
SEO is an important aspect of digital marketing which uses a number of approaches to assure a company's name or brand's name come on top of the search result. To aim at appearing in the first page of search engine results, the company needs to include certain keywords in custom content related to business and advancing the site's design and navigation to provide a better user experience.
In India, different SEO agencies are working to help their client companies to provide a sustainable search engine marketing plan. The names of top SEO agencies are PageTraffic, eBrandz, Techmagnate, Briefcase, Bruce Clay India, YNG Media, Wildnet Technologies, etc.
One example of SEO marketing is WebFX's SEO marketing policy for its client Reynold's building solution. Before that Reynold never put any interest in the effectiveness of the website and digital marketing policy. So WebFX first updated Reynold's website by adding valuable content related to the company. WebFX researched industry-related keywords which is very crucial. Therefore, including hundreds of small and big changes helped Reynold to appear at the top of SERPs. Even it increased organic traffic by 43 percent and 71 percent who preferred to contact Reynold after viewing their website in the organic search results.
2. Search Engine Marketing (SEM)
Search engine marketing is another form of digital marketing which upsurges a website's visibility in search engine's result pages and a company's reach. This marketing process is more effective than SEO.
SEM is a paid advertising process where a sponsored ad comes along at the top of search engine results to get more prominence and attention. A customer uses a search engine to get information related to a particular product or service. On the basis of its searching keywords, he or she may come across many company's ads along with other search listings that have matched with the keywords. Those ads are very much specific to the keywords that a customer can click on them probably,
Google AdWords and Bing Ads are the two platforms that provide space for search engine marketing. SEM targets the customers at the right time when they are probing to get product information in commercial nature and even they can decide to buy the product instantly.
3. Social Media Marketing (SMM)
Social media advertising is an easy way to get noticed by audiences when 2.3 billion people around the world engage with social media to develop meaningful relationships. There are several social media platforms including Facebook, Twitter, Instagram, LinkedIn, Pinterest which provide space for campaigning products or services. Social media advertising is more cost-effective and one of the easiest ways to reach potential customers.
In Facebook, the companies have to pay for giving advertisements, though it is the least expensive and helps to capture a large group of audiences. Even Facebook, Instagram helps to identify target customers. Pinterest is good for selling eCommerce brand products. LinkedIn and Twitter are ideal for B2B companies for giving ads and get noticed from influencers.
In India, social media marketing is also getting popular gradually. For instance, KFC India has used social media platforms to increase the sale of products and to appeal to target young audiences. KFC's Social Samosa is a popular case study on how KFC becomes the number one brand of social media in India. Its social media presence not only increases sales, but it achieves one of the fastest growing social media brands in India.
4. Email Marketing
Email marketing works as a driving force for procuring and retaining customers. The business houses take the help of social networking outlets to collect emails of potential customers and then imply it in email marketing. The context of emails should be appealing to customers.
Though there is no hard and fast rule that how many emails have to send to a customer, yet it is recommended that there is at least 30-36 hours gap between two emails. The marketer needs to take the call of action after sending emails to the customers.
One of the popular email marketing examples is Uber's email campaigning. Uber has sent brief and attractive newsletters with clearly defining the objectives to the customers. The subscribers can easily browse the message and if they want to know more, they can click on the link which is attached to the newsletter. Besides that, Uber always sends different promotions and offers as well as a detailed map of the journey.
5. Content Marketing
Content marketing consists of videos, blogs, social media posts which have to be valuable content to engage potential customers. The valuable content always provides useful information and FAQ to the customers. Even it helps in search engines. Valuable content with appropriate keywords may appear to the first page of search engines result.
Zomato's effective campaigning through multiple channels of content marketing is a perfect example. Its ideal number of great content and promoting them in social media becomes famous which attracts a pool of customers.
There are so many examples of digital marketing which influence marketers to promote their products or services successfully.
Recommended Articles
This is a guide to Digital Marketing Examples. Here we discuss the types of strategies implemented in digital marketing along with its examples. You may also look at the following articles to learn more –