Difference Between Data Security and Data Privacy
In the current age of digitalization, the relationship between data security vs privacy has become a critical concern. With the ever-growing amount of data and the rise of digital platforms, it's more important than ever to protect sensitive information while at the same time respecting individual privacy rights. This article delves into the relationship between data security vs privacy, highlighting their definitions, challenges, and the ongoing quest for balance in a world that is becoming increasingly interconnected.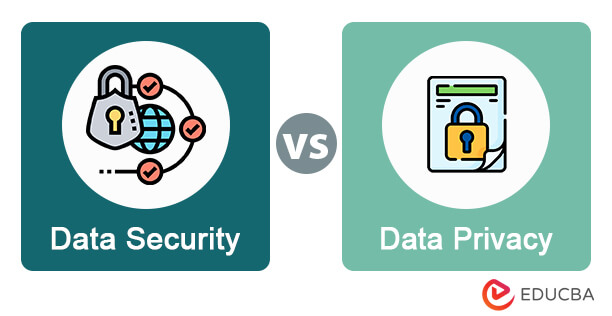 Table of Contents
What is Data Security?
Data security refers to the practices implemented to protect digital information from unauthorized access, disclosure, alteration, or destruction, both in storage and during transmission. The practice involves using various measures and protocols to ensure data confidentiality, integrity, and availability. These measures include encryption, authentication, access controls, firewalls, and intrusion detection systems, among others. Data security is critical for protecting sensitive data from cyber attacks, data breaches, and illegal access, eventually preserving digital system trust and integrity.
Importance of Data Security
Here are key points that highlight the importance of data security:
Protection of Sensitive Information: Ensuring data security is crucial for safeguarding sensitive and confidential information, including personal records, financial data, medical records, intellectual property, and trade secrets. Unauthorized access to such information can result in identity theft, financial fraud, or disclosing confidential information, inflicting considerable harm to persons and organizations. As a result, it is critical to put in place proper safeguards to prevent unauthorized access to such data.
Compliance with Regulations and Laws: Governments and regulatory bodies across the world have put in place data protection and privacy laws to safeguard the personal information of individuals. The General Data Protection Regulation (GDPR) and the Health Insurance Portability and Accountability Act (HIPAA) are two of these regulations. Noncompliance with these regulations with these requirements can result in significant fines and legal consequences. Organizations must develop effective data security procedures to meet these standards and avoid legal complications.
Prevention of Data Breaches: Data breaches can be catastrophic, resulting in data loss, financial losses, damage to reputation, and loss of customer trust. Data security helps prevent breaches by implementing robust security protocols, encryption, and access controls.
Safeguarding Intellectual Property: For businesses and research institutions, intellectual property represents a valuable asset. Data security measures protect patents, copyrights, and trade secrets from theft or unauthorized access, allowing organizations to maintain their competitive edge and innovation.
Maintaining Customer Trust: Consumers are concerned about the security of their personal information. When organizations demonstrate a commitment to data security, they build trust with their customers, which is crucial for customer retention and loyalty. A data breach can erode this trust, resulting in reputational damage.
Preventing Financial Loss: Data breaches and cyberattacks can lead to significant financial losses, including costs for investigating the breach, regulatory fines, legal fees, and expenses related to recovering from the incident. Robust data security measures help mitigate these risks and save an organization from financial turmoil.
Best Practices for Ensuring Data Security
Here are some key best practices for ensuring data Security:
1. Data Encryption:
Encrypt data at rest and in transit using strong encryption algorithms.
Implement end-to-end encryption for sensitive communications and stored data to prevent unauthorized access.
2. Access Control:
Implement strict access controls and least privilege principles, ensuring that users have access only to the data and systems necessary for their roles.
Regularly review and update user access privileges, revoking unnecessary permissions.
3. Regular Software Updates and Patch Management:
Keep all software, operating systems, and applications updated with the latest security patches and updates.
Establish a patch management process to address known vulnerabilities and weaknesses in software promptly.
4. Network Security:
Use prevention systems, firewall intrusion detection, and secure Wi-Fi protocols to protect network perimeters.
Segment networks to minimize the impact of a potential breach and control the flow of data within the organization.
5. Strong Authentication:
Implement multi-factor authentication (MFA) to add an extra layer of security for user logins.
Encourage strong, unique passwords and consider password management tools to enhance password security.
6. Regular Security Audits and Assessments:
Perform regular security audits, penetration testing, and vulnerability assessments to identify and address potential security flaws.
Third-party vendors and service providers should undergo security assessments to ensure compliance with security standards.
7. Data Backups and Disaster Recovery:
Regularly backup critical data and ensure backups are encrypted and stored securely.
Create and test a disaster recovery plan to reduce downtime and data loss in the case of a security incident.
8. Employee Training and Awareness:
Regularly train employees on security best practices, social engineering attacks, and phishing awareness.
Foster a security-conscious culture within the organization, emphasizing the importance of data security to all employees.
9. Incident Response Plan:
Develop a comprehensive incident response plan outlining steps to be taken in case of a data breach or security incident.
Establish a dedicated incident response team and conduct regular drills to ensure preparedness.
10. Data Lifecycle Management:
Implement data minimization practices, collecting and retaining only the data necessary for business operations.
Properly dispose of outdated or unnecessary data using secure data destruction methods to prevent unauthorized access.
11. Compliance with Regulations:
Stay updated with data protection regulations and ensure compliance with relevant laws (e.g., GDPR, HIPAA, CCPA).
Regularly audit data handling practices to align with legal requirements and industry standards.
12. Collaboration with Security Experts:
Collaborate with cybersecurity experts, consultants, or firms to conduct security assessments and receive guidance on implementing the latest security measures.
Stay informed about emerging threats and security trends to adapt security strategies proactively.
What is Data Privacy?
Data privacy, also known as information privacy or simply privacy, pertains to the control individuals have over their personal information and how that data is collected, used, and shared by organizations. It includes the rights and expectations individuals have regarding the confidentiality and responsible handling of their personal data. Data privacy involves concepts such as consent, transparency, and the ability of individuals to manage and protect their information. Regulations and laws, like the General Data Protection Regulation (GDPR) and California Consumer Privacy Act (CCPA), safeguard data privacy rights and regulate the collection and processing of personal information by organizations.
Challenges to Privacy in the Age of Technology
Here are some of the key challenges to privacy in the digital era:
Data Collection and Surveillance: Companies and governments collect vast amounts of data, often without individuals' explicit consent. Surveillance programs, both by private entities and governments, raise concerns about the extent of information being gathered, the purposes for which it is used, and the potential for abuse.
Cybersecurity Threats: Cyberattacks, including phishing, ransomware, and data breaches, compromise personal and sensitive data. Hackers exploit vulnerabilities in digital systems, leading to unauthorized access and the potential misuse of private information. As technology advances, so do the techniques malicious actors use to compromise data security vs data privacy.
Social Media and Online Presence: Social media platforms collect vast amounts of user data, often shared voluntarily by individuals. Users can use this information for targeted advertising, influencing opinions, and political manipulation. Moreover, the oversharing of personal information online can lead to identity theft, stalking, and harassment.
Internet of Things (IoT) Devices: IoT devices, such as smart home appliances and wearable gadgets, continuously collect data about users' habits and behaviors. While these devices offer convenience, they also raise concerns about the security of the data they collect and transmit. If not properly secured, IoT devices can be vulnerable to hacking, leading to privacy breaches.
Lack of Transparency and Control: Many individuals are unaware of how their data is collected, processed, and shared by online services and applications. Additionally, users often have limited control over their data once it is in the hands of corporations. The lack of transparency and control erodes individuals' privacy rights and autonomy over their personal information.
Biometric Data and Facial Recognition: Biometric data, including facial recognition technology, poses significant challenges to privacy. Facial recognition systems can be used for surveillance purposes in public spaces, leading to concerns about mass surveillance, loss of anonymity, and the potential for abuse by authorities or malicious actors.
Ethical Dilemmas in AI and Machine Learning: AI algorithms and machine learning models, while powerful tools, can perpetuate biases and invade privacy. There are concerns about how these technologies are used, especially in areas such as predictive policing, credit scoring, and hiring processes, where sensitive personal information is involved.
Global Data Flows and Jurisdictional Issues: The Internet operates globally, but there are variations in privacy laws and regulations across different jurisdictions. This poses challenges in safeguarding data as it moves across borders. Individuals and companies must navigate through complex legal frameworks to ensure compliance with privacy regulations, which compounds the difficulty of protecting one's privacy.
Best Practices for Ensuring Data Privacy
Here are some key best practices for ensuring data privacy:
1. Transparency and Consent:
Clearly communicate how personal data will be collected, processed, and shared with third parties.
Collect personal information only with explicit and informed consent, with easy opt-out.
2. Data Minimization:
Limit the collection of personal data to what is necessary for the intended purpose.
Avoid collecting sensitive information unless required, and anonymize or pseudonymize data whenever possible.
3. Security Measures:
Implement strong data security measures, including encryption, access controls, and regular security audits, to protect personal data from unauthorized access and breaches.
Regularly update security protocols to address emerging threats and vulnerabilities.
4. Employee Training and Awareness:
Employees must be trained on data protection policies and best practices. Emphasis should be on privacy and responsible handling of personal information.
Foster a privacy-conscious culture within the organization, encouraging employees to report potential privacy issues.
5. Data Access Controls:
Personal data access should be restricted to authorized personnel only.
Regularly review and update user permissions based on job roles and responsibilities through role-based access control (RBAC).
6. Data Subject Rights:
Individuals have the right to rectify, access, erase, and restrict the processing of their data.
We must establish processes and procedures to handle data subject requests within legal timeframes efficiently.
7. Privacy by Design:
When designing and developing products, services, and business processes, incorporate privacy considerations.
Perform privacy impact assessments (PIAs) to identify and mitigate privacy risks associated with new projects and initiatives.
8. Third-Party Vendor Assessment:
Assess and monitor the privacy practices of third-party vendors, service providers, and partners.
Include contractual clauses that require third parties to adhere to privacy standards and data protection regulations.
9. Data Transfer Safeguards:
When transferring personal data across international borders, it is important to implement appropriate safeguards, such as standard contractual clauses or binding corporate rules.
It is also essential to stay informed about and comply with the legal requirements for international data transfers in relevant jurisdictions.
10. Incident Response Plan:
Develop a robust incident response plan to handle data breaches and privacy incidents promptly and effectively.
Establish clear communication channels to inform affected individuals, regulators, and other stakeholders in the event of a data breach.
11. Regular Compliance Audit
Conduct regular internal and external privacy audits to assess compliance with applicable regulations and internal privacy policies.
Address any identified gaps or issues promptly and implement corrective measures.
12. Public Accountability and Transparency:
Publish a privacy policy that outlines how we handle, process, and protect personal data.
Be transparent about privacy practices and regularly update stakeholders on changes to privacy policies or data processing activities.
Data Security and Data Privacy Comparative Table
Let's discuss the top comparisons between Data Security and Data Privacy:
| | | |
| --- | --- | --- |
| Aspects | Data Security | Data Privacy |
| Definition | Measures that can be taken to protect data from unauthorized access and modification, ensuring that integrity, confidentiality, and availability are maintained. | The right to control one's personal information and prevent its misuse or disclosure without consent. |
| Focus | Protects the data itself, focusing on its integrity and accessibility. | Protects individuals, ensuring their personal information is handled responsibly and kept confidential. |
| Goals | Prevents unauthorized access, data breaches, and data loss. | Ensures individuals have control over their personal information, limiting access and use by third parties. |
| Methods | Encryption, access controls, authentication, regular audits, and security protocols. | Consent management, data anonymization, minimization, and user education. |
| Scope | Primarily concerned with safeguarding digital information, including databases, networks, and devices. | Pertains to personal information in various forms, including digital and physical records. |
| Compliance | Focuses on adherence to security standards and regulations (e.g., ISO 27001, GDPR). | Focuses on adherence to privacy laws and regulations (e.g., GDPR, CCPA). |
| Implications | Affects both individuals and organizations, ensuring data confidentiality and preventing financial and reputational damage. | Protects individual rights, maintains trust, and prevents legal consequences for mishandling personal data. |
| Examples | Using encryption to secure data transmission, implementing firewalls, and regular security updates. | Obtaining user consent before collecting data, providing opt-out options, and anonymizing data for analysis. |
Similarities Between Data Security and Data Privacy
Here are some of the key similarities:
1. Protection of Information: Both data security vs data privacy aim to protect information. Data security safeguards data from unauthorized access, breaches, and alterations, while privacy safeguards personal information from misuse, disclosure, and unauthorized collection.
2. Data Confidentiality: Both concepts emphasize the importance of data confidentiality. Data security measures, such as encryption, help maintain data confidentiality, while privacy rights ensure that individuals can control who has access to their personal information.
3. Legal and Regulatory Framework: Both data security and privacy are subject to legal and regulatory frameworks. Organizations must comply with relevant laws and regulations to ensure data security and protect individuals' privacy rights. For example, the General Data Protection Regulation (GDPR) addresses both data security and privacy.
4. Trust and Reputation: Both concepts contribute to trust and reputation. Ensuring strong data security and respecting privacy rights builds trust with customers, clients, and the public. A data breach or privacy violation can harm an organization's reputation and erode trust.
5. Data Minimization: Both data security and privacy advocate for data minimization. Data security often involves minimizing access to sensitive data to reduce the risk of breaches. Privacy encourages organizations to collect and retain only the data necessary for their intended purposes, reducing the potential for misuse.
6. User Consent: Both concepts involve obtaining user consent. Data security may require user consent for certain security measures, while privacy requires obtaining consent for data collection and processing activities. In both cases, user consent is a central aspect of respecting individuals' rights.
7. Data Access Controls: Data security and privacy often involve implementing access controls. Data security uses access controls to limit access to sensitive information to authorized individuals. Privacy uses access controls to give individuals control over who can access their personal information.
Conclusion
Effective data management involves two crucial components – data security vs data privacy. While data security protects against breaches and unauthorized access, data privacy safeguards individuals' rights over personal information. Maintaining a balance among these two aspects is essential to building trust, complying with regulations, and ensuring ethical handling of data in the digital world. Organizations that implement both data security and privacy measures effectively can better protect sensitive information and respect individuals' privacy rights, thereby enhancing their credibility.
Recommended Articles
We hope that this EDUCBA information on "Data Security vs Privacy" was beneficial to you. You can view EDUCBA's recommended articles for more information.