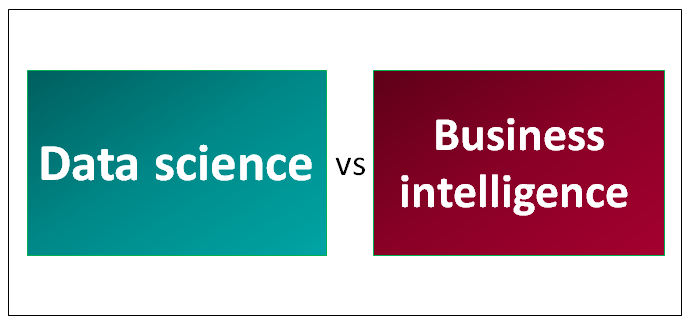 Difference Between Data Science vs Business Intelligence
As Information Technology is getting more matured in all organization, there come more jargons. And no wonder, why people get confused over it. This usually leads towards, using the words interchangeably and overlap of concepts. But then it becomes a necessity, to understand the concept behind it so that it becomes easy to apply it practically and one can do justice with the business.
In past years, purchasing and deploying analytical software's were expensive. Over the time, it has become less expensive and hence easier way of gathering industry information to correlate various datasets, that can give useful information about the business.
However, as the data size is becoming huge day by day, not only in terms of volume but variety and velocity as well. Business needs data science which can transform the big sized data into actionable insights. The faster pace of innovation, finding opportunities are highly in focus.  Data science is not limited till extractions of insights and finding opportunities. It ends when everything can be brought into a story, which can influence people's thought working in that field. It should enable business leaders for taking actions. So let us understand the simple difference between Data science and Business intelligence in detail.
Head to Head comparison Between Data Science and Business intelligence (Infographics)
Below is the Top 20 Comparision between Data Science and Business Intelligence:
Key Differences Between Data Science and Business Intelligence
Below is the difference between Data Science and Business Intelligence are as follows
Considering all the above comparison, it can be said that both Data Science and Business intelligence streams are analytical & information-centric, but the levels of insight value make a difference. Data science provides matured & futuristic insights. That's the reason data science is said as an evolution from Business intelligence.
Generic steps followed in business intelligence stream:
Set a business outcome to improve.
Decide from various datasets, which will be the most relevant one.
Bring data into a good shape.
Design KPI's, reports, dashboards to give a nice visualization.
Generic steps followed in data science stream:
Set a business outcome to improve or to predict.
Gather all possible and relevant datasets.
Choose an appropriate algorithm to prepare a model.
Evaluate the model for good accuracy
Operationalize the model
Data Science and Business Intelligence Comparison Table
Below is the comparison table between Data Science and Business Intelligence.
Basis Of Comparison
Data Science
Business Intelligence
Complexity
Higher
Simpler
Data
Distributed and real-time
Siloed, Warehoused
Role
Using Statistics & Mathematics on a dataset to uncover hidden patterns, analyze and forecast the upcoming situation.
BI is about arranging the dataset, extracting useful information and visualizing it to a dashboard.
Technology
With cut-throat competition in today's IT market, companies are striving for innovation and easier solutions for complex business problems. Hence more focus is on data science rather than business intelligence.
BI is about answering questions through dashboarding, which could be difficult answering it through excel. BI helps to find a relationship between various variables and time periods. It enables executives to make business decisions.

Prediction is not included in BI.

Usage
Data science helps companies to foresee the upcoming situation. Companies can use their potential to mitigate the risk and to enhance the revenue.
BI helps companies to do root cause analysis on some failure or to know its present situation.

Focus
It focuses on the future.
BI focuses past and present.
Career Skill
Data science skills are more advanced. It requires Data modeling, familiarity with predictive algorithms, good knowledge of languages like R, Python, Scala. Data science is the combination of three fields: Statistics, Machine Learning and Programming.
BI requires less qualification as compared to data scientists. The basic skills required are data extraction tools and visualization tools like Tableau, QlikView, Watson Analytics, etc. knowledge.

Till now, many reporting tasks and BI happens through excel.

Evolution
It will not be wrong saying; Data science has evolved from Business intelligence.
Business intelligence is there for a long time, but previously with only excel. Now in a market, ample of tools available to give a better view of the same with better capabilities.
Process
Data science is more towards experimentation and doing something new. Hence it is dynamic and iterative in nature.
Business Intelligence is static in nature. Experimentation has less scope in this field. Extraction of data, slight munging of data and finally dashboarding it.
Flexibility
Flexibility is very much in Data Science. Data Sources can be added as per the need going ahead in the future.
Flexibility is very less in business intelligence. Data sources estimate needs to be pre-planned. And in case of need is to add more data source, it's slow.
Business Value
Data science brings out much better business value than business intelligence, as it focuses on the future scope of the business.
Business intelligence has a static process of extracting out the business value by plotting charts and KPI's. Hence, it tends to show lesser business value than Data science
Thought Process
Data science helps someone to come out with questions, which encourages a company to run in a strategic and efficient manner.
Business intelligence helps someone to answer the question which already exists.
Data Quality
Data science brings in, a fact of data with other parameters like accuracy, precision, recall value and probabilities. It enables decision-makers by giving them confidence levels.
Business Intelligence offers good dashboarding with good quality of data only. Good in terms, it should be enough to take out the insights out of the dataset.
Method
Analytic & scientific
Only analytic
Questions
What will happen?

What If?

What happened?

What is happening?

Approach
Proactive
Reactive
Expertise Role
Data scientist
Business user
Data Size
Hadoop like technologies has evolved and many like these are evolving which can easily handle big size datasets (e.g.=> terabytes of data)
Here the tools and technologies are not enough to handle big datasets.
Use cases
Not a periodic task.
Many of the use cases of BI is around generating and refreshing the standardize dashboards.
Consumption
Data science insights are consumed from the enterprise level until the executive level.
Business intelligence insights are consumed at the enterprise or department level.
Conclusion
Business intelligence is no doubt really a good thing for an industry to start with. But in the long run, adding a layer of data science is ultimately going to make it stand differently. Planning the future by making a prediction today is one of the wonders of data science.  Hence Data science plays a pivotal and better role than business intelligence. Looks like, Data science in amalgamation with automation, is going to redefine the future.
Recommended Articles
This has been a guide to Data Science vs Business Intelligence. Here we have discussed head to head comparison, key difference along with infographics and comparison table. You may also look at the following articles to learn more –