Updated April 27, 2023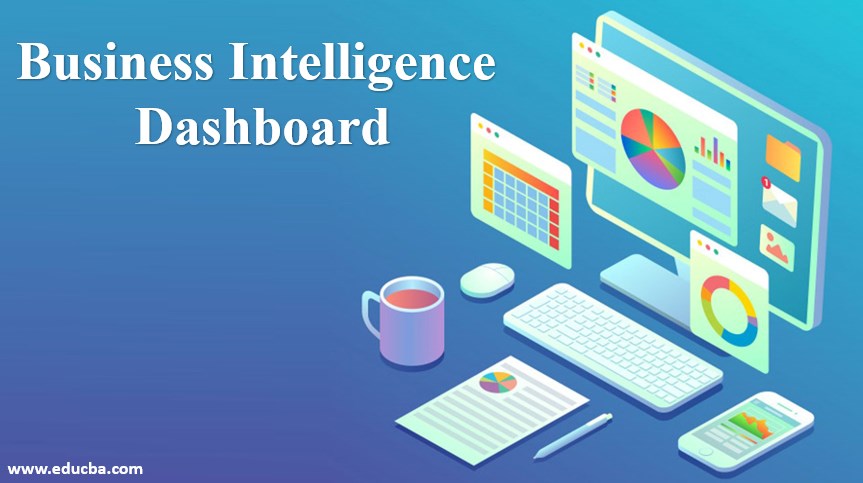 Introduction to Business Intelligence Dashboard
Business Analytics or Business Intelligence (BI) is becoming more helpful by the best management of any enterprise to visualize, analyze and prepare strategic planning for the long run. People managing these future designing associated programs would need knowledge and efficient analysis of the information to create well-informed choices concerning the best program considerations. Implementing a business intelligence knowledge dashboard could improve efficiency in data retrieval and optimize knowledge analysis for program management and decision making with the aim of implementing the dashboard to present the analysis, style of data, and its associated paradigm in an appropriate way.
What is Business Intelligence Dashboard?
A Business Intelligence Dashboard is an IT management tool for tracking, helps in analyzing and displaying the Key Performance Indicators – KPI, metrics and key knowledge points to watch the condition of a business, specific department, or methodology. They will be changed to satisfy the particular needs of a specific department and company. In the alternative, the dashboard is an application or a computer program that helps to measure the performance of an enterprise, perceive the structure units, and additionally the business processes.
A BI Dashboard permits the end and power users of the BI software system to look at instant results into the live performance state of business or knowledge analytics. Also, dashboards combine multiple data visualizations in a single interface, a simple way to access performance indicators.
Why do we use Business Intelligence Dashboard?
A Dashboard connects to your files, different APIs, varied services, however on the contrary displays all this info among the various tables, line and bar charts and plenty of gauges. A data dashboard is the most effective way for tracking several data sources as a result of it suitably provides the main location for several businesses to watch and analyze performance. Period of time watching reduces the hours of analyzing and long lines of communication that previously challenged businesses. It's primarily acquainted with show proprietary information on a single screen once changing it into a Data Analytics and Visualization.
Dashboards answer vital questions about your business in distinction to advanced business intelligence tools, dashboard measures are designed for fast analysis and informational awareness.
Dashboards focus on presenting operational and analytical knowledge. Analytical dashboards are usually designed and facilitate to help decision-makers, manufacturers, and leaders, to establish the targets, set different goals, and understand what and why something happened with identical info they use to implement acceptable changes.
Dashboards are accustomed to present interactive data visualizations. Knowledge is unreal on a dashboard as tables, line and bar charts, and many gauges so users track the business trends against standards and goals.
Dashboards are accustomed to refine style throughout development using the reiterative approach. Dashboards additionally supply customization by a totally different section of the enterprise.
Business Dashboards save users time by combining knowledge from multiple sources and reveal the foremost vital KPIs.
Business Dashboards are employed in massive enterprises to form a date business intelligence platform to integrate with their IT systems to strengthen business functions to associate advanced analytics, enterprise quality, and customization.
Savvy businesses have a target on analytics that will deploy a cloud-based dashboarding resolution providing sharing of one supply of truth. This is often vital if teams are in many locations.
Companies are using more subtle ways to predict demand. Weather data can be helpful to predict how many people are likely to need winter coats in an exceedingly region supported by historic temperatures.
Importance of BI Dashboard
Business intelligence dashboards facilitate businesses to monitor their performance metrics in the amount of their time by providing an associate scan of data and analytics. A Dashboard provides an associate interface that aids managers and executives in obtaining knowledge instantly from varied departments during a very similar format and makes it any accessible. Dashboard style, in addition, plays a vital role in the decision and method making process. It will be easy to use and consists of all the capabilities like customization, intended audience target, color vibrant, etc.
1. Accessibility
The dashboard is accessed whenever required from a multitude of devices as well as cell phones and tablets.
2. Safety and Security
The security protocols in Dashboards guarantee entire knowledge remains safe from outside intrusions unless you give access. Multiple redundancies further guarantee no data is lost at any purpose of any time.
3. Easy Collaboration
Not solely can the dashboards be visualized on cloud-connected devices, they will even be simply shared together with your co-workers, etc, through PDFs and emails. Users may additionally leverage its automation choices as well as programming daily emails.
4. Data Sources
The fuel for business dashboards is data, so each must have one or a lot of data sources. Without data, the dashboard won't show the user anything. Data may be connected through associate API, flat file, or information. Once data flows into the interface, the dashboard will come to life.
5. Filters
Many dashboards embody part of interactivity, thus users can explore data sets as needed. This methodology is commonly known as data discovery or self-service analytics. Filters will embrace date ranges, data sources, geographic regions, departments, and many more.
6. Flexibility
Purpose-based business dashboards embody device flexibility, that allows users to access and act with dashboards anywhere, on any device. This provides anyone among organizations with quick access to insights from collective knowledge without the necessity to search them manually.
7. Decision-Making
The good advantage of a business dashboard is better decision and method-making process. It permits users to appear at summaries of collective knowledge to form informed business choices. Not solely is data easier to consume, however, it can be analyzed quickly.
8. Shared Insights
Full implementation of an associated analytics platform permits people throughout an enterprise to attain visibility into KPIs in each department.
Dashboards are enforced at the degrees of enterprise, as a tool that changes the business culture. One of the best advantages of using dashboards is the fact that managers or users of a corporation can analyze a screen by observing key risk indicators, or key performance indicators and may create choices and actions to reduce the risks and improve the performance of the enterprise.
Recommended Articles
This is a guide to Business Intelligence Dashboard. Here we discuss the introduction and why we use the business intelligence dashboard along with its importance. You may also look at the following articles to learn more –