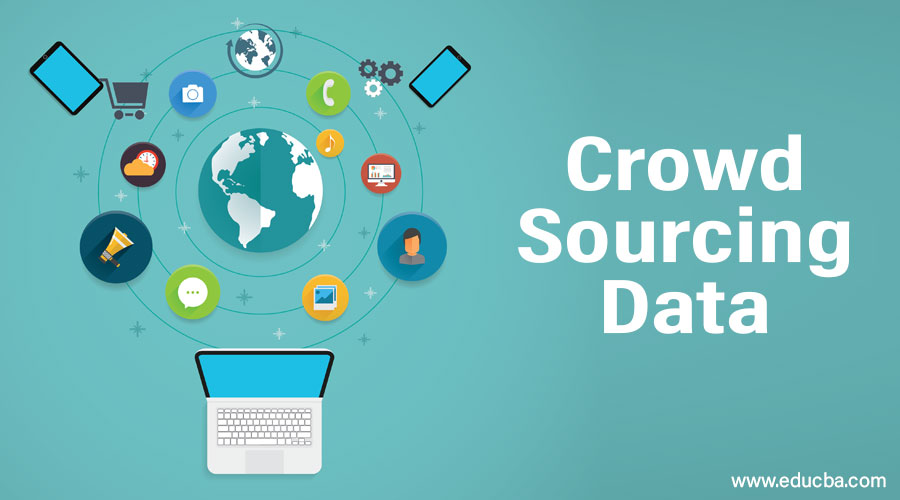 What is CrowdSourcing Data?
Long ago businesses created ideas, launched products or services, and launched it in the market place. The success depended on how much acceptance it got from the consumers. Perhaps, to underscore the power of the consumer or the user, Time magazine had voted 'You' as the Person of the Year 2006. It was in recognition of the millions of users who anonymously made the content of Wikipedia, Facebook, YouTube, websites, blogs rich with their contributions.
The Open Source software movement also believed in the power of the user to work on the operating system kernels and apps by providing the source code free for whoever is willing to work on it. Linux was also a beneficiary of this world-wide user-collaborative movement. This raised a formidable challenge for proprietary OS such as Microsoft Windows.
It goes on to prove that businesses have realized the collective intelligence of the consumers or users worldwide to get ideas t create content, develop new products or processes or outsource part of the work to a large group of people. The term 'crowdsourcing' was coined by Jeff Howe, Contributing Editor to Wired Magazine in June 2006.
Success with CrowdSourcing Data Content
Here are some ways to attain success with crowdsourcing data content, to do new research, developing new ideas, outsourcing work and improving productivity.
1. Your objective must be crowdsourcing data-friendly
If you want to generate new ideas, internally the company must define the objective and the outcome you want to achieve. For example, if a lot of consumers had concerns over seat design and height, the objective is to identify the most suitable design and at what height it should be placed for each model. The outcome should be more sales due to better or ergonomic seat design.
Not all problems or issues can be solved with crowdsourcing data especially if there are so many components or complexities associated with. A new design for trays in a dish washer may be easier than asking people to redesign its motor.
2. Charity begins at home, look inward to get ideas
Many a time companies fail to tap the latent potential within the organization either for content ideas, product ideas, and research suggestions or to improve an existing product or process. In this way, a knowledge bank can be created so that it gets shared with the top management.
If conventional methods of using email to share and forward are used it could lead to cumbersome procedures and tracking difficulties. Now several apps are available some of that are free such as Knowledge Management Template which can be used to create content internally and externally. These apps are customizable and usurer-friendly. Slack, 15Five and LearnCore. The latter enables employees to create lessons with assessment questions that enable content creators in the company to come up with new ideas for blogs and articles.
3. Tap the innovative ideas from clients
Many companies keep in touch with their customers to get feedback on their products and services but such communication can also be used to get their views on new services or products they may be interested in.
Instead of asking directly for a topic they may be interested in, it will be better to hold a survey to understand their pain points. This, in turn, will have its spin-off on product development as well as for inbound marketing– you can get ideas on new blog posts, articles, and other content ideas. Make the surveys easy to complete and submit.
Keep the communication channels open so that only that they can be informed of the progress in implementing their ideas or areas where they needed more support. Unless the clients are shown how they benefit from sharing ideas, they may not be interested in participating in crowdsourcing projects.
Recommended courses
4. Work with business partners
Business partners could be raw material suppliers, marketing associates or public relations consultants. They could be a major source of ideas and thoughts for the company as they are very much involved in the industry and know the pulse of the market. They also have a keen interest in the development of your business as they also stand to gain out of it. Marketing associates can identify the weak points in the product from customer feedback or learn more about customer pain points that our service is failing to address, and thereby develop new products or processes.
5. Create a website to source ideas
Sometimes to reach out to a larger audience consisting of stakeholders in the industry, consumers, experts and anonymous people. For such an initiative, having a website may be the right strategy. Consumer products, IT industry, toys, clothing, food and several other industries have already achieved success with crowdsourcing data.
An electrical products manufacturer created a web site for its stakeholders- electricians, inventors, and contractors to contribute their ideas and innovations. Mattel and Lego, the leading toy brands have used microsites to gather ideas on how to make new toys and designs. Mattel reported that computer engineer Barbie and anchorwoman Barbie were toppers in getting more votes from a large cross-section of children, men, and women although the survey was intended only for children.
IT companies can also use dedicated websites to get new web designs, clothing companies can get new patterns or designs. In Web designs, 99design is one example while in clothing, Threadless. It is not only new design or product ideas that could emerge from crowdsourcing tools, even marketing, and advertising ideas can happen. The best example is Ford's TV commercial of 2013 Focus ST. A stunt demo of the car was done and the audience was asked to submit videos of the event. The final commercial was based on thousands of video footage the company received.
6. Use social media to reach out to a large audience
With the increasing popularity of social media- Twitter, Facebook, Linkedin, Pinterest, Google +, it is now possible to do crowdsourcing data much effectively on these platforms.
Dunkin Donuts was able to create new products with its 'Create Dunkin's Next Donut' that invited its fans to design their own favorite pastry. They follow it up with Coolatta asking fans to identify which songs went well with Coolatta flavors. It helped the company create more than three lakh fans on FB and a Pandora channel dedicated to playing Coolatta music was created.
Coca-Cola effectively used its FB page to create a new flavor of Vitaminwater named 'Connect' in 2010. More than 40,000 FB users submitted their designs and flavors, took part in games and quizzes. Coco-Cola also gave the crowdsourcing tools to design and develop the new products. It helped them create something they were passionate about. The examples prove the effectiveness of social media in crowdsourcing data new ideas and designs.
Twitter can be helpful in many ways- Hollis Thomases, President & CEO, Web Ad.vantage was able to write the book, Twitter Marketing, An Hour a Day by creating a hashtag HollisTwitterArmy seeking help from people interested in sharing case studies. It helped her get valuable inputs and complete the project on time. Research crowdsourcing projects, surveys, identification of patients for health trials can all be done through Twitter, she said.
For a company, shortlisting the best talent from submissions made through Linkedin or Facebook may be a problem. What if several HR experts analyze the entries and create 50 best profiles as was done by NotchUp. This was possible with the help of 1200 talent scouts.
In addition to social media, there are a lot of discussion sites such as Quora, Yahoo Answers or Linkedin Answers that carry a number of questions posted by viewers and several answers related to it. Such forums enable companies to know what the consumer is interested in knowing about and how it gets answered. Lot of topics related to health, career, education, consumer goods, wealth creation, investment, financing, technology are all addressed in such forums giving the industry an idea of the pain points of several millions of people across the globe.
7. Incentives may help in crowdsourcing data
Without incentives, crowdsourcing data may not generate much response. But if there is a monetary reward it should not be too low while higher amounts may make it competitive but $30,000 to $50,000 reward is good enough. Sometimes, many large companies announce incentives for designing a logo, suggesting a new brand name or product name. Here again, incentives should not appear too low or high to dissuade participants. Also, the duration of the exercise is important- say 30-45 days. If the last date for submissions is too far away, people may tend to postpone or forget to submit their entries.
8. Measure the impact of the crowdsourcing project
Sometimes, a Facebook invitation to take part in a contest or send suggestions for product improvement may not involve huge costs but consume time and energy for analysis of the submissions and results.
Ultimately, the initiative should lead to the development of a new product or service and have an impact on the bottom line.
9. Micro-tasking is better
A large task can be broken up into manageable parts for several people to collaborate. If they are 500 topics to be written and edited, several hundred people each getting a small incentive will generate a better result. Crowdsourcing data is effective for thousands of photographs needing a caption. Where will you find the largest collection of bird recordings- A national park, National Geographic, or Discovery Channel or a bird sanctuary? It is in Xeno-Canto, an online platform for sharing bird recordings. It began as a small project in 2005 to aggregate recordings of South American birds. They were all crowdsourced by Bob Planque, a mathematical biologist at VU University, Amsterdam.0
10. Get customer feedback with crowdsourcing tools
No company can progress without proper customer feedback. Some companies like getting Satisfaction provide the crowdsourcing tools to engage with your customers by posting questions, concerns, and comments and also respond to surveys. Online survey crowdsourcing tools help companies integrate them into their social media. This enables real-time sharing of feedback, actionable reports which can be achieved at affordable costs. Engaging with the customers in a creative way helps in customer satisfaction and helps in improving the bottom line.
Conclusion
Crowdsourcing data is an effective way to seek the help of a large audience usually through the internet to gather information on how to solve the company's problems, generate new ideas and innovations. With the popularity of social media, it is now possible to reach out to a large audience at a much cheaper cost. There are a lot of crowd sharing platforms available to get new ideas in a variety of areas- such as IT, finance, health, cloth design, toys, among others. Fiverr.com helps people to write resumes or cover letters for just $5 while iStockPhoto.com helps photographers sell their photos online and customers a wide choice of photography to choose from on a variety of themes and topics. Even topics for college study have been crowd-sourced in a platform called Source Hero.
Crowdsourcing tools are not for highly technical and complex problems to solve as they cannot be done by a crowd who do not get much incentive to contribute. The crowd is not on your payrolls and they can't be manipulated or controlled. However, DuPont and Eli Lily have utilized online research and technology experts to solve R& D problems that were vexing them for a long time. It can improve productivity and creativity in a company.
Several academic crowdsourcing projects have also be undertaken through crowdsourcing data such as the seabirds study done by Tim Birkhead of the University of Sheffield. Crowdsourcing data can be also be used to raise funds (crowdfunding) for a cause, share labor or expertise.
For a conventional company used to a top-down approach, shifting to a shared-ideas platform may involve a major cultural change. CrowdSourcing project is based on the principle that many heads are better leading to productivity gains. Irrespective of the business need, there is always a solution available on the crowdsourcing platform.
Recommended Articles
This has been a guide to Crowdsourcing Data. Here we have discussed some ways to attain success with crowdsourcing data content. You may also have a look at the following courses to learn more –