Updated May 22, 2023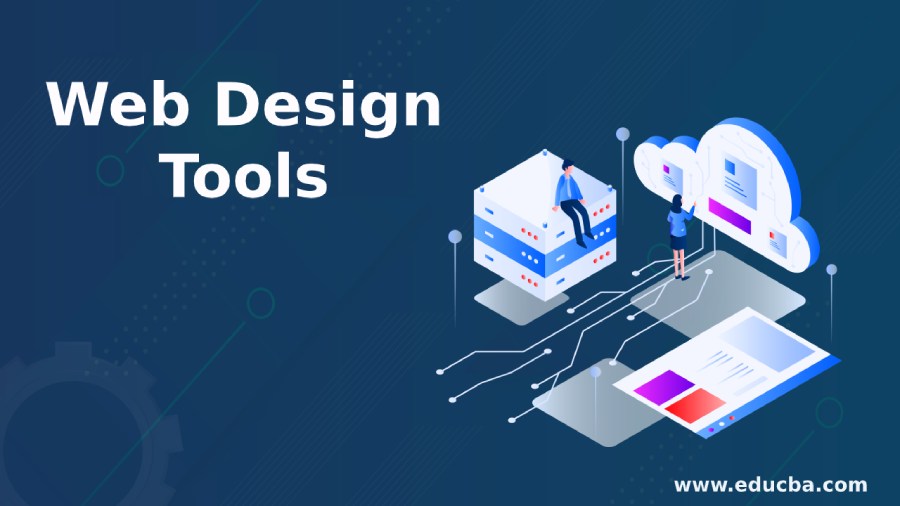 Introduction to Web Design Tools
Every web design tool has more to it than just what meets the eye. You must have been spending hours online looking at different websites to pick up some discernible trends in web design tools.
The web, aptly termed as world-wide-web, has gradually become a very colorful and eye-catching virtual world to surf. Creativity is spreading its wings wider, and web design tools are getting better and more unique with each passing day.
The web is responsive, and the advancement of W3C specifications has given rise to a new era of digital web design tools. A few years back, the content was the master of a site.
But today, creative web design tools have taken the same place of importance and are important in attaining and retaining viewership.
So, for those who never thought web design tools would ever be so powerful, it is possible more than ever. Let me bring you the 20 coolest web design tools you must check.
These will be exciting to check and might give you another super-hit idea for your next project or assignment. So just scroll down and enjoy!
Sources for Creative Web Design Tools
Best List Sources for Creative Web Design Tools that you can add to your site.
1. Go Responsive
Responsive web design tools have become a new norm in this era. With more and more sites going responsive, this has set a new trend, and the responsive web has established itself as a new style of web design in general and WordPress, to be specific.
Responsive, as the term suggests, links to the concept of creating a website that helps change the layout according to the browser or screen's resolution.
It can adapt to a laptop, tablet, or even a mobile handset according to its resolution. If you want it in exact terms, it automatically allows an advanced 1292-pixel wide, 4-column layout to adapt itself in 2 columns on a 1025-pixel widescreen.
2.  Scrolling has become longer
As the screen goes smaller, the scrolling goes longer. It has been seen as a new trend where most sites recognize the value of longer scrolls.
One of the major reasons for longer scrolling is the web going responsive. With the increasing use of mobile handsets to browse, long scroll sites have gained importance as it works best infrequently updating content with heavy mobile traffic.
Although long scrolling is usually seen on the Home Page of a site, designers are now experimenting with it with 'About us' and 'Services' pages as well.
This one-page concept in a site giving more creative freedom, improved story, better interactions, and simple navigation is doing wonders.
3. Grid patterned layout web design tools
When you have a huge content base to put on your website, arrange it in the form of a grid, the grid pattern doesn't need to be perfectly symmetric.
You just need to prioritize your content and then form blocks of different sizes to showcase it. It works wonders! If you are a social media buff, your first mainstream exposure to the grid web design tools might be on Pinterest or Facebook, which has scattered timeline updates to give you a feel of grid web design tools.
Although social newsfeeds on Twitter or Tumblr have always been a streamlined fashion, this cannot be forced on any old website. The grid layout always contracts everything into a readable format which is easy to comprehend and improves the user experience.
4. Rich Animation
Animation is the best way to tell everything about a website without having to write anything about it. It is the best way to tell a story to customers and enhance their interactive experience.
Techniques like loading animation, motion animation, and background images/videos are most vividly used. The 'Coursera' infinity symbol is quite an intriguing loading animation, whereas the motion animation on many online shopping websites is bound to catch your eye.
Animation is largely divided into two main types – Large-scale animation, a primary interaction tool, and Small-scale animation, which includes spinners, hover tools, and loading bars.
5. Micro Interactions
Micro-interactions are here to stay, as it has the ability to increase the UX on any website. Users' emotional involvement and the time he/she spends on the website depend on how interactive and user-friendly the website is.
It helps in creating a memorable experience for your visitors. All the button clicking you do on a site is micro-interaction. From clicking on all the links to posting an update on Facebook and liking one, everything involves minute interactions of the user with the website, and one interaction leads to the next.
6. Uptown Background
The background of the website is one of its most attractive features. With the release of a number of 3D movies, the era of large image backgrounds is long gone.
The designer must learn how to blend the complexity of 3-D graphics and form a rich and dynamic background. A fully interactive HD-quality video background can be expected in the coming years.
As simple as these web design apps might look, it is hugely effective in attracting the attention of the user. This web design app primarily focuses on giving a retro feel to your site. Use one whole picture as a striking background, and just go monochrome!
7. Simple Designs web design tools
Designing has a thumb rule that a web design app is perfect when it does not show any non-essential elements. And, as we are improving upon the UX and UI experience of the viewers, you could see more sites designed on this pattern.
Designers have brought this idea to fruition as sites look for ways to simplify their web design apps by removing all the unwanted and non-required elements. It can be done by removing a large background image or header to greet visitors.
This designed site stands away from the crowd of image-heavy and color-loaded sites. It will give a soothing effect to the eyes and is definitely going to attract your attention.
8. High-Quality Photography
High-quality, customized professional photography has taken the place of stock imagery these days for newer websites. This new trend of designing a site gives uniqueness and freshness to the site.
Using a customized image on the header of the site shows off this trend very well. If you have a limited budget, using a combination of professional and stock images can also make your site appear different from similar sites.
9. A design has become Flat
The discussion on web design app trends is incomplete without mentioning the trend of using Flat UI elements. But, if you analyze the trend, you might observe that these flat web design apps are getting into the shape of the material design.
Material design, as Google unveiled, is a flat web design process that uses very subtle gradients, soft animation, and layering to retain a sense of the physical world while still achieving all the benefits of a flat design.
CSS3 permitted designers to generate flatter buttons with natural box shadows, text shadows, or rounded corners. This flat UI pattern went beyond and turned into form inputs and navigation menus.
10. Personalization of UX web design tools
Using cookies to display relevant content to make visitors revisit a site is an old concept. But, this, mostly identified as a spammy practice, has made a very classy return with up-class design and better practice to make visitors revisit your site.
Netflix and Youtube use this to remember recently watched items. It might be used on an editorial site with a pool of articles to create a sidebar widget of 'Recently read'.
This can give you quick access to articles you recently read or commented on. There is a revolution to happen in the coming days in the WordPress community via plugins using this technique.
11. Slide out/Fly out the menu
The use of Smartphones and TVs is increasing daily. Hence, it becomes really important to ensure that the user has a seamless experience while using the websites on all the available channels.
As time passes, the idea of a responsive website will continue to grow and flourish. With this, you can see an app like a menu for all browsers.
In a flyout menu, you can find a vertical menu on either the page's left or right side, which appears more like a flyout menu carried over from web apps or smaller viewports.
12. Main Menu gets hidden
With the web going responsive, hiding the main menu is also started to be carried over. Designers hide the main menu, which becomes visible only when the visitor clicks the appropriate button and is ready to move ahead.
This technique has been widely used and conditioned over the last few years only with mobile or web apps, but now you can come across this kind of web design process more frequently.
13. Long live the SVG
SVG became the topic of discussion in the year 2014. This tool makes your assets look sharp and crisp and ensures that it adapts to the screen size. Moreover, the SVG elements can be animated and make your website life-like.
14. Scrolling in and clicking out
In this age of smart devices, scrolling is nothing new for users. In fact, scrolling is preferred over clicking. This helps the user get the gist of what is offered on the website on the first page. Homepage needs are longer to ensure a dynamic interaction.
15. Card Layouts
Many of us come across websites with their various features described using rectangular boxes, mostly like the start screen of Windows 8.1. Each card describes a concept, and all the user has to do is click on a card.
In this profoundly tech-savvy world today, there's a great chance that your entire target customer base might be online. And trust me, there is no better way to catch the eye of people than a super creative website.
A smashing website shouldn't just have great content and a catchy interface.  As our habits and our desires change, so does technology and hence changes the web design process.
A responsive web design process is a must-have feature in the modern web world. Websites nowadays are becoming highly conversational and rich in media content.
I hope you try these web design processes to make your site look awesome! 🙂
Recommended Articles
This has been a guide to web design tools that have something more to them than just what meets the eye. You must be spending hours online to pick up web design tool ideas. These are the following external link related to web design tools.