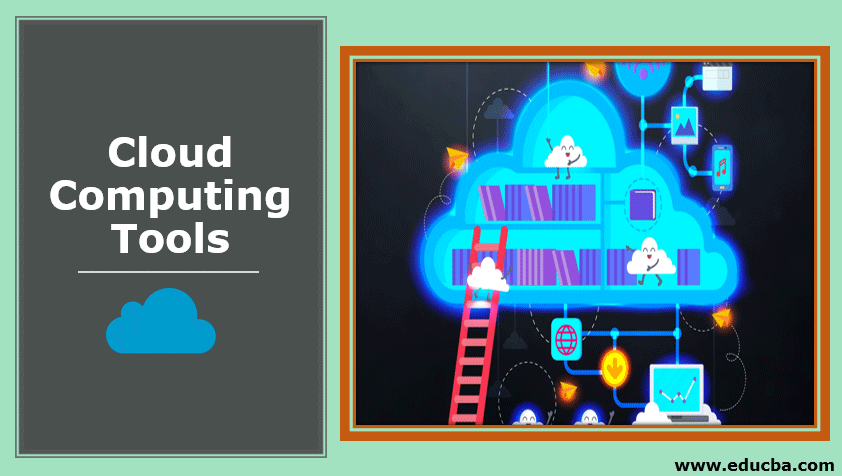 Introduction to Cloud Computing Tools
With the advent and popularity of cloud computing and the ease of accessibility, the risks of cloud computing are sometimes overlooked. The growing trend of cloud computing in different genre present group of risks which are exclusive of each other, that it is hard to group them under a single umbrella in common. But in the story below, in the next few parts of explaining the risks of cloud computing, we will consider the story of "How Gotham is built (Batman Comic series)." In case the movie is not known, Gotham is analogous to cloud computing and How? is the way Gotham city is built, to bring more intuitive flavor to this topic.
What is Cloud Computing?
The existence of cloud computing prevails from 1971 but got popularized only after amazon released Elastic Compute Cloud in 2006 and then updated version of AWS in 2018. Now to understand more about the types of tools, let us know more about the city Gotham. The city is an environment where people share services. These services can be infrastructure, platform, software, data, APIs, and anything one can think of sharing in public/private. This concept of cloud computing makes it super easy for the people, who plan to build their infrastructure in the city. With this idea, the cost-benefit, first-time investment and maintenance, along with computation capability, storage capability (hardware) is tangible. Forrester, the research company quotes cloud computing as:
"A standardized IT capability (services, software, or infrastructure) delivered in a pay-per-use, self-service way. Research coverage includes cloud security."
Need for Cloud Computing Tools
A different cloud service provider provides different sets of services and tools for the operation and control of the cloud. These tools can be related to help enterprises integrate, buy, manage, monitor, tweak and track cloud services in private/public/hybrid cloud space. The complexity of each tool depends on which layer of service model architecture does that tools fall into (IaaS/PaaS/SaaS). For example, IaaS tools might be easier to use than PaaS because in PaaS the user might have to know about specific interfaces to run. The tools are also segregated into open-source and proprietary. In addition, to provide full transparent visibility into cloud operations these tools must be provided by cloud service providers. In analogy, to build and manage the Gotham city we would require various tools so as to ensure the comfort of the people in the city and ensuring no threats.
Uses of Cloud Computing Tools
The essential uses of cloud computing tools benefit enterprises in various ways leading to quantifiable improvements in their business.
1. Help Enterprise Integrates
These tools support the enterprises in any data integration related issues and support integration deployment. These tools also pave the way for adherence to IT governance and control.
Analogous Situation: Having a governing body to help integrate different parts of city Gotham to ensure the smooth functioning of the city.
Examples: Agility Platform by ServiceMesh, CloudHub by MuleSoft (Open Source), Informatica cloud, AtomSphere by Dell Boomi.
2. Help Enterprise Manage
These tools help in wide genres of cloud services management, for example, infrastructure management, configuration management, automation of management services, and help in following governing rules of infrastructure and applications of cloud computing. Through a single integrated control point for governance, the tools ensure adherence to compliance and security of cloud services.
Analogous Situation: The managing of Gotham city to make sure the rules are followed and manage different areas in the city like city planning, employment planning, etc.
Examples: RightScale Cloud management, Puppet (Open source), Chef (Open source), Enstratius (acquired by Dell and is currently support-only).
3. Help Enterprise Monitor
These tools help in monitoring cloud computing architecture, infrastructure, and services. The tools in this category will help administrators to identify possible defects in the system in a reactive or proactive mode to either prevent minor glitch to turn into major problems.
Analogous Situation: The monitoring of Gotham city will prevent any issues in the city to turn into chaos.
Examples: Amazon CloudWatch (Proprietary), Microsoft Cloud monitoring (Proprietary), Nagios (Open source).
4. Help Enterprise Tweak/Optimize
These tools help the organization to overbuy resources. These help them to tweak by giving insights into inefficiencies in the service and also suggest a methodology to get rid of the inefficiencies. These tools use Reservations, Rightsizing, automation and other techniques to be able to optimize/tweak.
Analogous Situation: Gotham city needs an organization so that all resources are able to perform at the best optimal level.
Examples: S3 Life-Cycle Tracker (Proprietary), EC2 Reservation Detector (Proprietary), RDS Reservation Detector (Proprietary).
5. Help Enterprise Track/Audit
These tools help the enterprise to track and analyze the usage of cloud computing services. As an example, there are tools which help in analyzing the expense of the services being used and help identify opportunities to reduce cost/alerts/recommendation.
Analogous Situation: Having a regulatory body in Gotham to understand and track the economy/activities will enable the city to prosper better.
Examples: Cloudability (Proprietary), Apache CloudStack AMFC (Open source).
Conclusion
In the world of cloud computing, it is inevitable to miss the monitoring of assets and performance of the application in addition to the physical servers. Having a perfect fit for the services required by an enterprise depends on factors like needs, budget, and type of requirement. Some of these tools come with a tagline of "do-it-all" and few come with specific specialized features, again depending on the factors mentioned above the enterprise has the flexibility to choose from a wide variety of choices.
Mind Map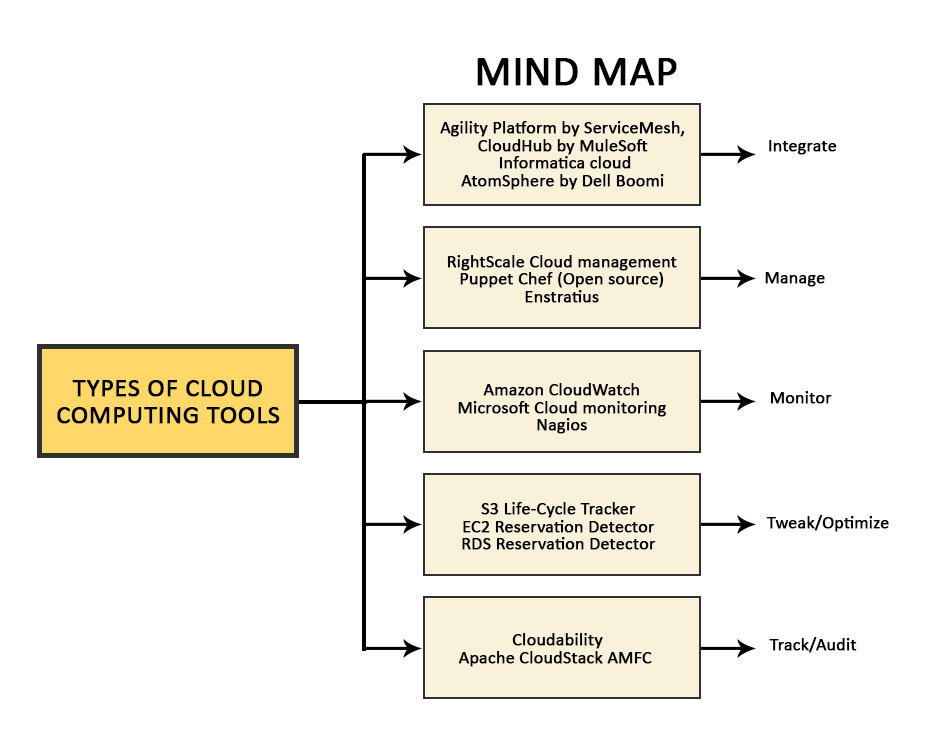 Recommended Articles
This is a guide to Cloud Computing Tools. Here we have discussed the basic concept and its needs along with the different uses and types of Cloud Computing Tools. You can also go through our other suggested articles to learn more.