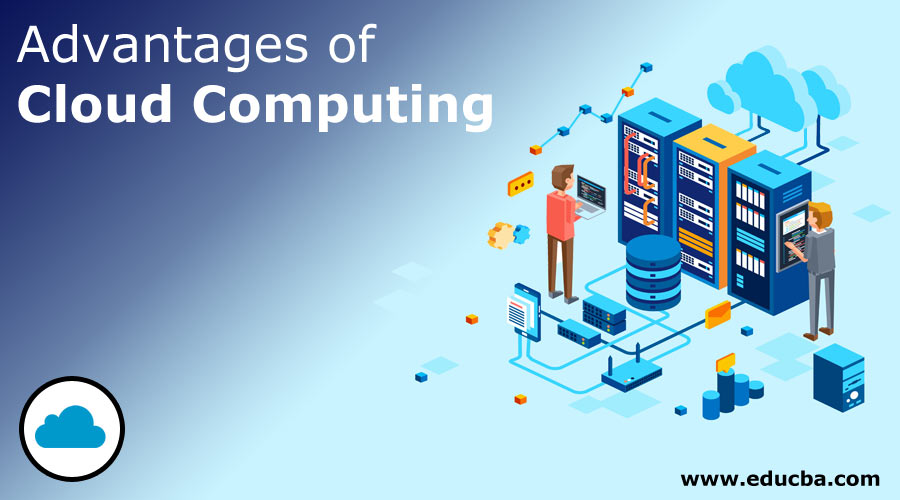 Introduction to Advantages of Cloud Computing
Despite being considered new, cloud computing has been around for approximately a decade now. Gradually people started believing in the powers and Advantages of Cloud Computing. Many businesses have already moved to the cloud, and a lot many are planning to move. According to a survey, 73% of the organization have started using the cloud. It is a well-known fact that those who are using a cloud computing system for their big data processes enjoy faster and better services. Even today also many enhancements are going on in this area to provide the best and all-around service.
This not only helps an organization to manage resources effectively but also helps them to serve their customers in a better way, which in turn helps in the overall growth of the business. Facebook, Instagram, google drive, Gmail are some of the services through which we are unknowingly using a cloud. All these applications have their servers hosted on the cloud. That's why our data is safe and readily available in these applications.
Top 7 Advantages of Cloud Computing
Given below are the top 7 advantages of cloud computing:
1. Cost
Every business's ultimate objective is to earn a profit. Organizations are concerned about the hefty amount they have to pay for implementing the cloud in their environment. But then data is also important. Those who have weighed the advantages and disadvantages of the Cloud know that it is economical to use the cloud. With the cloud, services come easy to maintain and use. One has the flexibility to use services when required and pay for that only. There are different pricing tiers offered by different cloud providers. One can select the types of services he/she wants and also the duration of the service.
Some cloud providers also offer pay-as-you-go services. When the user has no idea about how much resources he/she will need. They can opt for this service. When implemented in a house, organizations end up deploying resources that are not used very frequently and ended up paying more than they actually use. That's why many organizations are going for a cloud. This is economical and fast.
2. Flexibility
A user can never be sure of how much resources he/she needs with growing time. So deploying resources like processing servers and storage databases on a vague guess might end up either deploying too many resources or too few. This might impact the business as well. Another problem with these types of infrastructure is that it needs a team of professionals to maintain and manage the resources. With these issues, the user can not focus fully on the growth of his/her business. That's why it's preferred to let third-party handle all the infrastructure-related mess and users focus on the business goals and customers service.
The advantage of using cloud computing is users get the flexibility to use the resources whenever needed and pay only for usage. Resources will be available instantly and released as soon as they are done with their work. This gives users freedom and flexibility to work on any size of data. This flexibility increases the efficiency of the user. He/she can focus more on logic than infrastructure.
3. Mobility
Cloud is an internet-based service. This means that all the resources in the cloud are accessible through the internet. A user just has to log in to their account and access the resources they have on the cloud. This makes the user flexible to access services from anywhere in the world. Cloud services are also accessible by using a mobile phone. Applications like Facebook, Instagram, Gmail etc., are available on mobile as well.
4. Security
With the growing cybercrime rate, cybersecurity is a matter of concern for every organization. It is a common perception that data available on the cloud is not secure. When data is stored on the internet, it becomes vulnerable to cyber theft.
To save data from theft and other inappropriate usages, it's the cloud provider's job to practice appropriate safety measures. Many parties are using encryption and authorization certificate to prevent unauthorized access to data. They have provided many levels of access control checks for accessing data. All these access control policies are decided by the use. Different security settings can be set according to the user. Thus the user has full control over to whom the data should be accessible. This gives users freedom from worrying about the safety and security of his/her data.
5. Replication
To prevent data from loss and applications from downtime, cloud providers make sure that data is replicated to multiple sites. This prevents loss from disaster or any other unexpected mistakes. There are many types of replication methods available. Some are – Locally Redundant, Region Level Redundancy, Geography Level Redundancy, etc.
The user can choose to replicate data according to his/her business requirements. A user can also decide when to archive the data. The data will be stored in lower-cost storage and will be available when need. Cloud services provide quick data recovery for all kinds of emergency scenarios, from natural disasters to power outages. Thus ensuring unobstructed growth of a business.
6. Updates
For proper functioning of the system and protection from various software, timely updates are required. When infrastructure is deployed in a house, the user has to make sure that all the systems are upgraded and all the applications are updated whenever required. This is both time and money-consuming activity. With a cloud at service, one need not worry about all these updates. It's the cloud provider's job to make sure all the resources are updated and antiviruses are of the latest version.
7. Efficiency
The main objective of the Cloud Platform is to increase the efficiency of the user. With all the services provided on-demand, the user need not worry about technical issues and can focus completely on business. With hundreds and thousands of servers readily available for service, the process becomes faster and generates effective results in no time.
IT professionals can focus on logic keeping aside all the infrastructural problems. Thus increasing the efficiency of each and every person. Apart from this, there are many more advantages of cloud computing, such as sustainability, flexible storage capacity, processing speed, insights, collaboration, consistency, etc. That is the reason why organizations are readily migrating on the cloud.
Recommended Articles
This has been a guide to Advantages of Cloud Computing. Here we discuss the basic concept and advantages of using cloud computing in the real world. You may also look at the following articles to learn more –