Updated June 15, 2023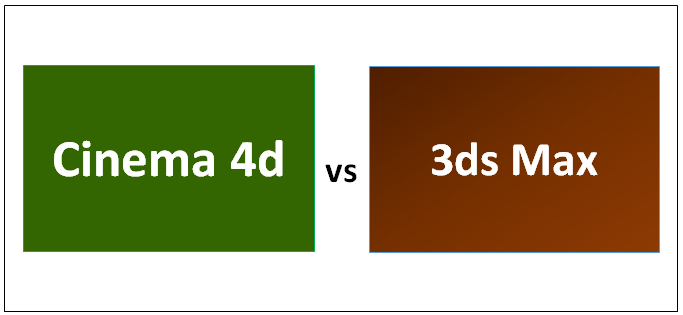 Difference Between Cinema 4d and 3ds Max
A 3D modeling, animation, and rendering software system for game style and development and style visualization, providing users with the flexibility to make and edit animations, visual effects, and environments. 4D CINEMA may be a powerful 3D modeling, motion graphics, painting, and animation software system built by MAXON. Cinema 4D will run on each Windows and MAC OS and is a nice program ideal for solo designers or smaller style groups. In this topic, we will learn about Cinema 4d vs 3ds Max.
Let us understand much more about cinema 4d and cinema 3d in detail:
Designing in 3D has its challenges. Designers usually need to overcome their perceptions and biases on how they produce and learn some in-depth programs to use 3D-style software systems effectively. There are 2 fashionable programs within the market used for 3D style; therefore, it will be confusing concerning which would be the most effective for your desires. If you're new to 3D or on the rummage around for a new software system, we've got some insights to contemplate once it involves the foremost widely used programs. Let's take a more in-depth look at Cinema 4d vs. 3ds Max.
A good 3D software system ought to have the following options:-
An intuitive interface that is simple to recollect.
Accessibility of good documentation.
Smart learning path
Community support
Accessibility of nice photorealistic render engines
Stability
What is 3D Max?
3DS Max is barely capable of running on Windows, which can limit whether or not or not you'll be able to benefit from its options. However, 3DS Max has plugins that are worth the restricted package support.
Autodesk creates 3DS Max and is capable of 3D animation, modeling, and compositing. The play and screenland employ the tool even for the smaller animations, visual 3D effects, and study visualization since it will move with AutoCAD. 3DS max could need the extra purchase and installation of V-ray by Visual Dynamics to provide photo-realistic results.
3D max is a lot of intuitive than the 2 Autodesk 3D style software system. It needs less time to be told and find started with its less complicated computer program. The sole downfall is the restricted package capability.
3d MAX Features
Great choice of render engines and V-ray, Octane, Fstorm, Corona, Maxwell, etc.
Very powerful swift loop tool (C4D: knife tool) with nice modifier key choices.
Forest Pack by iToo is a nice scatter tool for making natural wanting forests.
Great interactive mode for making primitive shapes (similar to Maya)
The academic version is additionally free!
Arnold renders the engine currently enclosed.
What is 4D Cinema?
Developed by Maxon, Cinema 4D is capable of motion graphics, modeling, and texturing. Its rendering engine will manufacture fantastic results, similar to the Autodesk programs.
Cinema 4D is astounding at permitting you to play with sketching and sculpting right away—something which will be a way more in-depth task in Maya or 3DS Max. It's additionally complex with Adobe when Effects, making sharing content simple. The animation and rendering will be worn out a fraction of the time.
Of the 2 programs, Cinema 4D is taken into account as one of the best programs to be told, moreover mutually of the foremost intuitive for obtaining started with 3D promptly. If the worth points are a deciding issue, it's also the cheapest to get started.
4D Cinema Features
Very intuitive interface
Great modeling tools (easy to be told and designed for efficiency)
MoGraph
Fantastic noise shades (and quick too!)
Customisability
Greyscale Gorilla may be a dream comeback true for C4D beginners.
Built-in render engine (AR) is completely useable and good thanks to beginning learning concerning rendering and materials. However, there are several third-party render engines obtainable.
Very truthful rating for academic/educational users.
Head To Head Comparison Between Cinema 4d and 3ds Max
Below are the top 4 differences between Cinema 4d vs 3ds Max

Key Differences Between Cinema 4d and 3ds Max
Both are popular choices in the market; let us discuss some of the major differences:
One issue concerning 4D Cinema is that it doesn't have Border and part modes. It is often one issue I did like concerning 3ds max.
By default, in 3ds max, multiple edges rotate on every individual axis. The "Use Pivot purpose Center" possibility in 3ds max often supports this. In Cinema 4D, once you choose multiple edges, it'll produce an associate axis to rotate around based mostly on the center of the selected edges.
3D max may be a nice selection and customizable. On the other hand, Cinema 4d is the best 3D software system for graphic designers. It's the program for excellence.
In 3D Max, each possibility is like a secret, and modeling is difficult. On the opposite hand, in 4D Cinema Material editor is restricted to No "editable poly" as in 3Ds max; however, here, we will not use multiple channels for the identical object
Cinema 4d vs 3ds Max Comparison Table
Below is the topmost comparison
S. No.
4D Cinema
3D Max
1
Keyboard Shortcuts:

One of the nice things concerning Cinema 4D is that you simply will customize its interface and keyboard shortcuts so that it's fairly almost like that of 3ds max. A couple of the large ones I used fairly usually changed between choose, Move, Rotate, and Scale.

In 3ds max, it was Q, W, E, and R severally.

2
4D Cinema can work for both Mac and Windows
3D Max can work on only windows
3
In 4D cinema, you've got to pick out a Vertex, change the Slide tool, then move it within the desired direction to constrain vertices to edges.
In 3ds max, it was perpetually nice to constrain vertices to edges, therefore not ruining the flow of pure mathematics. You may "slide" a vertex on a foothold to stay within the same position.
4
For an instant, Cinema 4D offers an efficient integration with when Effects CC.
3ds max supports integration with pipeline tools and different products from Autodesk, such as:

Sketch Up
Unity
Unreal
Revit
Inventor
Fusion 360
Conclusion
If you plan to use Cinema 4D, it's an amazing package to step into the globe of 3D. The German software system maker Maxon extremely created a package that is simple to be told but also rewards the user with elective shortcuts that they begin mistreatment over time, perpetually rushing up their advancement. I want the items I represented as lacking to be fixed; however, compared to the 3D Max from Autodesk Cinema, 4D offers a really exciting package to be used with daytime jobs outside of the 3D market. I hope now you have got a fairer idea of both. Stay tuned to our blog for more articles like 3ds Max vs Cinema.
Recommended Article
This has been a guide to the top differences between Cinema 4d vs 3ds Max. Here we also discuss the key differences between infographics and comparison tables. You may also have a look at the following articles –