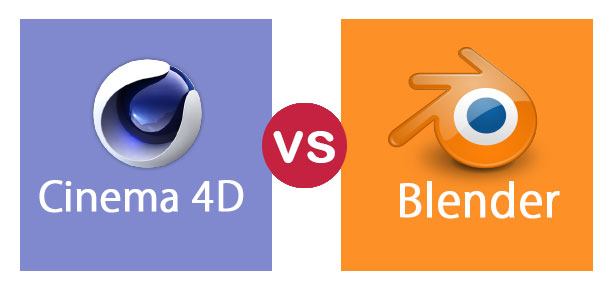 Difference Between Cinema 4D and Blender
A powerful 3D modeling robust software, developed by MAXON computer, based in Germany, is popularly called Cinema 4D. Cinema 4D gives an extensive suite of tools that aid 3D artists to give amazing results. Cinema 4D is proficient in procedural and polygonal modeling, texturing, lighting or rendering. In this modern, fast-going world where 3D production is so in demand, this program stands out and is very trustworthy for the artists who are professionals as well as beginners both. It provides phenomenal outputs and used to create video game graphics, 3D motion graphics, product and architectural visualization, and more. Blender was developed as an in-house software in 1995 by a Dutch animation studio called NeoGeo. A free and open-source 3D graphics suite is used to create animated films, visual effects, arts, 3D printed models, 3D applications, and video games. Blender can also be used to make short films and TV series as it gives the user some of the best animation and rigging tools. Blender also comes with a Python API that aids in customizing the layout, colors, size, and font of the workspace. Blender has an incorporated path-tracer engine that helps in achieving vibrant rendering.
Head To Head Comparison Between Cinema 4D and Blender (Infographics)
Below is the top difference between Cinema 4D vs Blender

Key differences between Cinema 4D and Blender
Both are popular choices in the market; let us discuss some of the major differences:
Blender is a free & open-source application and has only one version to choose from, yet this application attracts the hobbyists, professionals or studios that have all the features into one program. Whereas Cinema 4D is paid and targets professionals and experienced users.
The interface and workflow of Cinema 4D are unmatched with that of Blender, which is very confusing and difficult to understand initially.
The blender comes with a programming script language Python 3 that is very useful for animation, rendering, importing and object creation. Whereas Cinema 4D doesn't have a programming language.
Blender has an in-built path tracer called Cycles for realistic rendering, which is not available in Cinema 4D.
Blender can be very useful for freelancers as it offers perfect solutions without paying anything, with constant updates and high-quality results that the clients do require. After some learning, Blender can become very helpful for professional work. Whereas Cinema 4D may be useful for freelancers, but then again, they just need to purchase it to be able to learn it.
Cinema 4D vs Blender Comparison Table
Below are the topmost comparisons:
The basis of comparison 

Cinema 4D

Blender

Definition

Capable of procedural and polygonal 3D modeling, animation, texturing and more.
It is a free and open-source application used for creating 3D printed models, applications, video games and more.

Pros

Cinema 4D is easy to learn the software. The beginners, freshers, are not hampered by the lack of simplicity with similar tools.
Cinema 4D has an amazing and simple User Interface. It has a procedural workflow that allows exceptional flexibility.
It has commendable tools like Mograph, which is a set of tools that speed and accelerates the animation and motion graphics.
Very adaptable cartoon rendering solutions help the user to create perfect 2D cartoon style renders
Cinema 4D provides the user with a factory of an exclusive library of preset objects, materials, and scenes. These libraries can be used to create concepts without spending money on buying models.
Cinema 4D is highly famous amongst the users for its rationality. Each new function is tested by the beta and QA tester before its release.
Cinema 4D is created in keeping beginners and experienced professionals in mind. This software provides a hassle-free, logically arranged interface and user-friendly operations that make the user more attracted to it.

The first and foremost advantage of Blender is that it is a free and open-source application which is licensed under GPL.
Blender operates 3D formats like DAE and FBX that are used by game developers.
Blender has a default scripting language that is Python 3, which can be used to write add-ons, extend the interface, helps in rigging and more.
Since Blender is an open-source application, it targets a much larger audience.
Blender works on the Cycles path tracing engine. Cycles is a strong rendering engine which enables full path tracing. It is commonly compatible with OpenCL rendering.
Blender supports both low-poly and hi-poly modeling. It has a node-based compositor that is capable of post-processing function and detailed video editing.
Blender also offers a game engine that provides the creation of 3D games, which can code their own game logic and export models to third-party game engines.
The camera and object tracking functions enable the user to import raw footage, track the footage and view camera movements in 3D scenes.

Cons

Cinema 4D can be quite expensive software.
Since it is a paid software, it targets a comparatively lesser community.
Sometimes modeling and designing complex models becomes difficult.

Blender is not a very easy and simple 3D modeling software. It has its own way of doing things, and sometimes it becomes difficult to achieve simpler tasks.
Blender doesn't have a unified workflow and interface. The user might get confused if he is a beginner. Moreover, the operations are not modified for specific tasks.
The particle system of Blender can sometimes be a troublesome task to work upon.
In Blender, the image thumbnails load very slowly in the file browser.
Conclusion
Both the software Cinema 4D vs Blender have their own set of functions, and they both are superior to each other in some of the other ways. It truly depends on the needs of the user and their nature of work.
In terms of realistic rendering and animation, Blender would be a great option to choose. While Cinema 4D is a very simple and easy to understand software, but being a priced software, it still targets a lesser audience than Blender, which is a freeware application. Also, Blender can be used for commercial or educational purposes and can be learned without paying any cost. But then Blender's interface and workflow are not as good as that of Cinema 4D.
Recommended Articles
This has been a guide to the top difference between Cinema 4D vs Blender. Here we also discuss the key differences with infographics and comparison table. You may also have a look at the following articles to learn more –