Updated September 14, 2023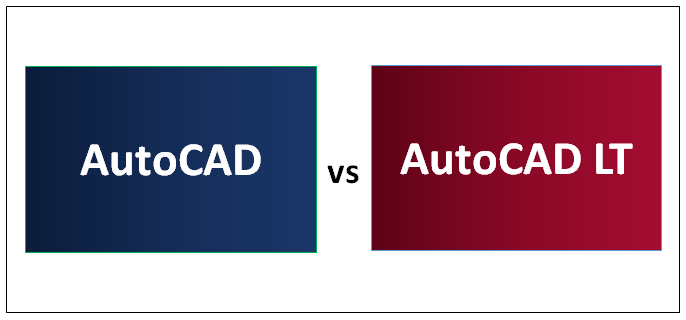 Difference Between AutoCAD and AutoCAD LT
A commercial drafting and computer-aided design(CAD) software application is known as AutoCAD. Primarily used for 2D drafting, drawings and documentation, and 3D modeling and visualization. It was first released as a desktop app running on microcomputers with internal graphics controllers in 1982 by Autodesk. In 2010, AutoCAD was published as a mobile and web app called AutoCAD 360. Using network licensing, AutoCAD also helps users use and manage it on multiple machines.
AutoCAD LT is critically a lower version of AutoCAD, which Autodesk released to attract more customers. It is an entry-level CAD software developed with the reduced capabilities of AutoCAD. It was first released in 1993 by Autodesk. In 2015, AutoCAD LT was introduced with a desktop subscription. Therefore, AutoCAD LT is a solid but somewhat limited design package. AutoCAD LT is a beginner's software compatible with Windows, Mac, and mobile applications.
Head to Head Comparison Between AutoCAD and AutoCAD LT (Infographics)
Below are the top 7 differences between AutoCAD vs AutoCAD LT :

Key Differences Between AutoCAD and AutoCAD LT
Both are popular choices in the market; let us discuss some of the significant differences:
Since AutoCAD LT is a mini version of AutoCAD, it offers only 2D capabilities, whereas AutoCAD has 3D power.
AutoCAD LT is much more used for working in 2D drafting and even offers a lower price than that AutoCAD. So, if someone whose priority is 2D, then he can even work solely on AutoCAD LT without taking any trouble to learn the complexity of AutoCAD.
For 3D specialization, AutoCAD LT will not be enough for the user as it can only move, copy or delete the 3D models but can't create new ones. Whereas AutoCAD comes with a 3D facility.
AutoCAD helps a user to customize options without making any extra effort. AutoCAD supports various application programming interfaces (APIs), including AutoCAD's default programming language called AutoLISP. In AutoCAD LT, the user can do simple customization like creating and adjusting toolbars and writing scripts, but it cannot perform higher-level programming.
AutoCAD LT doesn't offer network licensing, whereas, with AutoCAD, the users get a network license that makes their work easy. For example, the user can have a 10-seat license that lets AutoCAD run on any 10 of the 20 machines in the office if no more than 10 are run simultaneously. While for AutoCAD LT, users must purchase 20 licenses for 20 machines, one per machine.
Express tools are a set of officially unsupported but still dependable extra tools. The express tools are mostly written using APIs, so they don't work in AutoCAD LT., whereas they can be used in AutoCAD.
Parametric is extremely restricted in AutoCAD LT. The user gets to see the Parametric tab and the manager, but it has little influence in AutoCAD LT. The users cannot create parameters in LT, but they can delete them, which destroys the DWG file. So, one should consider AutoCAD for changing the geometry drawing while changing the value of a dimension.
AutoCAD LT doesn't support management and automation ability with Sheet Set Manager and Action Recorder, while AutoCAD does support them.
In the Options dialog box, the user balances drawing specific and system-wide settings as per their wish to work on the software. Profiles are these settings that the user saves and can even switch between them in the options dialog box. Unfortunately, no Profiles tab is available in AutoCAD LT in the options menu, but the user can use it in AutoCAD.
AutoCAD LT lacks Data Extraction Wizard, who gains information from objects and from attributed and no attributed blocks. Instead, the user needs to use AutoCAD LT to extract data.
AutoCAD vs AutoCAD LT Comparison Table
Below is the topmost Comparison:
Basis of Comparison 
AUTOCAD
AUTOCAD LT
About
Used for 2D & 3D both. It also includes exposure to industry-specific toolsets and improvised workflow and supports desktop, web, and mobile.
Creates 2D drawings with accuracy and in no time. It supports desktop, web, and mobile.
Usage

Used for 2D drawings, documentation, and drafting.
3D modeling and visualization.

Used for 2D drafting, documentation, and drawings.

Performance-based on nature of the work

Create and edit 2D geometry.
Create and manage 3D models with solids, surfaces, and mesh objects.
Personalize with APIs. Ribbon and tool pallets.
Gain object data to tables.

Create and manage 2D geometry.
Annotate drawings with text, dimensions, leaders, and tables.
Personalize the ribbon and tool palettes
Attach and import data from PDF files.

Target Audience
It targets bigger construction companies and people who are much interested in both 2D and 3D modeling.
It's more attractive to smaller companies and users who are more into 2D.
Performance-based on time management
Users find AutoCAD a bit time-consuming software. But still, if the work is based on 3D, AutoCAD is the only choice.
AutoCAD LT is a much-simplified software. So, less time is taken to use and understand it.

Licensing
Available in single-user as well as multi-user (network).
Available only as a single user.
Performance- productivity of work
Since it has so much to experiment with, its quality is very satisfactory for the user.
It is a limited version of AutoCAD, but whatever it delivers, it never disappoints the user.
Conclusion
AutoCAD LT can be called a subpart of AutoCAD. It is a limited version of its parent software. Though both AutoCAD vs AutoCAD is equally used. AutoCAD is more elaborated in its features and functions, many of which are not included in AutoCAD LT. What makes them different is that AutoCAD LT does not support 3D modeling and doesn't have a programming language. Also, it has not been introduced with a network license.
Nevertheless, the most important part of the equation is what the customers want. If the market insists on 3D design and drafting files, AutoCAD LT will not be enough. Likewise, developing the capability to use AutoCAD could open doors to new business opportunities. But if the target audience is a specialist in 2D, he can go for AutoCAD LT.
Recommended Articles
This has guided the top difference between AutoCAD and AutoCAD LT. Here we also discuss the key differences between infographics and comparison tables. You may also have a look at the following articles to learn more –