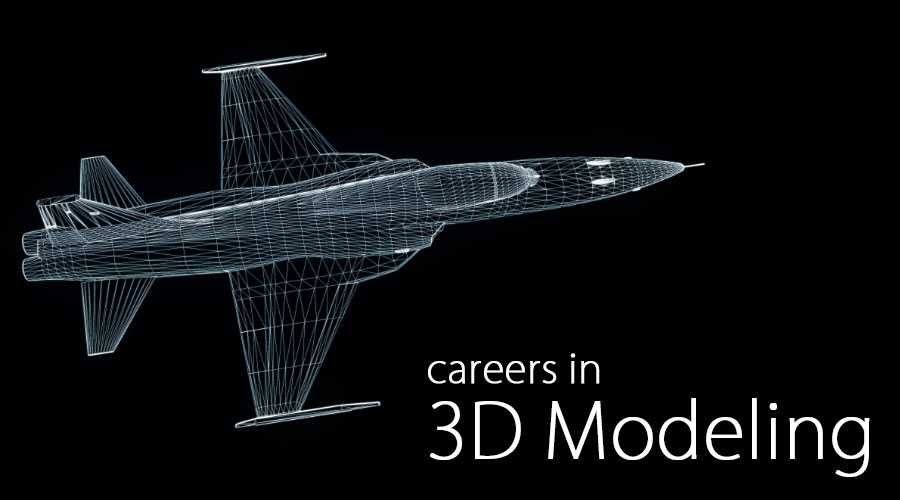 Introduction to Careers in 3D Modeling
3D modeling is the process of developing 3-dimensional models or visuals of objects, people and characters using computer software. This brings life to people, places, and actions from the one-dimensional view or concept of the designer. Also, this helps people to understand a product or thing more clearly through its 3-dimensional representation.
3D modeling is a vast technology that is used in various fields like video games, movies, architecture, illustrations, engineering, and advertising. The process and tools used for modeling will be different for each application. A vast amount of software is available for 3D modeling.
Today we are going to discuss careers in 3D modeling. As we saw above, this wide area of technology creates a large and safe career for professionals. People who deal with 3-dimensional modeling are commonly known as 3D modelers. The technologies used in the 3D modeling field are updating each day, and the professionals who choose this career should stay up to date with the latest versions and technologies. We can see 3D modelers who work in game developing companies, video production firms, software firms, graphic designing companies, manufacturing and production firms, engineering service companies, etc. From this long list itself, we will get a clear idea about the vast chances available for careers in 3D modeling.
Education Required to Build Careers in 3D Modeling.
The education required for a 3D modeler differs based on the industry or field they plan to work. For example, a 3-dimensional view of an object is designed by a video game company for their game development and the same is designed by a manufacturing firm for machining the product. Both of these professionals needed different qualifications and knowledge.
Those who wish to create 3D models for video games and animations must go for 3D animation courses or art and multimedia courses. Also, you should need a bachelor's degree before studying these 3D tools and courses so that your career will be safer and rooted.
3D modelers who plan to work for architecture and engineering applications need at least a bachelor's degree in the relevant field. For example, if an individual wants to work in a manufacturing firm, he needs an engineering degree in mechanical or a diploma in mechanical. After the degree, professional tutorials are available for different tools and software. Understanding the 3D modeling tools will be an added advantage to secure your career.
Career Path
Most 3D modeling jobs combine creative ideas and the latest technologies and play an important part in the development of various entertainments and engineering wonders. Even if 3D modeling is a competitive field, it's a great career path for every individual who is planning to choose this 3D modeling field.
Like other jobs, designers or 3D modelers don't have a lot of career levels or higher ranking positions to talk about. The career path in the 3D modeling field can be categorized based on the experience and knowledge you have. A fresher modeler will be assigned as a trainee or intern in companies and based on the experience and knowledge they gain permanent positions, and better salary will be offered.
For a safe and permanent career in 3D modeling, the first thing is to get placed in a reputed company. If you are working for a well-known company, you will get more rewards and compensations for your work. Gaining knowledge and update with the latest technologies and tools is the next important thing to get a better career in 3D modeling. Every company searching for people who are ready to update and blend with new technologies.
Freelancing is another option to make your career path steady and strong. You can start your own business, and you can even work online for different clients as a freelancer.
Application Areas For Career in 3D modeling
Let us see different industries:
Video Game: Video game developers use 3D modeling software for designing their game characters and avatars. This technology plays an important role in game development.
Manufacturing And Production: Product designing and modeling are carried out by production and manufacturing companies for the development of their products. Much 3D modeling software is available for product modeling and assembling. This software gives the designer a great perspective when modeling the product.
Architecture: Prototype models of buildings and structures have been designed by using 3D modeling software. Civil engineers and architects are using this software for the better planning and development of projects. Modelers can prepare what the building looks like in different environments, which will help to finalize the end product.
Animation: The animation is the process in which pictures are manipulated to appear as moving images. This is also possible for 3D images. 3D animation is the p[process of generating three-dimensional moving images into a digital environment. These are developed using 3D modeling software for making 3D animation.
Films: Another important field that uses 3D modeling is the film field. Animation movies and movies which use graphics are common nowadays, and these movies have 3D models in them. Each character, objects, places etc., are modeled by professionals.
Salary
As we already discussed regarding the career path, the salary of the 3D modelers is also depended on the experience and skill of the individual.
In India, an average salary of a 3D modeler will be around ₹25000. And this will vary according to the location of the job, the name of the company, difficulty of the job, etc. And this average salary is almost the same for 3D animators, 3D cad modelers, and other 3D modelers. The highest paying industry for 3D modelers is the motion pictures or video industry.
Job Outlook
It would be difficult to get the actual job outlook of 3D modelers since they are employed in various industries and different fields. Based on the ups and downs of the particular industry, the job outlook will also vary.
Based on various studies, the job market in the multimedia and animation field was expected to grow 6% in the next 5 years. With large numbers of freelancing and self-employment 3D modelers and the intense competition for salaried positions, earnings vary widely and are difficult to predict.
Conclusion
The growth of 3D modeling and its dramatic effect on the various industries is creating a large number of job openings with good rewards. This technology opens a strong and steady career for all enthusiasts and individuals who are ready to learn and work.
If you are ready to work hard and always stay up to date with the latest technologies, you can build a safe career.
Recommended Article
This has been a guide to Careers in 3D Modeling. Here we have discussed the Introduction, Education, Career Path in 3D Modeling, Application Areas, Salary, Job Outlook. You may also look at the following articles to learn more –