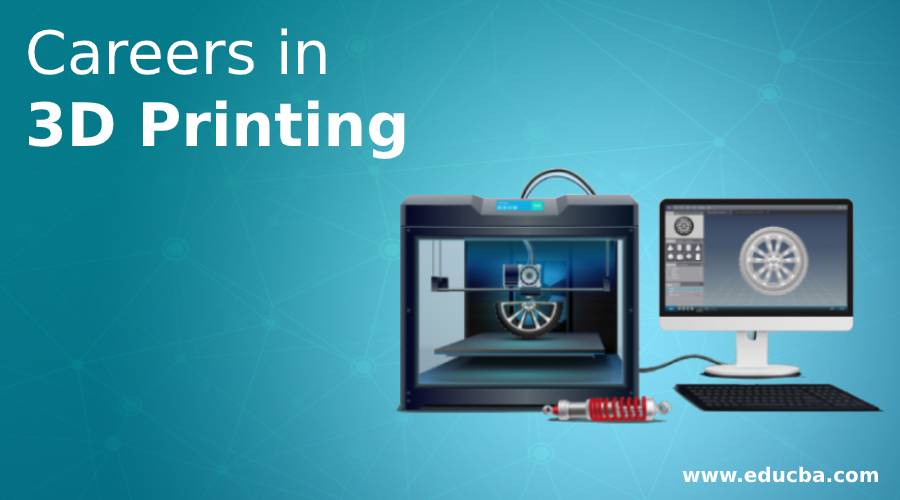 Introduction to Careers in 3D Printing
In this topic, we are going to learn about Careers in 3D Printing. In 3D printing or accompaniment of manufacturing, the making of three-dimensional solid objects or products from the digital file or using data in the form of numerical digits. Those industries are used to the cutting out or excavated by way of 3D printing; it's also we will play against the subtractive manufacturing of metals like copper, gold, silver, etc. Also, it will mainly use by the plastic industry with the occasion of a milling machine. Every manufacturing industry has produced a large number of shapes of complicated and 3D will helps to create a less amount of material than universal manufacturing methods. It's a different way of producing the parts compared to the popular subtractive machine named CNC machining or moldable machine as Injection molding; in these technologies, 3D printing is essential to manufacturers.
Skills Required to Build Careers in 3D Printing.
In every field of work, we have some knowledge, particularly the machinery deal, with the harmful effect and without skills. We don't create products as per work experience with communicating our products, either needs or sales, in the same aspects of 3D printing of technician who will complete the bachelor's degree or diploma with related fields like engineering, fine arts, computer knowledge of graduates degree. It will help the technician can operate the machines with the help of a computer to create manufacturing the products. In this, a technician has soft and interpersonal skills to think logically as well as problem-solving skills. Whatever the job needs, like broad-minded, different creative new ideas with the good knowledge of operating 3D software with designing knowledge.
Career Path
Every person's career can easily motivate about their skills and interest in their childhood itself because interest + involvement can make the perfect man of achieved persons. The application has become so talented and also in the requirement that there is developing of peoples as well as growing needs, who can easily understand, operate and easily handling the 3D printers with updating ideas like modeling concepts of 3D technology, in engineers who can achieve 3D printing and supplement of manufacturing into company processes. To accept the challenges of the opportunities in an existing industry, stabilize to revolutionize the business. It will help you to sharpen your skills as well as increase your knowledge of the 3D Industry.
Job Positions For careers
This software will contain basic tools to model the objects, and we can easily modify our designs: Open-source, free 3D modeling software. In UI picked up the overall the free 3D modeling software. It's suitable for beginners to fast and furiously mastered the program. We can favorable the command line of the screen well organized to follow the workflow. The 3D printing industry will need more designers, engineers, architecture, medicine, product design, special effects of TV and Movies, Anthropology, automotive, Entrepreneurial Efforts, etc., The software developer automation for 3D Printed Electronics, Maker and Hardware Internship, More innovative 3D printing technology, Aerospace Polymer Additive Manufacturing Engineering specialist, Robotics as well as Mechanical Engineers, 3D printing assistant, technical developer. The above positions are very familiar job options for 3D printing developers who can apply for these jobs to easily move on to the right position with the right candidates.
Income (Salary)
Apart from other industries, 3D printing's wages or income will be valuable to handling these technologies because as per skills-based designer has more ideas, creative minds, understanding superior officers expectations, income will increase regularly. At the initial stage, a technician will get above 10,000 rupees per Indian money every month, rather than getting allowances for other expenses. In abroad, there is paid by an hour of work their employees who got $15.00 more than every hour. It will increase as per appraisal every six months after 1 year, the continuous growth of salary, and other accommodation like home, food, and traveling accommodation provided by the organization.
Career Outlook in 3D Printing
In multiple industries are circulate by the help, some of the examples are;
Engineering – 3D printing is used to print the design and visualize the products.
Electronics – To print the Printed Circuit Boards for enclosures.
Aerospace – To establish the complex physics with efficiency.
Architecture – To help the building platforms of 3D print elevations and scale the models of design aspects.
Prosthetics – In the medical industry, there are new invents to prevent the people as per this aspects, 3D's printing role is, print the mechanical functional prosthetic hands for disable persons.
Robots – In this generation, technologies huge development like Robots, in 3D printing, will help compile the parts of life-sized Robots.
Geometry – To print the complex geometrics like QR codes, etc.,
Display Pieces for Shops or Market – To print the dark filament to glow the dolls to attract the clients.
Product Design – To advance the mock-up of the product designs at before moving to Production.
Gift Items – In the fancy items, transparency made of thin porcelain to intaglio the design as per creative arts.
Miscellaneous – Huge number of print varieties can be assorted by objects from the use of the internet.
Conclusion
We discussed the 3D printing to enhance the print quality; 3d printing parts might require for post-processing aspects. These types of printing options like Chemical treatment for patients, Support authorization for the products, painting aspects, etc. These are many opportunities for designers who will choose the careers in the field of 3D printing technology. Most of the skills-based on 3D printing candidates are eligible to hire 3D printing firms and companies.
The well-knowledge designer can also work at home as freelancers apart from the regular basis of work. In RD (Research and Development), there will be tremendous opportunities for needs for manpower with the help of 3D printing. Nowadays, these type of 3D printing will be more fashion-related companies such as Jewelry Design firms and fashion related companies which can take the advanced technology of 3D printing. In construction fields, the 3D printing role is more essential for getting an idea of a built home or any other buildings. In a survey of India in the design industry, 14 percent growth in the last five years, a percentage will increase in upcoming years.
Recommended Article
This has been a guide to Careers in 3D Printing. Here we have discussed the Introduction, Skills required, Career Path, Job Positions, Salary, Career Outlook, etc. You may also look at the following articles to learn more –