Updated July 13, 2023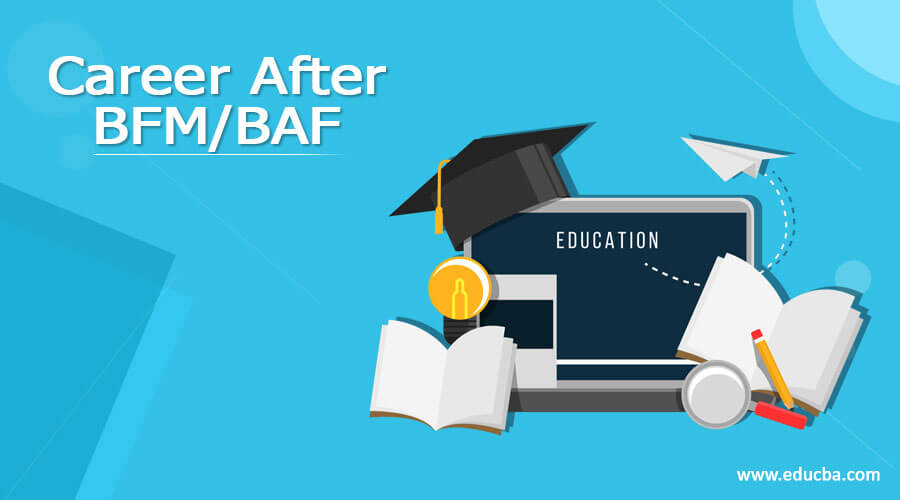 Introduction to Career After BFM/BAF
The following article provides an outline for Career After BFM/BAF. Bachelor of Commerce in Financial Markets or BAF is a 3-year undergraduate program spread across six semesters. BAF focuses on providing domain knowledge pertaining to Financial Markets. On the other hand, the Bachelor of Commerce in Accounting and Finance or BAF is a 3-year undergraduate course in Accounting & Finance, and it is also divided into six semesters. The objective of BFM and BAF is to promote self-employment by developing suitable skills among professionals so that they can excel in the fields of Accounting & Finance and Financial markets.
However, a bachelor's degree isn't enough in today's world, where most candidates intend to secure an extraordinary career. Hence, one must pursue advanced certifications and courses to achieve the desired career outcome. Now the next important question is – which is the right course? Thus, this article will discuss various career options available after BFM and BAF that can be taken up. We will also provide the associated details about the courses, such as fees, eligibility, governing bodies, and the average salary range. By the end of the article, it expects that you will be able to choose the right course easily.
Best Career Options after BFM/BAF
Let us look at some of the best career options available after completing BFM or BAF that can consider for a fruitful career.
Chartered Accountant (CA): Almost every candidate pursuing BFM or BAF plans to pursue CA at some point during their final year. Consequently, it is difficult to clear the CA exams since many candidates compete, and the outcome is equally rewarding for successful candidates. The Institute of Chartered Accountants of India (ICAI) administers the exams. Although there are parts – CPT, IPCC, and Final CA, the graduate candidates are exempted from the CPT exam. The IPCC exam is divided into two groups. After clearing one of the groups, the candidates need to register themselves for articles under an experienced CA for a period of 2.5 years. After completing articles and clearing both groups of IPCC, the candidates can write the Final CA exam, which also has two groups.
Financial Risk Manager (FRM): FRM certification is another good career option after completing BFM or BAF. It is a globally recognized certification program for banking and finance professionals. The FRM exams are administered by the Global Association of Risk Professionals (GARP), USA, and the certification program is divided into Level 1 and Level 2. The exams are conducted during May and November every year. To become a qualified FRM, one must clear both levels and 2 years of professional experience in the related field. FRM can open many career opportunities in risk management, financial modeling, trading, etc.
Chartered Financial Analyst (CFA): CFA charter is another global certification that is popular among students aspiring to have a successful entry into the Investment and Financial domain. It is a professional credential managed by the CFA Institute, USA, and the candidates need to clear three levels – Level 1, Level 2, and Level 3. The candidates also require professional experience of 4 years along with clearing the three levels to become a CFA charter holder. A qualified CFA can work as a financial advisor, financial strategist, research analyst, private banker, portfolio manager, etc.
Masters of Business Administration (MBA) in Finance: MBA in Finance is another common option for candidates completing BFM or BAF. However, an important fact is that an MBA is worth it only if it is from a renowned institute; otherwise, an MBA from an average institute will result in an average job. Getting into a reputed institute is not an easy task as one needs to crack very difficult entrance exams, such as CAT, XAT, MAT, etc., with a very high percentile. Some of the candidates write the exams multiple times to get into the Ivy League institutes, which can make it easier to land high-paying jobs. After completing the MBA program, the candidates usually enter the financial service sector.
Company Secretary (CS): CS is a good career option after completing BFM or BAF. You can pursue it immediately after completing the 12th standard. The CS program is administered by the Institute of Company Secretaries of India (ICSI), and the course is divided into 3 parts – Foundation, Executive, and Professional. Besides completing the three exams, the candidates must also register for an internship one year before clearing the last exam. After completing the CS program, the candidates acquire expertise in corporate finance and legal affairs practices.
List of Courses after BFM/BAF
Below is the different list of courses after completion of BFM/BAF:
| | | | | | |
| --- | --- | --- | --- | --- | --- |
| Course | Eligibility | Fees | Governing body | Duration | Average Salary |
| MBA | Graduation + Valid score in CAT, XAT, MAT, etc. | INR 10-15 lacs | Number of institutes | 2 Years | INR 6-10 LPA |
| CA | Graduation + 2.5 years of professional experience | INR 1 lac | ICAI | 3 Years | INR 8-22 LPA |
| CFA | Graduation or Final Year of Graduation | INR 2-3 lacs | CFA Institute | 2.5 Years | INR 10-25 LPA |
| FRM | Graduation and above | INR 1-1.5 lacs | GARP | 9 months | INR 10-18 LPA |
| CS | Graduation or Class 12th degree | INR 0.5 lacs | ICSI |  3 Years | INR 4-10 LPA |
Conclusion
So, it can be seen that there are a plethora of career options available for BFM and BAF graduates. But it is important to understand that what might be good for one person might not be that effective for someone else. Hence, everyone should identify their career interest and evaluate the available options based on accessible information and details. Once decided, the candidates should follow that career path with full conviction, and success is guaranteed.
Recommended Articles
This is a guide to Career After BFM/BAF. Here we also discuss the list of the top 5 Careers one must do after BFM/BAF, along with a course list. You may also have a look at the following articles to learn more –