Updated April 20, 2023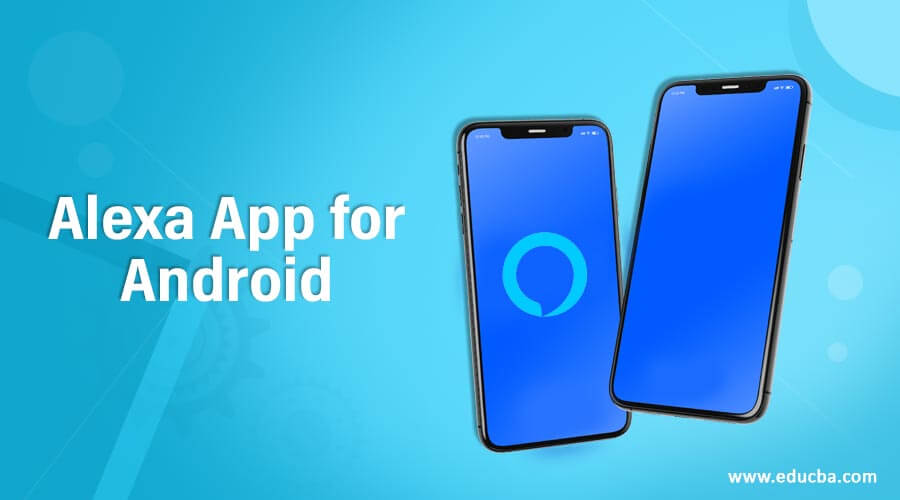 Introduction to Alexa App for Android
Alexa apps in android devices exploit the full potential of Alexa, a Digital assistant, to give a holistic experience on the power of this platform to the users in their daily personal, official, and recreational activities. These apps penetrated new avenues in all walks of human life, improving the lifestyles of people by leveraging the capabilities of the Alexa platform.
Most of the use cases covered by Alexa apps today would not have been thought of by Amazon when they created this platform. Thousands of Alexa apps developed by third-party vendors are available in the play store and numbers are increasing. Over and above the standard apps, any organization can develop its customized app using this platform as a base to meet its unique business needs.
Let us see the details of various such apps in this article.
What is Alexa?
Alexa is the most popular digital assistant tool from Amazon. Google Assistant, Microsoft's Cortana, Samsung's Bixby, and Apple's Siri are the competing tools for Alexa. Alexa is omnipresent right from phones to speakers and other household devices and users can get many things done by giving commands over voice.
Users can control the operation of household devices connected through Alexa from wherever they are and also instruct Alexa to play music, search information, set alarms, and prepare to-do list without the need to operate keypads. Amazon launched this platform in the year 2014 and it uses many Artificial Intelligence features like Machine learning, Voice recognition, Natural language processing,
Types of Alexa Apps
Alexa outperforms its competitors in terms of no of third party apps developed, varieties of applications managed, range of devices supported, functionalities covered, and capabilities of apps. Developers are provided with Alexa Skills Kit (ASK) containing development tools, APIs, samples of codes, and complete documentation. With ASK developers can build new apps quickly to meet the demands of user groups.
Alexa apps can be categorized into various types based on its applications and some of them are
1. Finance
Apps are available in Alexa store for the following functionalities in Finance areas
Check the user credit score and credit card balance. The presence of outsiders has to be avoided when voice services are used.
Making payment in a secured mode when it becomes due.
Stock prices of any company at any point of time during the day.
Any information on the trading of stocks, currency and bullion, etc.,
Details of Cryptocurrency trading
2. Planning
Users can add events to their calendars through voice app and make it to maintain a to-do list and ask Alexa to remind them as well.  Some apps generate ideas in any given field and there could be some spark ideas.
3. Home applications
Some of the Smart home Alexa apps are
Virtual devices to handle many scenarios or events involving various household gadgets.
To connect to the car remotely and check critical parameters of the car.
Control the entertainment system thru voice calls
Get the cooking guides, save the cooking settings and use it in future
4. Food
Apps to get any information on food and drinks like
Getting a combination of drinks that will mix well and Bartending skills on the drink preparation
Information on Food preservation methods and details
Suggestions on Best recipes, meal idea, best food outlets.
Placing orders on food outlets thru delivery apps or directly by logging into their respective app.
5. Weather
Many third-party apps are available in Alexa in the weather-related application including
Improved local forecasting features and accurate prediction of rainfall
Feels like featured apps and Quick information on weather
6. Travel
Travel related finer information is provided by Alexa apps like
Research information on future travel and getting critical inputs for travel planning
Tie up all travel logistics like local car travel, room booking, etc.
Get finer details on traffic conditions and queue in the airport security
7. Fitness
Customized apps to meet weird requirements in fitness includes
Workouts with time limits, auto-stop, and alerts.
Tracking sleeping patterns, Food intake patterns with proper alerts.
Following up meditation patterns. 
8. Entertainment
Customized apps in entertainment that meet unique requirements are
Movie, TV shows ratings and recommendation with inputs from the various portal
Tuning to programs, Bedtime stories, Adjusting the sound with ambiance
Other customized apps in games, radio programs and podcast
Top Android Alexa apps
These apps exploit the power of Alexa, deliver niche features to the end-users, and increases the utility value of the devices. Top such android Alexa apps are
1. Amazon Alexa App
It is the official app of Amazon available in the Google play store. It is a free download but it is a mandatory app to interact with Alexa and Alexa devices.  It directly interacts with Alexa enabled devices and controls them and whoever deals with the Alexa platform should have this app installed on their device. It has voice and machine learning features.
2. Any.do
A third-party app to prepare a to-do list with an effective follow-up mechanism. It integrates shopping lists with a to-do list and synchronizes various activities using the self-learning abilities of Alexa. The base version of this tool is free and advanced versions are available on a monthly subscription.
3. Anypod
This app utilizes podcast skills of Alexa and facilitates a pleasant listening experience with rewind, fast forward, and skip options. It has trouble-free voice command processing capability.
4. Big sky
Popular weather apps in Alexa providing deep information on the weather like temperature, environment conditions, alerts, humidity, wind speed, UV index, and dew points. Its free version provides most of the information and the premium version has more features.
5. IFTTT
It is an automation tool to schedule activities through Alexa and making it to do things as planned. The set of planned activities include switching on/off the equipment in the house automatically at a given time, ordering items on the nearest store if the stock in the fridge goes down below a level. Any routine activities can be automated using this tool.
Others
Ambient sound apps: This app creates a selected sound pattern in the ambiance for the specified time.
Find my Phone: Alexa finds your phone on the user's instruction by giving a dial to the phone.
Fitness: Fitbit, Motiv, and other standalone apps track fitness information of individuals
Conclusion – Alexa App for Android
Alexa integrates devices, smartphones, and the internet world with a human being through their voice commands and make their life simple and enables contactless communication. Currently, there are thousands of use cases Alexa handles and counting. Many more innovative solutions would be built over Alexa in the days to come.
Recommended Articles
This is a guide to Alexa App for Android. Here we discuss the Types of Alexa Apps along with the Top 5 Android apps. You may also have a look at the following articles to learn more –