Updated April 14, 2023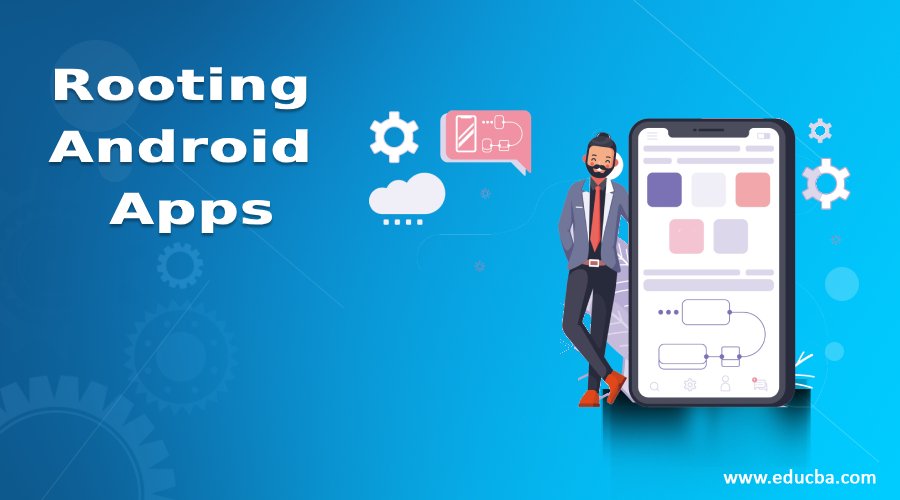 Introduction to Rooting Android Apps
Rooting the phone for any Android user is a passing ritual. It is your first big step in a wider world of changes. Unfortunately, no easy way to root any Android device is possible. Some devices can be "one-click" rooted. This makes it very easy, as the name implies. We will display some of today's single-click root methods. The methods of one click-root method shown below are not recommended by XDA. Often these systems are malware-based and often built by dishonest developers. Before using them, read the comments below and take into account the allegations made by other users.
Top 7 Rooting Android Apps
Now we are going to see some rooting android apps which are given as follows: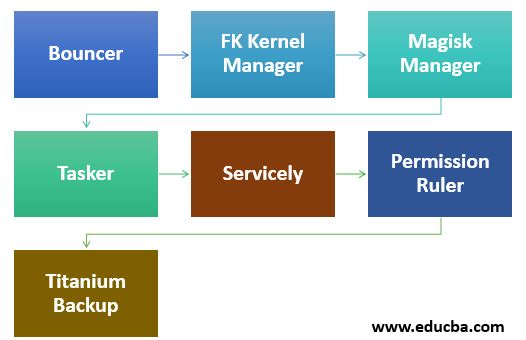 1. Bouncer
Bouncer is not a root application technically. But this is the type of app that users of root think we want. It helps you to handle your permissions with much greater granularity than Android does without being too complex. You may trigger it and then deactivate the permission of Bouncer a few minutes after any time an application requests permits. Thus, with maximum permissions, you can use every app on your phone, but make sure that no permissions are permanently enabled. Permission Ruler does almost the same, but in another way, so we thought that you would like to have more choices in this situation.
2. FK Kernel Manager
Kernel Manager is a Franco kernel-installed root program. This enables a range of users to tweak, the controller, including CPU frequencies, GPU frequencies, predefined color temperatures, and more. It also supports a range of devices, particularly OnePlus and Google. This is not the only application for a certain ROM or kernel aftermarket. But if it is compatible with your device, that is certainly the best. It is also one of the few that is currently active in the Play Store development. It's valuable at $3.49 and recommended for those who want to have more control.
3. Magisk Manager
Magisk is one of the most common and powerful root applications. It's quite new, too. Its great feature is that you can very effectively hide it. You can use applications like Pokemon Go or Netflix while you are in the roots. It has a number of other features, including modules that add additional functions. This is an authentic root app that is necessary. Google Play doesn't have it anymore. So, the APK from XDA developers has to be picked up. The software also evolves actively. This means that it gets quite frequently new features, designs, and fixes.
4. Permission Ruler
Permit Ruler is a little bit of a rough diamond for root applications. You need root to do anything but manage your authorizations manually. This app does something special with heart, however. It disables provisions for all your programs while the computer is off. So, when you're in your pocket, they can't do uncanny things in the background. It's his main role and it's pretty easy. Pause the app or all your apps will be deleted and you must manually reactivate the app before it is uninstalled. The software is free to use otherwise.
5. Servicely
It's a service app for controlling background services. This will enable you to do something that prevents Facebook from running behind the screen. It is a halt to stop rogue apps and the device's unwarranted wake-up. Depending on the facilities, it can also increase performance and battery life. Thanks to changes in Android's doze mode, it is now a little less important. For those who want to push their programs a little faster, this is still fine. Greenify works very well too, but not as well.
6. Tasker
The root app named Tasker is next on our list. This powerful application can do almost anything you want for your telephone. This is a vague but accurate description because your imagination is the only limit. Many of the apps do not require root licenses. However, if you have it, it adds other features. It's particularly useful for tinkerers and those with unique smartphone needs. Be patient, however, because the curve of learning is very steep. With or without base, it is useful. If you use Google Play Pass, you can use it for free.
7. Titanium Backup
Titanium Backup has been at the top of many root lists for a long time and is nearly blasphemous not to include it. You can uninstall and back up your applications and application data using this application. For years, this app has sworn ROM flashers. This is recommended by all to new root users. Go get it instantly if you've got heart. The most popular root apps ever are possibly in the top three.
Conclusion
In this article, we have seen various rooting android apps to root your phone, remove unnecessary apps, and make place for useful apps, as well as blocking ads. You can choose any of them based on your requirement. I hope you will find this article helpful.
Recommended Articles
This is a guide to Rooting Android Apps. Here we also discuss the introduction and top 7 rooting android apps along with an explanation. you may also have a look at the following articles to learn more –