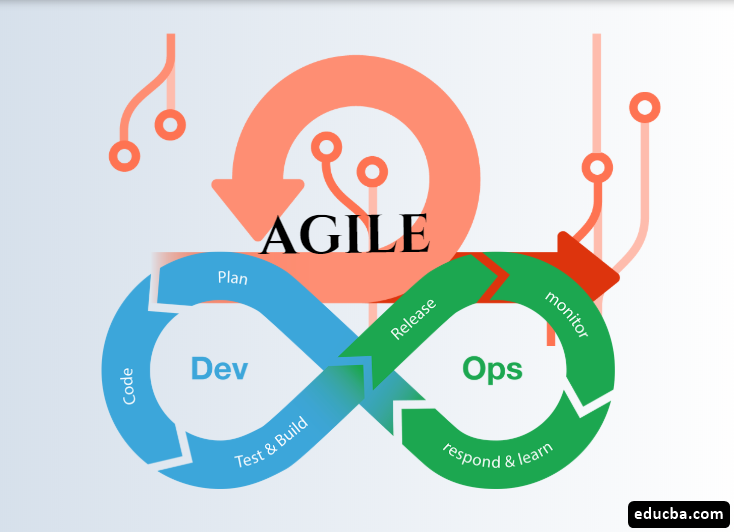 Introduction to Agile DevOps
Agile DevOps is a comprehensive agile methodology for product development. Unlike how Agile replaced conventional waterfall project management, DevOps is a succession to agile and not a replacement. Agile can be defined as a continual and re-current methodology of software development. Agile tends to be an iterative, progressive, and augmentative process of development. As the name suggests, DevOps can be defined as the synthesis of software Development and Operations, to bring compounded skill-sets in delivering continual results".

Emergence of Agile
Agile has effectively replaced the incommodious method of the traditional 'waterfall' method to project management. In 2001, a team of 17 application developers (termed as 'Agile Alliance') proposed the 'Agile Manifesto.' Agile Manifesto is a set of documents containing 4 values and 12 principles of Agile, which offer guidelines for software development.
Emergence of DevOps
In 2009, a Belgian engineer named 'Patrick Debois' promoted a conference about agile methodology execution on Twitter and captioned it as 'DevOps.' Later, 'DevOps' day was held in Ghent (Belgium), after which it gained widespread momentum.
It has been garnering huge popularity, and several companies, mostly from the IT sector, are incorporating it as a part of their organizational culture to improve co-ordination and work efficiency. It is a cross-functional methodology that ensures quick and accurate delivery.
How do Agile and DevOps Overlap?
Both the methodologies, Agile and DevOps, work towards a shared goal, i.e. 'Enhancing Business Productivity.
Agile and DevOps together execute the lean approach on a huge scale, which is evident through their communication process.
Agile, along with DevOps, has a collaborative working style, irrespective of the method implemented.
Both the methodologies rely on continual feedback and routine updates about the work progress from internal and external stakeholders.
Both Agile and DevOps focus on developing the product at a fast pace by keeping smaller teams and using a risk-free approach. Both methods adapt to the business requirements and continually improve the products to fulfill customer expectations.
In a nutshell, Agile works towards software development by making alterations, adapting and developing products as per customer expectations. While DevOps, through automated processes and bug detection at an early stage of software development, focuses primarily on deploying products of high quality.
Advantages of Agile
Here are some of the Agile Advantages listed below
1. Product of high-quality standards
In Agile, as routine testing and reviews are conducted after every sprint cycle, errors are detected early and fixed upon during the initial phases of product development. As it is an incremental and continual method of production, each release is examined, developed, and integrated so as to deliver high-quality business results.
2. Increased customer gratification
The internal stakeholders (customers) are involved throughout the project lifecycle, as reviews and feedback after every sprint release are received based on product demonstrations. It facilitates transparency, flexibility, customer participation, and engagement. Thus, enabling to delivery of customer-specific products.
3. Limitation of Risks
Agile helps to keep the risks negligible, as it is all about error-free product development. With many sprint releases, there is always space to alter or modify the workable product after every sprint cycle before delivering the end product. Thus, enabling to reduction or elimination of any errors in the early stages of the product and facilitating effective risk management.
4. Immediate Returns on Investment (ROI)
As Agile product development is incremental, returns on the product are obtained at the early stages of development. After every sprint cycle, the workable product is released, and based on customer reviews; alterations are made to the same. This enables to continually improve the product as per business requirements, thus offering it a competitive edge and enabling faster ROI's.
5. Increased Project Transparency
The Agile team working on the projects is well-updated through routine scrum discussions, sprint feedbacks and project charts, offering visibility and transparency across the teams on the work progress. Also, the customers are involved from the initial stages of the sprint, giving project transparency and accessibility for feedback.
Advantages of DevOps
Here are some of the DevOps Advantages listed below
1. Faster delivery of products
Upon execution of DevOps, organizations, by implementing the right methods, can deliver new products in a more enhanced, effective, and accurate way. This facilitates innovation and continual improvement, thus making delivery easier and efficient.
2. Enhanced Agility
By implementing DevOps, even large organizations can attain scalability to make businesses agile and garner maximum results.
3. Automation and Maximized Monetary Gain
With DevOps comes automation, which enables to save costs of manual labor and makes the execution of repetitive tasks convenient by reducing errors.
4. Quicker Sprint Cycles
Effective communication and co-ordination facilitated by automated feedback and continual monitoring enable to shorten /synchronize the production and IT functions, enabling to bring in robust and effective service delivery.
5. Zero Defects
With the introduction of DevOps, defects have almost zeroed down, making it a viable solution. Effective collaboration, automation, and iterative guarantee on product delivery have bought in continual improvement and accuracy in deploying business.
6. Demolishment of Silos
DevOps has bought in the integration of the operations and development teams, thus facilitating transparency and collaboration. Earlier, as there was no partnership working between both teams, innovation was carried out in a secluded way.
However, with time, interactive and collaborative working have replaced the redundant processes and introduced an advanced approach to bring in innovation.
Conclusion
Though the ongoing controvert on Agile and DevOps shall remain, both differ in their methodologies, processes, and work scope. In order to maximize the benefits of Agile DevOps, organizations must execute the DevOps principles at the very start of the product development process. Because shifting to it at the end won't help to bring in scalability, feasibility, thus preventing it from being deployable.
Therefore, it is essential to implement DevOps from the time team members are recruited and throughout the development of products until the team retires. Thus, Agile and DevOps should be executed in a combined way as complementary processes to deliver continual and high business value. As both overlaps in their vision to make the product delivery quicker and effective!
Recommended Articles
This has been a guide to Agile DevOps. Here we discuss the basic concept, how Agile and DevOps overlap with their Advantages, respectively. You can also go through our other suggested articles to learn more –