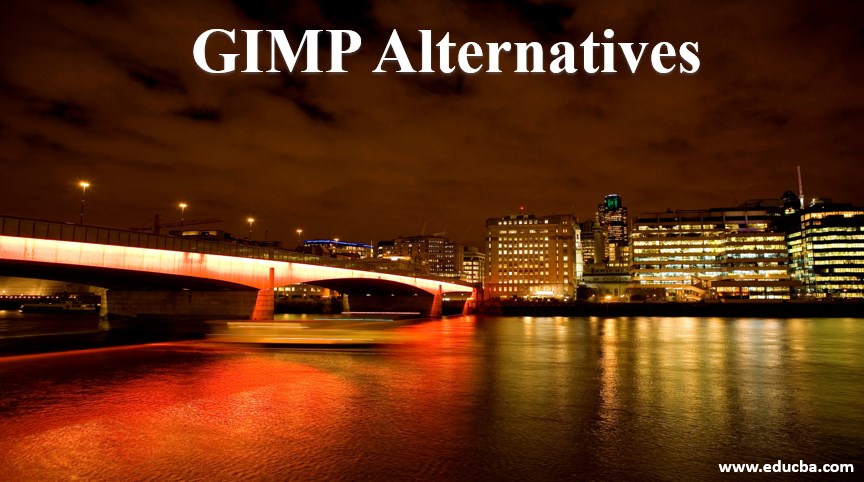 Introduction to GIMP Alternatives
In this article, we learn about GIMP Alternatives. GIMP is a free raster image editing software that was launched in 1996. It is mainly used for or editing images, working on composition, retouching photos and so on. GIMP is an easy-to-use application that artists can use to render huge volumes of images, convert images into other formats, and have an online batch processing system.
Top GIMP Alternatives
You can try out other options and alternatives for GIMP. There are numerous applications that can replace GIMP. Some of these are free to use, while the others come in the paid version.
1. Adobe Photoshop
Photoshop tops the list of almost any discussions that include image editing software. Today, it is seen as an industry-leading image editing application. Photoshop offers advanced features and effects that can be used to edit the images, convert objects into 3D artworks, and for creating spectacular image effects. It offers great flexibility and empowers its users for bringing the concepts and visuals into the digital platform. You can change the color levels, add filters, play with mask channel options, include textures, and the list goes on. Photoshop is the perfect tool that can match the user's creativity. Besides all these features, Photoshop also comes with the video editor tool with enough options and tools for basic usage.
2. Pixlr
Pixlr comes in both free and paid versions and is mainly used for editing pictures online. It contains a handy history and tools such as healing, also offers numerous effects and filters for image enhancement and beautification. This saves a lot of time, as you do not need to put much effort and details into obtaining the desired effect. In the paid pro version, the users can edit files that are in PDF for PSD formats.
3. PhotoLine
PhotoLine is a great application that has the right mix of usage, pricing, and functionality. Apart from being a raster image editor that offers plenty of effects and filters, PhotoLine can also be utilized by artists and designers to create vector arts. However, there are certain drawbacks with PhotoLine. It does not come with familiar tools such as the pen, slice or path tool. The users have a 30 day free trial period, after which they need to buy the paid version.
4. Aurora HDR
Aurora HDR is a tool mainly designed for the photography world. It comes with intelligent capabilities enabled by AI and is already loved by thousands of photographers. Using its advanced algorithm can create the right HDR images with proper balance, color, and saturation. The app offers more than 20 tools that are useful for any professional creator. They can use them for color toning, polarizing or LUT mapping. All these features will help you to get a flawless HDR image. Besides, the app will provide you with access to more than 80 unique filters and effects. It also comes with a system for masking options and blending modes. Another interesting thing about Arora is that other photo editing applications can use it as a plug-in.
5. AirMagic
AirMagic is an application specifically crafted for working on pictures taken by drones. It is smartly built to remove haze automatically while boosting the color values to get a sharp and clear image and requires minimal human intervention. You can go ahead with AirMagic if you like aerial photography and want to transform your captures into stunning pieces of art. It also supports multiple photo editing. Another advantage that AirMagic brings to the table is that it can replace expensive drone camera filters with its advanced AI algorithm. The application can automatically adjust the colors, eliminate haze, and construct details for the image. All this technology does wonders in getting the best image editing results, and you can use it to experiment and create unique styles.
6. Affinity Photo
Affinity Photo is a raster graphics application for professionals that provides non-destructive workflow with live previews. It is also capable of providing tools and features for editing pan and zoom options at 60fps. The application offers a huge set of tools crafted for professionals in the photography and creative field. The users can edit images, make multi-layered compositions, retouch images and do a lot more. Affinity Photo supports about 15 file format types; it comes with many advanced editing functions and effects ranging from basic to advanced tools such as cropping, drawing and painting, selection, red-eye removal, batch processing, clone stamp, and correction of lens distortion.
7. Pixelmator
Pixelmator is an image editor software created for Mac OS users. The key highlight of Pixelmator is that it offers inbuilt standard tools along with several unique functions created by Apple. The benefit of this is that you can edit and export images that are in the high-efficiency image format. Besides all these features, it also supports SVG files and includes a live preview functionality. The user interface of the Pixelmator is very user-friendly and comes with special guidelines as well. However, in order to use it, the user must be aware of some photo editing skills and tools. Luckily, before purchasing the application, users can try using it for a one-month trial period better to understand the capabilities and functions of the application.
8. Corel Painter
Corel Painter is one of the most popular painting and illustration applications available today. The company has now launched a new version of Corel painter called the Corel Painter IX.5. It now comes with a new set of advanced tools and functions for creating better digital artworks. One such functionality is the new photo painting palettes that can be used to convert a picture into amazing paintings. You can choose from various style palettes like watercolor or any other style you like and create your designs based on your image.
Conclusion
This article has discovered many GIMP alternatives that creative professionals can use for working on their images. All these applications are different from each other, and some offer new features and functionalities, which are not offered in GIMP. Depending on your needs, requirements, and budget, you can choose from either the paid application with full capabilities or the free to use versions. Also, so before installing the software, check whether your system requirements meet the minimum software requirements for its smooth functioning.
Recommended Articles
This is a guide to GIMP Alternatives. Here we discuss the basic overview with Alternatives for GIMP, and some of these are free to use while the others are paid versions. You can also go through our other related articles to learn more –