Updated June 5, 2023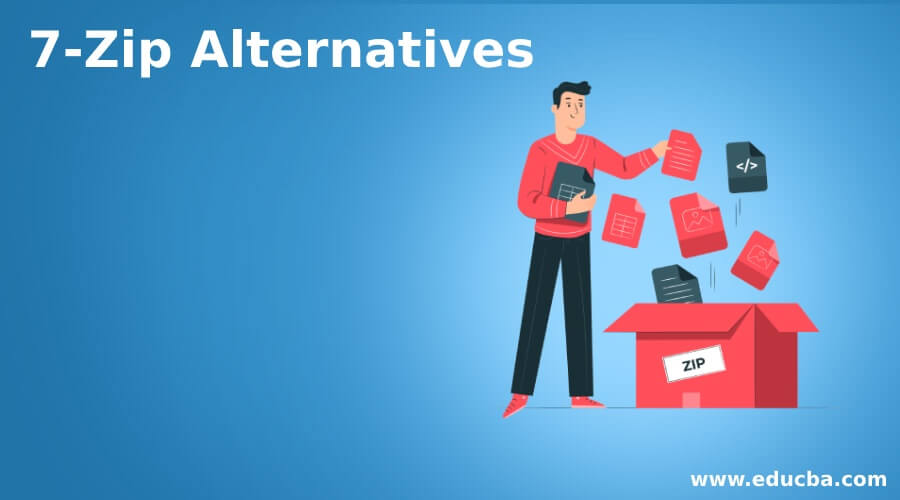 Introduction to 7-Zip Alternatives
The following article provides an outline for 7-Zip Alternatives. Compressing is one of a PC's most commonly used features, but it does come in handy. We also have to send and receive huge files, which are always too large to fit in the email attachment. Cloud storage like Dropbox will no longer replace writing better emails for sharing personal data. Compression comes to the rescue in this scenario; it helps to decrease the file size without losing data.
7-Zip leads the carts with a few extra compression tools. There are many tools available for compression. The ability to compress massive files (up to 16 billion GBP) is what we like about 7-Zip. In addition, the rate of compression of most of its rivals is higher. Given the set of features an ideal tool to compress, it is free of charge.
Top 7-Zip Alternatives
Given below are the top 7-Zip Alternatives:
1. WinRAR
WinRAR has a good reputation for its category with its proprietary RAR format that produces serious compressions, becoming as renowned as WinZip in major fields. Nearly anyone can extract the RAR format from the key compression tools, but only WinRar can create them. Of course, it's not just RAR format that WinRar can build and extend archives in different formats. You might not be very excited about WinRAR's GUI, but you will consider this feature-loaded resource afterward. The method even comes with a check, so you can ensure this tool works well for you.
2. B1 Free Archiver
B1 Free Archiver is another useful, clean user interface compression method. It's very nice, and on top of this archive resource, it's free. Nonetheless, do not underestimate it; this device can do great things in archiving solutions and offers its paying rivals the tough competition. It supports various archive formats, including 7z, b1, zip, xpi, jar, txz, rar, arj, and more. Need to wait for more? You can download the B1 file to your desktop to compress/decompress archives or use the online application without installing the program to compress/decompress files. If you cannot access external applications in areas such as College or Workplace, the Online Archiver is very useful.
3. ExtractNow
ExtractNow is a free interface tool that does its job with very simple user interaction. This method is limited to extracting and does not index the files, as you might have expected. But it is a good choice because of its ability to delete several files. ExtractNow Development Group concentrated mainly on the mining department and ensuring it was the best handling tool. The tool application is quick, drag and drop files on the ExtractNow window and click "Extract."
4. jZip
You might not miss the result of the compression ratio provided by 7-zip if you're using jZip. This tool uses robust 7-Zip archiving technology to ensure your files are compressed easily and efficiently. jZip provides an elegant but efficient interface that is easy to use to make it suitable for beginners. This suits all common formats such as tar, zip, gzip, 7z, and rare. Regarding the customizability category, jZip does not offer customization- you can push and remove the options.
5. Hamster Free Zip Archiver
Another free tool with a simple user interface is Hamster Free ZIP Archip, which can perform wonders in compression. The main feature of this tool is its compression process, which provides a remarkable two-fold compression ratio. You can pick the compression level and encrypt the files with a password for added security. It supports all major rar, 7z, tar, gz, zip, xz, and archive formats. You can also incorporate this tool within the cloud to store and exchange selected files online. Hamster Free Zippers Archives offers adware as a free resource if you reject it.
6. PeaZip
PeaZip is an open-source archive application that can handle 150 compressed file formats. The edition is portable and does not have to be mounted. PeaZip might not please you too much in the presentation department, but it balanced the appeal. PeaZip's Random Password Generator feature proudly allows you to generate random strings in the password with one click. All you need to know is their count of characters. You can repeat a new password by clicking the generate button if you don't like the old one. Therefore, the strong PeaZip encryption ensures the file is secure from prying eyes.
Conclusion
7-Zip is a powerful tool for archiving that millions of people use and trust, but other deserving alternatives are not to be denied. In this article, we have seen the list of the 7 best alternatives for 7-Zip and included a few really good tools to avoid missing 7-Zip after switching to them.
Recommended Articles
This is a guide to 7-Zip Alternatives. Here we discuss the introduction and the top 7-Zip Alternatives in detail. You may also have a look at the following articles to learn more –