Updated April 13, 2023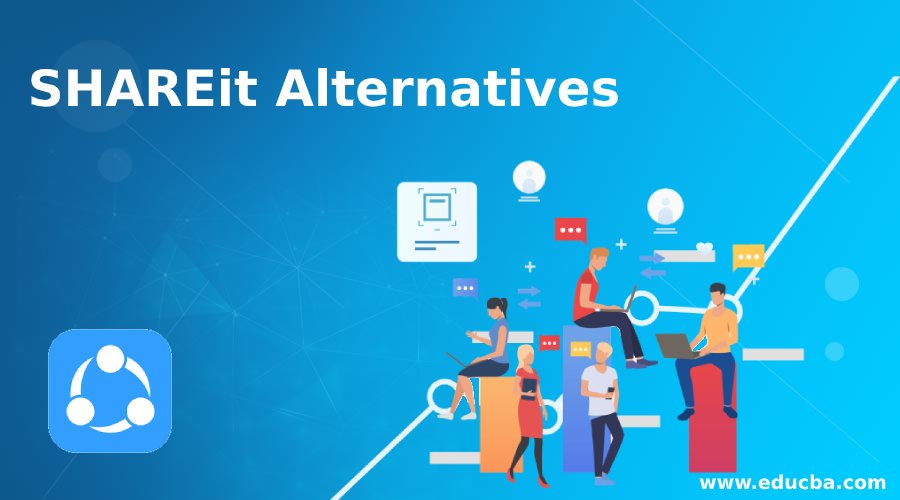 Introduction to SHAREit Alternatives
SHAREit is used to transfer files such as photos, videos, apps. But with corresponding app updates and Google stiffening security reigns with every new version of Android, the experience isn't as smooth as it used to be very far. Other than that, the app now keeps putting ads that can be really annoying, even the intrusive ones in the notification panel. So, if you are searching for clean alternatives to SHAREit on Android, it makes sense. So here is the list of apps that are great alternatives for SHAREit which is given as follows.
Top 5 Alternatives of SHAREit
Alternatives for shareit is given as follows: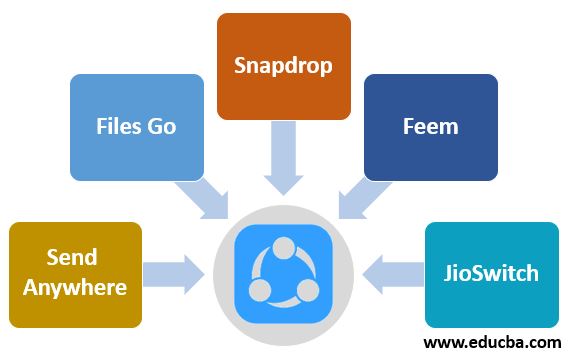 1. Send Anywhere
Send Anywhere is one of the most widely used and efficient alternatives for SHAREit. Send Anywhere is a file sharing application that makes sharing easy, fast, and unlimited. It also stores files by allowing Cloud sharing as well as storage services. Send Anywhere quality content, quickly, from any device to anyone in the world. Send Anywhere stands out from other file transfer apps because of its ability to send original file size, without destroying the quality of files. Unlike SHAREit, It also allows to send files anywhere in the world quickly.
The app includes a 6 digit security key that is used to send and receive files. Sharing files through Send Anywhere is very easy with the help of a link. You can create a secure link when you want to share files with multiple people or when you cannot share files in real time. This secure link is only valid for 48 hours for security purposes. But you can download files multiple times without limits while expiration time By using a link. This app also allows attaching large files with the help of Send Anywhere's website, Outlook add-ins as well as Chrome Extension. Send Anywhere is available for platforms such as Android, Windows, macOS, iOS, Linux, and web.
2. Files Go
Files Go developed by Google is a great file manager designed to share and receive single or multiples files in one transfer. It provides Sharing files offline, fast, and without data. It helps to remove the clutter on your Android Phone. The app can pick up hidden and discarded waste automatically, such as duplicate files, unused APK files, unwanted audio files, SMS such as a good morning or good night wishes, etc., and then allow you to delete them all at once.
Files Go also shows the amount of space available on the device as well as the amount of space is being used. It has a Files tab. This section provides a file manager which has various sections such as apps, videos, downloads, images, audio, received files as well as documents. with search and browsing, It helps to find files faster. It also provides the deletion and management of files. You can also back up the file to Google Drive or Dropbox before deleting it from the device so you can save space on the device. It is only available on Android.
3. Snapdrop
Snapdrop is also a free and open source alternative for Shareit. It provides an easy and quick way of sharing data across devices. there are no limits on the size of the file so you can send anything you want easily and fast. It doesn't require much configuration which makes it more reliable. As it is a web only app, it needs an Internet connection. It is reliable and offers the required security to the data. So, there shouldn't be any worry. this is one of the best SHAREit alternatives as an online file sharing platform you can use. It is only available on the web.
4. Feem
Feem is a popular file sharing platform that provides a completely unified experience. It has an integrated chat feature so you can easily send links and text between devices directly. Feem encrypts entire local transfers with TLS i.e. Transport Layer Security hence the data is safe over connections. It is available on Android, Windows, macOS, iOS, Linux, as well as web.
5. JioSwitch
JioSwitch is free as well as easy to use file transfer application. It supports data transfers between Android and iOS. There are no restrictions on file types as well as file size. You can send Videos, Photos, and music of any size. It is reliable to use as it does not show ads like shareit. You can also send files offline as it does not require the internet so you can also save data package while you share files.
Recommended Articles
This is a guide to SHAREit Alternatives. Here we also discuss the introduction and top 5 alternatives of SHAREit along with an explanation. You may also have a look at the following articles to learn more –