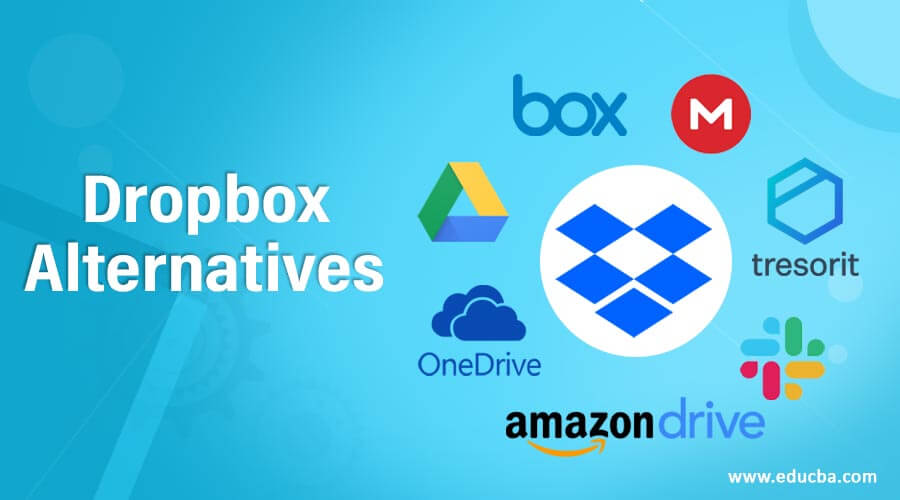 Introduction to DropBox Alternatives
If you haven't used Dropbox yet, file storage can be a painful problem. It lets you store various files on a cloud drive and access them on any other Earth computer or smartphone with your connection. Dropbox is the most common cloud storage in the world, but what about running out of place? In addition, in recent years, they have had some bugs that have affected 50 million accounts. You can get a more space-specific premium account or simply use Dropbox alternatives. Most websites deliver virtually the same, only even with better functionality only protection.
Alternatives of Dropbox
Let's have a look on alternatives of dropbox :
1. Google Drive
Google Drive is one of Google's best-known cloud storage services. This comes with 15 GB of free storage, with paying arrangements that can be extended to 30 TB. You can create mutual links with the permission to view, edit, or comment on documents by using the Google Drive dashboard. And the free storage area of Google Drive is split between Gmail, cloud storage, and Google photos.
2. One Drive
Microsoft is provided with OneDrive cloud storage which has 5 GB of free storage. You will get free of charge 1 TB of storage space, including will Microsoft Office plan if you use Microsoft Office. OneDrive also provides features such as multi-factor authentication, built-in security requirements, ransomware protection, and business account recovery capabilities. The Office 365 Plans are all bundled with advanced security features such as personal locker, expiring networking links, and ransomware detection. This program also includes all methods of flexibility — multi-page searching, offline directory, and enhanced sharing.
3. Cloudup
CloudUp enables both the sender and recipient to be able to share files in an easy and beautiful way. You can upload any video file to links and code. You only need to submit a connection to share files with other users. It is one of the biggest free online applications for storage and sharing. You can't upgrade your schedule to the premium version at the same time, however. You can't expand your schedule.
4. SpiderOak
SpiderOak is not only a reliable cloud storage option for Dropbox but also a really good file backup. SpiderOak has no free storage or other cloud backup service for you. It is pretty expensive because 1 TB of storage costs $30 more than Dropbox. It is a great resource for people who need simple cloud storage and backup. It gives tech-savvy users a smooth and simple experience.
5. Box
Cloud box storage is mainly for corporations and companies. It has 10 GB of free storage space and much more than Dropbox. With Box, companies can use robust and secure tools for collaboration to share and manage all content. Through multilevel encryption, redundant data centers& 24/7/365 surveillance, Box 's infrastructure is well secured.
6. Mega
Mega is a robust, stable 15 GB free cloud service when you register. It's enormous in addition to 2 GB of Dropbox for your users. Mega is not a tool you can use to communicate with other users, because certain editing functions do not exist. But, at the same time, it is one of the most accessible zero-know cloud storage services.
7. Tresorit
Tresorit is a cloud-based Swiss storage service that claims to be secure. Nearly 1000 hackers attempted to encrypt their files and failed.  You need to transfer your files with Dropbox to a certain sync folder, but cloud storage might be a folder with Tresorit on your computer.
8. Amazon Drive
Amazon Drive is a Dropbox competitor, but it's not so popular as it's a storage device, but it has no syncing feature. Now they've added the Mac and Windows users sync capabilities. In order to use the trip, you need an Amazon account. The 5 GB storage and fair plans are available at $12 per year and $60 per annum for 1 TB. storage prices are available for 100 GB of storage.
9. Slack
Slack is a common platform for teams to collaborate, exchange, and manage all correspondence. You can chat, voice, and video call with team members. The file uploader helps teams to share the documents, share photos, PDFs, videos, and other content in a drag and drop file uploader. You can either freely use Slack with 5 GB of space or purchase a 10 GB Pricing Plan for a team member
10. Pydio
Pydio is an open-source file synchronization and storage service or file management system in other words. It lets you deploy Microsoft Azure, for instance, in public cloud services.
Conclusion
In this article, we have seen various alternatives to DropBox. These tools also provide cloud storage, personal cloud, file synchronization, etc. You can choose any of them based on your requirements. we hope you will find this article helpful.
Recommended Articles
This is a guide to Dropbox Alternatives. Here we discuss the 10 different Alternatives of DropBox so you can choose any of them based on your requirements. You may also have a look at the following articles to learn more –