Updated June 5, 2023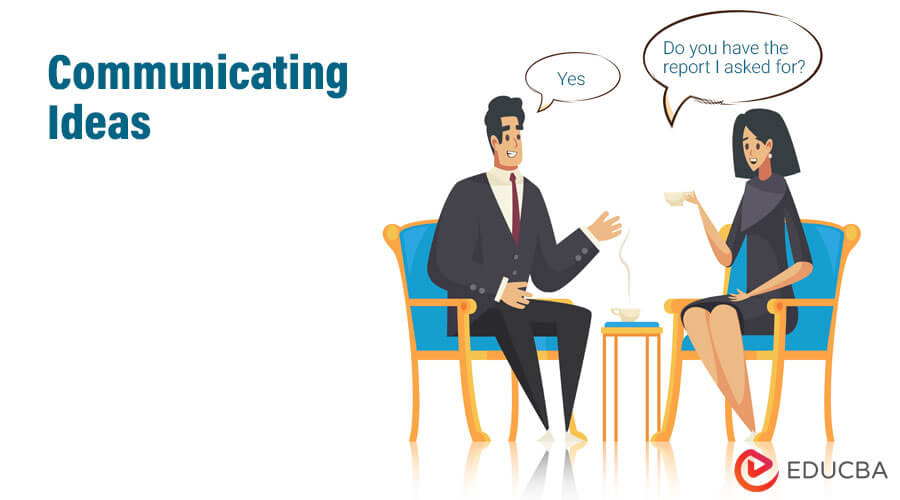 Communicating Ideas
Communicating ideas effectively is the unique attribute that helps separate an inefficient leader from an efficient one in an organization. How you convey something is more important than what you convey. Communication plays a vital role in our personal lives and businesses alike. In a survey conducted by CIO magazine on the top three skills required in professionals, 70 percent of readers listed communication as one of the most vital skills.
"Communication is considered to be the real work of leadership" – Nitin Nohria
The following are the top ten highly effective methods of communicating ideas in a business environment. When used consistently, they will undoubtedly help achieve better communication outcomes.
1. Be an active listener
Have you felt like talking to a wall while communicating with someone at work? It is an annoying experience to not be heard, but we should avoid doing likewise with others. Keeping the communication interactive will strengthen your relationship with the person and leave a good impression on him. During the conversation, give immediate feedback by nodding or making verbal affirmations like "yes," and be open to their feedback.
2. Avoid disruptions and negative questions
If you ask your colleague, "You don't have the file or report?" and he responds, "Yes," it would be confusing communication, as it can either mean that the person has the report or does not have it. Thus, one must avoid asking negative questions, as they will elicit unclear replies. Rather ask positively worded questions like, "Do you have the report I asked for?"
While communicating ideas to your customers, avoid frequent interruptions, as they can upset them. Interrupt only when you need or want to make an important clarification.
3. Avoid being excessively casual
Strictly avoid being excessively casual. Informal behavior with colleagues or subordinates may help you develop a good rapport, which may help get the job done, but drawing the lines is highly important.
In written communication, it is better to maintain professionalism in emails, letters, phone calls, or business meetings. A casual tone can be unsettling at times. With the rise of electronic media like emails, especially social media, which is very frequently used for communication nowadays, it is difficult to ascertain the tone behind communication. Thus, scheduling a face-to-face meeting with the person is always ideal if possible.
4. Never rush in communicating ideas
Never be in a rush while communicating. Giving pauses, even short ones, is quite effective. It is observed that rushing through communication never works and leads to misunderstandings. We either forget to convey some information or convey it in a distorted manner.
5. Get personal
Corporate communications can be tedious when they adhere to the same standards, so why not initiate organizational conversations? Prefer dialogues over monologues. The more personal and engaging the conversation is, the more effective it will be. The axiom states, "people do not care how much you know until they know how much you care." According to the Classic Business Theory, leaders must stay at arm's length. In order to know what is going on in the minds of people, you need to develop meaningful relationships with them. Keep your ego aside and replace it with empathy. Empathetic communicators show higher transparency and authenticity, making them better communicators than others.
You can also add a personal touch to the conversation by discussing something unrelated to work but relevant to their lives. It will diminish the barriers, for example, discussing the weekend soccer match. However, there should also be limits to it, and the aim should be building trust for long-term and effective communication.
6. Follow-up after communication
Often, we think that we have successfully undertaken meaningful communication, but in reality, it may not be the case. In order to ensure accuracy, we must habitually take follow-ups, especially if the message is important. It will help avoid misunderstandings and improve communication between sender and receiver. Avoid having assumptions that the message has been understood and always confirm by following up.
7. Be determined to understand
The concept of aiming to analyze and understand comes from the well-known author Stephen Covey. Communicating ideas suggests that the communicator must also possess effective listening skills. The speaker should understand what is being conveyed. As a result, being patient and open-minded with colleagues during communication becomes even more important. We often tend to jump to conclusions, so we must work on improving our overall comprehension skills.
8. Be sensitive and acknowledge technological gaps
Some listeners may not be aware of technological developments. As a result, it is best to proceed with caution and explain things in simple, layman's terms. Avoid using acronyms, for example, or clarify which one it is in the case of certain information technology acronyms like ASP (either active server page or application service provider). So, avoid making the entire conversation go over their heads or making them feel devalued due to a lack of technical knowledge.
A better way of explaining a technical concept is to use analogies. Although analogies have certain limitations, they are useful for describing any unfamiliar concept, for example, comparing the idea of a firewall to a bank teller in a bank. When visiting a bank, we do not go directly to the vault. Rather, we go to the teller window and verify our details. Once our identity is established, the teller brings the money from the vault and hands it to us on the window.
9. Avoid using phrases/words prone to misunderstanding
Misinterpretations are a common problem in communication. We may say something without ill intention, but we get misjudged by the other person. We may mispronounce something, and it may distort what we have conveyed. For instance, in the Chinese language, the typical sound of "ma" with a higher tone means "mother-in-law," while a falling and rising tone signifies a "horse." Avoid overusing the word "you" as it creates a feeling of threat or makes the listener feel defensive. For example, instead of saying, "you need to speak louder," it is better to say, "I am having trouble hearing."
10. Take feedback after communicating ideas
Finally, one last method for effective communication is to ask the people for their feedback. Spend extra time speaking with those with whom you frequently communicate. It will assist you in determining how and what aspects of your communication style can be improved. Feedback, although not always easy to ask for, is simply a suggestion that helps develop a better understanding of others.
In a nutshell, think before you speak and follow the dos and don'ts of communicating ideas to be an effective communicator amongst people. There is no one key to becoming an effective communicator. Still, by adopting the above tips, one can improve and enhance his/her communication style. You can learn effective communication styles more fruitfully by observing how others communicate. Most organizations encourage employees to share their thoughts and inputs to improve internal communication within teams, ultimately benefiting the organization.