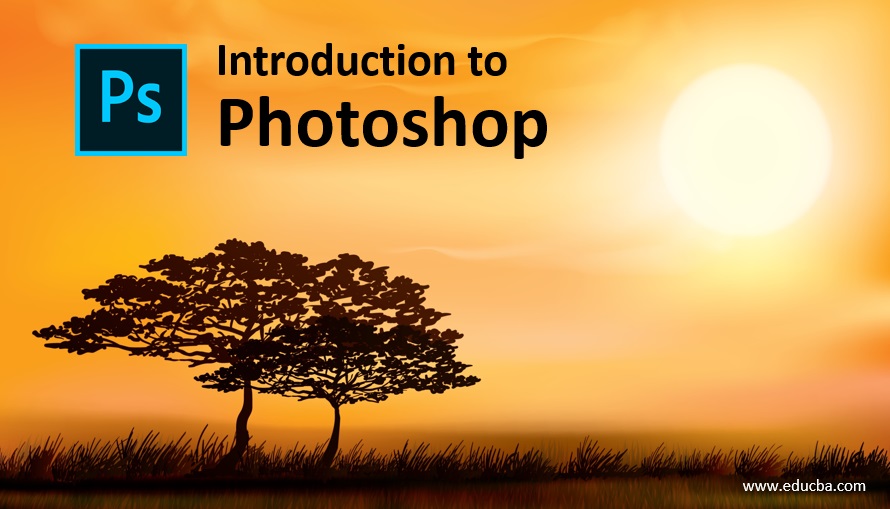 Introduction to Photoshop
In this topic, we are going to study the Introduction to Photoshop. Photoshop is a widely used graphics editing program created and published by Adobe for Mac OS and Windows. Photoshop is basically a raster-based image editor that can edit and compose raster images in multiple layers and supports features such as Masking, Alpha compositing, Image wrapping tools, fluid camera rotation, and file display tools, and much more advanced tools and features.
The most basic version of Photoshop came in the year 1988. Thomas and John Knoll developed it. Since then, this powerful application has been upgraded and updated with more advanced and robust set tools and commands. The latest being the Photoshop CC version which is a part of the Adobe Creative Cloud branding. Moreover, Photoshop is teamed with other software such as Adobe Bridge, Adobe Fireworks, Adobe Camera Raw, and many more.
Photoshop and some other software related to it are collectively branded as The Photoshop Family. This Family consists of Photoshop Elements, Photoshop Lightroom, Photoshop Express, Photoshop Fix, and other software.
Main Components of Photoshop
In the Above Section, we have learned about the introduction to Photoshop; there are some main components that one needs. Below are those components:
Menu Bar: This is the first and most used component of any software. This option consists of various commands used to edit and compose images in the software. File, edit, image, layer, select, filter, view, window & help are the basic commands.
Options Bar: It is a bar that shows several options for specific tools in the tool palette. When the user chooses a certain tool in the tool palette, the options bar showcases various preference for that specific tool.
Tools Palette: This palette is present on the left side of the interface. It is a collection of icons that are used for creating and editing images, page elements, and artworks.
Document Window: It displays the current status of the file in which the user is working. These windows can be grouped and docked as per the requirement of the designer.
Layer panel: This panel is the most used panel by all the editors. This panel helps the user to stack different items on the artboard on different layers to keep them organized and make editing more easy and fast.
Characteristics of Photoshop
After going through the Introduction to Photoshop and the Components of Photoshop, There are some Characteristics we need to learn, which are as follow-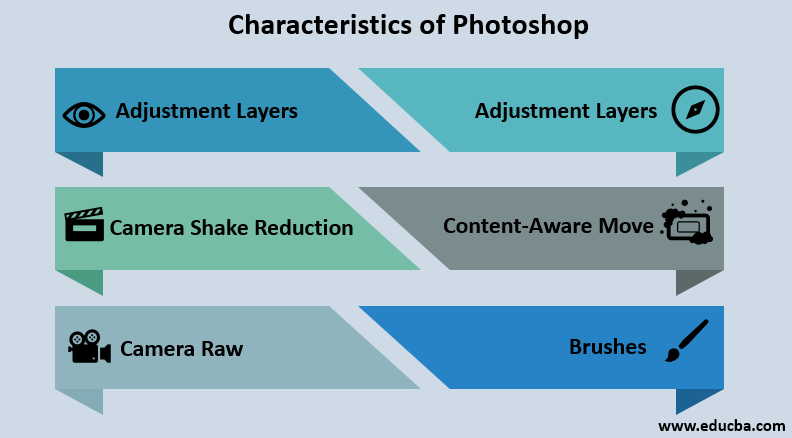 1. Smart Object
Smart objects are one of the most powerful features in Photoshop. These smart objects are non-destructive in nature. The user can edit them, create multiple copies of the object which are interlinked with each other. These smart objects are pixel independent, and it allows the user to scale it without getting blurry. Moreover, any normal layer can be converted to a smart object layer by just right-clicking on any layer. With this technique, the user has the advantage to apply various filters and edit them whenever needed.
2. Adjustment Layers
These layers are another mode of non-destructive editing with Photoshop. With these layers, the editing applies not to the actual layer but it creates a new adjustment layer right above the pixel layer. This feature works in favor of the designer as the designer can change the blend mode or apply filters, change the opacity, or even get rid of this layer anytime he feels so.
3. Camera Shake Reduction
This feature works great for photographers as well as editors. It works well when the user is working with some shaken shots or some blurry images. It analyses the graph and restores the sharpness of the image.
4. Content-Aware Move
This feature of the software works wonders for editors. It lets the user select an object in a single layer image and move it elsewhere as per their wish in the same picture. Moreover, Photoshop does its job amazingly by filling the gap made by moving the object.
5. Camera Raw
It is the most commonly used plugin that helps in processing raw images without using Lightroom and other file formats. This plugin allows the users to add grain, performing post-crop vignetting and remove noise from images.
6. Brushes
The upgraded brushes in the program offer the users to create sharper and clearer lines and smooth brush strokes. When the users work with the pencil, eraser, mixer brush or brush tools, they get the benefit of controlling the smoothing of the brushes. They get the opportunity to enter the value from 0 to 100 for the smoothing of brushes.
Applications of Photoshop
Adobe Photoshop is not just software but also a full industry or the powerhouse of editing, composing, drafting, sketching images, and artwork. Today, Photoshop is not only used by professionals or experienced editors, but it has become a daily requirement for even a layman. Presently, Photoshop is even taught in educational institutions and colleges. Product design, website designs, various digital contents, branding and marketing material designs, business card designs are a common application of Photoshop in our daily life:
Adobe Photoshop is used for e-commerce websites and online shopping portals. These portals use the application to edit their product and branding images. We can also design maps, environment views, image showcases, satellite views. These are commonly used in gaming apps.
Flyers, book cover designs, business cards and other materials for marketing and publicity can also be designed in Photoshop.
Website layouts, website logos, and other pages used on the website can also be designed with this program.
UI and UX can also be designed using Photoshop. The interior and exterior photos and architectural visualizations can also be achieved using Photoshop.
Product packing designs and 3D mockups can be created in Photoshop.
Advantages and Disadvantages of Photoshop
As we have studied about the Introduction to Photoshop, Components, Characteristics, and Application of Photoshop, everything has its own pros and cons.
Below are some of the pros and cons.
Adobe Photoshop offers a wide range of tools that have the capability to edit or design anything. The software is upgraded so much that it is not only used for images only. The program can also be used to work on video content and edit them with great efficiency. It is the best platform that supports a robust set of tools for video editing.
Photoshop allows the editing of all popular and available image file formats without requiring any extra plugin.
Numerous small changes can be made to an image, such as alter skin tone, fine-tune the brightness, red-eye removal, retouching, and other modifications that can be done with great ease in Photoshop.
The learning curve of Photoshop is steeper for freshers.
Small-time users and beginners may find Photoshop a bit expensive.
Recommended Articles
This has been a Guide on Introduction to Photoshop; Here, we have studied the Components, Characteristics, Advantages, and Disadvantages of Photoshop. You may also look at the following articles to learn more –