Updated September 7, 2023
What is an Equity Research Report?
An equity research report is a document that includes information about company stock, such as its target share price, recommendation (whether to buy, hold, or sell), key statistics, and graphs to help investors make investment decisions. Financial analysts or equity research analysts working for either sell-side or buy-side firms write equity research report.
Clients for these reports generally include retail brokers, pension and mutual fund houses, wealth management firms, individual clients, and hedge funds.
These reports include detailed company financial performance analysis, industry outlook, competitive landscape, and market trends. Therefore, they serve as valuable resources for both experienced investors and those new to the financial markets.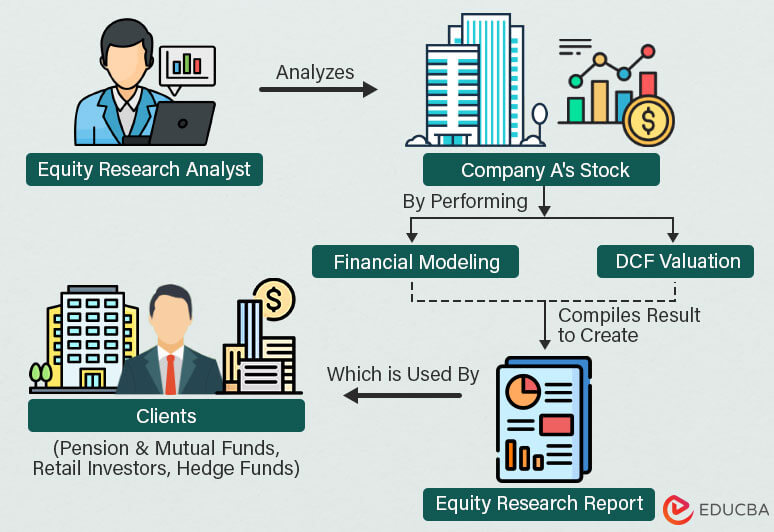 Table of Contents
Format
Here's a detailed format you can follow to write equity research report: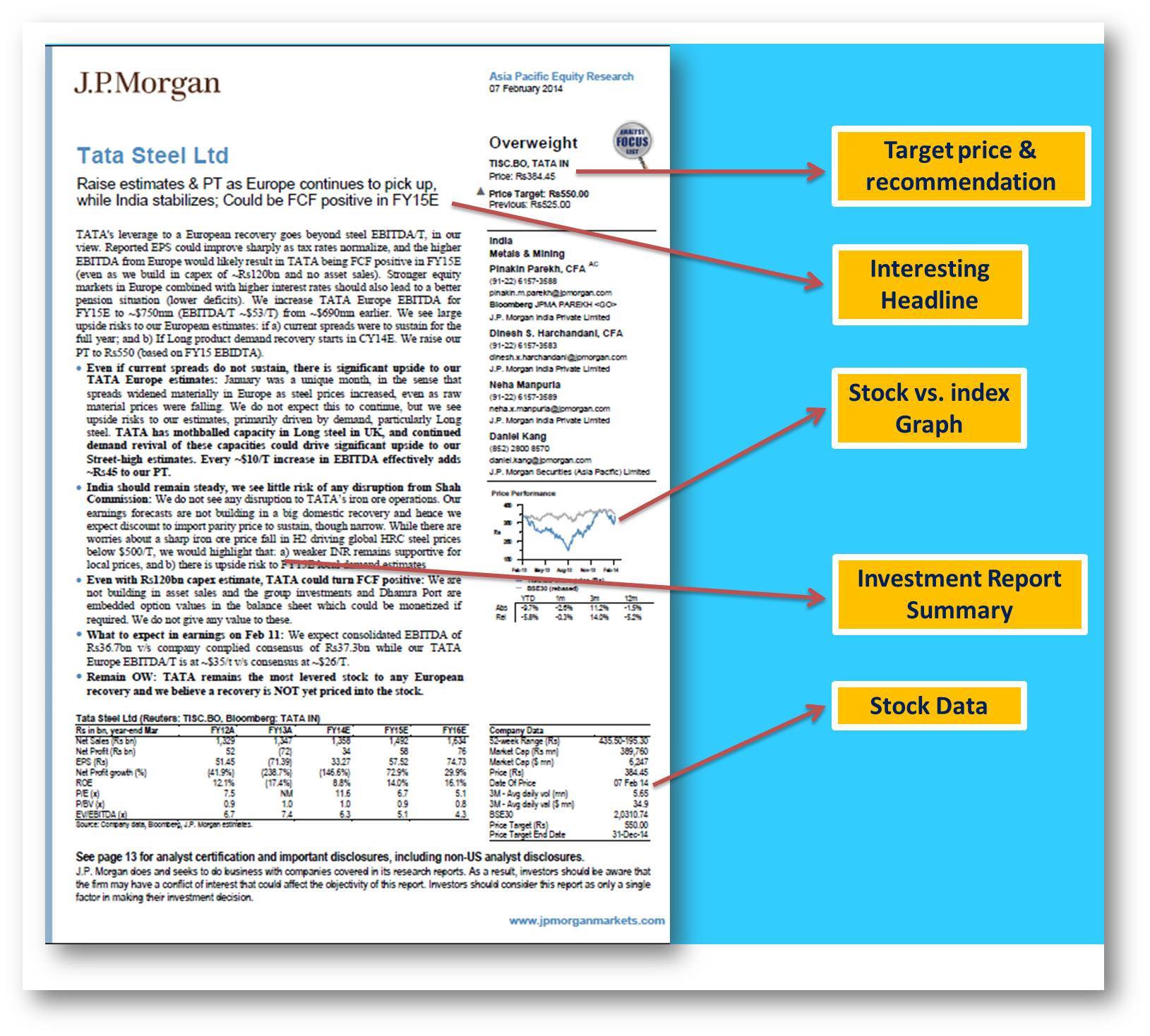 1. Company Name and Logo
This is the first thing you will see at the top of the report. It includes the name and logo of the company.
2. Date of the Report
The issue date of the report is important for reference, as market conditions and company performance can change over time.
3. Report Title
A concise and informative title that encapsulates the main focus of the report. It should give readers an idea of what to expect from the content.
4. Target Price and Recommendation
This section provides an estimate of the stock's future value, often referred to as the "target price." Alongside this, the analyst typically includes a recommendation on whether to buy, hold, or sell the stock.
5. Stock vs. Index Graph
A graphical representation that compares the performance of the company's stock to a relevant market index, such as the S&P 500 or an industry-specific index. This helps investors gauge how the stock has performed relative to the broader market.
6. Stock Data
This section provides detailed data about the company's stock performance. It may include historical price charts, trading volume, price-to-earnings (P/E) ratios, earnings per share (EPS), dividend yield, and other relevant financial metrics.
7. Financial Analysis
A detailed examination of the company's financial statements, including income statements, balance sheets, and cash flow statements. The analysis may cover metrics such as revenue growth, profit margins, debt levels, and liquidity.
8. Valuation Methodology
Explanation of the methods used to arrive at the target price, which may include discounted cash flow (DCF) analysis, comparable company analysis (comps), and precedent transactions analysis.
9. Investment Report Summary
A concise overview of the key points covered in the report. It highlights the company's strengths, weaknesses, opportunities, threats (SWOT analysis), recent developments, and the rationale behind the target price and recommendation.
How to Write Equity Research Report?
Follow the below steps to write equity research report accurately. For a downloadable equity research report template of Tesla Inc., check our article – Equity Research.
1. Gather complete information about the company.
You need to have a clear view of the company regarding Investment rationale, risk assessment, key growth drivers, cost drivers, and revenue drivers. You can collect the required information from the company's official site or any financial tools like Yahoo Finance, Forbes, or Reuters.
2. Create a financial model and perform valuation analysis.
Use all the collected information to make a financial model for the company to project its performance for the next 2-3 years. After creating a financial model, perform an extensive valuation analysis using any valuation method, like DCF, relative valuation, etc.
Note: We must finish Steps 1 and 2 before we can start to write equity research report.
3. Mention the company name and current target price.
State the company's name at the top of the research report and the stock's calculated target price after that.
4. Write an executive summary and add your recommendation/rating.
Add a quick summary about the company, mentioning its position in the industry, and after that, properly mention the recommendation or rating. Ratings in the equity research report fall into these categories:
Buy/Outperform: Investors must consider buying or adding stock holdings as the stock price may increase.
Hold/Neutral: Investors must maintain their current stock holdings but not necessarily buy more stocks, as the stock may perform in line with the market.
Sell/Underperform: Investors can consider selling the stock as the stock might not perform well.
5. Record a detailed overview of the company and its market.
Write about the company's history, products, strategies, current market situation, as well as the market or industry's current conditions and trends. Also include information about the financials, management, future plans of the company, growth estimates, etc. It should be a detailed description of the company and the market it is based in.
6. Add share price chart and other stock-related data.
Include the stock's price chart showing its last 1 year's price movements. You must also add these important segments:
Ratio analysis of the company
52-week high-low share price on a stock exchange.
Market capitalization, Enterprise Value, EBITDA, EV/EBITDA, dividend yield, etc.
7. Provide valuation analysis details and results.
Provide an in-depth explanation of how you performed your valuation analysis, including the valuation methods you used and the final valuation result.
 8. Provide information about the risks.
You will also have to clearly state potential risks associated with the company's stock, your analysis, and your recommendation.
9. Mention your interpretation of the recommendation.
While providing recommendations, you must have strong reasons to support them. Thus, mention appropriate reasons for your recommendations and write about why you think the share price will go up or down. Here are a few factors you can mention:
Financial Health: Review of the company's past and expected financial performance, including revenue growth, earnings, profit margins, and debt levels.
Industry Analysis: Evaluation of the company's position in its industry, market share, competitive advantages, and potential industry-related risks.
Risks: Identification and evaluation of company-specific and broader economic risks that could affect the stock's performance.
Valuation: Analysis of the stock's current value compared to its history and peers, using metrics like P/E ratio, P/B ratio, and DCF analysis.
Potential Drivers: Upcoming events, product launches, regulatory changes, or other factors that could impact the stock's performance.
Note: Remember to include disclaimers to ensure readers understand the limitations of your research.
10. Present a quick summary and cite the sources.
At the end of your report, write a crisp and clear conclusion for your report and properly cite all the sources you used for your research.
Types
The main types of equity research reports are:
1. Initiation Reports
When an analyst covers a company for the first time, they write an initiation report. As it is the first report on the company, it is a comprehensive report containing information about the overview of the company, its stock, industry, competitive landscape, future prospects, and more.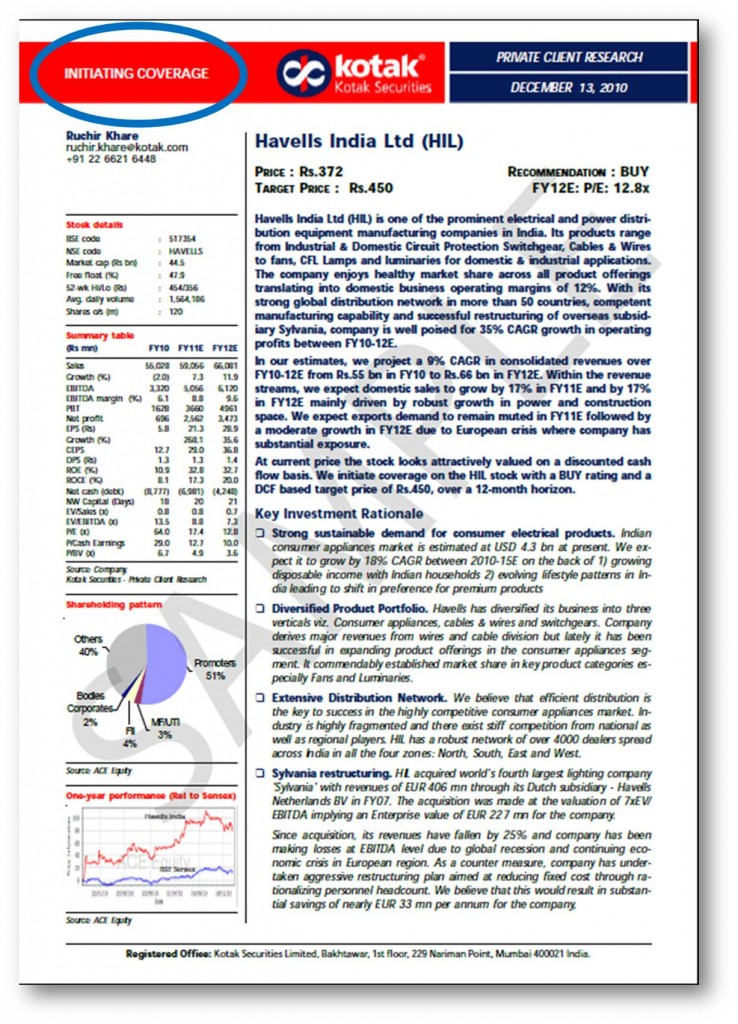 2. Quarterly/Annual Results Update Report
This report is also known as a company update, result update, or company note. It comprehensively analyzes a specific company, including its financial performance, history, valuation, growth prospects, risks, etc. Companies release these on a regular basis, often quarterly or semi-annually.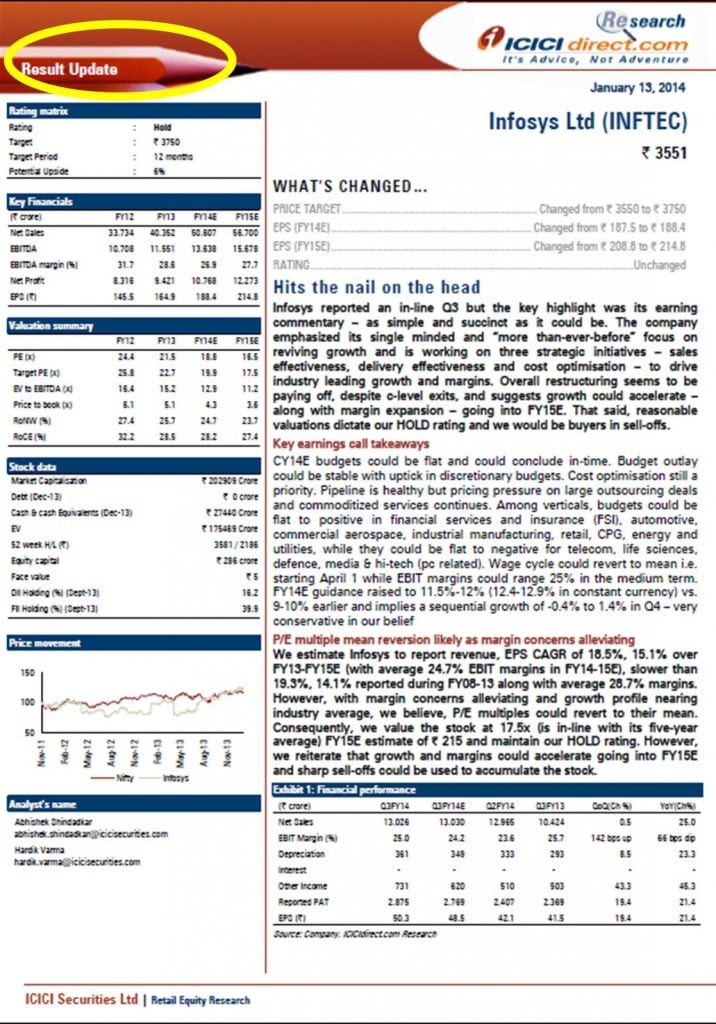 3. Industry and Sector Reports
These reports provide analysis and insights into specific industries or sectors. They discuss industry overview, trends, challenges, growth prospects, key players, etc. These are especially useful for investors and analysts to assess the opportunities and risks associated with investing in companies within that industry or sector.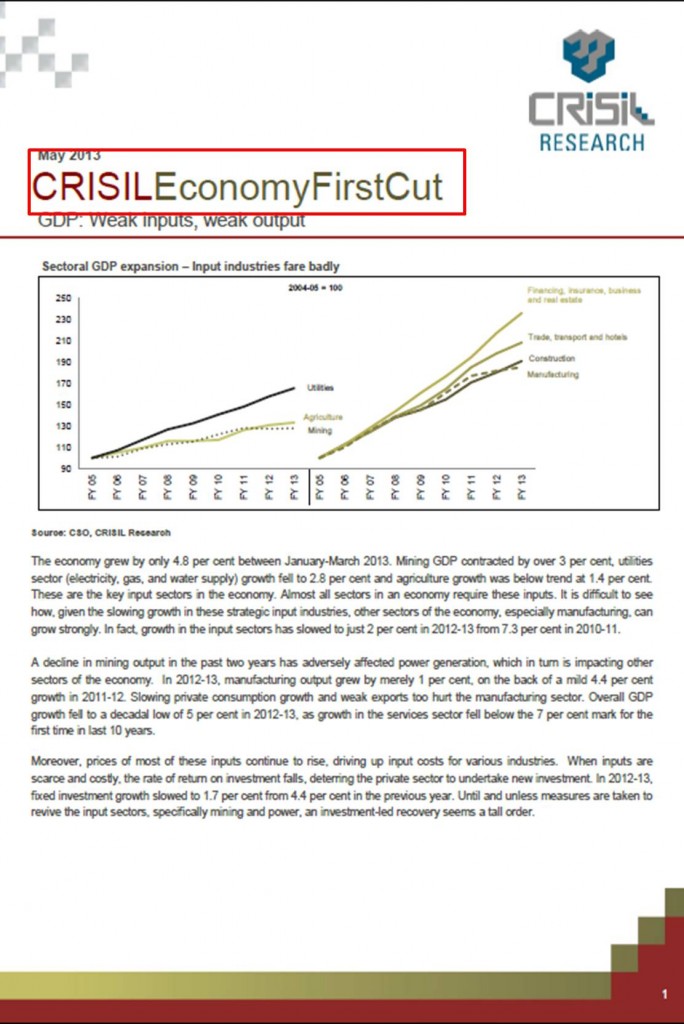 4. Flash Reports
Flash reports provide quick insights into breaking news or development, like earnings announcements, regulatory updates, mergers and acquisitions, CEO resignations, etc. They are concise and include a brief event summary, initial reactions, stock valuation, and other impacts. These reports are essential for traders and investors who must make quick decisions based on breaking news.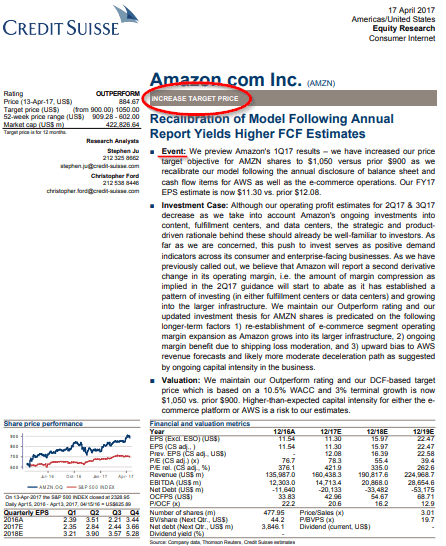 Real Company Reports – Templates
Every company might follow a slightly different format or template to write equity research report. Here are a few examples of real company equity reports.
#1: J.P. Morgan's report on 21st Century Fox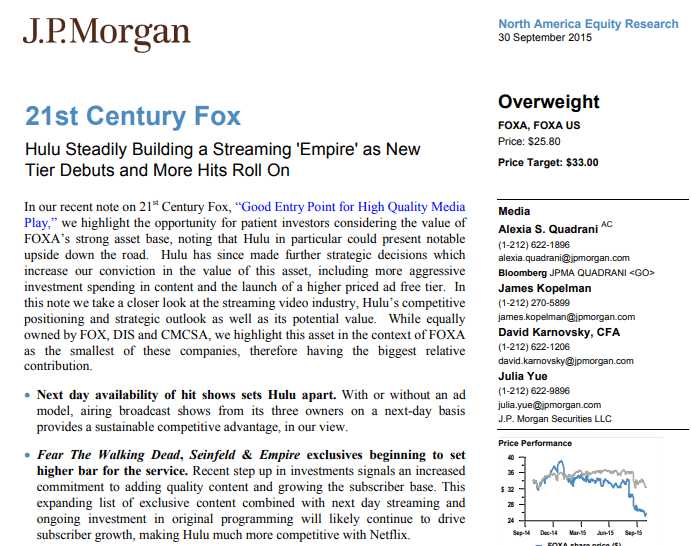 (Source: Amazon AWS)
#2: Credit Suisse's report on J.P.Morgan Chase & Co.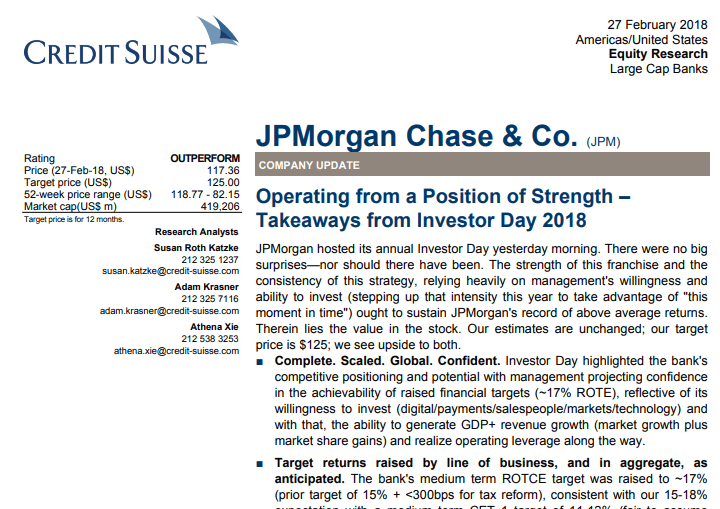 (Source: Credit Suisse)
#3: WUTIS's report on Expedia Inc.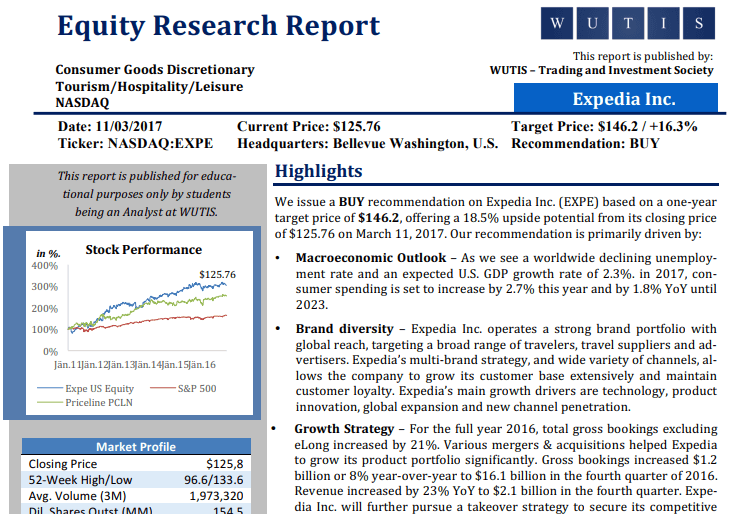 (Source: Seeking Alpha)
Report Writing Tips
Know Your Audience: Write equity research reports according to your audience's (individual, institutional, professional) needs.
Clear Structure: Use a proper structure for your report. You can also do this by following a readymade template.
Visuals: Include charts, graphs, and tables for clearer data representation and understanding.
Consistency and Clarity: Maintain a uniform tone, avoid using complex terms, and explain technical terms in simpler language.
Proofread and Edit: After writing the report, check for grammar, spelling, and formatting errors.
Legal and Ethical: Make sure you adhere to legal and ethical standards and disclose any conflicts.
Regular Updates: Always try to update your report regularly to maintain the accuracy of your recommendations.
Importance
Equity research reports are important for various reasons:
They guide investors in making informed choices about buying, holding, or selling stocks.
It provides insights into a company's financials, helping determine if a stock is undervalued, overvalued, or fairly priced.
They also help maintain trust by requiring analysts to explain recommendations and disclose conflicts.
Businesses can use these to compare their financial performance with industry peers.
Frequently Asked Questions (FAQs)
Q1. What is the best equity research report writing course?
Answer: Equity research report writing is crucial for financial analysts and investors as it provides in-depth insights into companies' financial performance and prospects. EDUCBA's Equity Research Analyst Certification Course Bundle offers comprehensive training in equity research, financial analysis, and report writing. It covers topics like financial modeling, valuation techniques, industry analysis, and report creation, enhancing your skills for a successful career in finance.
Q2. Who are the clients for equity research reports?
Answer: All the possible lists of investors given below are the clients for such equity research reports.
Pension and mutual fund managers
Institutional salespeople
Bankers
Wealth management specialists
Retail brokers servicing individual clients
Hedge funds
Q3. What are some useful financial websites for writing equity research reports?
Answer: Financial institutions, investment banks, and research firms often generate equity research reports. You can access them through these organizations' websites, subscription-based financial databases, and financial news platforms. Here are a few sources you can refer to for equity research reports:
Q4. Who creates equity reports?
Answer: Equity research analysts and teams within financial institutions typically create equity reports. These professionals conduct thorough research on companies and industries to compile their findings into comprehensive reports offering recommendations. The two types of financial institutions that write equity research report are:
Sell-Side Research Reports: It is when analysts working for brokerage firms or investment banks prepare a research report to provide insights and recommendations to clients, typically institutional investors, retail investors, and fund managers.
Buy-Side Research Reports: Analysts who work for asset management firms, hedge funds, and other institutional investors write equity research reports to check if a potential investment opportunity aligns with their firm's investment strategies.
Recommended Articles
This article on how to write equity research report presents a detailed explanation of what equity reports are, their format, writing process, tips, and templates. For more information, refer to the following articles,