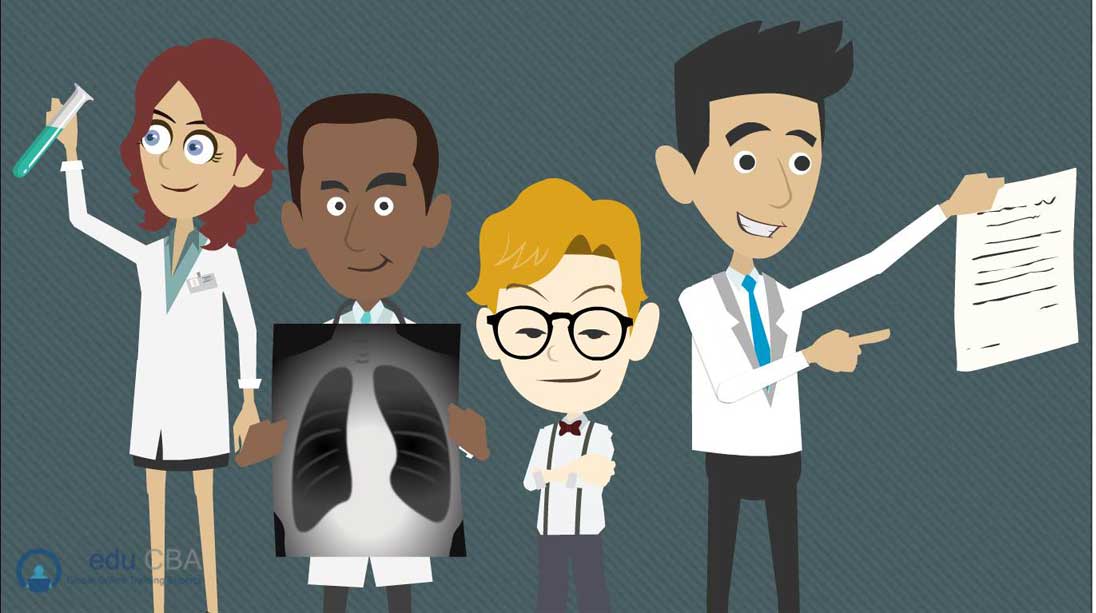 What can you infer from the above picture?
Sort of confusing, right?  You see a scientist, a doctor, a student and a professional. Can you guess some common word associated with all of them? Try; take few minutes to analyze the answer. If nothing comes to your mind then here is the answer. Yes the common word is "Research". Scientists have carried out various research activities and have blessed us with some miraculous medicines. Doctors have always come up with some breakthrough applications of medicines and have saved millions of lives. The next nominee, the student, you can relate yourself with him. How many assignments and project have you done in your school and college life? Innumerable right? Can't even remember the number and time spent in that? But I am sure that you will remember Google for that. But now take a quick glance at the picture once again. Why do you think Jacob (last person in the image) is qualified to be in that picture and has the word "research" associated with him? The answer is that he is an equity research Analyst. Ever heard of them? What do they do? Where do they work? And what research do they carry out? Let me answer all your doubts one by one. You must have heard about stocks or shares and how some people are crazy about investing in them. But individuals are not the only ones who invest in shares. Large organizations also do the same. So for such huge clients, these research analysts come up with an equity research report. This equity research report tells their clients whether they should or should not invest in a particular company and has reasons for the same. Jacob is an equity research Analyst in a large brokerage firm. His research reports have played a major role in helping Matt. Yes, Matt, a new character in our story (See the image below, guy in the yellow shirt). Let's learn quickly why he is in it and take a quick glimpse of it. Matt has always been interested in the world of investment. He was well educated and did his own calculations about how to invest. He was doing pretty well too. But time passed and everything changed. Gone were the days when he prepared his own financial models and valuation analysis. He got busy with his family and work and had no time to do so. So now he had some panic time. How was he going to know which company to invest and which not? He started having some sleepless nights. Then one of his friends came to his rescue. He told him about various research reports by big investment banks and brokerage houses. He started following some good reports and his life was back on the track again. That friend was our Equity research Analyst Jacob. Thus you can now understand how this equity research reports help in making investment decisions. So let's get to know more about what are they and how to write equity research report.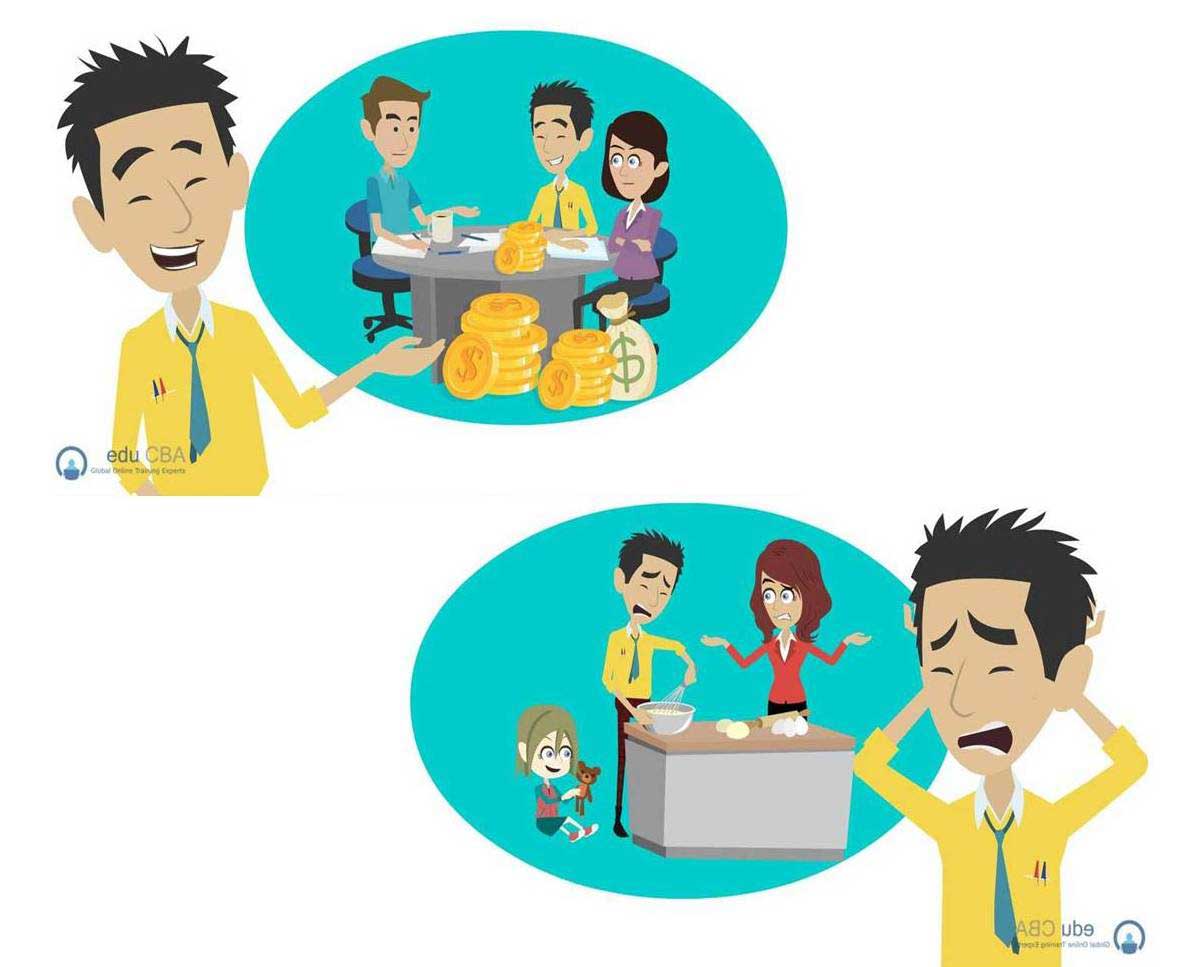 What is an equity research report?
An equity research report is a document prepared by an analyst or strategist. Such Analysts are part of the investment research team in a stock brokerage or investment bank. To know in simple terms lets understand this. When you research or investigate something, it has some motto behind it. Your motto is to come to a conclusion with the help of your findings. You may have prepared various projects during your academic years. What was its final output? To come to a conclusion and give some recommendations, right? Same is the case with equity research reports. There are various investors who put in their money into various stocks and companies. The motive behind that investment is to get good returns. So how do they decide which company to invest in? One way is going through the equity research reports by big brokerage firms or investment banks. So let's now understand what equity research reports are and how to write equity research reports. An equity research report may focus on a specific stock or industry sector, currency, commodity or fixed-income instrument, or even on a geographic region or country. Research reports generally, have some recommendations as to why buy or sell that stock. Such reports are produced by a variety of sources, ranging from market research firms to in house departments at large organizations. However, in the investment industry, the term usually refers to "sell side" research, or investment research produced by brokerage houses. Such research reports are disseminated to the institutional and retail clients of the brokerage houses that produce it. Research analysts produce reports and typically issue them stating a particular recommendation: buy, hold, or sell. These reports can be accessed from a number of sources, and brokerages will often offer the reports free to their customers.
Who are the clients for Equity Research Reports?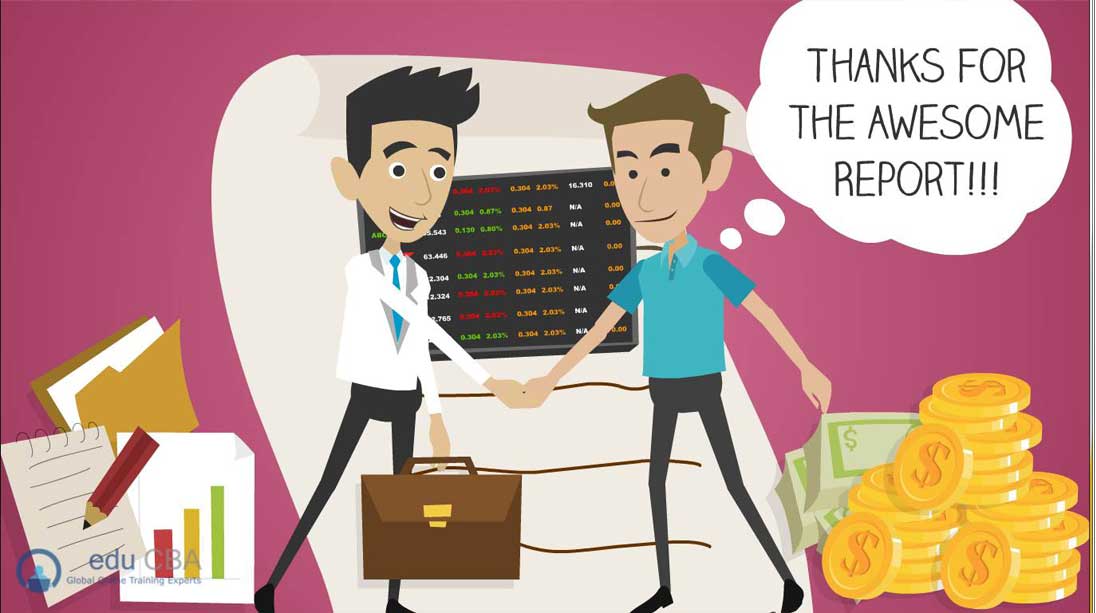 Brokerage houses come up with the equity research reports. But who are the clients for such reports? Any ideas, it's simple as it sounds. Following is the lists of clients that are interested in equity research report.
Pension and mutual fund managers
Institutional sales people
Bankers
Wealth management specialists
Retail brokers servicing individual clients
Hedge funds
All the possible lists of investors given below are the clients for such equity research reports.  Below is the list of brokerage houses that write equity research reports for the following clients.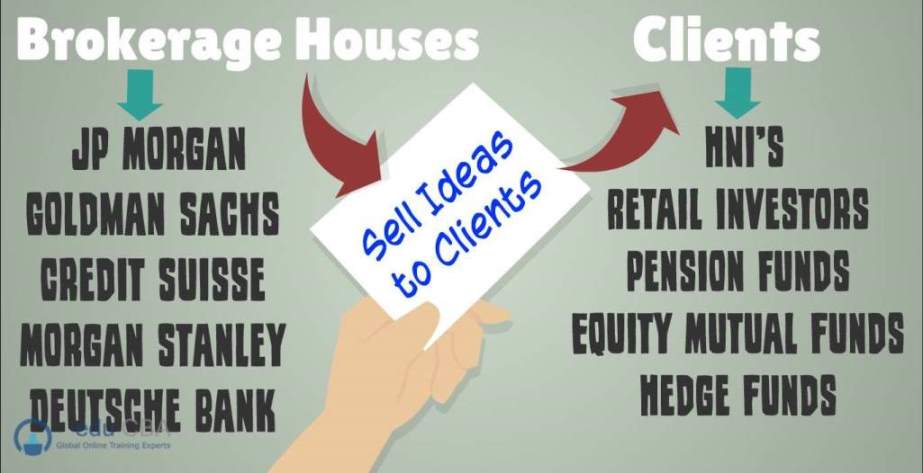 Anatomy of an Equity Research report
An Equity research report consists of the following important points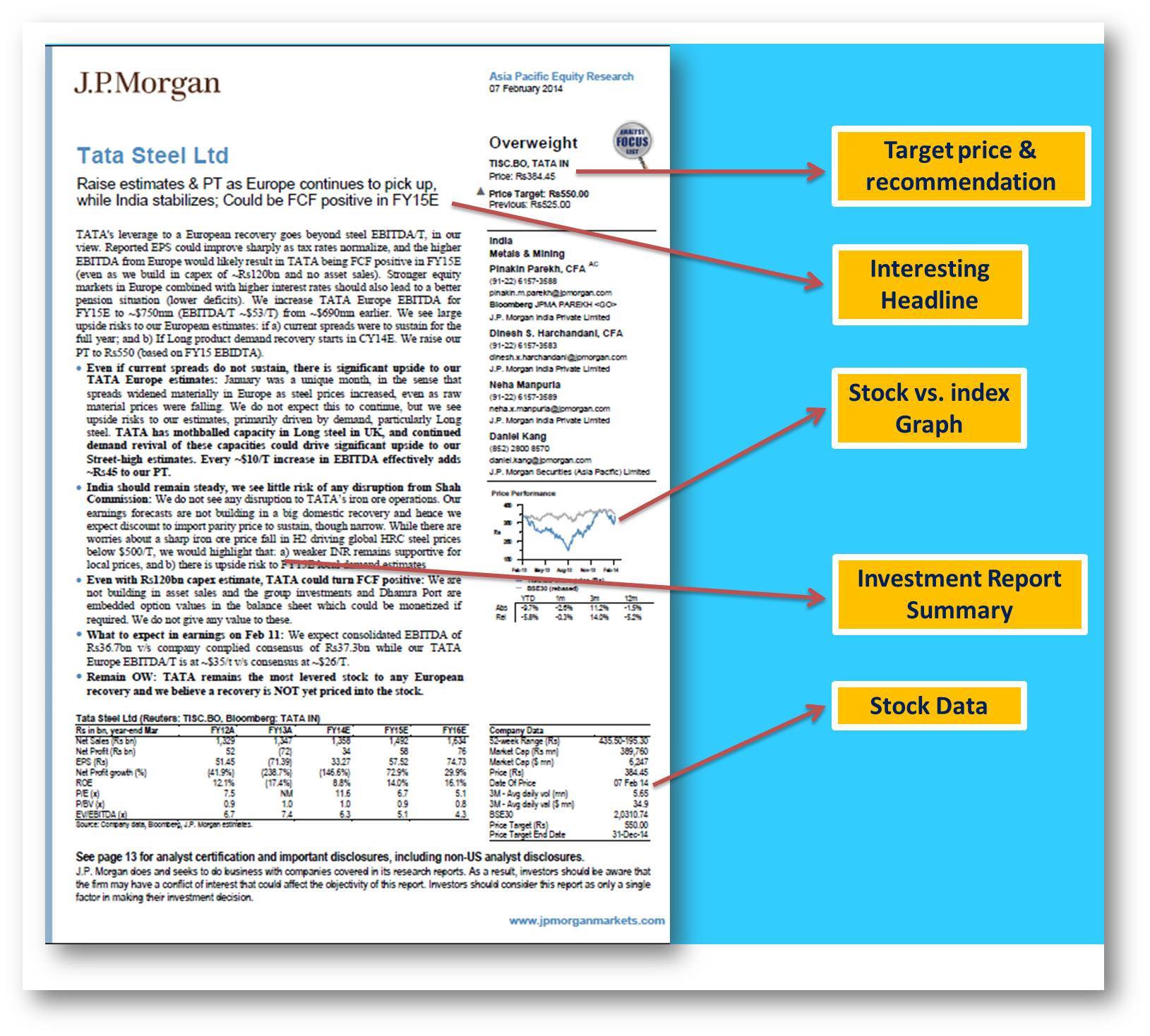 Target price & recommendation
Investment Report Summary
Investment Summary includes a brief description of the company, significant recent developments, an earnings forecast, a valuation summary, and the recommended investment action. If the purchase or sale of a security is being advised, there should be a clear and reasonable explanation as to why the security is believed to be mispriced.
Business description includes detailed information of the company and its products and services. It should also convey a clear understanding of the key drivers of revenues and expenses. All the information needed for the same can be obtained from the company itself or through regulatory filings and industry publications.
Industry overview and competitive positioning
This section generally includes an overview of the industry. It includes a competitive analysis of the industry. A group of peer companies should be developed for a competitive analysis.
This section should include a thorough valuation analysis of the company using conventional valuation metrics and formulas. Discussions based on relative valuation or DCF valuations can be mentioned here.
Financial analysis section includes analysis of the company's historical financial performance and a forecast of future performance. Financial modeling helps readers to understand how the company will perform in the future and thus make investment decisions. The important point to consider here is that the financial model should not be biased in any way possible.
Investment risks section should include  potential negative industry and company developments that could pose a risk to the investment thesis. Risks can be operational or financial or related to regulatory issues or legal proceedings.
Types of Equity Research Reports
These are the research reports written by the brokerage houses having the details about the company.  These are very detailed reports and the length may vary from 20-50 pages as well.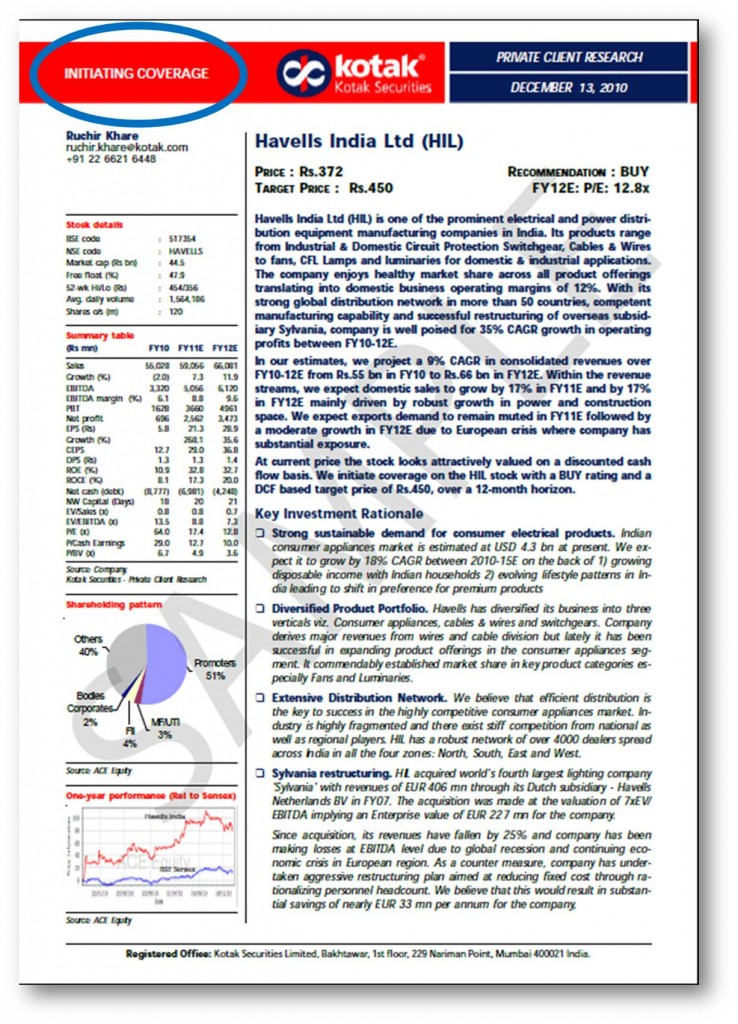 You may already guess from the name itself what the report is all about. Yes, it details information about a specific sector. All the sector specific news and happenings are reflected through such reports.
The reason to write equity research Reports of such kinds is to help Portfolio managers to take decisions on Country specific fund flows. Such reports contain crucial information on general macro-economic conditions.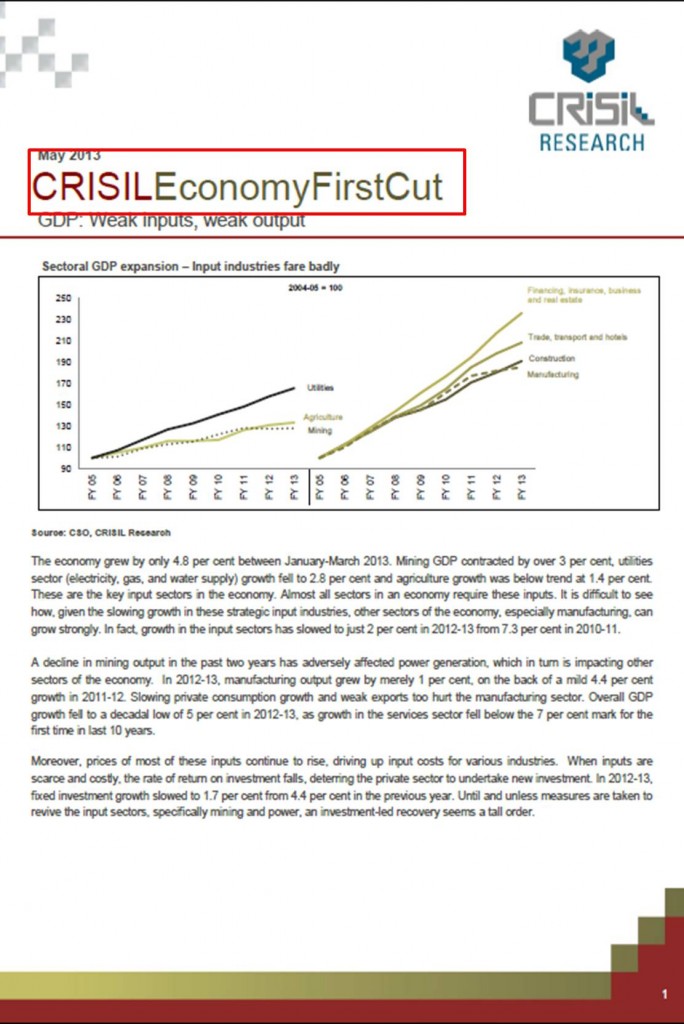 Quarterly/ Annual Results update report
These reports highlight key results updates and are generally of 2-3 pages. The reports are not in depth and highlight only the key results updates.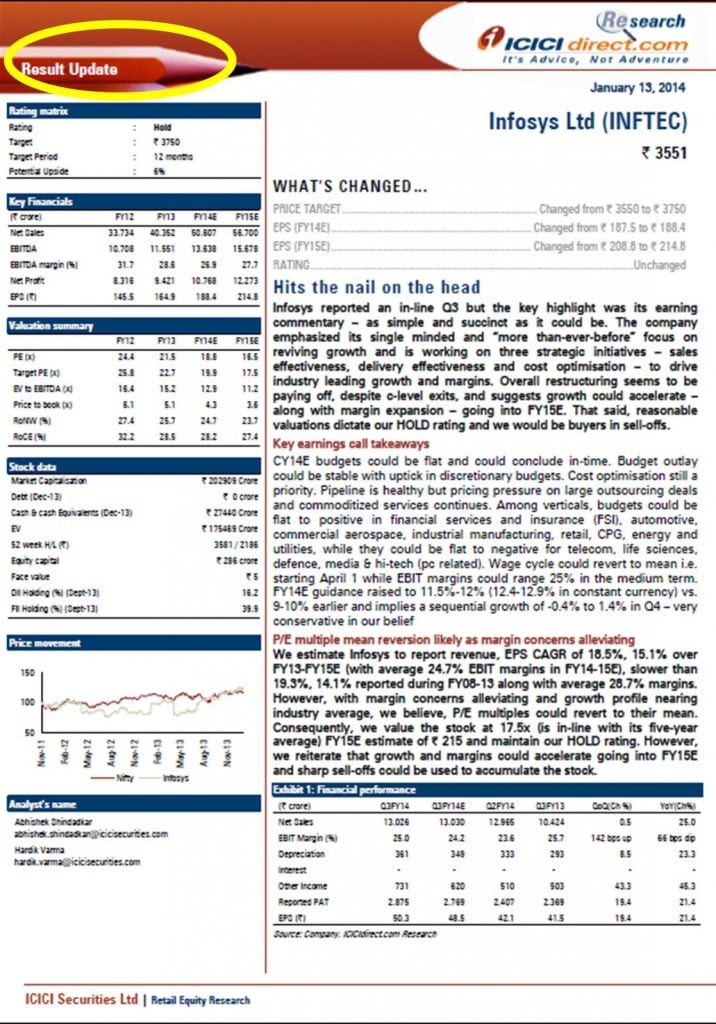 Points to remember before you write Equity Research Report
Through your report you are informing the clients and aiding them in investment decisions. Hence simply telling your clients what happened, without offering some opinion or view on the future, is useless. They can get the headings through newspapers also, so why your report?
At the same time remember that you are NOT writing the final study of the subject or the company. Leave that to historians.
Also make sure that you are not biased and in no way promoting or advertising the company. Leave that to its PR firm.
Concentrate on the following areas
Know the company well.
Know about its accounting, its products and services, its management, its selling practices, its ability to manage its own business.
Understand its relations with customers and suppliers, it is R&D capabilities.
Know the industry.
Know what are the government views about the company and the industry.
Know what the market thinks about the company and the industry.
Know what your clients are looking for in terms of investment ideas.
What are the readers looking for?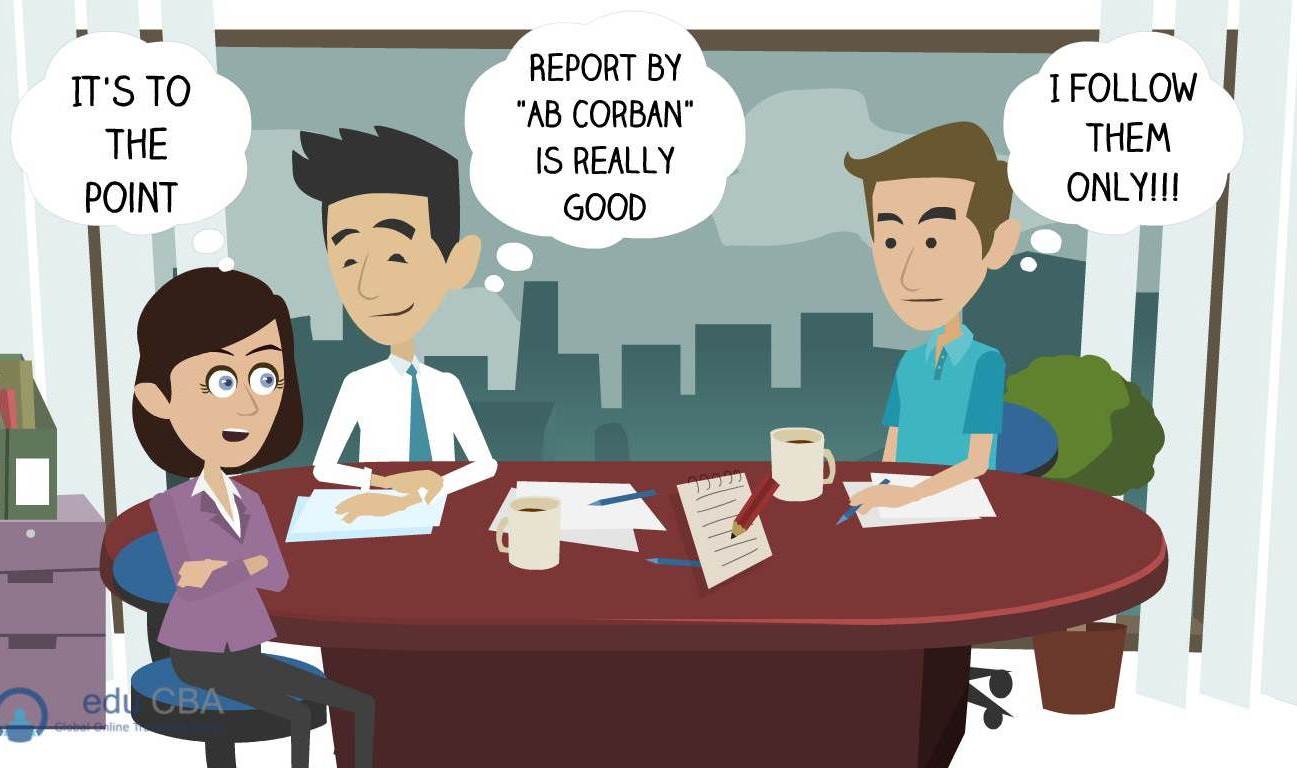 The readers are primarily looking for ideas for directing their money. As a matter of fact all investment professionals do their own research before committing any funds. Then how can an equity research report help them? The research report should be such that it should try to identify trends or identify value adding or destroying factors if any. Readers should get some value out of it and should come back to it the next time.
Always operate on the KISS principle (keep it simple silly).
Your report is not a novel, where climax comes in the last. Here your conclusion should be the main heading of the front page itself.
Your reader's time is premium. So the reader must read your report rather than your competitors.
Always have something good and reasonable to say.
Always issue your report in a timely manner.
Always remember your reader is also a professional.
10 golden rules to write equity research report
1. Clear view of the company
You need to have a clear view of the company in terms of Investment rationale, risk assessment, key growth drivers, cost drivers and revenue drivers.
2. Recommendation/Rating
Company's name should be at the top of the report and with a proper mention of the recommendation- buy, sell or hold. Words like outperform, underperform, neutral can also be included. If you are confused regarding the structure during the initial stages, you may download some templates to start with. Going through the templates will help you have a rough idea of how your report should look like.
3. Target price
Target price along with recommendation should be properly mentioned.
4. Investment rationale
The simple meaning of investment rationale is that why the particular recommendation and the reasons for the same. The investment rationale should be clear and crisp. Mention appropriate reasons as to why do you think that the share price will go up or down?
5. Share price chart
This includes a price chart of the stock that will show last 1 years share price movement.
6. Business model
You may mention the analysis of the company's business model and how will it perform in next 2-3 years.
7. Key ratio analysis
Important things to be included here are:
8. Reasoning for recommendation
Recommendation should come with a proper reasoning. If you are giving some recommendation, make sure that the reasons are strong enough to support them.
9. Legal matters
If the company is into any legal case, write what could be its effects on the share price.
10. Covering all the areas in equity research report
Make sure that the report includes precise information about product, financials, management, market, future plans of the company, growth estimates, and the risk factors of the company.
Standard Format to write equity research report
1. Report
Keep the report short and use headlines and comments wherever possible
The report should not be cluttered, it will absolutely not give you more readers the next time
Discuss the risk factors
Summarize your findings with a proper headline, just like in the newspaper
2. Style
Make the report jargon free
Use words like Buy rather than Purchase
Make use of Active voice
3. Charts and graphs
A picture speaks thousand times than a word. Make use of Graphs and Charts wherever possible
Use table for portraying data
Useful Financial website to write equity research report
https://www.nseindia.com/ https://www.bseindia.com/ http://www.sebi.gov.in/ https://economictimes.indiatimes.com/ http://marketlive.in/ https://www.marketwatch.com/ https://www.moneycontrol.com/ Related Articles:- Here are some articles that will help you to get more detail about the Equity Research Report so just go through the link.
Infographics on Write Equity Research Report
Learn the juice of this article in just a single minute, Write Equity Research Report Infographics
Recommended Articles