Updated October 7, 2023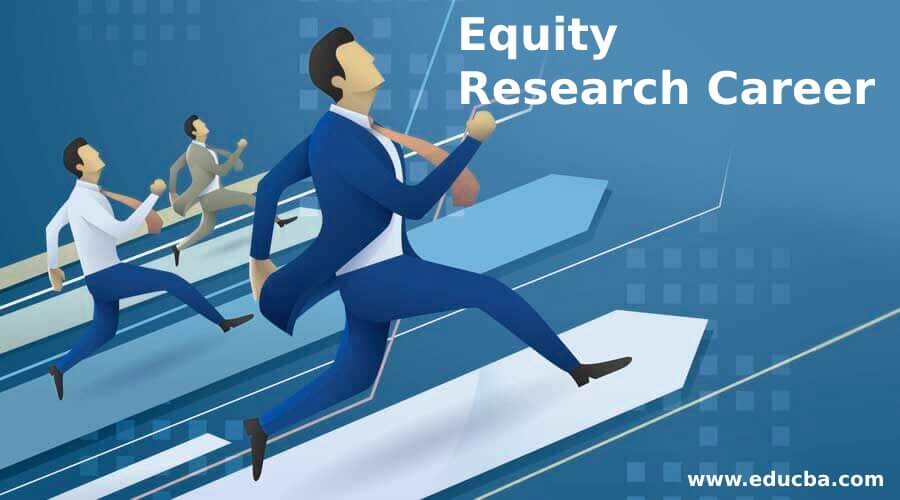 Equity Research Career
The Equity Research career path is for people who enjoy stock markets, are passionate about analyzing companies, and have the right attitude to put time and effort towards it.
Equity Research is about financial statement analysis, economic analysis, company analysis, valuations and recommendations, investment decisions, management interactions, and more. Equity research analyst career is supposed to be flexible in their mindset, but they must also be rigid when meeting deadlines. Punctuality is one of the most important characteristics any entry-level professional must possess in Equity research.
Key Responsibilities
Bring maximum companies under coverage in the sector; they track over a while
Generate quarterly updates
Write event updates
Update the sales, dealing, and trading team about the latest events in the sector/company.
Build views that are distinct and can stand separately in the market
Equity Research Career Path Options
Individuals use Equity research in many areas. Primarily, these are the companies that require an Equity Research Analyst career:
Stock Brokerage
Mutual Funds
PE firms
Venture Capital Firms
Banks
KPOs
Credit Rating Firms
Media Companies
Data Base Firms
Are You a Good Fit for a Career in Equity Research?
If you enjoy writing, being on the phone with clients, and getting to know management teams while at the same time doing a lot of financial modeling and financial analysis and getting home at a reasonable hour, a career in Equity Research might be for you. Research goes through similar training to that of sales & trading analysts. After 2-3 months of corporate finance, accounting, capital markets, and research, associates are assigned to a group led by a senior analyst and begin to cover a group of stocks(usually 5-15) within a specific industry or region.
What Do Equity Research Analysts Do?
The research conducted by equity researchers generally involves studying the official materials published by the company issuing equity, including annual financial reports, company statements, sales reports, etc. Before publishing their research, equity researchers also consider the current market conditions and predict future trends. The equity researchers carefully follow a group of companies. The findings must be presented simply to the clients through formal presentations and reports. However, there are equity researchers who specialize in something other than any particular industry or company but study and interpret the market conditions. They learn how external pressures could impact investments in a specific region.
What is Stock Investment Research?
Stock market research analysts work on both the buy and sell sides.
What's the Buy Side?
They buy the securities, hoping for high returns on their investments. The buy-side consists of the investment bank's clients, which cover many different types of companies, organizations, and everything in between. The buy-side would indicate hedge funds, mutual funds, or investment management companies.
What's the Sell Side?
The sell-side is the investment bank itself. The investment bank sells securities and investment ideas, so it's easy to remember that they are the sell-side. The side would indicate investment banks and independent research companies. Here, the researchers create an earnings model and carry out a detailed analysis and valuation of the company.
Equity Research Career Overview
Work Culture
Research associates are in the office at 7 a.m. and usually leave by 7-9 p.m. Weekends are only sometimes working and are limited to situations like an initiation report. Individuals consider this favorable compared to the investment banking industry, where analysts could work up to 100 hours a week.
Quality of Work
Equity research associates almost immediately interact with portfolio and hedge fund managers, the firm's internal sales force, and traders and communicate the senior analyst's investment thesis after the company reports earnings. In addition, they develop modeling skills by constantly updating and analyzing their companies' operating forecasts. Moreover, research associates are usually not exposed to the M&A, LBO, or IPO process from start to finish like investment banking analysts, so they spend less time building those types of financial models.
Exit Opportunities
Equity research associates usually aspire to switch to the "buy side." That is, to work for the portfolio and hedge fund managers that sell-side research disseminates their reports and ideas, too. The buy-side offers an even better lifestyle and actual investing. The buy side is hugely competitive, even for research associates. One tip could be that the associates should enhance their profile by receiving the CFA charter or attending business school before getting into the buy side.
Buy-side firms often view careers in equity research as highly favorable, similar to their perception of investment banking. However, in the case of venture capital and private equity firms, they tend to prefer candidates with a background in investment banking.
Career Paths for Equity Research Professionals
It would help if you had an MBA, preferably specializing in finance. Invest your initial years in understanding the markets and practicing technical and fundamental analysis. Also, basic knowledge of the exchanges should be explicit.
Recommended Articles