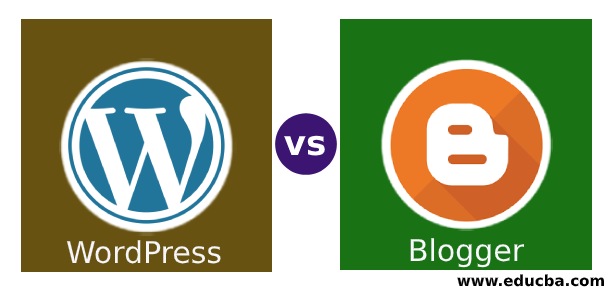 Differences Between WordPress vs Blogger
WordPress is an open-source, the most popular software tool for creating websites and blogs. In a common way, it is the best software tool that is easier and powerful for blogging and content management system (CMS). Blogger has two parts Blogger and BlogSpot where Blogger is a free blog publishing platform and BlogSpot is a free domain service provider.
What is WordPress?
WordPress was created as a standalone project in the year 2003 later it becomes open source and is contributed by the developer's community. As WordPress is standalone software we need to install on a web server then only we can use it to building and content management of the website. Even if you don't how to create a website, no issue at all as with WordPress users don't need to know any programming or designing skills because WordPress has thousands of themes that can be used to the creation of website and content management. To use WordPress we don't need to install any software as WordPress runs online and can be modified from anywhere with internet access and save your changes. WordPress doesn't have limitations or rules to host your website; you can host your WordPress website at any hosting provider. At present, nearly 27 percent of websites available over the internet are built on WordPress.
What is Blogger?
Blogger is a blog publishing platform started in 1999 by Pyra Labs and later acquired by Google in 2003. As Google owns it most of the Google features comes as default with Blogger such as Analytics, Ad sense, and Adwords. Blogger's advantage is that new bloggers can opt for Blogger as it is free with a user-friendly interface, a lot of free templates, and users can customize the templates as they needed. They can upgrade their blog easily and there won't be any downtime of the blog unless there is an attack by hackers. Blogger provides the ability to add multimedia in posts with no limit on storage space. We can access the blogger via Mobile Apps, Email, and SMS. By default blogs are hosted by Google at blogspot.com subdomain for free, if the user opts for premium services then its hosts in a different subdomain with all options.
Head to Head Comparison Between WordPress vs Blogger (Infographics)
Below Is The Top 7 Comparison Between WordPress vs Blogger:

Key Differences Between WordPress vs Blogger
Both WordPress vs Blogger are popular choices in the market; let us discuss some of the major Differences Between WordPress vs Blogger:
WordPress supports mobile blogging such as support for Android, iOS, Windows Phone, and Nokia whereas Blogger also supports Android and iOS.
In WordPress, users need to pay for domain names and adding a domain name to a blog whereas in Blogger users need to pay for domain names and are free to add to the blog.
In Blogger it is easy to monitor with help of Google Adsense, Adwords whereas in WordPress it is not possible but we can do it through affiliate links in free service.
Blogger is free to use other than buying storage on Google Drive whereas WordPress has planned such as basic, premium, business, etc.
In WordPress, we can do self-hosting using WordPress script whereas in Blogger it is not possible for self-hosting as it doesn't allow.
WordPress has support for unlimited blogs with unlimited writers whereas blogger has support for up to 100 blogs and up to 100 writers.
WordPress has support for social media and sharing plugins like Facebook, Twitter, LinkedIn whereas Blogger has the support of only Google+.
WordPress vs Blogger Comparison Table
The main comparison between WordPress vs Blogger are as follows-
| | | |
| --- | --- | --- |
| The Basis of comparison  | WordPress | Blogger |
| Domain Name | In WordPress, we can register a domain name and attach it to our blog. By default WordPress hosts websites on the wordpress.com subdomain. We can add a custom domain name by masking the default one but we need to opt for premium service. | In Blogger, we can register a domain name and attach it to our blog. By default Blogger hosts websites on blogspot.com subdomain. We can add a custom domain name for free on Blogger. |
| Themes or Design | WordPress allows users to customize free and premium templates from WordPress.com but it doesn't allow users to edit HTML/CSS for free, if we want to edit then we need to purchase a plan. WordPress has a collection of free pre-made templates. | Blogger allows users to customize all types of templates available and allows users to edit HTML/CSS code for free. Blogger has less free templates compared to WordPress. |
| Storage Space | In WordPress, we can create an unlimited number of blogs with unlimited writers and by default 3GB space will be given for storage. If we need more space then we need to upgrade to the premium plan. | In Blogger, By default users can create up to 100 blogs and having up to 100 writers. It allows only static content pages up to 20 and offers 15GB of space in Google drive for storage purposes. |
| Self-hosting | In WordPress, users can modify the WordPress script and host it on any server as it is open-source. | In Blogger, users can't modify the script or can't host on their own server. |
| Monitoring | In WordPress, Monitoring is not possible as WordPress doesn't allow third-party tools but we can use affiliate links in free service. If users opt for the premium plan he can use third-party tools for monitoring like Adsense. | In Blogger, it is easier to monitor traffic as it comes along with Adsense if not we can easily install Google Adsense, Adwords etc. So Blogger is better for monitoring as it is free. |
| Image Gallery | WordPress has support for image gallery with image editing tools and gallery styling. It is useful for photo blogging but had only 3GB space. For building big sites users need to upgrade their plan. | Blogger doesn't have support for image galleries or albums. But they can use Google plus albums in blog posts and wherever need within Blogger support. |
| Anti-Spam | WordPress has its own Anti-Spam prevention script called A kismet which will not allow spam content being posted on websites. | Blogger has also anti-spam features but not secure. So users need to choose secure service for dealing with spam content. |
Conclusion
Finally, it's an overview of WordPress vs Blogger. I hope you will have a good understanding of both after reading this WordPress vs Blogger article. Based on the comparison of WordPress vs Blogger, it is clear that WordPress is a better choice for a Successful blog, digital marketing, generate revenue from a blog. Whereas Blogger is good for new bloggers as it is not offering customization options, support, scalability like WordPress.
Recommended Article
This has been a useful guide to the Difference between WordPress vs Blogger here we have discussed their Meaning, Head to Head Comparisons, Key differences, and conclusion. You may also look at the following articles to learn more –