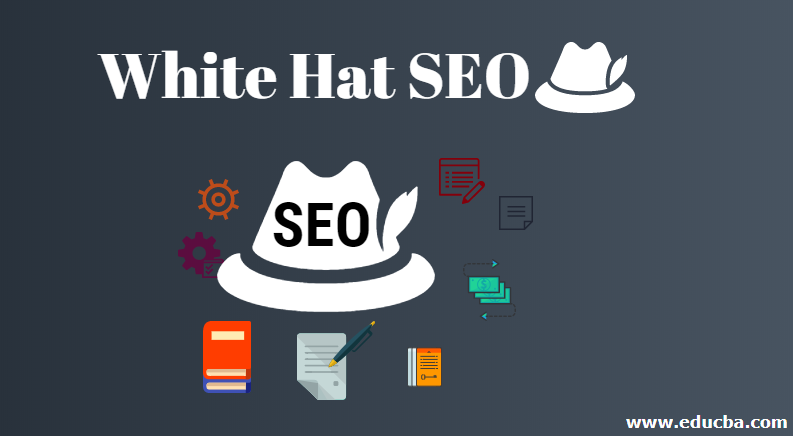 What is White Hat SEO?
White hat SEO means the SEO tactics that follow and works according to the terms and conditions of search engines like Google. It is basically a way of improving the search rankings on SERP (search engine results page) while securing the integrity of the website and following the search engine terms and conditions. It is also called ethical SEO. It is done through organic link building i.e. by natural linking to other websites.
Its goal is to build a quality website keeping the website's audience as a priority or point of interest. White hat SEO adheres to all rules and policies of major search engines. It stops webmasters to cheat the audience and provide untrustworthy information. White hat SEO aims to provide relevant information on the site and to present it honestly.
Techniques of White Hat SEO
Below are some White Hat SEO Techniques mentioned:-
1. Good Content: A unique, well-formed and well-written content makes the website more valuable and trustworthy to visitors as well as search engines. It optimizes the website that helps to get a high position in the search engine's search list as the search engine gives the most appropriate website to the customers and visitors for their search.
2. Proper use of keywords, metatags, and titles: The information written in HTML code is called Metadata. It provides information about the site for indexing purposes and classification to the crawlers. So, proper keyword, metatag, and keyword should be added in the metadata.
3. Ease of navigation: Ease of navigation is also considered by search engines while the usefulness of the site is assessed, so universally recognizable links must be used rather than irrelevant links. It is important for both users as well as crawlers for indexing the sites.
4. Site performance: To assess the sites, the performance of the website and page is also considered. The crawlers of search engines do not index the unavailable pages and unavailable sites. The unavailability of a page or a site for even a day or a week can highly affect the traffic of the site. So it is important that the site loads faster and is accessible easily and all the time.
5. Quality inbound links: Search engines frequently assess backlinks for the relevance purpose so sites should have quality inbound links. The sites are penalized or discounted by the search engines if they found to contain irrelevant backlinks.
6. Have short URLs: Several studies have resulted that shorter URLs (uniform resource locators) are ranked higher in comparison to bigger or lengthy URLs. It is perfect to put some keywords into the URLs which can make crawlers to help you to rank your website at a higher position. In short, the URL of your website must be clean and short with some keywords mixed with it. You must prefer using hyphens "-" as separators for words.
7. Optimize the images: Image optimization means using images to help your website advance rankings. Remember to address some items with the images so that they can fulfill Google's standards and policies. While using an image, you must keep in mind that the image must be compressed and clear so that it would not affect the performance and speed of your site. Try using keywords for naming your image so that Google can easily comprehend the image.
8. Use Google search console: Google search console helps you to tell Google about your view of the way you want the search results of your website to appear and about the version of the website you prefer to use. Google will help you to know how the people found the site and what keywords are mostly used. It also alerts you about the issues your website may have and require your urgent attention or are required to change. This console will also help you to know if hackers have done anything to your site and if any penalties are affecting your website.
9. Submit a sitemap to Google: Search console mentioned above allows you to submit sitemaps to Google which would help it to know the location of your pages. It also gives Google a roadmap to each page of your site and helps to upgrade the importance of the page.
10. Encourage social shares and comments: Google considers the shares and comments on your page as an engagement factor. If the comments share is very high then Google rewards the page or article by advancing its ranking.
Advantages of White Hat SEO
It safeguards your business' reputation.
Results of white hat SEO are slow and steady.
Better ROI
It offers quality information to the users.
It helps to get positive feedback from users which help in advancing your rank.
No secrets from users and search engines.
Free from penalty
Cost-effective
It helps in building stronger relationships.
Problems
The major problem of white hat SEO is the limited scope. On-page optimization can be done but when doing off-page optimization possibilities are very low and limited unless you want to end up on a gray hat or black hat SEO.
Google has mentioned not to use unnatural link building like spam methods in Webmaster Guidelines.
Another problem faced by white hat SEO is competition. It is very difficult to supersede the highly optimized website only by using White hat SEO. However other SEO like black or gray leads to a penalty.
Conclusion
In this article, we have discussed the white hat SEO in detail. It is the cleanest way for optimizing your website and following all terms and conditions of search engines. It helps to increase or advance the ranking of your website in a lawful manner without getting penalized and degrading your reputation.
Recommended Articles
This has been a guide to White Hat SEO. Here we have discuss basic concept, techniques, advantages, and problems of White Hat SEO. You can also go through our other suggested articles to learn more –