Introduction to WBS
A key project management technique, the Work Breakdown Structure (WBS), systematically divides a project into smaller, easier-to-manage components. It creates a hierarchical structure for organizing the project scope, starting with the overall project and then dissecting it into particular tasks, subtasks, and deliverables. The WBS offers a visual depiction of the project, assisting teams and project managers in comprehending the work necessary and the connections between various activities. This makes effective project planning, resource allocation, scheduling, and progress tracking possible. For successful project execution and completion while preventing scope creep and team member confusion, the WBS is crucial for defining the project scope, identifying dependencies, and allocating roles.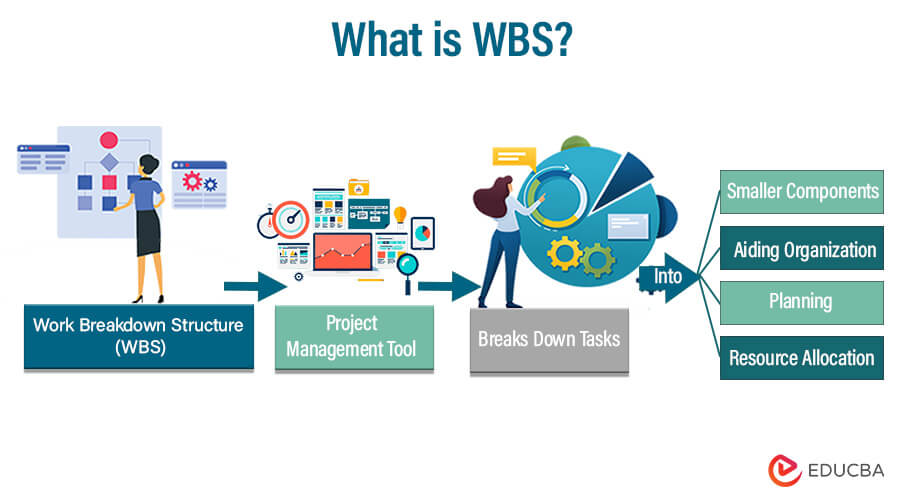 Table of Content
Key Takeaways
WBS clarifies the project's scope and provides deliverables by breaking them into smaller, more manageable portions.
It makes it easier to allocate resources, assign tasks, and track projects effectively, improving overall project management.
It is an effective stakeholder involvement, risk management, and change management tool.
When properly applied, WBS enhances project planning, control, and estimate, which helps projects succeed.
Purpose of WBS
A Work Breakdown Structure methodically and hierarchically divides a large project into smaller, more manageable parts. It provides a clear and organized perspective of the project's work components by organizing and decomposing its scope, tasks, and deliverables.
The following are WBS's primary goals:
Project Planning: The WBS establishes the project's objectives, deliverables, and scope as a basis for project planning. It enables teams and project managers to comprehend the complete project's structure and the precise tasks necessary for its effective completion.
Resource Allocation: Makes resource allocation and management easier by dividing the project into manageable parts. Project managers can effectively allocate resources by determining the required resources for each task using it.
Task Assigning: Project managers can easily allocate particular tasks and responsibilities to team members using the WBS. You can assign each task item to the relevant team member, encouraging accountability and ensuring everyone knows their responsibilities.
Project Estimation: This is a foundation for calculating project budgets, schedules, and resource needs. Project managers might leverage historical data and knowledge gained from earlier projects to determine the work needed for each package.
Communication and Stakeholder Engagement: This is useful because it visually depicts the project's organization and development. It facilitates the dissemination of project information to team members, stakeholders, and other parties participating.
Risk Management: The WBS assists in locating potential risks connected to specific work packages. This enables project managers to determine how hazards may affect various project components and create appropriate risk mitigation methods.
Change Management: It offers a precise framework for assessing the impact of changes during the project. It enables project managers to evaluate how changes in one area might affect changes in other areas of the project.
Types of WBS
Below are the different types:
1. Deliverable-Based Work Breakdown Structure
In a deliverable-based Work Breakdown Structure, we divide the project into smaller components based on the ultimate deliverables or outcomes that need to be achieved. Then, we break down each significant deliverable into smaller, more manageable tasks or work packages. The emphasis is on highlighting the project's intended tangible outcomes. This type of WBS ensures that each project area contributes to a specific deliverable and that we don't overlook any crucial activities.
2. Phase-Based Work Breakdown Structure
We divide the project into clear phases or stages that correspond to significant turning points or logical intervals in the project's lifecycle. Each phase encompasses specific duties and activities relevant to that portion of the project. This type of WBS benefits projects with well-defined phases and allows monitoring of the project's progress as it moves from one phase to the next.
Importance of WBS
We can summarize the importance of the Work Breakdown Structure as follows:
Clarity and Understanding: To aid stakeholders in understanding the tasks at hand, we organize and concisely describe the project's deliverables and activities in the WBS.
Scope Definition: The WBS aids in defining the project scope by dissecting it into smaller parts. It prevents scope creep, which happens when a project has extra work added without sufficient approval, thus maintaining focus on its original goals.
Task Allocation and Responsibility: The WBS assigns particular tasks to people or teams, clarifying who handles each work package. This encourages responsibility and helps prevent confusion or redundant attempts.
Estimation and Resource Allocation: By dividing the project into smaller components, it is simpler to estimate the amount of time, money, and resources needed for each work package. This aids effective resource management and budget management.
Project Planning and Scheduling: The WBS is the foundation for creating project planning and scheduling activities. It allows project managers to organize work in a logical order, recognize dependencies, and control the overall timeframe.
Progress Monitoring and Control: As the project moves forward, the WBS aids in keeping track of and keeping an eye on each work package's progress toward completion. As a result, project managers can better spot delays and deviations early on and take appropriate action to keep the project on schedule.
Risk Management: Project segmentation makes it easier to identify potential concerns in terms of risk management. Developing mitigation plans for specific work packages can then enhance risk management.
Change Management: The WBS aids in determining the effects of changes on particular work packages and the project as a whole. As a result, this makes it easier to make educated decisions and analyze modification requests.
Components
The components are as follows:
Work Packages: The smallest, most controllable pieces of the WBS are known as work packages. A single team member or a small group can delegate specific outputs or deliverables. Work packages constitute crucial building elements of the WBS, outlining the work required to accomplish a particular deliverable.
Deliverables: The project's efforts yield concrete or intangible outcomes known as deliverables. The client or other stakeholders must receive the finished items, services, or outcomes to deem the project successful. The WBS represents each deliverable as a distinct component; a common placement for them is at the bottom of the hierarchy.
Sub-Projects or Phases: Occasionally, projects may become complicated, necessitating further separation into smaller projects or phases. Substantial portions of the entire project are indicative of sub-projects or phases, often possessing unique deliverables and goals. Within the WBS, you can arrange these segments hierarchically, thereby enhancing project management.
Tasks and Activities: Tasks and activities represent the discrete actions or stages required to accomplish each work package or deliverable. They divide the work packages into precise tasks that the team members must carry out to accomplish the project's goals. Tasks and activities provide greater specificity and time-bound details compared to work packages, giving a clear understanding of the steps required to progress the project.
Milestones: Milestones are essential occurrences or moments in the project that signify important accomplishments, the end of important deliveries, or pivotal choices. Milestones track development and serve as benchmarks for determining whether a project is on track and accomplishing its goals. Project scheduling relies on them, providing workers with a sense of accomplishment as they complete the work.
Project Creation
Below are the steps created for the project using WBS:
PHASE (Level 1): Every project is categorized into phases or levels; this is used to find the activities in appropriate phases. This is first created in WBS.
WBS ENTRY (Level 2): The entries made within the phases are termed as WBS entries, which further sub-categorize them into sub-levels. Once the phase is created, we generate the WBS entries.
ACTIVITY (Level 3): Continuing the WBS entry, we create activities to execute the tasks needed to complete the larger one. The activity represents the lowest level of it. An individual is assigned all the activities to complete the task. Project management employs this technique to organize and define the project's scope. It employs a well-prepared tree structure format. It prioritizes planned output over actions. The project's outcome or result can be predicted accurately.
The first two levels, the project's root and collective data, represent 100% scope. Once each activity is completed, the tree shows the accurate data from the branches.
Why is WBS Prepared?
It guides the project and gives a clear view of the project structure. It has been featured a lot in project completion, such as:

The elements used to create WBS are:
The scope of work
The project's beginning and conclusion dates
Resource allocation and budget
Which person will be responsible for the work
Set a time for labor according to the task
Identify project cost performance
Mainly, WBS works with task dependencies. One's successor activity depends on the predecessor activity. So if one predecessor activity is not finished, the supporting activities will be affected and shown in red, where the critical points are shown in red in the graph on the right side. It also affects the project's deadline date, even if one activity is pending. Activities can also be allocated on the same day, where they are done in parallel; it is a one-time creation for the project and should be updated daily.
The hierarchy shows the project in a structured way. This is shown in the sample below.
Hierarchy Structure: An example to built a shopping website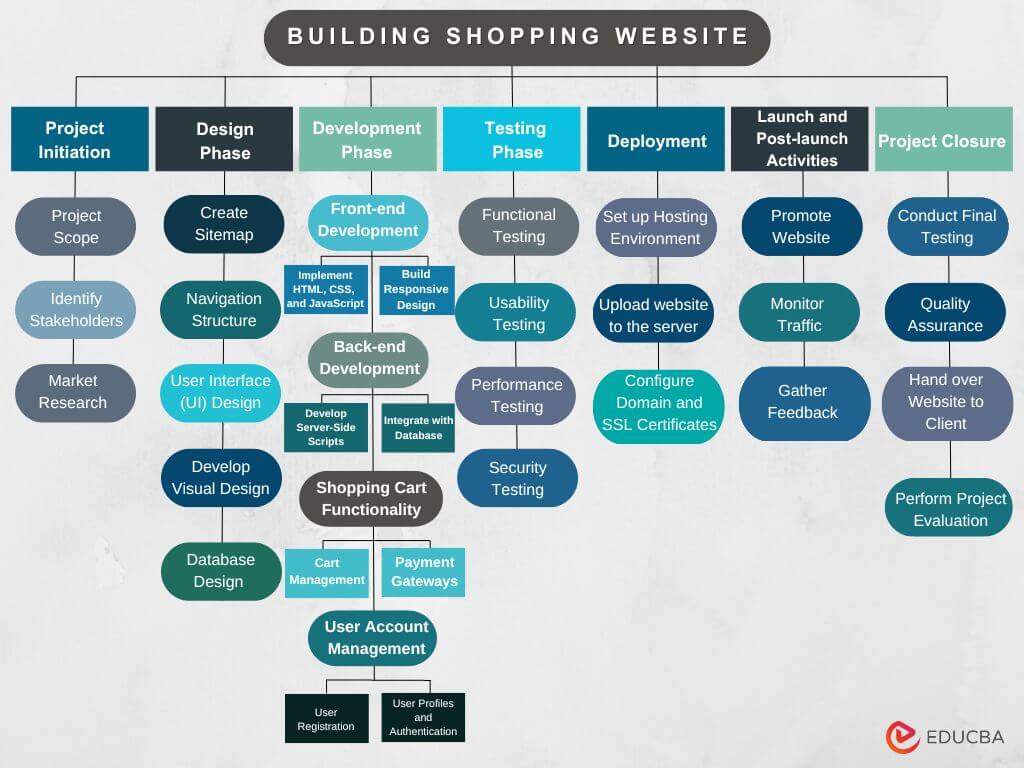 Guidelines for WBS
The following guidelines are as follows:
Work tasks should not exceed not more than ten days.
Independent tasks should be allocated.
Sub-elements should be created under the main element.
The high level represents the status of the final project.
Predecessor activities should be dependent on successor activity.
Resource allocation
Assigning tasks to people.
Manage critical path method.
Time allocation
Baseline creation
Rule creation
Assigning calendar
It is mainly used in many management software.
PRIMAVERA P6
Primavera is an enterprise model created by Oracle and SAP ERP system most Commonly used as a project planning tool for any project. Even experienced project managers know that things can go wrong, unmanageable situations may arise, the budget may overrun, missed deadlines, and frequent scope changes. So they tend to use this software for the optimal flow of the project.
The salient features for primavera p6 are given below:
Enterprise Project Structure (EPS) Setup: PRIMAVERA P6 allows you to define and configure the EPS, representing the project's organizational structure.
WBS Creation: PRIMAVERA P6 simplifies creating and defining the Work Breakdown Structure, which divides projects into manageable components.
Resource Allocation: Allocate resources to activities and work packages within the WBS for optimal resource management.
Project Scheduling: PRIMAVERA P6 organizes project activities based on the work breakdown structure (WBS), specifying task sequences and timelines.
Progress Tracking: To ensure the project stays on track, use PRIMAVERA P6 to track the development of specific work packages and tasks.
Risk Analysis: Identify potential risks associated with specific work packages and develop mitigation strategies.
Integration with Other Tools: PRIMAVERA P6 can integrate with other project management tools and systems for seamless data sharing and collaboration.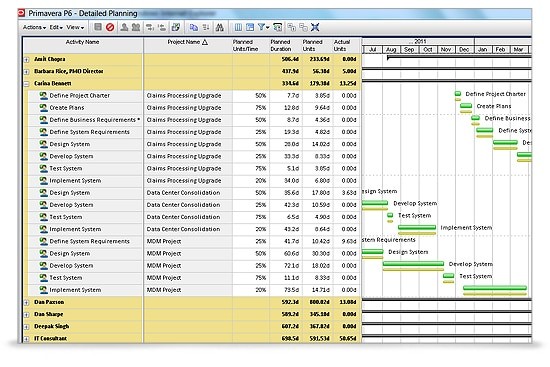 Sample view of Primavera P6 R3.2.
This software is most commonly used by planning engineers and planning managers. This helps further for effective communication in the project, Shows visibility, and keeps an eye to track the project tasks and the task completion percentage in the detail sublevel.
The advanced version R3.2 in Primavera makes the project more feasible and arranged accurately, keeping the project manager updated and analyzing the cost inaccurately. Creating Gantt charts shows the progress in percentage in charts. The proper understanding of tasks and goals for the smooth flow of the project.
Benefits of Using WBS
Using a Work Breakdown Structure (WBS) offers several benefits:
Project Scope Is Clearly Defined: By segmenting the project into smaller, precisely defined work packages, the WBS provides a clear and comprehensive perspective of the project's scope. This clarity aids in a better understanding of the project's goals and the steps necessary to reach them.
Better Project Planning: By calculating the resources, time, and expenses necessary for each work package, project managers may create more precise project plans. It makes it possible to allocate resources more effectively and reduces the chance of errors or missed deadlines.
Improved Communication: The WBS acts as a communication tool, making it simple for team members, clients, and stakeholders to comprehend the structure and status of the project. Offering a shared framework and language for discussing project specifics improves effective communication.
Effective Resource Management: By dividing the project into smaller jobs, the WBS assists in calculating the resources needed for each work package. It ensures that resources are allocated efficiently while preventing resource overuse and potential bottlenecks.
Increased Accountability: The WBS encourages ownership and accountability by giving teams or people defined duties and responsibilities. Everyone in the project knows their responsibilities and what is expected of them.
Better Risk Management: The WBS aids in detecting potential risks and dependencies by identifying and organizing project components. As a result, risk management can be proactive, assisting the project team in addressing and minimizing risks early on.
Ease of Change Management: The WBS makes it simple to evaluate the effects of changes on particular work packages and the overall project schedules. This facilitates improved decision-making and streamlines change management.
Limitations of WBS
Let's go through each of the limitations of the Work Breakdown Structure:
1. Overlooking Work Packages
The potential for missing crucial work packages or tasks when developing a WBS is one of the difficulties. Especially when the project is large and has many components, recording every detail during the WBS development process can be difficult. Uncompleted project planning, insufficient resource allocation, and significant execution delays might result from failing to consider particular task packages or their improper definition.
2. Difficulty in Estimating Effort and Duration
The WBS divides a project into manageable components, but it can be challenging to calculate the amount of time and effort needed for each work package. Numerous variables, including a lack of historical data, uncertainty, and changing project requirements, can lead to estimation inaccuracies. A project's overall schedule and budget may be affected by inaccurate estimations that under or overestimate the project's timeline.
3. Changes and Revisions
Changes are inevitable because projects are dynamic. It might be difficult to update the WBS as things change, especially for bigger projects with many interconnected tasks. Inaccurately tracking progress and resource allocation might result from the WBS not being updated frequently to account for changes.
4. WBS and Complex Projects
The WBS is a useful tool for project management, although it may have issues managing extremely complicated projects. The WBS hierarchy can expand as projects become more complex, making it difficult to manage and visualize the structure efficiently. The WBS's main advantages of simplicity and clarity may be compromised in such circumstances.
Furthermore, the level of uncertainty in complex projects is frequently higher, and the WBS might not fully consider all potential risks and contingencies. Dependencies between different work packages can develop into complex webs, and changes in one area might have repercussions across the entire project, making management challenging.
Common Mistakes to Avoid with WBS
Let's see each of the common mistakes to avoid with a Work Breakdown Structure:
1. Creating Overly Detailed WBS
Going into too much detail when breaking the project into work packages and tasks is a major mistake while building a WBS. A thorough project breakdown is necessary, but a too extensive WBS might cause several problems.
These consist of:
Increased Complexity: An excessively detailed WBS may become too complicated, which will be challenging for the project team to comprehend and implement.
Resource Waste: An unnecessarily thorough WBS can take time and resources to create and manage, taking attention away from the project's execution.
Difficulty in Tracking: Tracking progress and dependencies can be challenging when there are too many minor activities since it can become confusing and burdensome.
Lack of Flexibility: A tightly structured WBS may make adjusting to project scope changes or unanticipated events more difficult.
2. Ignoring Input from Team Members
One person cannot create a WBS. It needs the cooperation and input of many stakeholders, particularly the project team members in charge of carrying out the task.
Ignoring their insightful advice can result in the following:
Tasks Overlooked: Team members may be better aware of the project's needs and scope, and their contributions can guarantee that all important tasks are listed in the WBS.
Lack of Ownership: Team members may not feel as invested in the project's success or ownership if they are not included in the WBS design process.
Reduced Buy-in: Without team members' participation, the WBS may not have full support and may not be in line with the project schedule.
3. Lack of Flexibility in WBS
Throughout the project, a WBS should be flexible and dynamic. Failure to incorporate flexibility into the WBS may lead to the following:
Lack of Adaptability: Projects frequently experience requirements, priorities, and scope changes. A stiff WBS might not be able to handle these adjustments easily.
Increased Risks: Without the capacity to modify the WBS, the project may experience greater hazards, which could jeopardize its success.
Limited Ability for Creative Problem-solving: A flexible WBS enables creative problem-solving when unforeseen obstacles arise, allowing the team to develop alternate options.
4. Failing to Align WBS with Project Objectives
The project's objectives and goals should closely match the WBS.
The following problems may arise if the WBS does not accurately reflect the project's overall goal:
Scope Creep: If there isn't a clear connection between the project's goals and its scope, there's a chance that the project will expand beyond its intended parameters, which will affect schedules and resources.
Resource Misallocation: If the WBS does not align with the project's goals, it might lead to inefficient resource utilization, potentially causing delays and inefficiencies.
Lack of Focus: A WBS not connected to the project's goals could make the team lose track of its main objectives, leaving it without focus and direction.
WBS vs Project Scope
Relationship between WBS and Project Scope
The Project Scope and the Work Breakdown Structure are two crucial components of project management. Both are essential in defining and comprehending the work necessary to finish a project successfully. However, they have diverse functions and concentrate on various facets of the project.
Definition
WBS: The WBS divides the project deliverables into more manageable and smaller work units, known as work packages, in a hierarchical and methodical manner. In a hierarchical structure, it displays the whole scope of the project.
Project Scope: The scope establishes the project's parameters, goals, and needs. It describes the tasks that must be completed, the products that must be created, and the precise standards for project success.
Scope Decomposition
WBS: The main goal is to divide the total project scope into more manageable, smaller chunks of work. Dividing the WBS into levels reflects a finer degree of detail, which makes planning, estimating, and managing the project easier.
Project Scope: The scope specifies the broad goals and parameters and provides the framework for creating the WBS. It outlines the project's overarching purpose and objectives.
Detail vs. Overview
WBS: The WBS concentrates on the thorough division of the project into work packages, which stand in for the lowest controllable pieces of work. It makes it possible for project teams to comprehend the tasks, dependencies, and project structure.
Project Scope: The scope establishes the backdrop for the entire project and summarizes the tasks that must be completed. This document does not cover the level of fine detail in the WBS.
Aligning WBS with Project Objectives
Aligning the WBS with the project objectives outlined in the scope is essential for project success. The alignment ensures that each WBS element directly contributes to attaining the project's objectives.
Here's how to make them coincide:
Clarity and Consistency
Review the project scope to comprehend the goals and specifications fully.
To prevent scope creep and ensure the inclusion of all necessary work, make sure the WBS elements align with the project's declared scope.
Verifiable Deliverables
Each WBS level should align with a certain deliverable or goal indicated in the project scope.
Ascertain that each delivery meets the project's success criteria and can be verified and measured.
Stakeholder Involvement
Include essential stakeholders in the creation of the project scope and WBS.
Obtain their opinions and support to ensure the WBS appropriately reflects the project's aims and objectives.
Cross-Referencing
Please compare it to the project scope to verify that the WBS includes all necessary deliverables and objectives.
Utilize the WBS as a guide to monitor development and ensure each component helps achieve the project's goals.
Conclusion
The Work Breakdown Structure, which divides large projects into manageable work packages, is a fundamental project management tool. It makes planning, resource allocation, and progress monitoring more effective. The WBS facilitates effective communication among stakeholders, promotes collaboration, and improves project control by aligning with the project scope and objectives. Its hierarchical form makes project tasks and dependencies easier to understand, which eventually results in successful project completion. When project managers use this technique, they equip themselves to plan and execute projects with clarity and precision efficiently.
FAQ's
Q1. What are the WBS coding systems?
Ans: Alphanumeric codes called WBS coding schemes specifically identify each WBS component. These codes offer a methodical manner to list and arrange project components. The "outline numbering" approach (1.1, 1.2, 1.2.1, etc.) and the "dictionary-style" method (1A, 1B, 1C, etc.) are two common coding schemes.
 Q2. Is a WBS a project schedule or a project plan?
Ans: No, a WBS is not a project plan or schedule. Although it offers a categorized view of the project's elements and structure, it lacks explicit deadlines or resource allocations. The WBS serves as the framework for independent project schedule creation.
Q3. Can a WBS be used in various industries?
Ans: Indeed, various projects and industries can utilize a WBS, including construction, software development, marketing campaigns, event organization, and more. It offers a flexible tool for any project requiring organization and structure.
Recommended Articles
We hope that this EDUCBA information on "What is WBS?" was beneficial to you. You can view EDUCBA's recommended articles for more information.