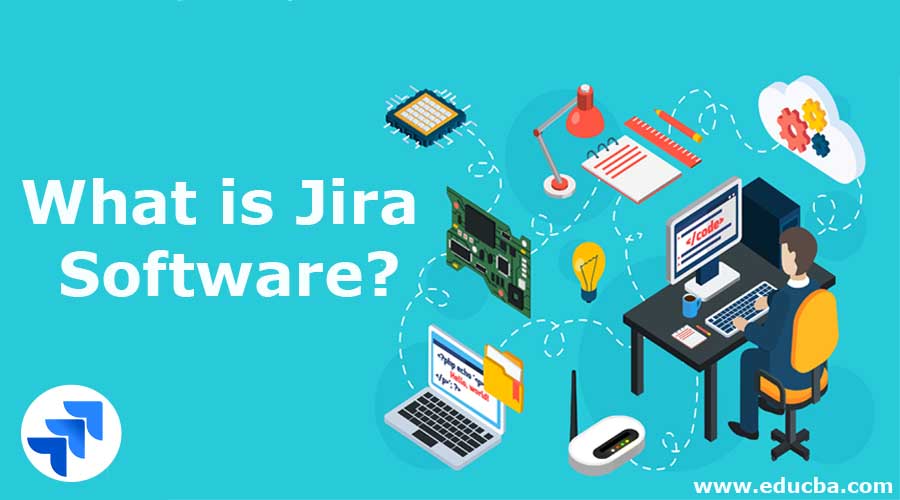 Introduction to Jira Software
Jira Software is part of a product family that helps teams of all kinds to manage their jobs. Jira was originally designed as a tracker for problems and bugs. Today, however, Jira has become a powerful work management tool for all types of applications, from requirements and test case management to agile software. You will learn in this guide what Jira's features and features can help your team with your unique needs.
Key points on Jira:
JIRA name is a truncation of Gojira (the name for Godzilla in Japanese) that can be a reference to Bugzilla (a bug tracker and testing tool of Mozilla).
It is a platform-independent tool; that can be worked with different types of operating systems.
It is written in the JAVA programming language.
Understanding Jira Software
Before beginning with Jira, you should know about the Jira software. A user should know what the features of Jira are, how it will manage projects tasks of software and mobile applications compared to other software tools, and so on.
JIRA can be integrated with different types of tools such as GIT, ClearCase, Team Foundation Software, Mercury, Concurrent Version System, and many more. JIRA is a commercial tool that allows utilizing Jira services for project tasks. It provides a free license for an individual person to use, but the trial version can be used for a limited time.
How does Jira Software make working so easy?
It makes workflow easy by tracking issues and bugs related to software and mobile applications. The products developed on the Jira platform helps the teams in planning, assigning the task, tracking project issues, and managing the work.
Jira uses the following workflow stages when there is an issue that gets raises:
Open Issue: When an issue gets open, it will assign to the assignee to start working on it.
In Progress Issue: This stage informs that assignee has started to work on the issue.
Resolved Issue: In this stage, once the work of an issue gets completed, it will wait for verification from the reporter. If verification is successful, it will be marked as a resolved issue or can be re-opened if there are any further changes are required.
Reopened Issue: If an issue gets reopen at this stage, then this issue was either incorrect or missed a few things or some modifications.
Close Issue: Once you finish working on the issue, the assignee will close the issue. It can be re-opened later based on the requirement.
Top Jira Software Companies
In today's world, Jira has become one of the useful project management tools to build products and collaborate brightly. As a result, there are many companies which use Jira software.
Here is a list of companies which uses Atlassian Jira Software:
NASA
SpaceX
Twitter
Autodesk
Audi
Ebay
Spotify
Tesla
Cisco
LinkedIn
Xing
Sony
Uber
Blackrock
Lufthansa Systems
Capgemini
Cerner
Citrix
Blubolt
Cochlear
DAHL
Docker
GlobalGiving
Hubspot
Illumina
Indeed
Netapp
Pandora
Red Giant
Redfin
Rockwell Collins
Skyscanner
Source One
Tinder
Yellow Pages Group and many more.
What can you do with Jira Software or Working of Jira Software
As we have discussed in the previous sections, It is used for managing projects, tasks, bug tracking, and issue tracking related to software and mobile applications, and you can easily work with Jira software on a variety of operating systems as it is a cross-platform tool.
Jira dashboard contains many useful functions and features to handle the issues easily.
Issue tracking & management: It defines the workflow of project management to track the issues, managing daily tasks, and track the progress of the work done by a team.
Product Management: It allows creating the project and inside the project, creating sprints that help the project team deliver the product.
Configurable dashboard with widgets: Jira provides a dashboard with widgets to track project tasks, user workflows, and burn down charts, verify the velocity of the team etc.
Reporting: Jira provides reports to understand the progress of the project. Reports include total spent time over the estimation, a budget of the project etc.
Scrum & Kanban: Jira uses configurable scrum and Kanban boards, in which Scrum board can be used for managing your board and Kanban can be used to manage bugs, epics in the system.
Plug-ins Support: Jira provides tons of external plug-ins to manage your product.
Advantages of Jira Software
Following are some advantages :
Jira is an open-source software tool used for managing project tasks, issue tracking and other issues related to software and mobile applications.
It is a platform-independent tool; that can be worked with different types of operating systems.
As we know, Jira is an issue tracking platform, so it is used by development and technical support teams to get work done faster.
Jira allows prioritizing the tasks, and it informs team members which tasks need to be completed first and which can be given later.
It provides support for more than 10 multi-languages and above 100 add-ins; these connect with different software to get the work easier and faster.
Required Jira Software skills
The team members need some skills to complete the work assigned to them and categorize different types of work within the team to avoid bottlenecks of work. Jira requires below skills set:
Java
J2EE
AJAX
JavaScript
UI – UX design skills
Frontend development skills
Why should we use and need Jira Software?
We should use Jira software because it is a good software tool, which can be used for different purposes such as project management, issue tracking, bug tracking etc. It is useful for both big and small companies to track the progress of your company very easily.
We need Jira because:
It has a good web-based GUI.
It includes good user management.
It has good issue search options and query language to search for issues and to report.
It can edit issues, move the issues between projects and issues can be exported to pdf or excel.
It provides plenty of plug-ins for your different requirements.
It can be hosted easily on sever and provides good support from Atlassian.
Who is the right audience for learning Jira Software technologies?
Business owners and executives can learn Jira software
Anyone interested in Learning Jira and Agile Project Management
Managers can learn about Jira to get workflow of a project
How will this technology help you in career growth?
Jira technology will help in the development of plug-ins. If you are good at Jira API classes, templates, plug-in development and in other skills, then sure there are opportunities. If you have good knowledge of programming, then you can consider this in the future.
Conclusion
So far, we have discussed top JIRA software technology along with their advantages, workflow, tracking of work progress etc. Compare to other Jira alternatives; it is good in project management, tasks, bug tracking and issue tracking related to software and mobile applications. In this article, we have covered maximum information about Jira software, so study about all the things and make a good choice.
Recommended Articles
This has been a guide to What is Jira Software. Here we discuss the working, Skills, Career growth, Top Companies, and advantages of Jira Software. You can also go through our other suggested articles to learn more –