Updated June 13, 2023
Introduction to Hosting
Hosting is a service that enables individuals or organizations to serve and maintain files for one or more websites for their business. So the definition can be a hosting service that provides storage and computing resources to an individual or organization for the accommodation and maintenance of one or more websites and related services. This is also known as Website hosting, Web Hosting, and Web hosting. The IP address is not required while hosting the website, so it doesn't need to be IP-based, but it is web-based services from the Internet that allow a website or web service to be globally accessible.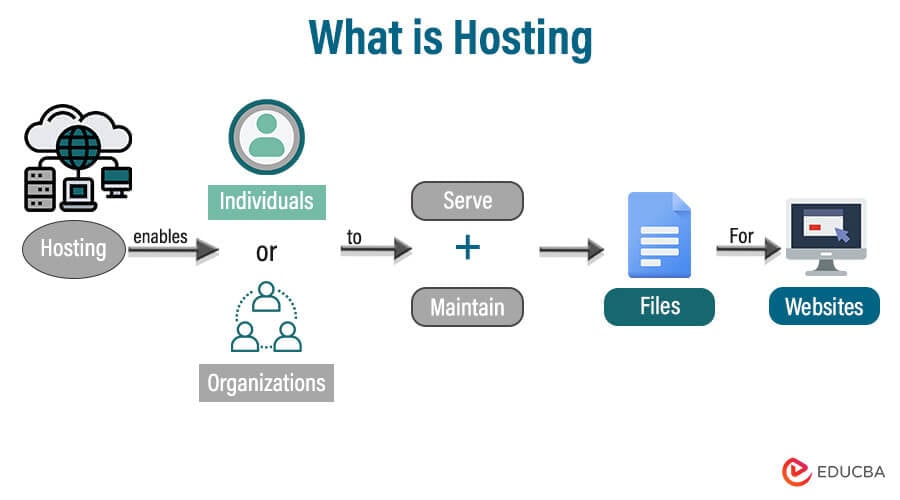 These services provide facilities for Hosting by providing specialized backend computing infrastructure. In another sense, we can tell if the website developer or website owner utilizes the infrastructure provided by the hosting services to host its website through the uploading source code. Each website logically allocates webspace and storage so that each website is distinguishable in its unique domain name. After hosting the website and establishing its domain name, individuals can access it online by writing its domain name.
Central computers or special computers called servers to host and store all the websites. Users send requests to the servers, and the servers exclusively provide the response (or requested data or website). Therefore, when users want to view a website through the internet, they must type the domain name or website address in their browser, which connects to the server where the webpages are usually stored. The delivery models have evolved into dedicated, shared, and cloud formats. We can host the websites, but we can also host data or storage hosting; it can also host IT services and host software or applications. The line is also blurred with cloud computing and virtualization, which allow another level of sophistication and customization.
Features
These web services or packages offer features depending on different pricing. Depending on the specific website hosting requirements, you need to choose the website package or website planning.
These services can offer the following features:
Storage or Disk Space
Bandwidth/Data Transfer
Control Panel Features
Uptime
Domain Name
Dedicated And Shared IP Address
Email Features
Privacy And Security
Building Tools
Supports
1. Storage or Disk Space
To host a website, you must create a web hosting account and rent storage or disk space on a server. The account will store all web page content, files for visitors to download, media content like music, pictures, and videos used on the pages, and email space. Companies have different policies for allocating storage space.
2. Bandwidth or Data Transfer
The bandwidth feature of hosting decides how much the website in one second can transfer data. If the bandwidth allocated is less than your website, then it will be slower regardless of the visitors' connection speed. Still, higher bandwidth is costly as it takes and drains the server's resources which could affect the performance of other customers' sites on the same server. Whereas how much data is being transferred every month is Data transfer. So depending on the policy, a website can transfer data every month. If the data transfer limit is over, it can result in a temporary shutdown, downtime, or an extra fee for the website.
3. Control Panel Features
Control Panel Features include the tools for uploading and managing web pages, add-on domains, managing domains and subdomains, creating parked domains, FTP accounts, protecting directories, website statistics, redirecting visitors to another location, virus protection, spam filters, backup data, the tools to keep privacy, security and so on.
4. Uptime
Uptime is the essential feature of a reliable web hosting provider. It includes uptime 99.9 percent of the time and is available to visitors as well as server uptime, network uptime, and 24/7 support.
5. Domain Name
It provides a domain name that is a unique name and address on the World Wide Web. An individual or a company must register a website domain for a specified time period, usually one year, and can later renew it at any time for an extended period.
6. Dedicated and Shared IP Address
A Dedicated means only one site on the internet using a specific IP address number allocated or a Shared IP Address, meaning that hundreds of websites share one server with a single IP address allocated.
7. Email Features
This feature offers various features for individuals and businesses like customized email addresses, unlimited storage, import or export address book, webmail accessible from mobile phones, mail forwarding, calendar alerts, autoresponders, phone and email tech support, and email filters that protect from viruses and spam.
8. Privacy and Security
Privacy And Security are notably concerned with sensitive or unauthorized data access. So this service includes SSL secure servers, software to prevent other websites from accessing other websites' files and databases, SSL certificates, antivirus protection, strong passwords, firewall protection, reliable authentication, email encryption, strict privacy policies, and secure payment processing.
9. Building Tools
Building Tools includes advanced website-building tools that teach guestbooks to add a photo album, ads, blogs, newsletters, visitor tracker, FAQ module, banner rotator, auto-installer software for blog galleries, forums, etc.
10. Support
Technical support is available 24/7, quickly replying to support issues by telephone support or chat service support.
Web Hosting Companies
The following are the web hosting companies:
InMotion Hosting
Hostwinds
HostGator
GoDaddy
Hostinger
iPage
Bluehost
HostFav
DreamHost
Interserver
1&1
Namecheap
GreenGeeks
Fasthosts
SiteGround
Justhost
Arvixe
Host1Plus
server deals
eUKhost
The cost for this always differs from web host to web host but is usually 99 to 10000 monthly, depending on the requirements. 
Conclusion
It means providing storage and computing resources to an individual or organization to accommodate and maintain one or more websites and related services. A variety of hosting formats as dedicated, shared, and cloud hosting. This service can offer the following features like Storage or Disk Space, Bandwidth/Data Transfer, Domain Name, Control Panel Features, Uptime, Dedicated And Shared IP Address Privacy, Security, Email Features, Support, and Building Tools.
The following are web hosting companies: InMotion Hosting, Hostwinds, HostGator, GoDaddy, Hostinger, iPage, Bluehost, HostFav, DreamHost, Interserve 1&1, Namecheap, GreenGeeks, Fasthosts, SiteGround, Justhost, Arvixe, Host1Plus, ServerDeals, eUKhost. Website hosting Prices usually vary from 99 to 10000 per month.
Frequently Asked Questions (FAQs)
Q1. What is the role of hosting?
Answer: Hosting is the process of storing and publishing a website or web application on a server that users can access over the Internet. Hosting provides a reliable and secure platform for users to access websites and applications 24/7.
Q2. Is hosting the same as VPN?
Answer: No, hosting and VPN are not the same things. The process of storing and serving website content or data on a server connected to the internet is what hosting refers to. On the other hand, VPN (Virtual Private Network) is a technology that creates a secure and encrypted connection over the internet between a user's device and a remote server.
Q3.Does hosting mean server?
Answer: Hosting service providers typically provide storage space and access for websites, applications, or other digital content on an internet-connected server. Therefore, it often involves using servers, but the term "hosting" can also refer to different types of infrastructure and services, such as cloud or shared hosting. In short, while hosting typically involves servers, the two terms are not necessarily synonymous.
Recommended Articles
This has been a guide to What is Hosting? Here we discussed the introduction, features, and a few web host companies, respectively. You can also go through our other suggested articles to learn more –