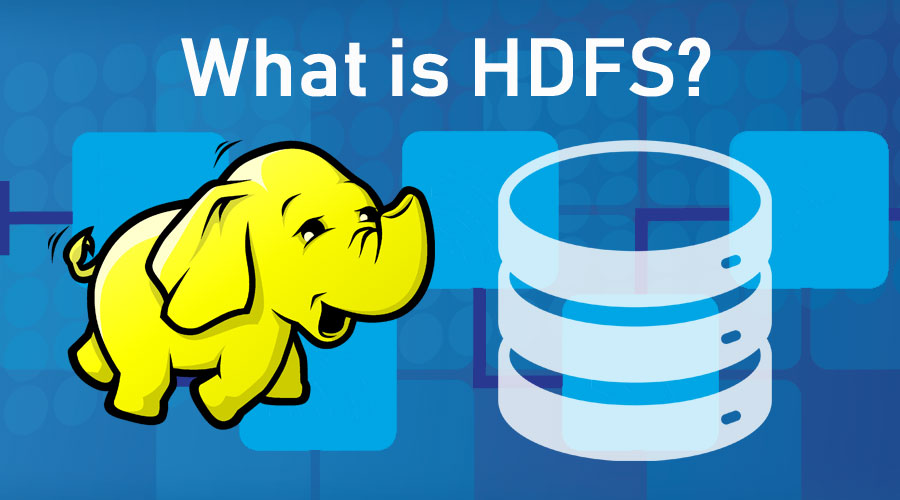 What is HDFS?
HDFS stands for Hadoop Distributed File System, which is used in the Hadoop framework to store huge datasets that run on commodity hardware. It is the core component of Hadoop which stores a massive amount of data using inexpensive hardware. With the increase in the volume of data, Big Data technologies have helped organizations in tackling the problem of storing as well as processing the huge amount of data. Hadoop is a framework which both stores and processes the huge datasets.
Understanding HDFS
HDFS has services such as NameNode, DataNode, Job Tracker, Task Tracker, and Secondary Name Node. HDFS also provides by default 3 replications of data across the cluster which helps in retrieving the data if one node is down due to failure. For example, if there is one file with a size of 100 MB, this file gets stored across the HDFS in 3 replications taking up a total of 300 MB with the two extra files as back up. NameNode and Job Tracker are called Master Nodes whereas DataNode and Task Tracker are called Slave Nodes.
The metadata gets stored in NameNode and the data gets stored in the blocks of different DataNodes based on the availability of free space across the cluster. If the metadata is lost, then HDFS will not work and as the NameNode saves the metadata, it should have highly reliable hardware. The Secondary NameNode acts as a standby node for NameNode during failure. If a DataNode fails, then the metadata of that DataNode is removed from the NameNode and the metadata of newly allocated DataNode instead of the failed one is taken by the NameNode.
How does HDFS make Working so Easy?
HDFS provides the feature of replicating the data among the DataNodes and in case of any failure in the cluster it is easy to keep the data safe as the Data becomes available on other Nodes. Also one does not need to have highly reliable hardware across the cluster. The DataNodes can be cheap hardware and only one highly reliable NameNode storing the metadata is required.
What can you do with HDFS?
One can build a robust system to store huge amount of data which is easy to retrieve and provides fault tolerance and scalability. It is easy to add hardware which is inexpensive and can be easily monitored through one of the slave services.
Working with HDFS
It is the backbone of Hadoop and provides many features to suit the needs of the Big Data environment. Working with HDFS makes it easier to handle large clusters and maintain them. It is easy to achieve scalability and fault tolerance through HDFS.
Advantages
One of the advantages of using HDFS is its cost-effectiveness. Organizations can build a reliable system with inexpensive hardware for storage and it works well with Map Reduce, which is the processing model of Hadoop. It is efficient in performing sequential reads and writes which is the access pattern in Map Reduce Jobs.
Required HDFS Skills
As HDFS is designed for Hadoop Framework, knowledge of Hadoop Architecture is vital. Also, the Hadoop framework is written in JAVA, so a good understanding of JAVA programming is very crucial. It is used along with Map Reduce Model, so a good understanding of Map Reduce job is an added bonus. Apart from above, a good understanding of Database, practical knowledge of Hive Query Language along with problem-solving and analytical skill in Big Data environment are required.
Why should we use HDFS?
With the increase in data volume every second, the need to store the huge amount of data which can be up to Terabytes in size and having a fault tolerant system has made HDFS popular for many organizations. HDFS stores the files in blocks and provides replication. The unused space in a block can be used for storing other data. NameNode stores the metadata, so it has to be highly reliable. But the DataNodes storing the actual data are inexpensive hardware. So because of two of its most prominent advantages, it is highly recommended and trusted.
Scope
The amount of data produced from unnumbered sources is massive, which makes the analysis and storage even more difficult. For solving these Big Data problems, Hadoop has become so popular with its two components, HDFS and Map Reduce. As the data grows every second of every day, the need for technologies like HDFS even grows more as the organizations cannot just ignore the massive amount of data.
Why do we need HDFS?
Organizations are rapidly moving towards a direction where data has utmost importance. The Data gathered from many sources and also data generated by their Businesses every day are equally important. So adopting a model like HDFS may suit very well to their needs along with reliability.
Who is the right audience for learning HDFS Technologies?
Anyone dealing with the analysis or storage of huge amount of data can find HDFS very helpful. Even those who had used Databases earlier and understand the growing need in the market to provide a robust system, HDFS helps them to understand the new approach of getting to know the Big Data.
How this Technology will help you in Career Growth?
As organizations are adopting the Big Data technology to store the data, then to analyze it and sample in order to build a better Business, with the help of technologies like Hadoop, it certainly gives a boost to one's career. HDFS is one of the most reliable models in Hadoop and working with it gives very good opportunities.
Conclusion
Today HDFS is being used by some of the biggest companies because of its fault-tolerant architecture along with its cost-effectiveness. As the data grows every second, the need to store it even increases day by day. Organizations rely upon the data and its analysis. So with this trend in Business, HDFS certainly provides a very good platform where the data is not only stored but also it is not lost if there is any disruption.
Recommended Articles
This has been a guide to What is HDFS?. Here we discussed the Basic concepts, Required skills, and Advantages of HDFS. You can also go through our other suggested articles to learn more –