Updated April 17, 2023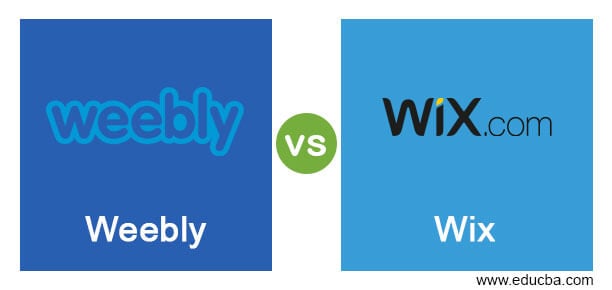 Difference between Weebly vs Wix
Weebly vs Wix will give out the comparison, differences, and similarities of both applications. Weebly is a free website builder that is used to create a website, an online store, or a blog. Wix is an open-source software which is used to create a blog or a website. Both these tools are absolutely free of cost and will continue for free indefinitely. Wix and Weebly are both website builders but have some key differences, Weebly is easy to use but lacks in themes customization and Wix on other hand gives freedom but occasionally gets chaotic. There are almost 150 million users among Wix and Weebly, that are easy to use, which has a drag and drop website platforms.
Head to Head Comparison Between Weebly vs Wix (Infographics)
Below are the top 19 differences between Weebly vs Wix:

Key Difference Between Weebly vs Wix
Let us discuss some of the major key differences between Weebly vs Wix:
The most important key differences to be noted among Weebly and Wix are the editor, ease to use of website builders and its features.
Both Weebly and Wix have offer Application stores that let the user install applications in extending core website builders.
Wix has powerful tools like Wix Ascend and Corvid by Wix are the new products which will take Wix from a page builder to being a serious tool for business.
Weebly has not moved its platform forward to the nearly the same rate, with a strong e-commerce offering.
Weebly is got to satisfy most basic use cases with templates being stylish and responsive.
Weebly has a lot of e-commerce features to support websites but has not moved forward. It is still one of the reliable and tested website building platforms.
Wix tops the chart with DIY website builders and has all tools that small business owners and entrepreneurs need.
Comparison Table of Weebly vs Wix
Let's discuss the top comparisons between Weebly vs Wix:
| | |
| --- | --- |
| Weebly | Wix |
| Weebly has a drag and drops website builder with over 40 pre-built-up themes. | Wix is a website builder with 100s of customizable templates. |
| Weebly says they have a customer base of over 40 million who have signed up. | Wix says they have a customer base of over 125 million across the world. |
| Weebly has a simple user interface to use with grid-based and drag-drop editors. | Wix has an app store which covers everything, from bookings to live chat functionality. It is easy to implement, as it is simply a drag-drop and does need not to add any code to get it working. |
| Weebly is what users see on the editor is exactly what gets on the website when published, with deeper customization of choice. | Wix has a new design tool known as Artificial design Intelligence. During Wix setup, questions of the type of websites to be made, and presented with good website templates. |
| With Weebly, users get full access to code that powers up the websites, fine-tune elements or functionality. | With Wix, users get to use an improved range of tools and features for automation and inventory functions. |
| Weebly is brilliant for creating excellent User Interfaces and great looking templates. | Wix is much more efficient in cost. Plans start from $14 every month as there are no commission fees as such along with third-party extensions. |
| Weebly is somewhat expensive compared to Wix because each plan has some the other limitations. Weebly charges 3% of the transaction fees and a proper e-commerce website would require a $25 "Business Plan". | The drawbacks in Wix, once the user publishes the content, the template of the website cannot be changed. |
| Weebly is involved in in-depth coding, it allows access to the raw code. | In Wix, users are provided access to the developer tools which will allow editing only certain parts of code. |
| Weebly allows users to view how the website looks on mobile rather than editing code according to the views. | Wix allows editing the mobile version of websites, adding and removing elements, editing text, or overall design of pages. |
| Weebly provides a support center and on-screen help buttons but does not match with the quality provided by Wix support. | Wix provides exhaustive support with more power users. The site editing interface has help buttons that can provide direct support and provide advice accordingly. |
| Performance-wise, Weebly meets industry standards. | Here, metrics are slow, but users get real-life experience of websites. |
| Weebly has in-house and third-party features and lesser expensive than Wix. | Wix has a massive number of both third party and in house options. |
| Weebly has a 30-day money-back guarantee. | Wix has a free plan and a 14-day money-back guarantee. |
| Weebly lacks customization and design flexibility compared to other builders. | Wix users cannot switch templates. |
| Weebly provides full support only for high tier subscribers. | There is no support for AMP (Accelerated Mobile Pages). |
| In Weebly, to add a blog, users have to click on "Add a new page", select "blog page". | In Wix, click on the "start blogging" button in the toolbar to start the blog. |
| Weebly does not need any technical skills for designing in such a way that, any user can build websites easily. | Wix ADI also does not require any technical skills for building websites. |
| In Weebly, there is a wizard that helps to get started by adding pages and content to websites. | In Wix, when users start using the editor, users will be guided through all key features to get started. |
| Weebly is easier to learn and there is not much scope to learn. | Wix is easier to learn, there is a much learning scope compared to Weebly as there are more features. |
Conclusion
With this, we shall conclude the topic "Weebly vs Wix". We have seen what comparison for Weebly vs Wix mean and what does each of the website builders mean in an individual manner. We have seen similarities and differences for both the website builders in a comparison table and also listed out a few of the key differences or points to be noted for each website builder Weebly and Wix. Based on the points seen here, one can easily decide which website builder will be best suitable for their needs.
Recommended Articles
This is a guide to Weebly vs Wix. Here we discuss Weebly vs Wix key differences with infographics and comparison table respectively. You may also have a look at the following articles to learn more –