Updated April 17, 2023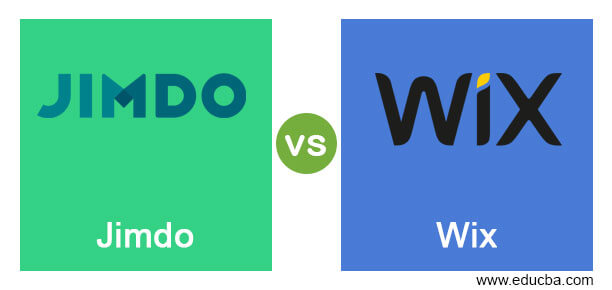 Introduction to Jimdo vs Wix
Jimdo and Wix both are the platforms available in the market for creating and designing websites and other web-related stuff which can include any sort of web application involving rich features, compact designs, extensive settings, and functionality to your website. You can literally start from scratch for creating your web application by using both of them. Using the tools and the features provided it becomes very easy and simple to get the desired results while creating your website or other web application.
In this article, we will study both platforms and learn about the key differences that exist between both of them by using a comparison table.
Head to Head Comparison Between Jimdo vs Wix (Infographics)
Below are the top 17 differences between Jimdo vs Wix:

Key Differences Between Jimdo vs Wix
Below are some key differences mentioned :
Jimdo:
Jimdo platform was launched in 2007 in the market and soon achieved a great renown place in the market. With increasing popularity due to ease of use and affordable prices, this cloud platform is also providing complex features and extensive tools like AI-based suggestions on the answers provided by you for web app building-related questions generated by them after you sign up. You can create a wide range of applications including landing pages, portfolios, blogs, business websites, and small to medium stores by using Jimdo.
Jimdo is hence a perfect solution for beginners as well as the professional in designing web applications for creating their application. All the AI tools come in integration with this tool. Priorly, a different software called Jimdo dolphin was introduced for AI tools but now it is integrated with Jimdo platform. It is also referred to as the editor for non-coders popularly as any naïve person who does not has much knowledge of coding can also create his own website from scratch by using this software.
Wix:
Wix came into the market in 2006. Wix began even before Jimdo and has captivated the whole market worldwide. It is mostly referred to as the website builder which has huge and enormous options of designs and patterns for creating your website. The system has integrated AI tools, a facility to do customization in designs, and high performance. We can create any sort of business or personal website, landing page, portfolio, web stores, blogs, and other web application by using this platform as it fits in perfectly according to your requirements.
The number of active websites created by using Wix and the number of projects that it has completed is ten times more than that of Jimdo. From this ratio itself, we can conclude that Wix is more preferred and easier to use than Jimdo.
Comparison Table of Jimdo vs Wix
Below are mentioned the comparison :
| | |
| --- | --- |
| Jimdo | Wix |
| The official link for the Jimdo platform is this. | The official link for Wix platform is this. |
| Jimdo was launched in the market in 2007. | Wix entered the market in 2006 and soon captivated the whole market. |
| We can create web stores, blogs, business, and personal websites, portfolios, and even landing pages in Jimdo platform. | Medium and small-scale web stores, blogs, landing pages, websites for promotion, portfolios, and even business and personal websites can be created in Wix platform. |
| It is very easy to use and handle. | It is even easier to handle and use features and tools of Wix as they involve simple graphics. |
| Many readymade templates with responsive features and customizable components are provided. | Many niche-specific, free, mobile-ready, and customizable designs are available. |
| The provision of technical support by Jimdo includes FAQs, tutorials, a support centers, and live chats. | Technical support is provided with the help of VIP support, phone support, a ticketing system, and rich knowledge base. |
| Blogging is maintained with the help of an integrated blogging engine. | In-build functionality of blogging feature is available in Wix platform. |
| SEO options available in Jimdo include the standard SEO settings. | Extensive SEO features are provided in the Wix platform. |
| The pricing of the software features starts from 9 dollars per month. | The pricing of the Wix software starts from 49 dollars per month. |
| Jimdo is affordable and easy to use. | Wix comes along with higher prices but is comparatively very easy and provides extensive functionalities for creating your website. |
| The features provided in Jimdo include contact forms, blog, photo galleries, mobile optimization, storage and bandwidth, mobile view, social media, videos, google maps, HTML5, search engine optimization (SEO), and professional templates. | Features of the Wix platform include an enormous number of designer-made templates, hosting done freely and reliably, intuitive website building, drag, and drop facility in website editor, customizable designs, one-pagers, page protection, adding and organizing the pages, free fonts, and text editors, and many more. |
| Two types of pricing models are available which include monthly payment and annual subscriptions. | The pricing model is provided with three options which are free, monthly payment, or annual subscription. |
| The integrations of Jimdo can be made with platforms like books, youtube, Twitter, Google +, Pinterest, Facebook, dropbox, INinbox, Kameleon, and Pinterest. | Integrations with platforms such as Google contacts, getresponse, drip, aweber, google calendar, constant contact, capsule CRM, Gmail, Facebook, contact us, active campaign, etc. |
| The languages supported include English, Dutch and Turkish. | Languages like English, dutch, polish, Turkish, and Swedish are supported by Wix software. |
| The web applications created using jimdo can be deployed on Cloud, sass, web-based, mobile android, mobile iPhone. | The Wix applications can be deployed on Cloud, sass, desktop mac, web-based, desktop windows, mobile android. |
| Videos are provided for training for using this software. | Videos are provided for training for using this software. |
| The main headquarters of the company is located in Germany. | The main headquarters of the company is located in Israel. |
Conclusion
Both jimdo and Wix are top-class software platforms that are used as web builders which provide high-class features and extensive functionalities to create your own web-based application which can be either portfolio, business or personal websites, landing pages, blogs, etc.
The key difference between both platforms is that the features available in Wix are much sophisticated, at the same time Wix is also very easy to use. The prices of Wix are comparatively more than jimdo. Hence, jimdo is preferred when you want o use such a platform at affordable prices. The number of software and applications developed by Wix is much higher in count than that of jimdo.
Recommended Articles
This is a guide to Jimdo vs Wix. Here we discuss the Jimbo vs Wix key differences with infographics and comparison table. You may also have a look at the following articles to learn more –