Updated March 27, 2023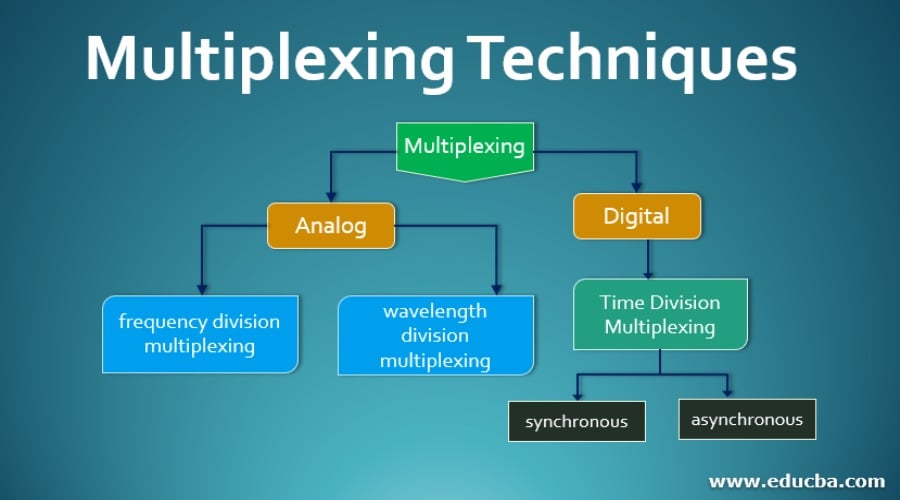 Introduction to Multiplexing Techniques
In this article, we will learn about Multiplexing Techniques. The term multiplexing is defined as a transmission method to transport different multiple analogs and digital signals into a single signal over a network or a channel. It is applicable in computer networks, telecommunication, telegraphy, telephony, and video broadcasting. In a general method of the multiplex, it combines a finite number of low-speed signals to broadcast over a high-speed link. It is also implemented to transport a link or medium with a number of specified devices. The overall process can be performed using d device, Multiplexer, popularly called as MUX. The structure of the MUX has many input signals where its output is only one output signal.
What is Multiplexing Techniques?
The process of converting many signals into one signal over a shared medium is called Multiplexing. If the analog signals are multiplexed it is called analog multiplexing and if the digital signals are multiplexed it is referred to as digital multiplexing. The reversible process used for the extraction of a number of channels from a single signal, implemented at the end of multiplexer or receiver is known as de-multiplexing. This process is made possible with de-multiplexer and it's popularly known as DEMUX. Demux splits the signal into its related or component signals. So it has only single input and many outputs.
Types of Multiplexing Techniques
Multiple variable bit rate digital bits are transported effectively over a unit bandwidth by using statistical multiplexing. It is an asynchronous mode of multiplexing based on time division. The digital bitstreams can be transported over analog channels by code-division multiplex methods like FHSS as a frequency hopping speed spectrum and DSSS as a direct sequence spread spectrum. The multiplexing is attained by altering the horizontal and vertical polarization on each side of the channels or it passes through an array of multi-antenna along with scheme of multi-input and multi-output communications. Some types of multiplexing are

Space Division Multiplexing
Time Division Multiplexing
Frequency Division Multiplexing
Polarization Division Multiplexing
Orbital Angular Momentum Multiplexing
Code Division Multiplexing
1. Space Division Multiplexing
The multiplexing based on space-division uses the distinct node to node electric conductors for every communicated channel. It involves an analog stereo wire with a single couple of wires for left networks and others for a suitable network. In a multiple paired telephone wire, a switched star system such as a network for telephone access, mesh network and switched ethernet.
2. Frequency Division Multiplexing
The spectrum of every input signal is moved to a distinct frequency range. It is inherently an analog method. The frequency division multiplexing attains by merging numerous signals into a single signal in one medium by transmitting the signals in several frequencies ranges over a single medium. These signals are electric signals. The application of FDM is television broadcasting from remote sources, cable television, mobile or satellite divisions, and traditional radio. A variant technology of this is used in optical communications called wavelength division multiplexing.
3. Time Division Multiplexing
It is a digital method which uses time instead of accuracy or space to segregate the variable data streams. It involves sequencing the group of few bits from every individual input spectrum continuously. So that it can be related to the correct receiver. If it is done in an appropriate method, the receiving devices ill not diagnose that few of the circuit time that was utilized to the server the other logical communication path.
4. Polarization Division Multiplexing
It polarizes the electromagnetic signals to segregate orthogonal channels. It is practically implemented in frequency modulation applications and optical communications. In 100Gbit/s per channel, specification is used in fiber-optic networks.
5. Orbital Angular Momentum Multiplexing
It is a recent method for multiplexing signals comprised of multiple channels carried by electromagnetic signals over a unified way. It can be used as a supplementary to another physical multiplex technique to maximizes the communication capacity of networks.
6. Code Division Multiplexing
It is called a spread spectrum where numerous channels share the same frequency spectrum at the same time and this is higher than the symbol rate or bit rate. It is made possible by using frequency hopping and direct sequence spread spectrum. One of the signification applications of this technique is GPS that is the global positioning system.
Classification 
The methods of multiplexing are divided into analog and digital multiplexing. In analog, it is divided into frequency division multiplexing and wavelength division multiplexing. The time-division multiplexing comes under digital multiplexing which is further divided into synchronous time division multiplexing and asynchronous time-division multiplexing
Analog Multiplexing
The nature of signal which is analog is used as input in this multiplexing. It is multiplexed corresponding to their frequency division or wavelength-division.
Frequency division multiplexing is a most used technique, where it uses various frequencies to merge stream of data for transmitting them on a shared medium as a unit signal i.e. single signal.
Wavelength division multiplexing, uses multiple data streams of different wavelength are transmitted in the light spectrum. The increase in wavelength results in a decrease in the frequency of the signal. Prism has the property of MUX and DEMUX to turn a single line to many and many to one.
Digital Multiplexing
The digital represents the discrete bits of data that are available in the form of packets and frames.
Time-division multiplexing divides the time frame into slots. It is used to transport a signal over an individual communication channel by allocating one slot for every message. It is further classified into synchronous and asynchronous time-division multiplexing.
The input is linked to a frame in synchronous time-division multiplexing. If the number of connections is 'n', then the frame is segregated into time slots with 'n'. One input line is allocated to one single slot. The sampling rate is the same for all the signals, and common clock input s fed. The MUX allows each device every time.
The sampling rate gets varied for each signal and there is no need for a common clock input in asynchronous time-division multiplexing. If the allocated device for a time slot transports nothing and retains idle, then that left slot can be utilized for other devices.
Recommended Articles
This is a guide to Multiplexing Techniques. Here we discuss the introduction, types and classification of Multiplexing Techniques in detail. You can also go through our other related articles to learn more –