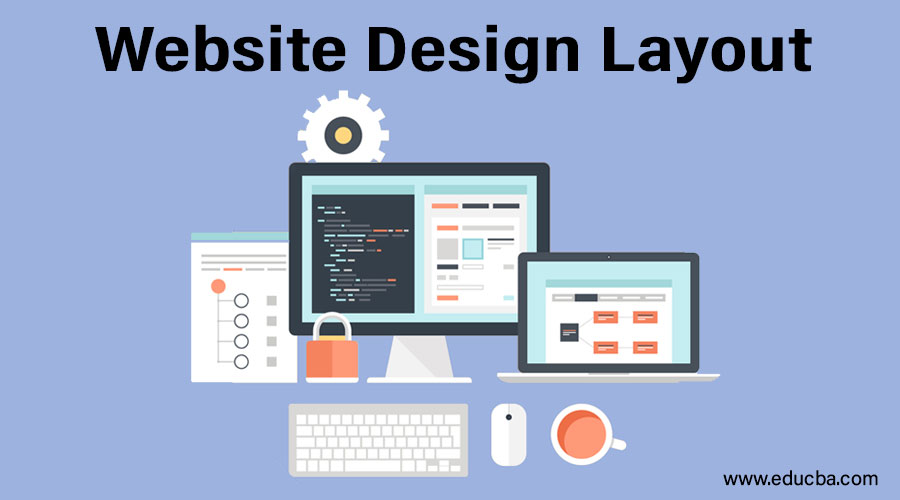 'Good design keeps the user happy, the manufacturer in the black, and the aesthete unoffended. '
– Raymond Loewy
Introduction to Website Design Layout
Internet browsing and surfing have become an inseparable part of our lives today. Every day we would browse 'n' number of websites to shop, search, explore, and buy services or just to Google. We stop only on a few websites or want to visit those repeatedly.
Others don't seem to be too appealing. Well, a major reason for visiting a particular website more than once is its website design layout. Although it's a tough balance to achieve a well-designed and streamlined functional web page is well worth the effort to improve customer's experience.
It has been a proven fact now that the item that affects the presumed trustworthiness of a website is its design and not the content inputted. A perfectly designed web page does not have to put a lot of effort into other aspects to hold a visitor on your web page. UX and UI design in tandem form the entire layout and functionality of a web page.
The master of putting up a perfect website design layout is McDonald's. They have literally put down everything in the proper place, even how to place pickle. So, you would also want to come up with something as good as or even better than McDonald's.
Top 10 Steps of Website Design Layout
Today will know more about the top 10 steps of website design Layout are given below:
Have a professionally designed logo properly linked to the Home Page
Use intuitive navigation
Avoid Clutter and give breathing space for visitors
Use Colors and Images strategically for responsive web
Choose web responsive fonts that are easy to read across devices and browsers.
Each page should be designed as a landing page
Always create responsive design, adaptive to all the devices
Use HTML5 instead of Flash
Submit or Send buttons should be appealing
Don't forget to test your design
'Life is conversational. Website design layout should be the same way. On the web, you're talking to someone you've probably never met so it's important to be clear and precise. Thus, well-structured of website design navigation and content organization goes hand in hand with having a good conversation.'

— CHIKEZIE EJIASI
(A tweet from Twitter)
Have a professionally designed logo properly linked to the Home Page
The first thing website design layout company is identified is its logo. A web page with a professionally designed logo appeals to its customers more than a flashy logo. A logo forms the brand identity for a firm or a website.
You should always make it a point to use high-resolution website design images for the logo. website design images should always be featured at the upper left corner on each page of the website. Also, remember the good old thumb rule of linking all the logos on the website to your Home Page for the easy way to visit on website design navigation for your customers.
Website Design Navigation
Have you ever wondered why do you bounce from so many web pages and hold on to only on one or two? This is because customers do not take the pain of figuring out a complex website. Instead, they quit the page and move on to the next.
This is the major reason why intuitive navigation is so important. The primary website design navigation options should typically be deployed in the horizontal menu bar at the top with the secondary navigation bars under it or under the left margin on the page.
Also, pay attention to putting links only at necessary places which do not distract customers from your call to action or most important piece of information.
Avoid Clutter and give Breathing Space for Customers
Too much use of graphics or overload of images on a page tends to create clutter. Website design images are an important medium of understanding, but visual overloading of images stops the processing of information in the brain.
Customers get confused when confronted with too many website design layouts. To minimize clutter on the landing pages, limit the number of links and options in the header and footer. Another way to streamline pages is by keeping the paragraphs short.
short means not more than five to six lines as customers tend to lose interest in looking at a very lengthy text. There is another thumb rule of a good website design layout i.e to give some breathing space for customers.
This space can be created by leaving enough space between paragraphs and website design images so that the viewer can breathe and absorb more features and offerings of your site. With the responsive web becoming more competitive each day, less is considered to be more now.
Controlled use of white space throughout the layout will keep users' focus on the content and increase the user experience. Controlled user flow will increase returns from the website.
Use Colors and Images Strategically for Responsive Web
To present a modern, clutter-free and elegant web page, try using mostly a neutral color palette. With competition getting fierce, employing small dashes of color for headlines and key graphics will help your visitors to hold on to your web page and pay attention to the most important details. Always use a color palette that complements your logo and should be consistent with other marketing collaterals.
Try to invest in photography or purchasing professional stock images because visitors on the web page sniff out generic images in a blink of an eye. The website design images will leave a generic impression of your company.
Professional stock images or good photography will draw attention to the content and create an emotional connect immediately. Just to cite an example – if you want to draw your visitor's attention to a particular piece of information or call to action, then use a human face looking in that direction or a finger pointing there.
It's just because, a human tends to look at the same direction where the other person is looking. Both colors and website design images should be selected in such a way that they fit in all the responsive web – mobile, tablets, laptop etc.
Choose Web Responsive Fonts
With the web going responsive, you should make it a point to choose fonts that are suitable for all the browsers, be it a laptop, tablet or mobile handset.
If you choose a large-scale font, chances are that they might read well on a laptop but won't render well on a mobile losing its feel and look. Always pick a typeface that can be easily read with size not less than 11pt.
If you choose web fonts then don't use more than 2 font families to ensure fast load times. For a fixed-width design, use a font allowing a maximum of 15 to 20 words in a line and in a fluid design, use a font that allows 15 -20 words at 1000 pixels width.
Each Page should be Designed as a Landing Page
Web designers design generally they design their websites assuming that a visitor enters through the home page and then move on to the landing pages. But, the fact is little different. Majority of visitors land on a page other than the Home Page for most of the sites.
So, the key idea is to keep all the major information on all the landing pages and website design layout in such a way that the visitor does not have to search around for important information.
Always Create Responsive Design, Adaptive to all Devices
In this busy world, when you don't have time for even eating properly, why do you have to design a different site for each device? Save your time and energy by designing a responsive site that adapts to the browser size according to the device used.
A responsive site generally holds a visitor's attention for a long time increasing the probability of conversion rates.
Use HTML5 instead of Flash
Flash is now getting outdated and coming to a close with the ongoing dispute between Apple and Adobe. So, designers! Come out of the bandwagon and try out more web and user-friendly options.
HTML5 is gaining popularity with its search-engine friendly text and its easy functionality on mobile operating systems without requiring a plug-in, unlike Flash.
Submit or Send Buttons should be Appealing
The 'Submit' or 'Send' button at the bottom of a Web form is the most important call to the action item on a web page. But it can be the ugliest part too so designers need to make form submission buttons "so likable visitors can't help themselves from clicking those.
They just have to click it. These call to action buttons can be made interesting in many ways like when a visitor moves the mouse over the call to action button, it should change color, gradient, opacity, or font treatment to catch your attention in a fraction of seconds.
But, also take care of the fact that overdoing anything is bad. It should be tapered till the time it looks appealing otherwise it can have a reverse impact.
Don't Forget to Test Your Design
A design decision is just a hypothesis. You are the best person to decide what looks good on your web page. Optimizing a web page by trying different placement for the call to action buttons or using different shades of color, can make a great impact on your web page. User testing. A/B testing and analytics can help you improvise upon your web page.
And the real improvisation comes from people. Take their feedback and implement it until it looks good. Just to cite an example of how important testing your design is – Microsoft once earned an additional $80 million in revenue just by testing and implementing a specific shade of blue. So you never know when your design can make you generate huge profits.
These small issues might appear so insignificant and obvious but are often bounced on the live version of the web page. By that time, the business has already lost a minor percentage of potential income from its prospects.
With several platforms available today, generating "WOW" moments from a website's UX and UI designs is no big deal. It only takes little-committed efforts and a pinch of creativity to make all the visitors say WOW after landing upon your web page.
So, the perfect way to design a web page is to Think. ReThink. Learn. Learn again. Never use the same concept. Know your customer needs and then….start your design.
Changing your design practice can have a huge effect on your engagement and conversion rates by forming an intuitive user experience that will reveal your professionalism while delivering what people want and need in a visually striking manner.
Related Articles
This has been a guide to Website Design Layout. Here we have discussed the top 10 steps of website design layout. You may also look at the following articles-