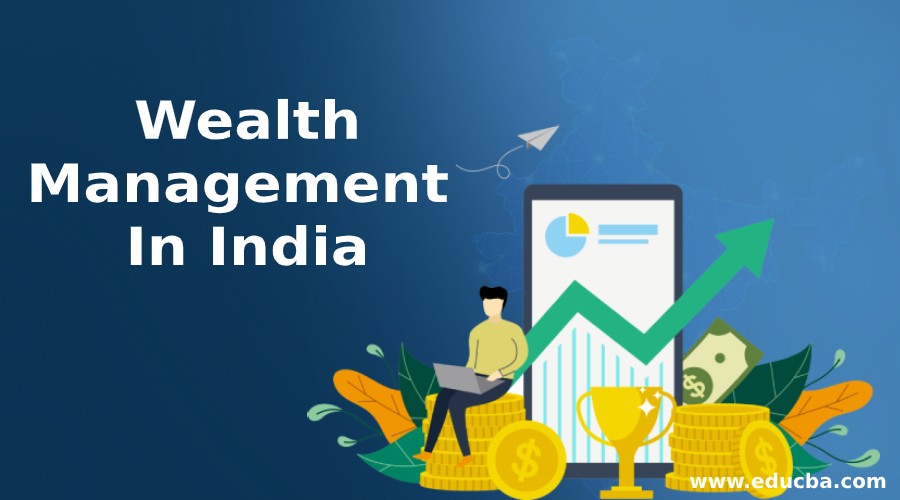 Overview of Wealth Management in India
Wealth Management in India is gaining more and more popularity as an increasing number of Indians are joining the millionaires club. The boom in the economy and the resultant increase in the income levels are favoring the increase in the number of millionaires.
Wondering what this has to do with wealth management? Well, the huge chunks of money that these millionaires possess need to be managed well, which many can't do. This is when wealth management comes into the picture. For those who don't know what wealth management is, it is basically investment advice or assistance to manage a person's financial life. These wealth management services are offered to clients in packages to provide benefits with two main goals,  growth and safety of their existing investment.
 According to Investopedia, Wealth Management is

"A professional service which is the combination of financial/investment advice, accounting/tax services, and legal/estate planning for one fee."
Types of Wealth Management Service Providers
Currently, in India, there are majorly three types of wealth management service providers, viz. Banks, Brokerage firms and Boutique advisory firms.
Banks – Banks are known to have a larger investment distribution model, which means that they do not concentrate on only one investment option but on a large investment portfolio. Further, they cater also to mid-level segment clients apart from the HNWI's
Brokerage Firms – Brokerage firms focus on investing the customer's money majorly in shares and IPO, which are equity market products.
Boutique advisory firms – Boutique advisory firms are known to provide customized financial solutions to the clients, which are majorly the ultra-HNWI's (greater than USD 30 million) and HNWI's(USD 1 million to 30 million)
Recommended courses
Overview of Wealth Management in India
Before the advent of liberalization in India, wealth was concentrated in a few hands. After 1991, when the Narasimha Rao Government introduced liberalization, it leads to wealth creation from private enterprises.
The 21st century in India saw a spell of entrepreneurial ventures, which has created an ever-growing High Net worth Individuals or HNWI's. According to a report, India – The Future of HNWIs to 2015: Bourgeoning Wealth and Wealth Management Opportunities.
India currently has the fourth-highest number of HNWIs in the Asia-Pacific region after Japan, China, and Australia. In 2011, there are 251,000 HNWIs in India who, together, hold a total of US$1,083 billion.
Going forward, the number of Indian HNWIs is expected to grow by 85% to reach close to 465,000 individuals in 2015. HNWI wealth is expected to grow by 97% to US$2,134 billion in 2015.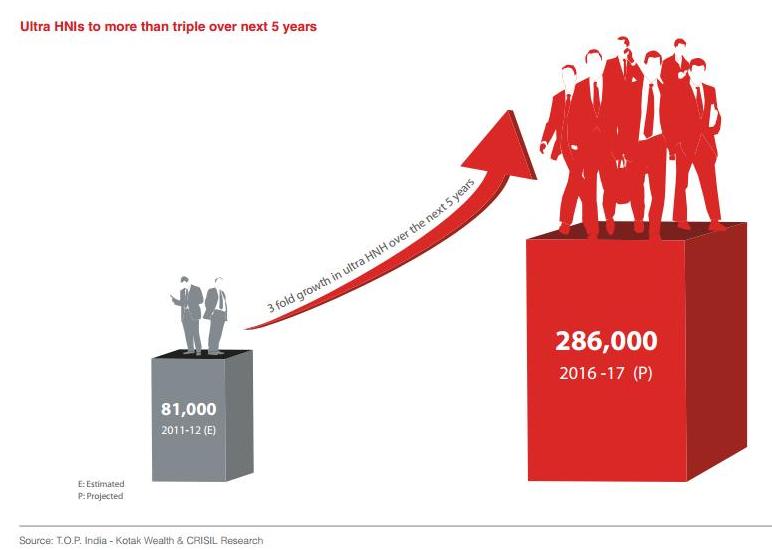 The HNWI segment is the fastest-growing segment leading to the growth of the industry called wealth management, which could possibly be the most sought-after career choice. The wealth management in India is growing rapidly mainly because of two reasons; one is changing the regulatory environment, and two; increasing competition. The growth rate has attracted big names wanting to set up their wealth management division in India in the last few years. Also, among the existing business houses that have been into financial services are looking to expand their business lines into wealth management.
In the early period, wealth management in India had begun with banks providing insurance and mutual funds products to individuals. During that time, the advisory services did not exist, and institutions did not charge for the same. But with gradual regulatory changes, the sector has found new sources of income.
Various financial institutions and wealth management banks are gradually eyeing ways to entice customers towards their wealth management services. Because of this, today, there are various wealth managers available from which the customers could seek the best wealth management services for themselves.
This tendency is probably to continue, with India projected to become the third-largest global economy by 2030. Wealth management in India is in its nascent stage, and hence it is largely fragmented.  The majority of the organized players have focuses majorly on the urban segment, which means it has left one-fifth of the HNWI population of India untapped. The regulatory environment and tax structure changes will present a lot of opportunities for wealth managers to multiply their product offerings.
Competitive Players of Wealth Management in India
The competitive rivalry is increasing in the wealth management sector in India as the existing players are expanding and diversifying their operations, whereas there are new local and global players wanting to make a stand here. As of now, this industry is fragmented with a lot number of brokers, sub-brokers, financial advisers, insurance and tax consultants. Financial institutions like Reliance Money, Aditya Birla Group provide these services. Private banking divisions of popular lenders such as Barclays, Deutsche Bank, ICICI Bank, HSBC, and Kotak Mahindra are already well established in this segment. Customers can also opt for public sector banks such as Indian Bank, Canara Bank and State Bank of India for availing wealth management services.
The entry of public sector banks in the wealth management domain cannot be neglected. They possess prodigious brand equity, influence, corporate affiliations, which can prove as a tough competitor for the existing players.
Size and Growth of Wealth Management in India
If we look at the total size of the HNWI population of India, it could be a small number compared to the other established markets, but the HNWI wealth is estimated to grow by 97% to US$2,134 billion in 2015. Looking at these statistics, India is considered to be one of the fastest-growing wealth management markets. Likewise, the liquid assets of the HNWI compared to the liquid assets are increasing at a good pace, which shows the growth of investable wealth in the country.
According to research reports, the wealthy households include 8% off, but they account for 45% of the total wealth. There is a lot of scope for the wealth management sector to grow as only 20-25% of the HNWI population takes advice from the wealth managers. Considering the demographics, the HNWI population is between the age group of 30-55 years who are looking for wealth management services which lead to wealth accumulation, risk mitigation and product portfolio, which gives them high returns.
India is considered an attractive economy for prospective new participants in the wealth management area as it has been predicted that it is going to be the largest economy by 2030.
Another fact which favors the growth of wealth management in India is the decrease in the share of unorganized players in the market. By unorganized players, we mean the small brokers, agents, and advisers. This happened because the organized players have an increased presence, and also income and profitability burdens have resulted in consolidation. As a resultant effect of this, the liquid assets accessible to the organized players have increased, which added to their growth in assets under management.
Also, it has been observed that there has been an inclination of wealth management firms in India to offer custom made services to the non-resident Indian clients. This could be a rewarding segment for wealth management in India since the number of NRI people is estimated to be huge at around 29 million all over the world.
Challenges to Wealth Management in India
The regulatory environment of the Indian economy is still evolving because of which there still is substantial vagueness in the jurisdiction of numerous regulators. And one of the reasons for wealth managers not experimenting with innovative products is because of the vigilant measures of the Indian regulators. Also, looking at the various products, the commodities, derivative and bond market is not as mature as the equity market in India.
Another important challenge for potential wealth managers is setting up locations for which they have to pay a heavy property price. The increase in the real estate prices in the last decade or so has acted as a deterrent. Moreover, this factor of having physical locations cannot be avoided as wealth management as a service requires a physical presence to build client relationships.
The awareness about the financial products that are available is low among the target population. Also, there is a sense of insecurity among the investors due to scams, harmful practices of some advisers and the absence of an investor protection environment. All this has led to a very narrow-minded view among investors regarding certain investments which are long term.
The HNWI are attended by foreign banks and other large brokers, but its reach is limited only to the metropolitan areas. And according to the statistics, 20% of the HNWI population lives outside the metros, which are served by the unorganized players. Therefore for this sector to expand, its reach will play an important part in arresting the untapped wealth and transforming it to assets under management.
Product and Service offerings
Though there has been a great improvement in the product portfolio being offered to investors, the standards do not match with that of other mature market players. In order to succeed, the wealth management service providers will have to innovate in terms of meeting the diverse customer needs. Even innovating could pose a challenge in the obstructive regulatory environment coupled with preserving the product structure and pricing transparency.
Wealth Management in India Infographics
Learn the juice of this article in just a single minute, Wealth Management in India Infographics.
Conclusion
Wealth management services are attracting more and more attention as the economy is moving towards higher income levels and saving patterns. Looking at the trends, it indicates that there are opportunities that lay ahead of the wealth management sector to boom. But this could happen when they invest significantly in brand building to build trust, quality advisory, translucent and compliant wealth management system for the investors. Wealth management has great opportunities to expand, with the increasing number of market players. In order to avail the benefits of the potential this market possess, taking into consideration the specific features of the Indian market will be helpful for the financial service organizations.
Wealth management in India is still blossoming and a promising profession for the new age of India. This could be just the beginning of the best, which this industry has not yet seen.
Recommended Article
This has been a guide to the wealth management in India. Here are some articles that will help you to get more detail about the Wealth Management, so just go through the link